Commander Crabb
What Really Happened
By John Bevan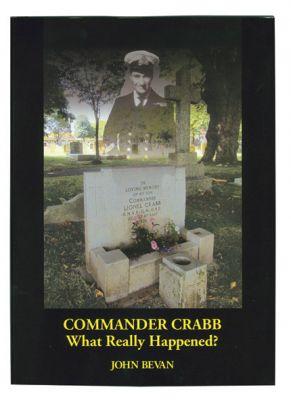 BUY from Historical Divining Society website

Hardcover: 102 pages - GBP 9.99
Publisher: Submex Ltd; 1 edition (November 1, 2014)
ISBN-10: 0950824275
ISBN-13: 978-0950824277
Product Dimensions: 6.2 x 0.6 x 8.5 inches

The mysterious disappearance of Commander Lionel Crabb while conducting a covert underwater examination of a Soviet cruiser has gripped the public's imagination for years. And the diving community too. An eccentric character, the uncertain circumstances, a botched MI6 cover-up and political embarrassment on an international scale came together in the perfect Cold War mystery. Previous books and media have almost exclusively focused on the most sensationalist and farfetched versions of the tale, including Conspiracy Theories. So this book, researched and authored by the Chairman of the Historical Diving Society, is a breath of fresh air.

Crabb disappeared on 19 April 1956 in close proximity to the Soviet cruiser Ordzhonikidze which was visiting Portsmouth Harbour, England during a state visit of the Soviet First Secretary Nikita Khrushchev and Premier Nikolai Bulganin. Within days the story broke in the press and the British Secret Intelligence Service (MI6) was implicated. The Government was embarrassed by a poorly handled cover-up. Months later his body turned up a few miles down the coast.


Every few years there have been new 'revelations' (to be generous) about Crabb's disappearance.
"I killed Commander Crabb" says Russian Diver! – sorry but we don't believe you.
"Crabb was a Soviet Spy, MI5 murdered him" says…. – please don't.
"Wartime hero captured under Soviet warship – teaches Soviets to dive" – ok?

This book does not follow that pattern. Bevan lays out the facts as he has been able to piece them together, carefully picking the good info out from the rubbish. Laid out chronologically, Bevan finishes each section with a convincing 'balance of probabilities' assessment of the most likely scenario.

Bevan's access to previously silent firsthand accounts, his deep knowledge of diving and his levelheaded analysis lend credibility to this work. I first came across this book after I had already conducted some original research on the topic for Covert Shores. I had been told credible tales of a previously unreported Royal Navy dive against the Ordzhonikidze and thought that I would be the first to reveal this substantial new dimension. But Bevan had beaten me to it, and filled in many of the gaps that I still had. I won't say that the version of events that I had gathered at the time were exactly per Bevan's, but they collaborated each other on key points. And with his extensive knowledge and research, I would err towards the version Bevan laid out. I subsequently revised my account in Covert Shores placing great weight on Bevan's version, for which I am very grateful.

This book does not stop at the point of disappearance, or get sidelined y conspiracy theories. Instead it moves to the question of what happened to the body after he died (not spoiling how – but like all good analysis Bevan determines the most likely cause and it isn't at the point of somebody's knife). Bevan used modern Police analysis to trace the most probable path of the body after death. And his findings are quite remarkable. Reading between the lines, something very interesting must have happened between the time he died and the time that he was found, minus his head (no surprise actually, heads fall off corpses in water)….

I won't spoil it any more: read it. Another 5/5 book (I seriously only review books I truly recommend).