The 1970s saw a resurgent German submarine (U-boot) industry, and the start of a period when they would dominate the export market. Typical German submarines, such as the ubiquitous Type-209, were relatively small diesel-electric boats but packed a big punch. Several other designs were even smaller however, and aimed at the Special Forces and special operations market which was at the time dominated by Italian firm Cos.Mo.S. One of the designs on offer was the Thyssen Nordseewerke (/Rheinstahl Nordseewerke) MSV-75 (Multipurpose Submersible Vessel).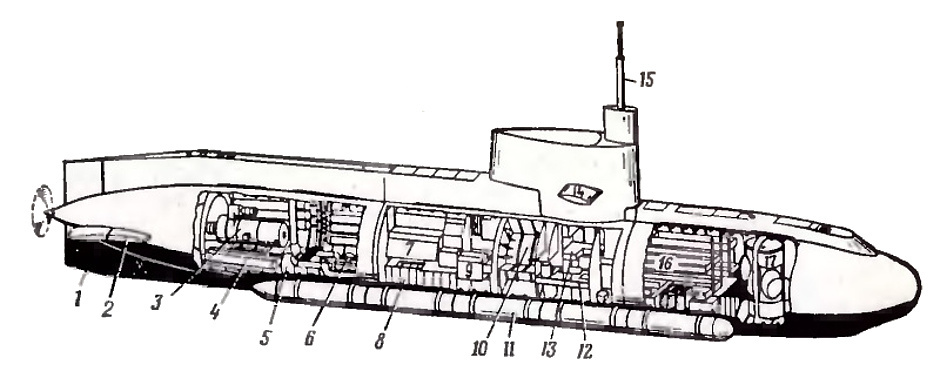 1 - rudder and vertical stabilizers
2 - aft hydroplanes
3 - electric motor
4 - high-pressure air flasks
5 - AC generator
6 - diesel engine
7 - switchboard
8 - batteries
9 - control room
10 - main ballast tank
11 - external containers for mines or stores
12 - galley
13 navigation equipment
14 - hydroplanes
15 - the periscope
16 - bunks
17 - diver lock-out chamber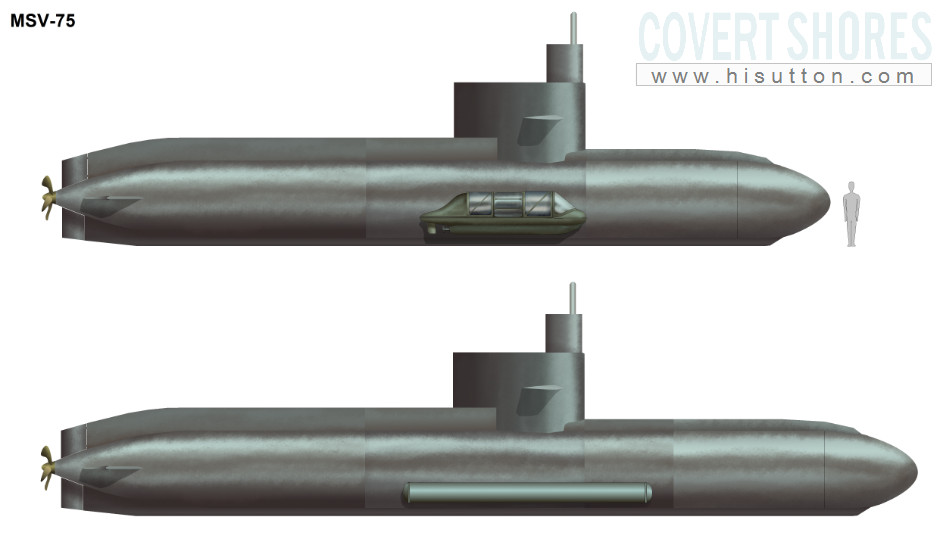 Developed in 1975, the boat was aimed at the export market and stood one of its best chances in South Korea, where it ultimately lost out to another German design, the Type-70 (later Dolgorae-class).

The MSV-75 was an interesting modular design with three sections which could be unbolted for easy cross-country transportation. The bow section (6.6m long) contained the accommodation, diver lock-out chamber and forward ballast tanks. The 6m long middle section started immediately under the sail and contained the galley, control room and the main ballast tank which as arranged in an annular fashion around the inner hull. The aft 8.4m section contained the diesel engine, batteries and electric motor. An additional 2.4m long lug could be inserted between the forward and middle sections to house a torpedo control room when external torpedo tubes were carried. Other payloads includes Swimmer Delivery Vehicles, mines and payload containers.

MSV-75 was not the first midget submarine to use bolted sections for ease of land transportation and maintenance. The British X-Craft, operated by Royal Navy and later the Royal Swedish Navy, used a similar mechanism, but was a single-hulled design.

Specification
Displacement: 75 tons standard (also reported 80 tons)
Length: 21m
Beam:
Operating depth: 130m
Speed: 4kt cruising
Range: 2,900 NM @ 4 kt
Crew: TBC
Passengers: ~8
Propulsion: diesel electric
Payload: 2 x 533mm (21") heavyweight torpedoes carried externally, or 2 x two-man Swimmer Delivery Vehicles (e.g. Cos.Mo.S CE2F-X60, Havas Mk.5 or other), 10 x large mines carried externally.

---
Related artcles



Iranian Fateh Class SSK




HDS-500 Midget Submarine




Maritalia GST-23+ Midget Submarine