Updated article from September 2019 Updated article >....


A few years ago South Korean submarine builder Hyundai unveiled the stunning HDS-500 (aka KSS-500A) midget submarine design. This week Janes' reported that Hyundai had begun constructon of a 40m long midget submarine, the HDS-400, for an undisclosed customer. The new designation suggests that the submarine is slightly smaller than the HDS-500 design with a surface displacement of 400 tons. The reported length of 40m however hich is slightly longer than the HDS-500.

Janes' article: hyundai-begins-construction-of-mini-submarine-for-undisclosed-customer

The customer is open to speculation. The HDS-500 was marketed to Thailand so the Royal Thai Navy (RTN) would be a reasonable guess, as would the South Korean Navy (ROKN). Additionaly Hyundai has a deal with an Indian shipyard concerning submarine technology and South Korea has submarine ties with Indonesia and Azerbaijan

---
HDS-500 Midget Submarine

The HDS-500 design features a distinct streamlines sail and 'X' form tail mounted behind an integrated pumpjet. Less obvious innovations include a mini wet-dry hangar in the tail.

Original artwork - CLICK for HIGH-RESOLUTION (3500px) image.



Key:
a) Flexible Payoad Module (FPM)
b) Integrated sail
c) Intercept sonar
d) Hatches for Payload Modules
e) 533mm (21") torpedo tube (x2)
f) Conformal sonar array
g) 324mm (12.75") torpedo tubes (x4)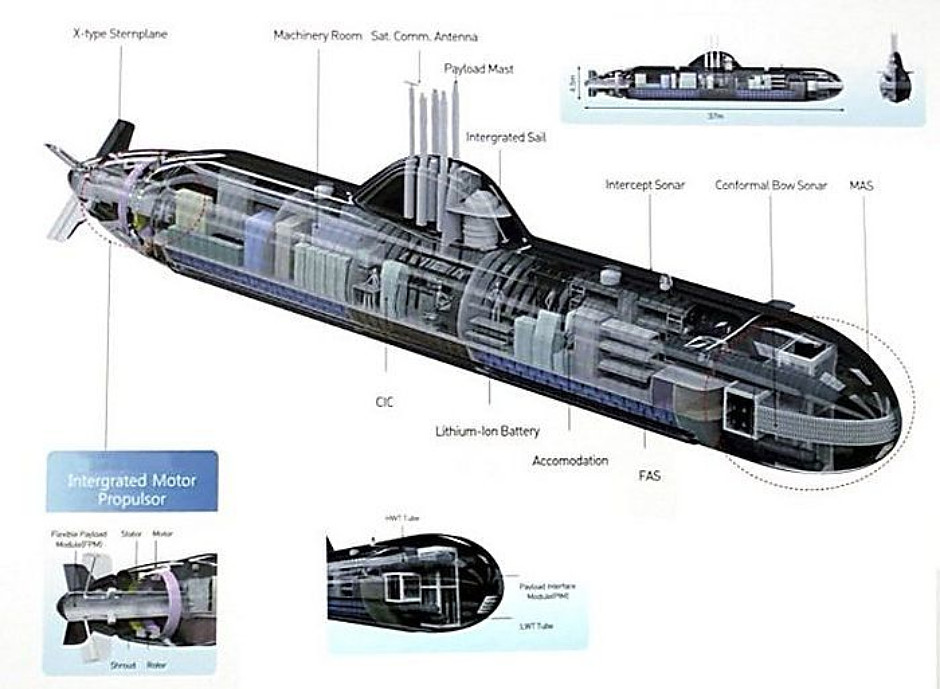 Specification
Length: 37 meters
Beam: 4.5 meter
Displacement: 510 tons surfaced
Speed: Maximum 20 kt submerged, 7 kt cruising
Operating depth: 250 meters
Endurance : 21 days, 2,000 nautical miles
Armament: 2 x 533mm (21") heavyweight torpedoes and 4 x 324mm (12.75") lightweight torpedoes.
Crew: 10 plus 4 combat swimmers

---
Related artcles



Iranian Fateh Class SSK




Maritalia GST-23+ Midget Submarine




MSV-75 midget sub design




North Korean SSBN program - Sinpo Class