OSINT: Russia Removes 2 Radar Decoys Protecting Kerch Bridge


The Kerch Bridge, built by Russia since it annexed Crimea, is of strategic importance. In June extra steps were taken to protect it from Ukrainian attack, including two target barges with radar reflectors. These have now been removed.

They were present in Sentinel 2 satellite imagery on September 5, but not on September 10.

The barges have been an enigma to analysts as it is not clear what they are supposed to achieve. Similar barges have since been used to protect bridges in Kherson. But HIMARS and other Ukrainian systems do not use radar seekers, so it has been in vain. It might be a case of comfort and image ('cope-barges').

At any rate, the ones at Kerch are currently not there.


---
Related articles (Full index of popular Covert Shores articles)



Project 09852 Belgorod Special Mission submarine (spy sub). w/Cutaway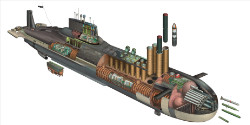 TYPHOON Class SSBN. w/Cutaway



Project 949A/AM OSCAR-II Class Cruise Missile Submarine. w/Cutaway