OSINT Tracker Feb 17 2022

Regular updates on Russian Navy anti-ship (/anti-carrier) assets in Mediterranean and Black Sea. Compiled with Damien Symon (Twitter), based on Open Source Intelligence (OSINT).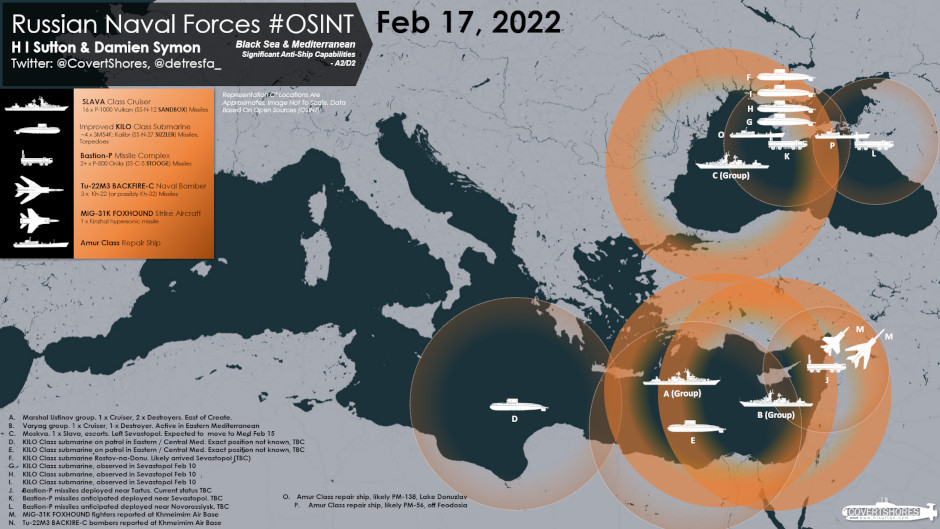 Original Viz. CLICK to enlarge.

Highlights
To keep things simple we normally only report anti-ship capabilities. But axillaries can be equally important especially in their patterns of movement. Two Project 304 Amur Class repair and depot ships have been moved to forward positions on either flank of the Crimean peninsular.

PM-138 is believed to be on the West coast, in a lake with immediate access to the sea, and PM-56 on the East. These axillaries may be a key indicator of coming action., They perform urgent repairs on the high seas. Like field hospitals, they are not needed to be prepositioned during regular drills.



File image of PM-56. Yörük Işık (Twitter)

Background VIDEO BRIEF on YOUTUBE

Surface Groups
Marshal Ustinov group. 1 x SLAVA Class Cruiser, 1 x UDALOY-I Class Destroyer and 1 x Admiral Gorshkov class frigate. Eastern Mediterranean.

Varyag group. 1 x SLAVA Class Cruiser, 1 x UDALOY-I Class Destroyer . Possibly other warships. Active in Eastern Mediterranean

Moskva. 1 x SLAVA Class Cruiser, unreported escorts. has been involved in drills in the Black Sea. It is now unclear whether the Black Sea Fleet's SLAVA class cruiser, Moskva, will enter the Mediterranean as we previously believed.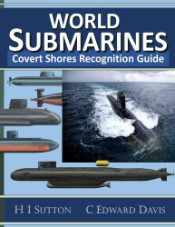 Get The essential guide to World Submarines
This Covert Shores Recognition Guide Covers over 80 classes of submarines including all types currently in service with World Navies.
Check it out on Amazon

Submarines
2 x KILO Class submarines, Krasnodar and Novorossiysk, on patrol in Eastern / Central Med. Exact position not known. To be confirmed.

4 x KILO submarines believed to be in Sevastopol and /or now in Novorossiysk.

Bastion-P missile batteries
Likely deployed near Tartus, Syria.
Likely deployments near Sevastopol and Novorossiysk/Sochi. Units seen on move in recent days around these areas.



BACKFIRE-C with Kh-22.

Aircraft
Tu-22M3 BACKFIRE-C bombers and Mi-31K FOXHOUNDs have deployed to Khmeimim Air Base in Syria were they threaten sips in the Mediterranean. They are armed wit Kh-22 (AS-4 KITCHEN) anti-ship missiles and Kinzhal hypersonic missiles respectively.

---
Related articles (Full index of popular Covert Shores articles)



Project 885 'YASEN' (Severodvinsk Class) SSGN. w/Cutaway



Project 949A/AM OSCAR-II Class Cruise Missile Submarine. w/Cutaway



Project 09852 Belgorod Special Mission submarine (spy sub). w/Cutaway