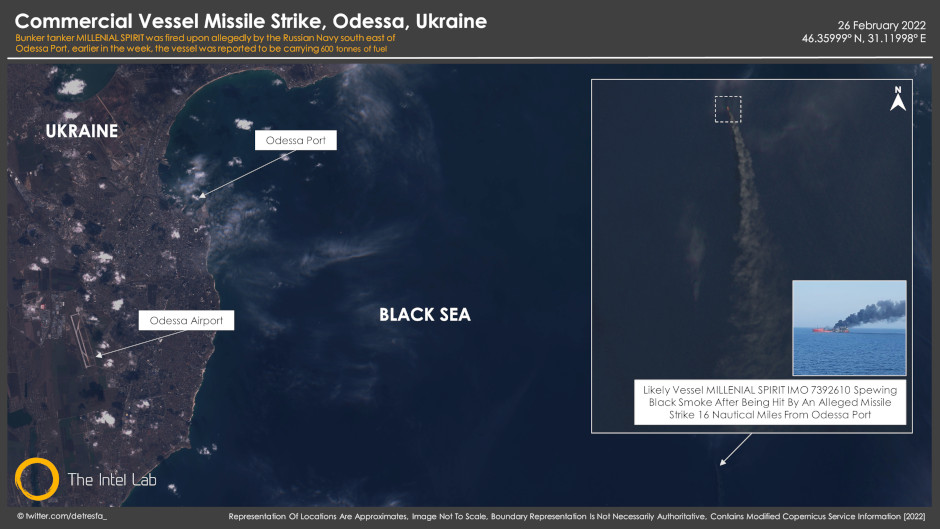 Original visualization by Damien Symon, The Intel Lab. CLICK to enlarge.

Attack on Merchant Ship Off Ukraine Seen in Satellite Imagery
Using open source intelligence (OSINT), Damien Symon (/ The Intel Lab, Twitter), has been able to confirm the vicinity of one of the attacks.

Millennial Spirit (IMO 7392610), a Moldavian flagged chemical tanker, was attacked on February 25. At 09:07 UTC on February 26 it was still on fire, and is visible on Sentinel 2 satellite imagery.

The vessel is seen at 46.360°, 31.120°. This places it 16 nautical miles off Odessa.

It was not the only merchant ship attacked. On February 24, Turkish owned Marshall Islands flagged bulk carrier Yasa Jupiter (IMO 9848132) was hit. The vessel was able to make it to port in Turkey.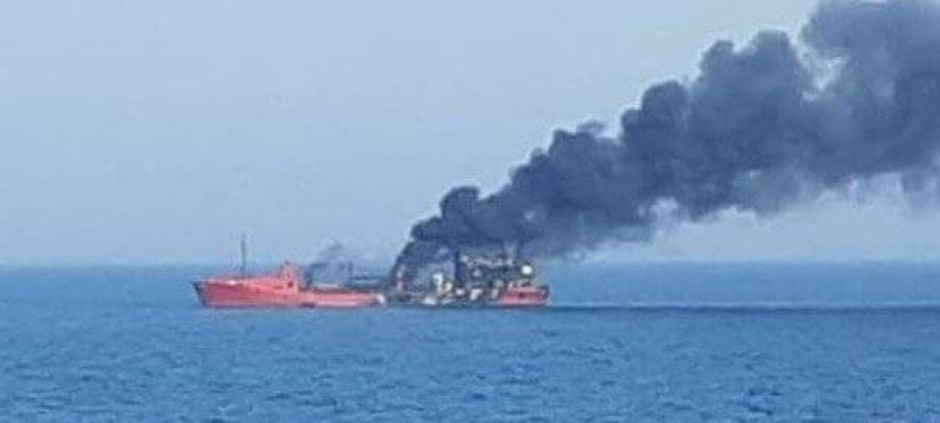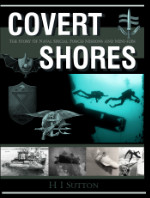 THE book on Special Forces subs Covert Shores 2nd Edition. A world history of naval Special Forces, their missions and their specialist vehicles. SEALs, SBS, COMSUBIN, Sh-13, Spetsnaz, Kampfschwimmers, Commando Hubert, 4RR and many more.
Check it out on Amazon

And on February 25 another ship was also attacked. The Japanese owned Panama flagged Namura Queen (IMO 9841299) was hit.

In a separate incident, 2 Ukrainian bulk carriers were reportedly seized by the Russian Navy on February 27. Princess Nichole (IMO: 8319392) and Afina (IMO: 8029272). They stopped AIS 30min apart near same location, at 10:47 and 11:19 respectively. Based on other OSINT, it appears that a Russian Navy Frigate may have been involved (to be confirmed).

---
Related articles (Full index of popular Covert Shores articles)



Project 885 'YASEN' (Severodvinsk Class) SSGN. w/Cutaway



Project 949A/AM OSCAR-II Class Cruise Missile Submarine. w/Cutaway



Project 09852 Belgorod Special Mission submarine (spy sub). w/Cutaway