Russian Navy Performed A Major Demonstration In Black Sea

May 24 saw a major amphibious demonstration by the Russian Navy in the Black Sea. This is an exercise where their landing ships are used to threaten an amphibious assault. This stresses the Ukrainian defenses and creates uncertainty.

The demonstration is visible in a Sentinel-2 satellite overpass of the western Black Sea at ~0900 UTC on May 24. It was not picked up in the cursory analysis however because of the dispersed elements. It is only with further analysis, and efforts to identify ships, that the pattern emerged. Thank you to everyone who helped.

A series of these demonstrations can also act as a feint. It may mean that a real assault, when it comes, is not taken seriously enough by the defenders until it is too late.

In this specific case, it may also have acted as a distraction, to cover a separate operation to reinforce Snake Island.

Two Formations, North And South
The southern group was the larger part, with four landing ships. Two Ropucha class and two Alligator class. These were escorted by two Buya-M class missile corvettes and a minesweeper.

The group was seen south west of Crimea and heading east-north-east, generally back towards Sevastopol. This is further south than we normally expect to see the amphibious demonstrations.

The explanation is that they were returning to their base at the time, having previously approached towards the Ukrainian coast. This is supported by the fact that the minesweeper is at the back. So the formation was reversed. Given their location, it is likely that the demonstration targeted the southern tip of Ukraine. This is relevant if a landing is targeting Moldova. One of Russia's unrealized strategic aims may be to create a land bridge to Transnistria, a Russian-backed unrecognized breakaway state in eastern Moldova.

The northern arm consisted of two landing ships, escorted by a frigate. These were observed running race-track paths near to the Crimean coast, east of Odessa.

The landing ships were a Ropucha Class and an Ivan Gren Class. The latter is, with confidence, Pyotr Morgunov. It seems likely that this group is made up of non-BSF landing ships previously seen concentrated at Novorossiysk.

The FSB operated Rubin class boats, which patrol here, were also present. These patrol up and down that stretch of coast, near to Ukrainian controlled territory.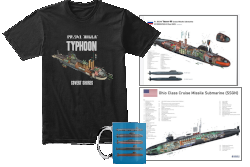 Covert Shores Posters, T-shirts, Mugs
and more featuring exclusive Covert Shores original artworks and design...Available on TeeSpring

This may help cover the overheads of the website

Snake Island Reinforcement
Another major focus for the Russian Navy on May 24 was the reinforcement of their Snake Island outpost. The island was captured from Ukraine in the opening hours of the invasion but has been subject to significant attacks since. Several assault boats and a landing craft have been lost there, as well as air defense systems and buildings.

The Project 02690 Seagoing self-propelled floating crane returned. It recovered the Serna Class landing craft which was sunk by a Ukrainian TB2 drone on May 7.

Effort was assisted by a flotilla of fast boats, landing craft and tugs. The tugs are also used to provide air defense with Pantsir gun/missile systems lashed to their decks. Multiple tugs was useful as one assault boat needed towing.

---
Related articles (Full index of popular Covert Shores articles)



Project 09852 Belgorod Special Mission submarine (spy sub). w/Cutaway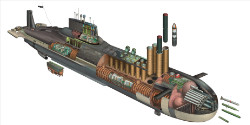 TYPHOON Class SSBN. w/Cutaway



Project 949A/AM OSCAR-II Class Cruise Missile Submarine. w/Cutaway