Attack On Kerch Bridge: Initial Geolocation Of Damage


This will undoubtedly go down in history as a textbook conventional strategic strike on vital infrastructure. Yet we do not yet know how it was achieved. The fog of war is still thick, just hours after the attack.

Ahead of fresh satellite imagery, I have made a first pass at geolocating the damage, caveats apply. It appears to be south of the steel arches over the shipping lane.

At least three spans of road appear to have collapsed into the sea. There are two sets of lanes and only the inbound (towards Ukraine) one appears to have been hit. It is unclear whether the other lane is survivable.

There is no doubt that this attack, the day after Putin's 70th birthday, is a major success for Ukraine. Supplies in and out of Crimea will be disrupted. However, it seems likely that the remaining set of road lanes may be usable within a relatively short period of time.

Damage to the rail sections is harder to determine. Heat damage may have affected the steel structure.

Means of Attack
Early theories are that the bomb was inside a truck, although this does not necessarily match the extent of the damage. Possibly the roads were poorly constructed?

I do not think explosive boats, such as the one found in Sevastopol on September 21 are likely. In general, explosive boats attack pillars not the center of spans of bridges.

The bridge is defended by natural geography, patrol boats, aerosol generators and likely air defenses. Two radar decoy barges were previously deployed but these have since been removed.

The fire was recorded on the Meteosat-9 weather satellite, operated by the European Organisation for the Exploitation of Meteorological Satellites (EUMETSAT). This was noted by ar_etsch on Twitter.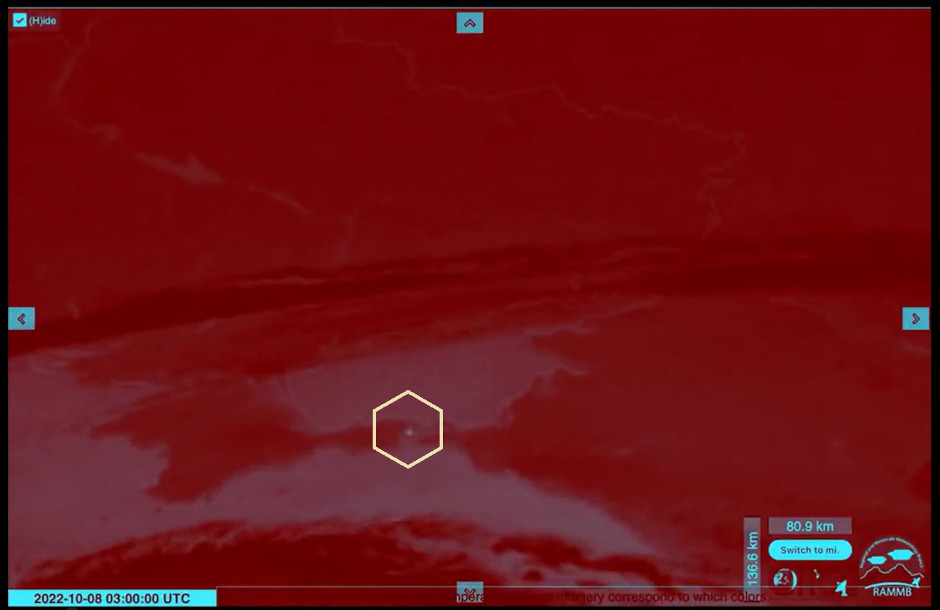 Russian Navy Increases Activity
In an apparent response, the Russian Navy has increased activity around Sevastopol. It is possible that some ship movements are between Novorossiysk and Sevastopol. The boom across the harbor entrance remains closed however, showing a heightened level of alert since the explosive USV surfaced on September 21.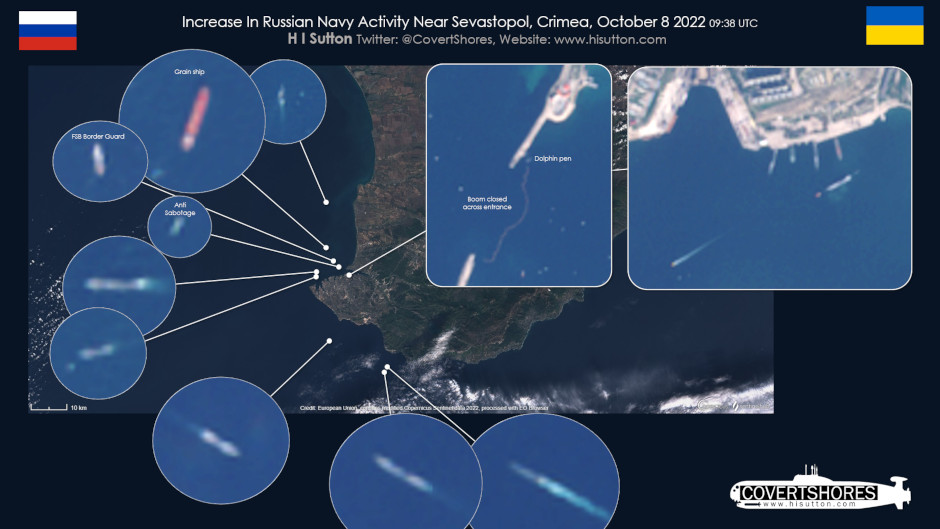 CLICK to Enlarge.

Updates pending.

---
Related articles (Full index of popular Covert Shores articles)



Project 09852 Belgorod Special Mission submarine (spy sub). w/Cutaway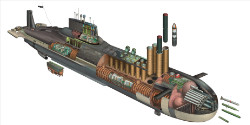 TYPHOON Class SSBN. w/Cutaway



Project 949A/AM OSCAR-II Class Cruise Missile Submarine. w/Cutaway