OSINT: Chinese Navy Expanding Key Air Base In South China Sea

China is expanding Lingshui Air Base near the Sanya & Yulin naval bases on Hainan, South China Sea. The base has already been upgraded to accommodate fighter aircraft from the aircraft carriers stationed there. Carrier deck markings have been added to the runway, and a long row of covered standings were added. Now the west side of the base is being upgraded.

The work has been visible in Sentinel 2 satellite imagery since last year, and has been tracked, together with Damien Symons. Google Earth has also been updated with imagery showing some of the work.

Two areas of new construction began to be cleared in October 2021. A set of cement silos has also been set up, and work is still underway on a series of buildings.

The area is increasingly important to the Chinese Navy (PLAN), and hosts an aircraft carrier. Principally the Type-002 carrier Shandong (CV-17). When the carrier is in port the airwing is hosted at Lingshui Air Base. The upgrade to the base may be to support this.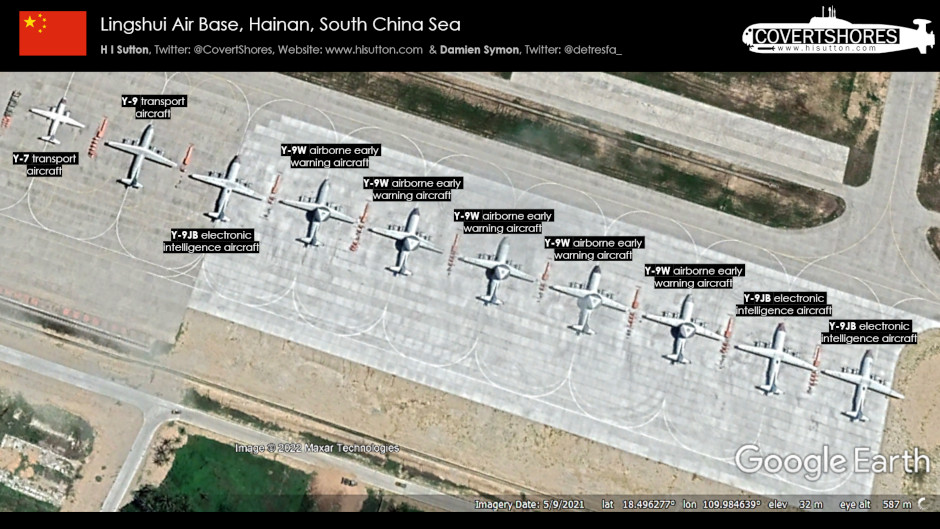 CLICK to Enlarge.
The base is also the permanent home to Y-9JB electronic intelligence aircraft and Y-9W (KJ-500) airborne early warning aircraft.

---
Related articles (Full index of popular Covert Shores articles)



Chinese Type-093 Shang Class Submarine w/Cutaway



Chinese Navy's Advanced Submarine Type-039C Yuan Class. w/Cutaway



Chinese Navy's First Cruise Missile Submarine, Type-033G Wuhan Class. w/Cutaway