SDV designer - K.R. 'Dick' Tuson


Sad to learn of the recent passing of a British scientist who was instrumental in British naval/military diving and Swimmer Delivery Vehicle (SDV) projects in the 1960s. This article gives a brief overview of his projects and designs, coming at it from an SDV history perspective.

It was not possible to interview Tuson for the Covert Shores book but his archives, in the care of the Historical Diving Society in UK, were instrumental in my research. Most of the information which follows is from that source.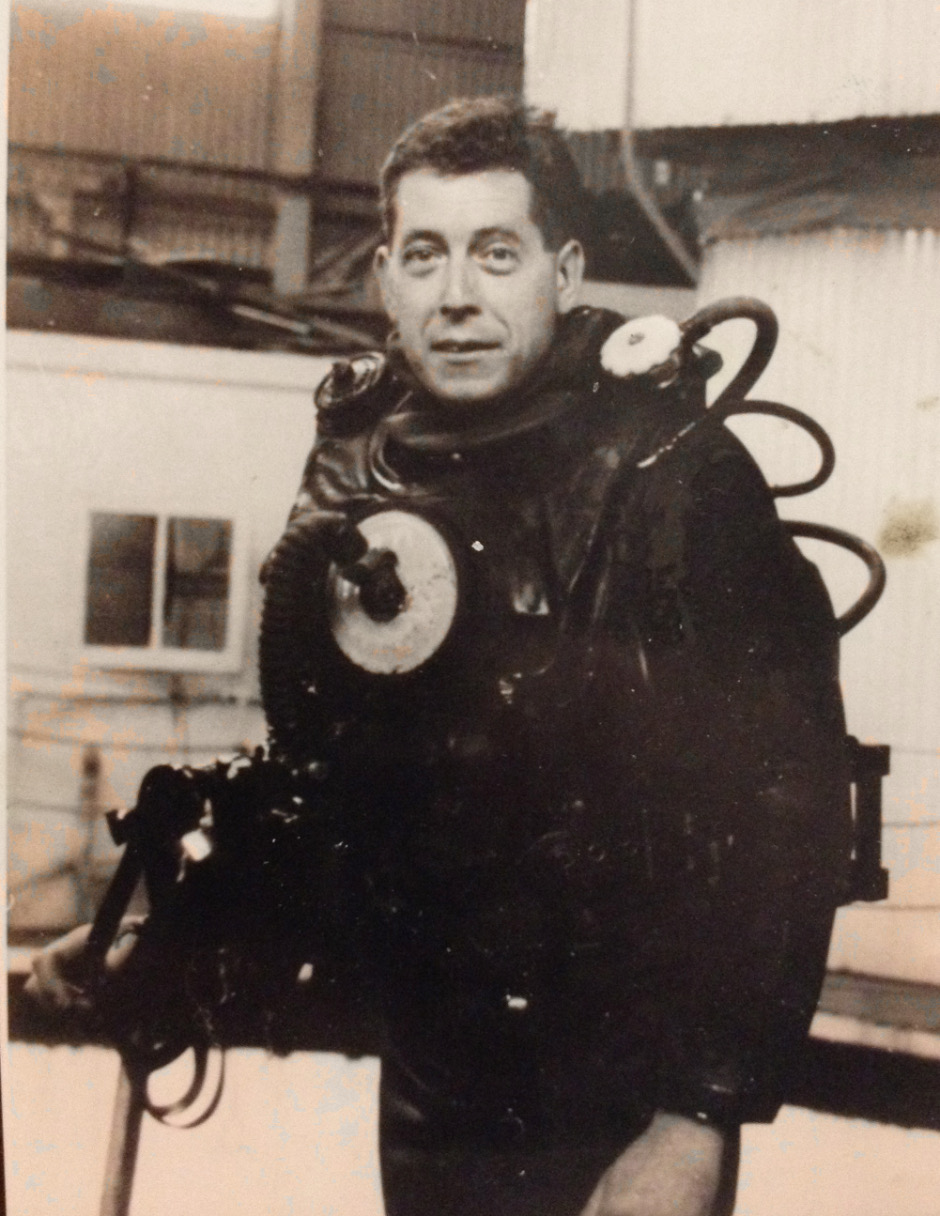 K.R. 'Dick' Tuson served as a scientist in the Admiralty Materials Laboratory ('AML') in Holton Heath, Poole, UK in the 1960s. He was directly involved in research into diving equipment and the design of various Swimmer Delivery Vehicles (SDVs). Critical to his success was that he was a trained diver proficient in most British and French diving apparatus and took a hands-on approach to testing his vehicles, even participating in realistic exercises with the Special Boat Squadron (SBS) and Royal Navy Clearance Divers.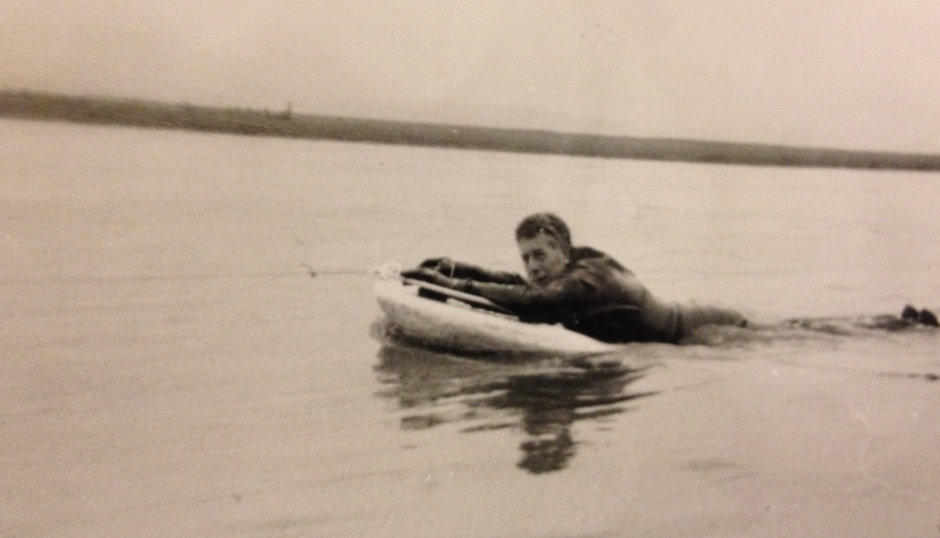 Tuson went through the discomfort of created a life size plaster cast dummy of himself in order to carry out experiments comparing the drag of various diving apparatus at different speeds.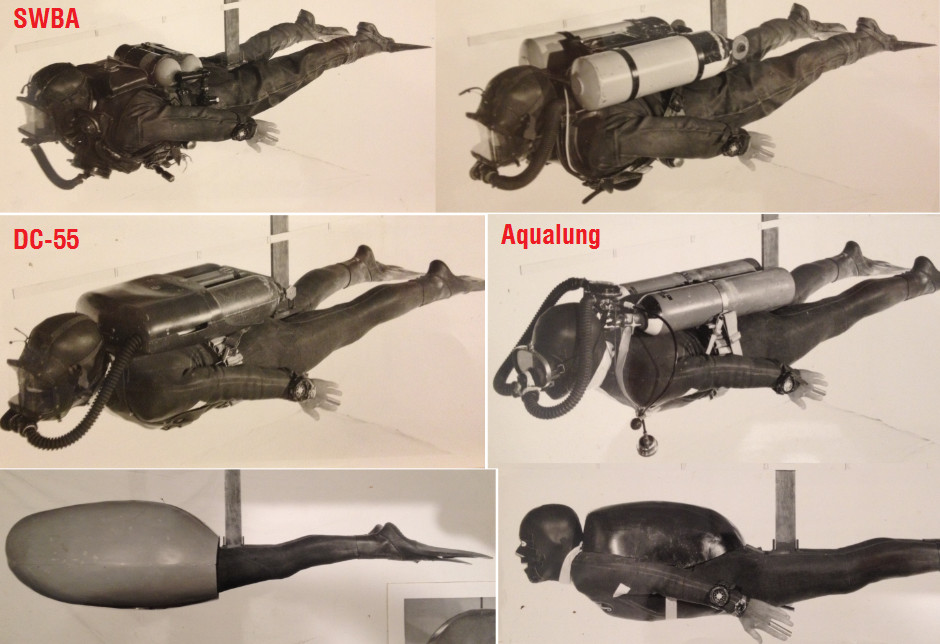 Some of Tuson's first experiments with SDVs at AML were various modifications to the wartime Motor Submersible Canoe (MSC), better known as the 'Sleeping Beauty'. By the mid-1960s these craft were worn out, and it seems quite possible that Tuson was one of the last people to drive one before the last was retired. Note the forward hydroplanes and custom watershield.


As well as qualifying on Royal Navy and SBS diving gear (courses in 1958 and 60), Tuson trained in diving with the French Navy in Toulon in 1961 where he learned to use the DC55 mixed gas rebreather and the 'Propulseur' diver transport (aka Tracteur Sous-Marins) developed by the GERS company of Jacques Cousteau. France was a hotbed of diving innovation at this time. He bought some diving gear and propulseurs back to UK.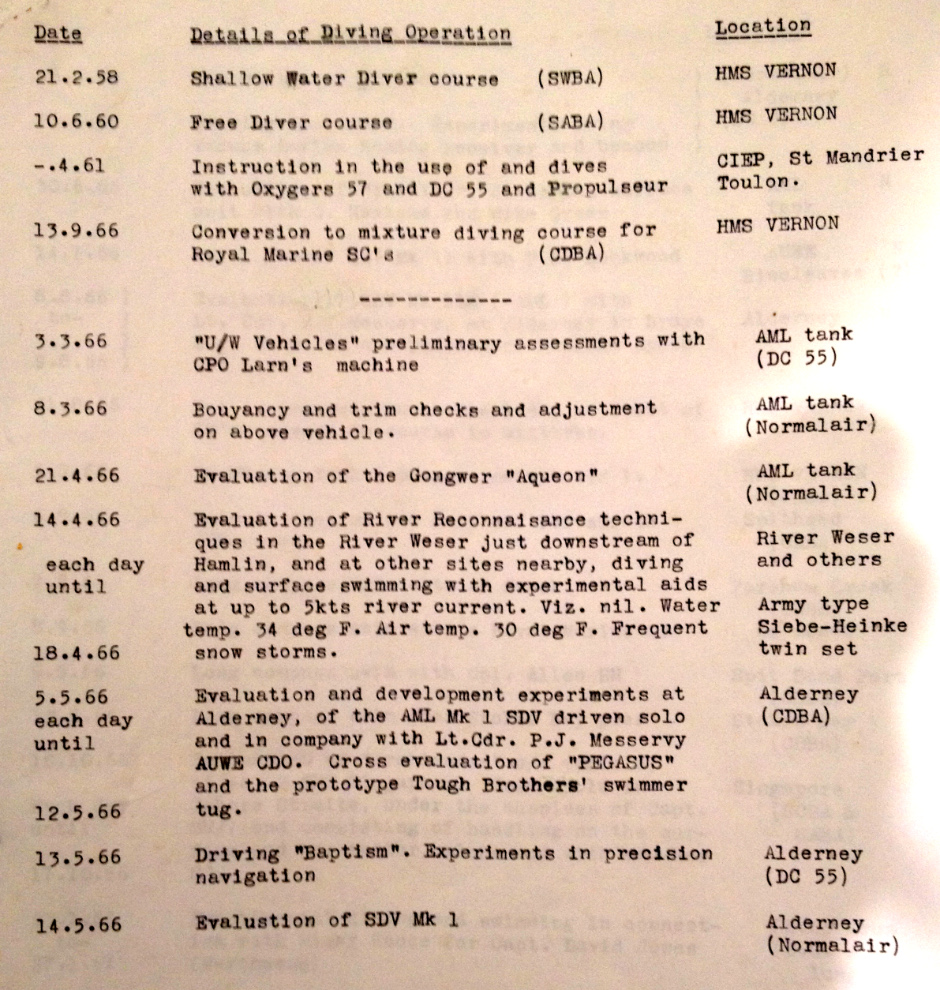 About the same time he was designing his first diver transport for the SBS, which became known as Baptism: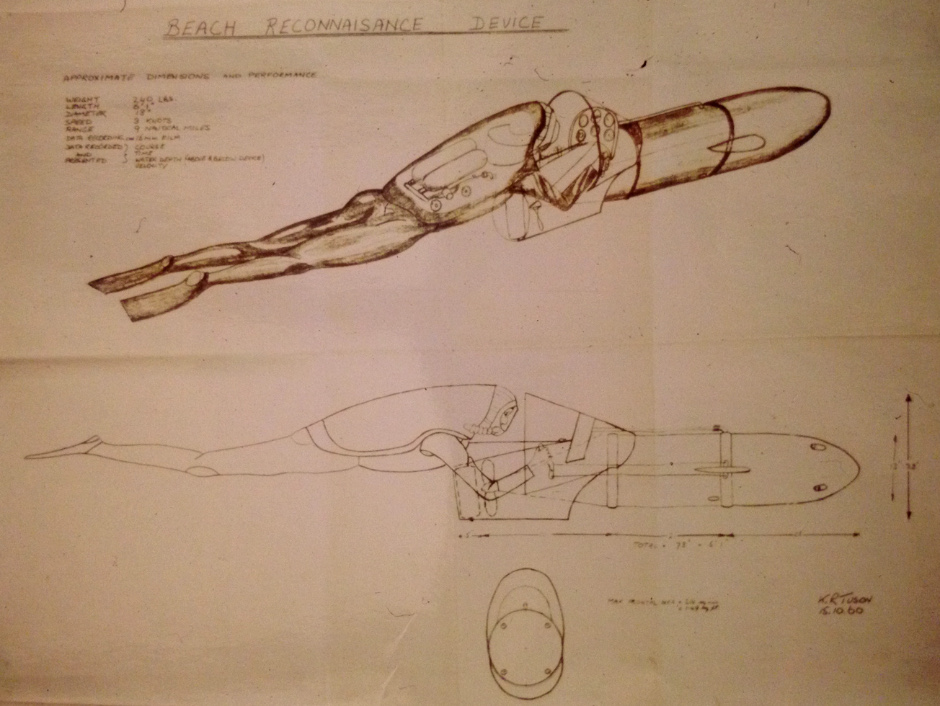 Tuson's design differed from the French propulseur by using hydroplanes and a rudder to steer it more accurately, and by incorporating a lot of instrumentation specifically for beach reconnaissance purposes. As the craft was driven towards the beach it was recording the depth, heading, time and so on using a cine camera which could be played back after he mission. The concept was that a single machine allowed one diver to do a task then done by four (a team of two swimmer-canoeist divers plus two buddies, using two canoes) with the advantage of increased stealth.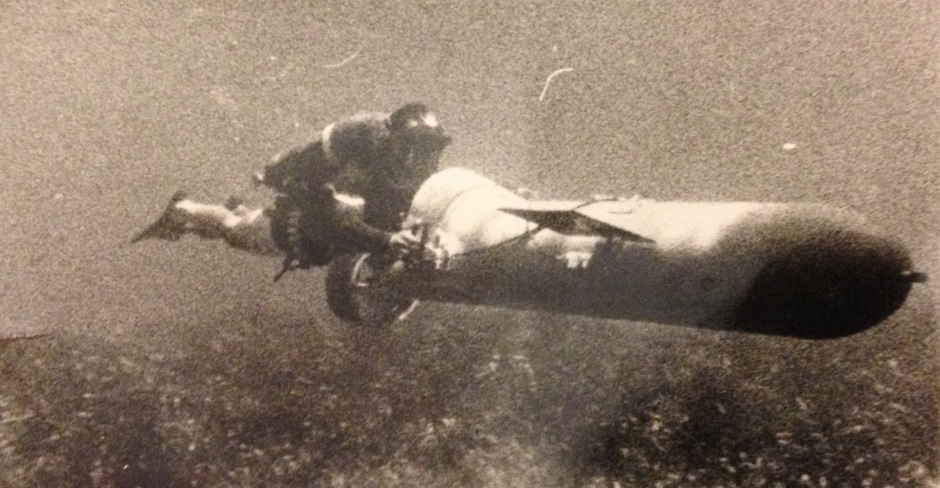 Baptism being tested by an SBS Officer in Malta, early 1960s.

Another diver transport Tuson experimented with at this time was the 'Tough Bros' tug:


Baptism was ahead of its time and was never adopted operationally. By May 1966 Tuson was already working on a much larger Swimmer Delivery Vehicle ('SDV') for Clearance Divers. Tuson worked closely with Lt.Cdr. P J Messervy, a CDO at AUWE (Admiralty Underwater Weapons Establishment) in Portland. Tuson turned to another French design, the Pegasus one-man underwater scooter designed by Dimitri Rebikoff. Tuson had several at AML and was constantly modifying them for various experiments: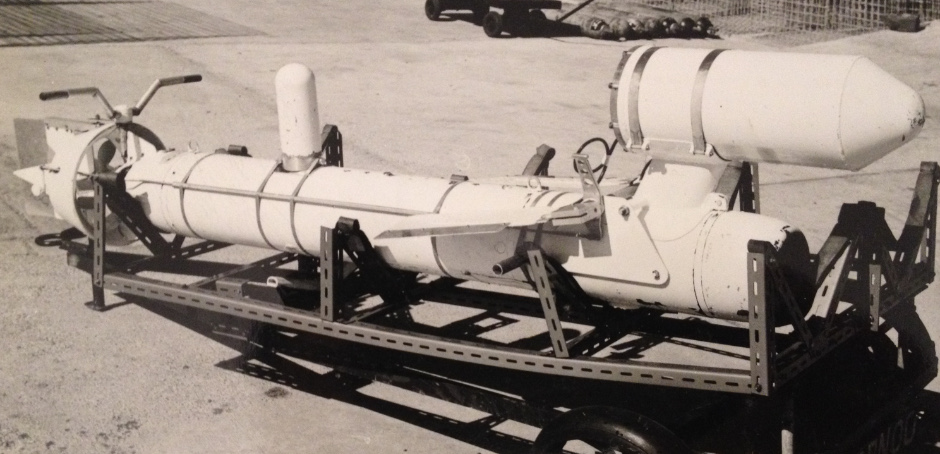 One of Tuson's heavily modified Pegasus

Tuson's SDV (sometimes retrospectively SDV-1 although that was also used for the CDV, see below) consisted of two battery and motor casings (likely borrowed from Pegasus) mounted one above the other in a frame with the instrument containers in the nose and the two divers laying either side.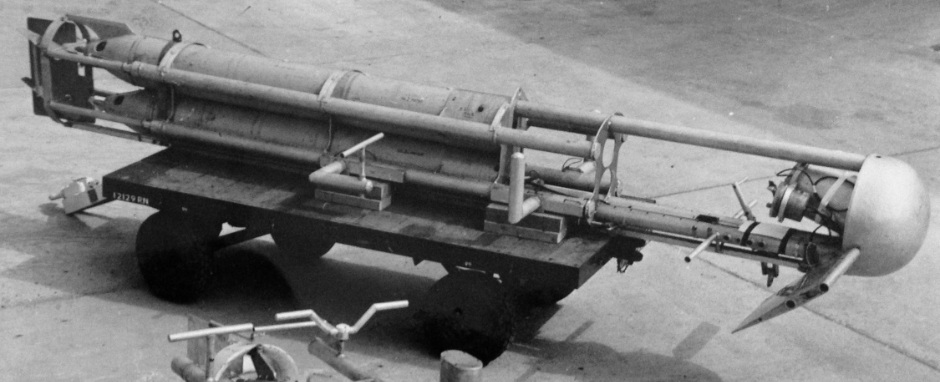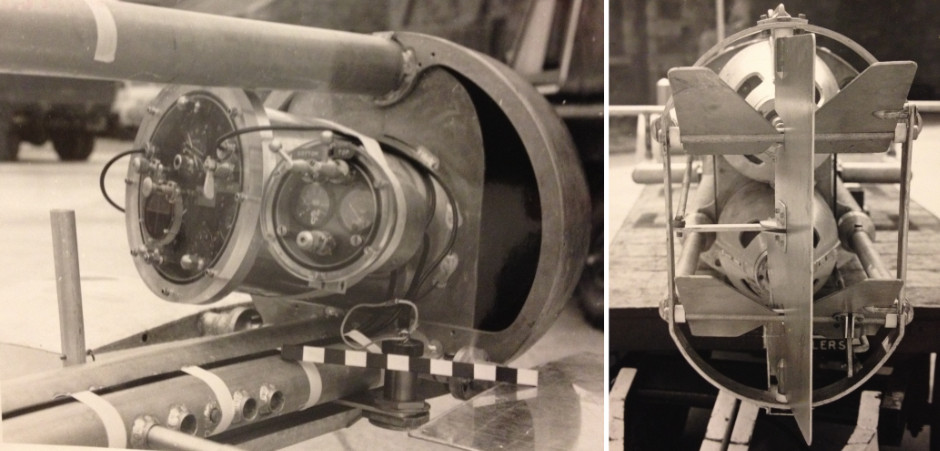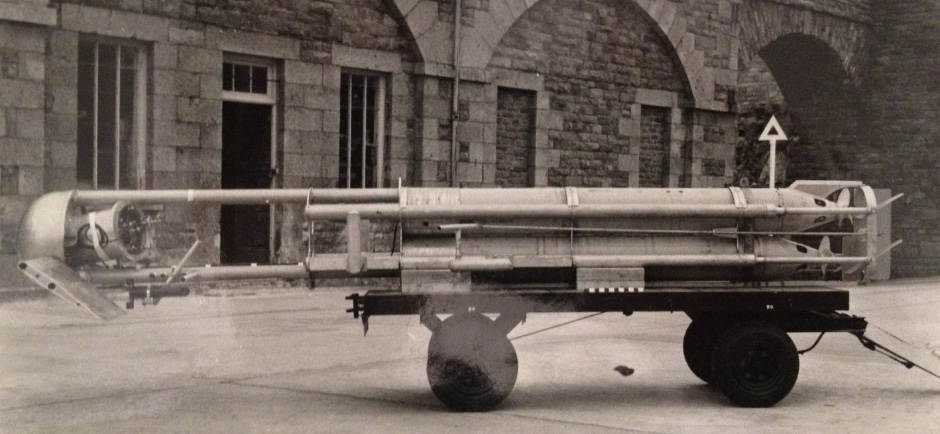 The SDV led to the more sophisticated CDV (Clearance Diver Vehicle), three of which were built. Again Tuson worked closely with Lt.Cdr. P J Messervy who wanted a two-man vehicle for retrieving objects on the sea floor. Like the Baptism the CDV was very advanced with equipment including a homing system to help the crew find a beacon on the sea floor, or home in on the host submarine after a mission. Over time the Clearance Diving branch of the navy became less interested the CDV because it was focused on a peacetime responsibility. The SBS however wanted a craft for recce and ship attack missions and acquired one of the craft. The SS naturally renamed the craft the SDV instead of CDV although it was commonly referred to simply as the 'AML' after the Admiralty Materials Laboratory.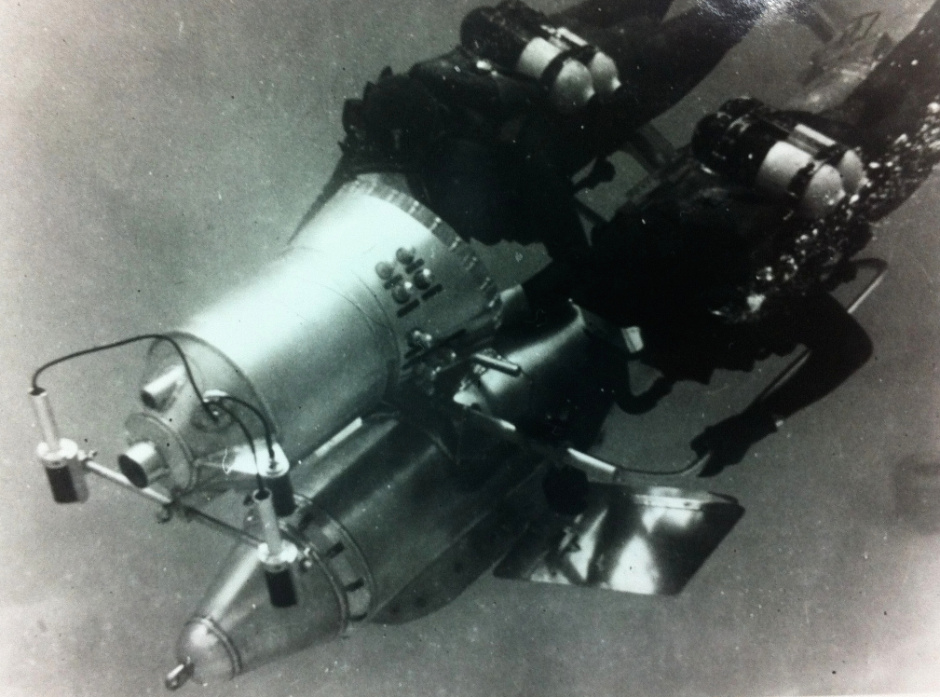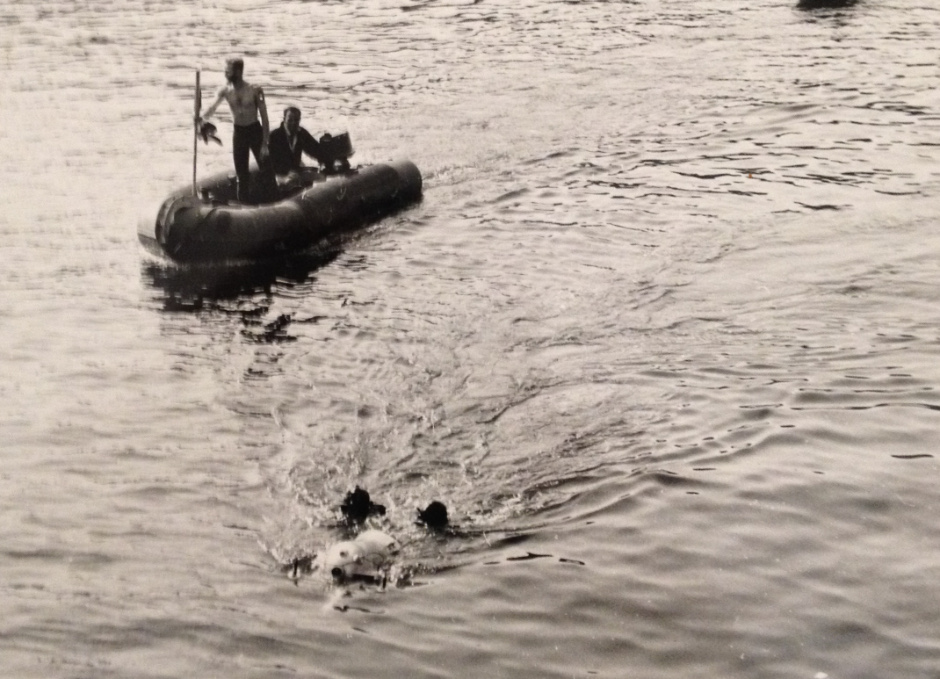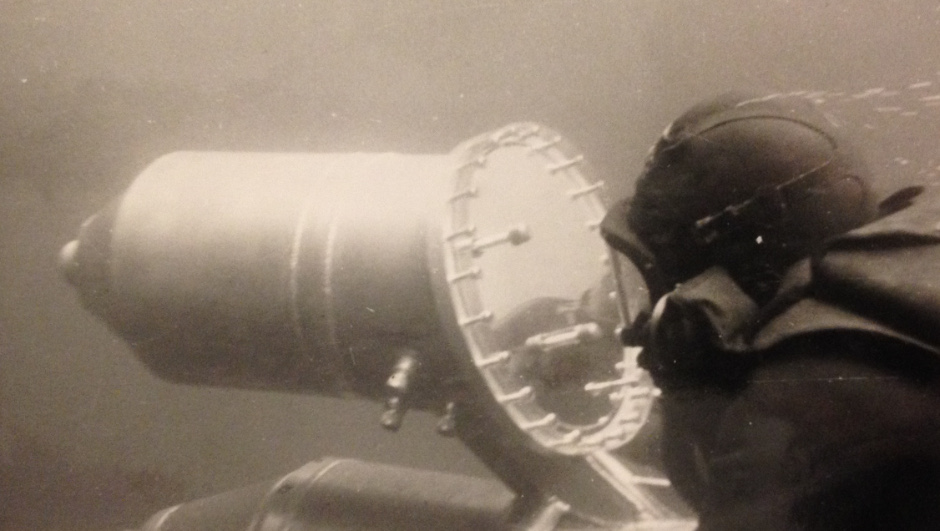 The CDV/SDV was still relatively small and could be carried under the casing of a host submarine. The SBS tested it in Gibraltar, Malta and up near the ice in Norway.

Tuson sketched an enclosed version of his CDV design. These are real biro sketches of a designer at work – rare indeed! The top sketch is clearly a variant of his CDV design viewed from above, while the bottom two sketches show an enclosed design with features reminiscent of the 1950s American Aerojet Mk.VII but with pumpjet propulsion, and also of the SDV Mk.IX which would have been relatively secret at the time but which Tuson probably had good knowledge of.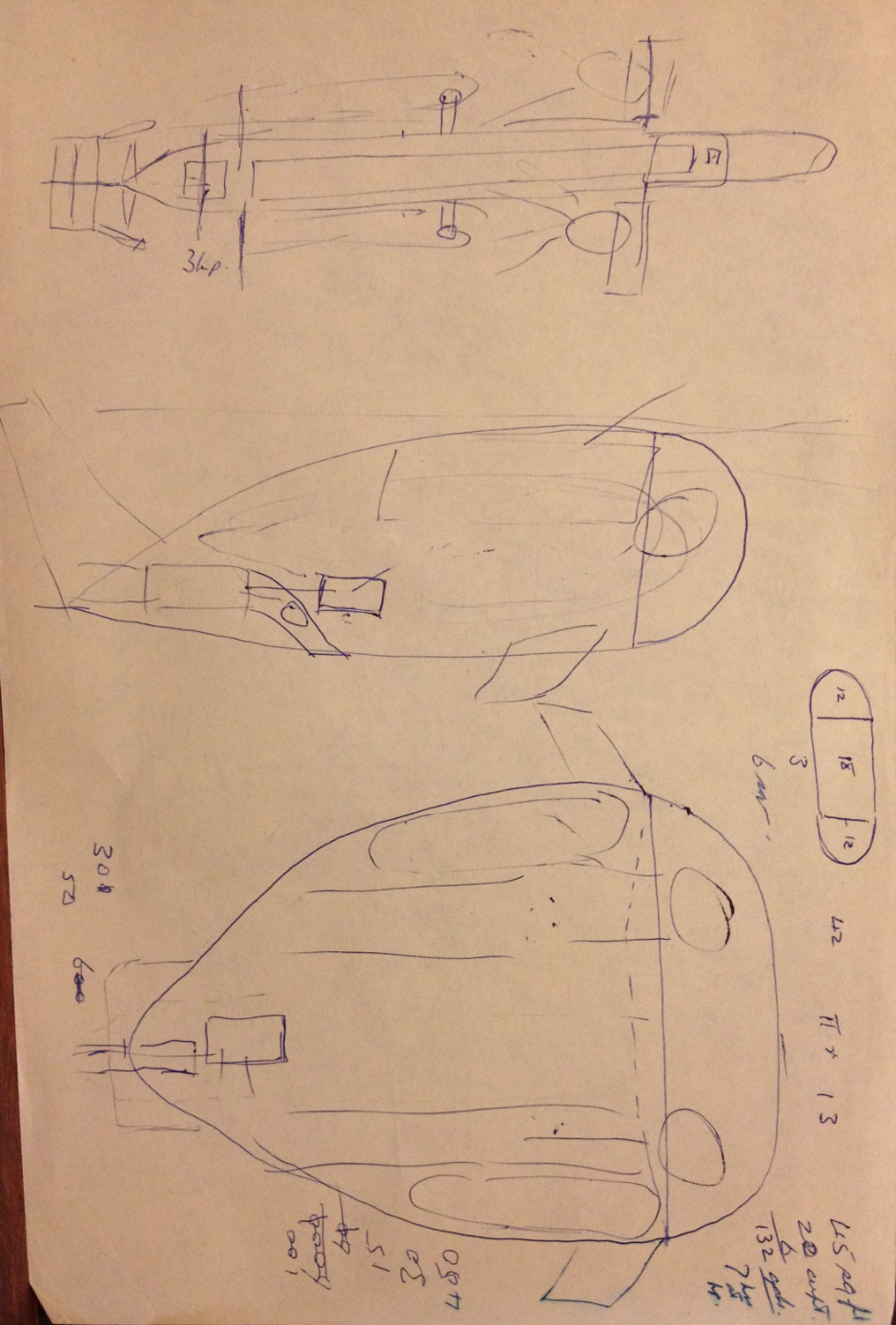 Another of Tuson's SDV design sketches, this time showing a streamlined enclosed or partially covered craft for searching the sea bed. Tuson considered several power sources including electric, fuel cell (!!!) and cable from parent craft. He noted that it would be lighter than a bottom-crawling design.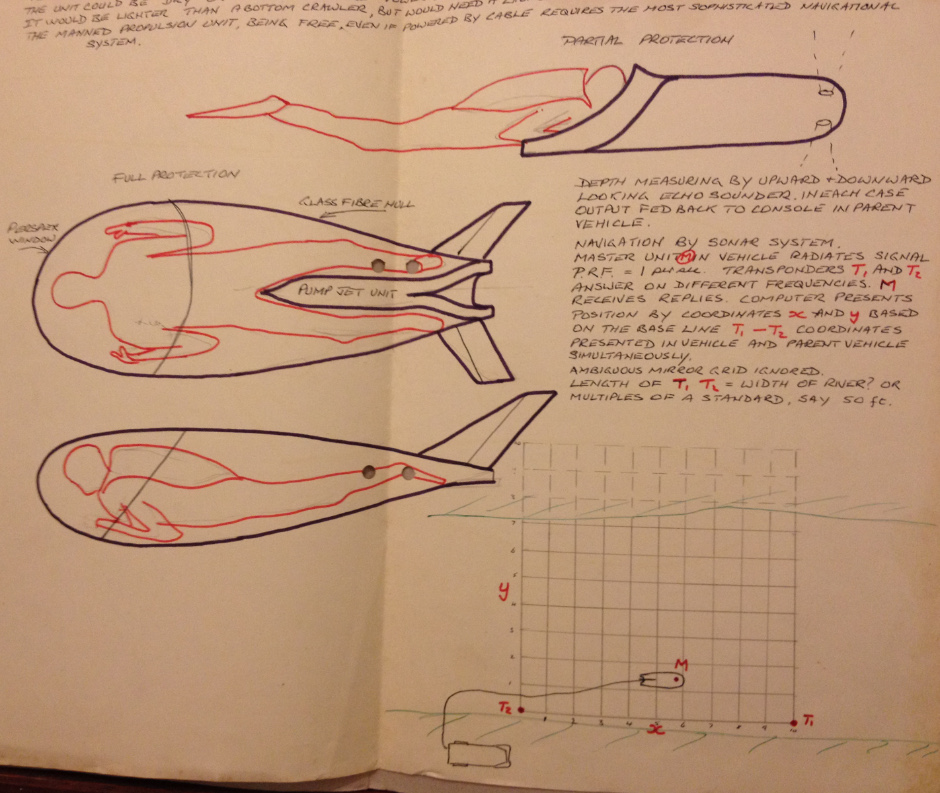 After leaving the Admiralty Materials Laboratory (AML) Tuson was involved the Jim atmospheric diving suit which was used with great success in the oil industry, particularly for deep and cold dives. Atmospheric diving suits allow the diver to remain at surface pressure (One Atmosphere) despite diving to great depths, thus eliminating the problems of decompression and the Bends.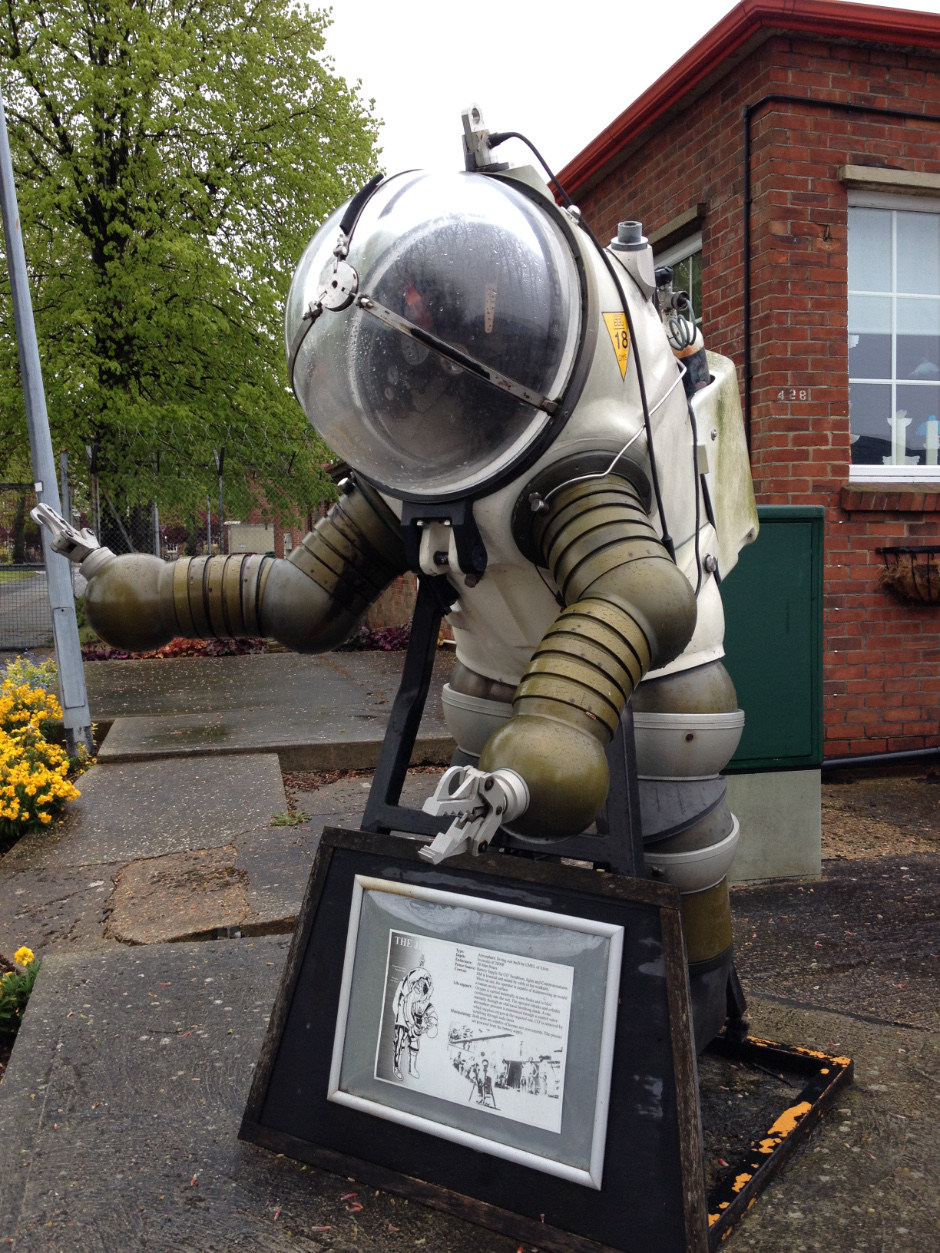 In the 1980s Tuson's interest in SDVs and submersibles was reinvigorated by the emerging battery technologies and certain hydrodynamic studies in the US. Tuson made detailed calculations and sketched designs for extremely efficient submersibles. His focus was on using extremely efficient hydrodynamics to reduce the size, weight and expense of the battery needs, thus overcoming one of the major limitations of all SDVs up to that point. In some respects he was ahead of his time in this thinking, and his deep understanding of the practical challenges of SDV design and operation are clear. Reading his notes and proposals I think it shows that his hands-on approach to SDV development and testing grounded his ideas in the real world, and yet his engineering mind allowed plenty of room for innovation and unconventional thinking. Unfortunately his later designs did not make it off the drawing board.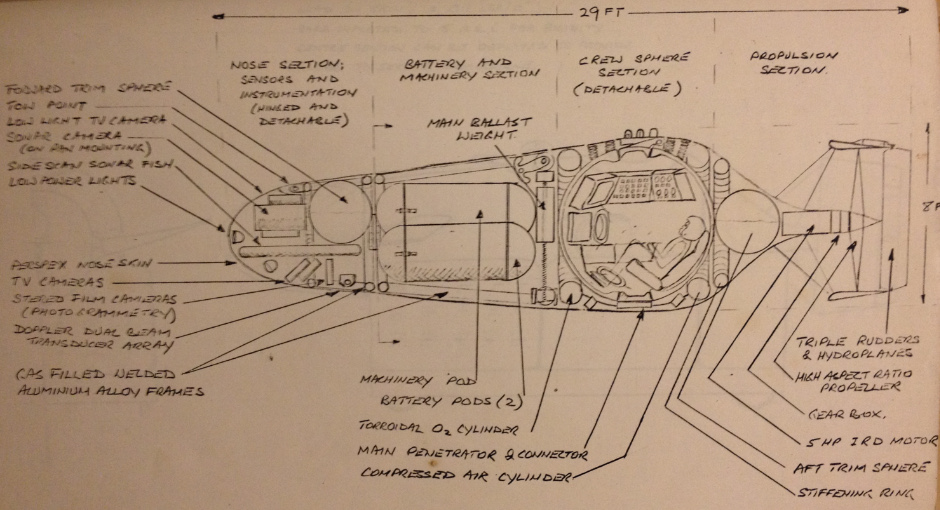 Tuson's sketch of a highly efficuent two-man dry-sub.

---
Related articles



SWUV (/ PSM3G) advanced SDV



Sleeping Beauty (Motorised Submersible Canoe) of WW2




SubCat SDV





Marex Type-A (A2, A4, A5, Comex Total-Sub-01) SDVs