OSINT: Iran's IRGC Getting Massive New Ship

The Iranian military is continuing its love affair with large forward base ships. The IRGC (Islamic Revolutionary Guard), who have their own navy in parallel to the regular navy, are commissioning a new vessel. The I.R.I.S. Shahid Mahdavi (110-3) started life as a large container ship. It is now undergoing a refit to give it a logistic role.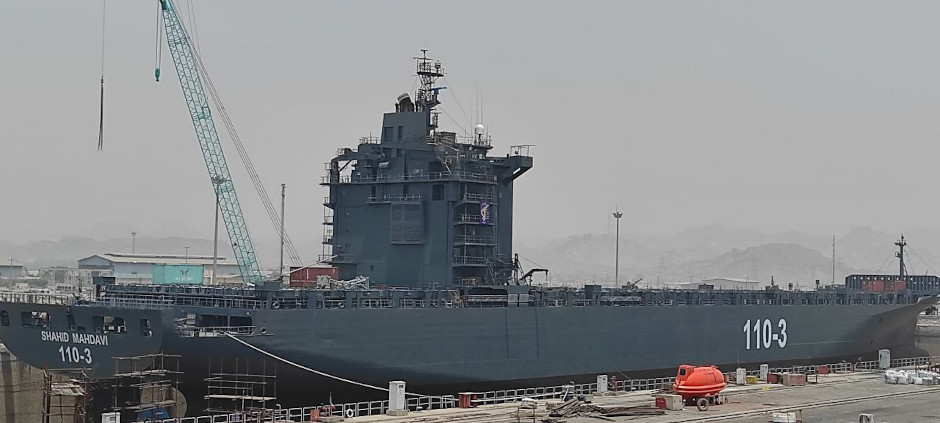 An image shared on social media confirms satellite image analysis.

The vessel is named in honor of Nader Mahdavi. He was one of 7 IRGC personnel killed in an engagement against the U.S. Navy in October 1987.

According to defense analyst Aurora Intel, the ship is Savin (IMO 9209348). This Iranian flagged container ship was previously Dandle. She was built in 2000 and is 240.2 meters overall, and 32.2 meters across. Based on imagery analysis it appears that she had been outside the naval base at Bandar Abbas, in the civilian anchorage, since mid-2019. It had been in its final spot since March 2021. Based on analysis of satellite imagery, the ship was brought to the shipyard in late January 2022. Work likely commenced soon after.

The refit is being done at the same yard where the regular Iranian Navy's own forward base ship, I.R.I.N.S. Makran (441), was converted. At 240 meters long the new IRGC ship appears to be similar lenght but slightly smaller overall than the Makran, which was a tanker. But it will be by far the largest ship in IRGC service.

The IRGC already has three forward base ships. The I.R.I.S. Shahid-Roudaki is the smallest at 150m length. The other two are more covert, the Saviz and Behshad, and are used as base ships in the Red Sea. Behshad replaced Saviz there after the latter was mined in 2021.



The conversion includes adding crewed anti-aircraft guns. Note the IRGC flag on the superstructure during work

---
Related articles (Full index of popular Covert Shores articles)



Iranian Fateh Class submarine w/Cutaway



Iranian Nahang Class midget sub



Iranian XLUUV