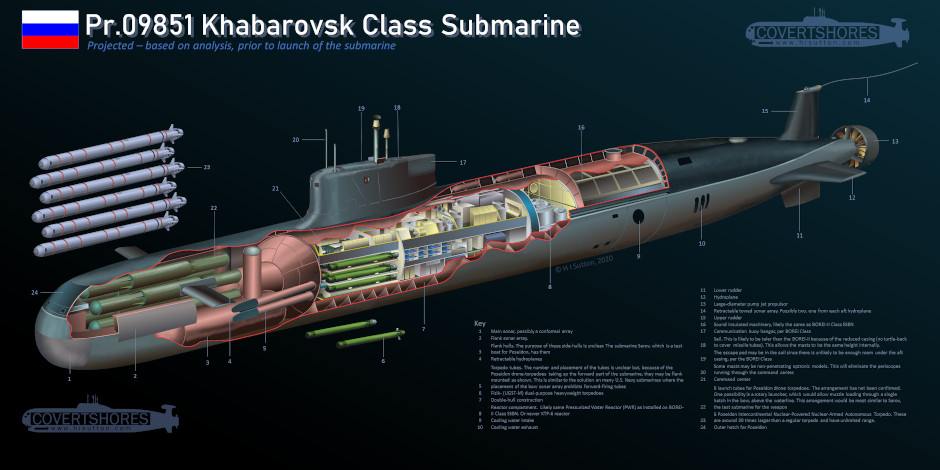 Original artwork - CLICK for HIGH-RESOLUTION image.

New in Russia: Khabarovsk Class Submarine

When Russia embarked on the path of introducing a completely new category of nuclear weapon, the gigantic Poseidon drone torpedo, they had to create a whole new category of submarine to carry it. In a move that harks back to the Cold War, the Russian Navy is quietly building a fleet of these submarines. The first dedicated boat, Khabarovsk, is expected to enter the water next year.

Poseidon (GRAU: 2м39, NATO: KANYON) has been described by the U.S. government as an Intercontinental Nuclear-Powered Nuclear-Armed Autonomous Torpedo. There is no designation for the new type of submarine to carry it. They are not SSNs or SSGNs (attack sub or cruise missile sub). They are more like an SSBN (ballistic missile sub) but without the 'B'. Provisionally we can call them SSDNs (drone carrying submarines).



The unique capabilities of this weapon could influence the nature of undersea warfare. In my view, these submarines are likely to be the defining submarine of the 2020s because they represent a novel and difficult adversary.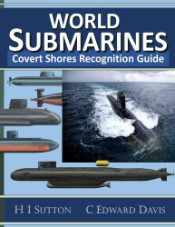 Get The essential guide to World Submarines
This Covert Shores Recognition Guide Covers over 80 classes of submarines including all types currently in service with World Navies.
Check it out on Amazon

Other navies are unlikely to emulate it, but they will want to counter it. The underwater game of cat and mouse where U.S. Navy and Royal Navy hunter-killer submarines stalk the Russians could be reinvigorated. A new Cold War in the Arctic, North Atlantic and North Pacific.

Russia has managed to keep many details about the next of these special submarines, Khabarovsk, out of the public domain. Relatively little is known about this large nuclear-armed boat, certainly in comparison to Western types. So it's launch is eagerly anticipated by defense watchers. It is being built in Construction Hall 1 at the Sevmash yard in Severodvinsk in Russia's Arctic North. It is now expected to be floated in spring/summer 2020. We shouldn't hold our breath though, the launch has been delayed years already.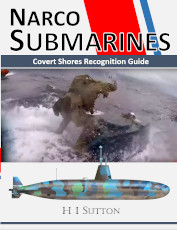 The World's ONLY Guide to
Narco Submarines
10 years of research, analyzing over 160 incidents, condensed into a handy guide. This unique book systematically breaks down the types and families. With detailed taxonomy, recognition 3-views, profiles and photos. Available on Amazon



Khabarovsk is not the only submarine designed to carry Poseidon. In total there will be four boats of three classes:

Pr.09851 Khabarovsk - nuclear submarine armed with six Poseidon weapons
Pr.09852 Belgorod - one off OSCAR-II STRETCH submarine launched on April 23 2019. Armed with six Poseidon but also designed to host deep diving midget submarines for seabed warfare
Pr.09853 - two follow-on Poseidon carriers, likely evolved from the Khabarovsk design
What Is Known About Khabarovsk?
The existence of the "Project 08951" submarine has never been a secret, but it is barely talked about in Russian sources. Gradually, from the few sources and old-fashioned analysis, a picture has emerged.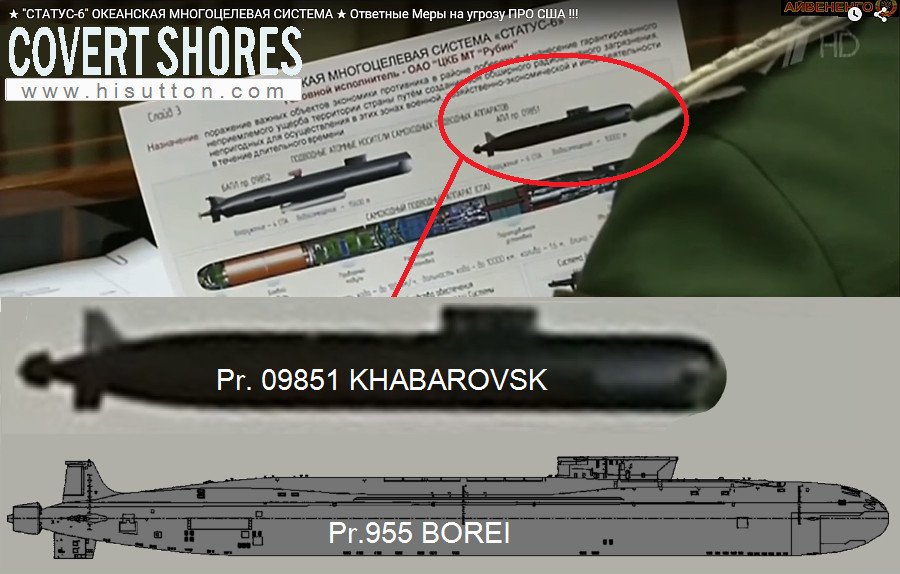 On November 9 2015, Russian TV station NTV 'leaked' the Poseidon weapon, then labelled Status-6. Khabarovsk seen is top right. The representation of Belgorod, on the left, turned out to be generally accurate although the sail's leading edge was different.

Khabarovsk will likely share a lot of elements of the BOREI / BOREI-II Class Ballistic Missile Submarine (SSBN). This should reduce cost and also make it more stealthy than many other submarines in service with the Russian Navy. The forward half will be taken up by the six ginormous Poseidon drone torpedoes.



Poseidon, also known as 'Status-6' and the NATO reporting name 'Kanyon,' is designed to be both nuclear-powered and nuclear-armed, giving it virtually unlimited range. It therefore would poses a threat to coastal cities such as New York and Los Angeles. The Russian Ministry of Defense describes it as a multi-purpose weapon and suggests that it could also target the U.S. Navy's Carrier Battle Groups.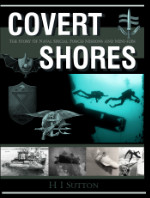 THE book on Special Forces subs Covert Shores 2nd Edition. A world history of naval Special Forces, their missions and their specialist vehicles. SEALs, SBS, COMSUBIN, Sh-13, Spetsnaz, Kampfschwimmers, Commando Hubert, 4RR and many more.
Check it out on Amazon

Reshaping Submarine Warfare
Unless there is a change in Russian plans, Khabarovsk will likely be a new focus of Western anti-submarine warfare for the next decade. Particularly in the U.S. Navy and Royal Navy, whose nuclear submarine fleets have a long tradition of stalking Russian boats. The Poseidon-armed boats will present new challenges to these hunters.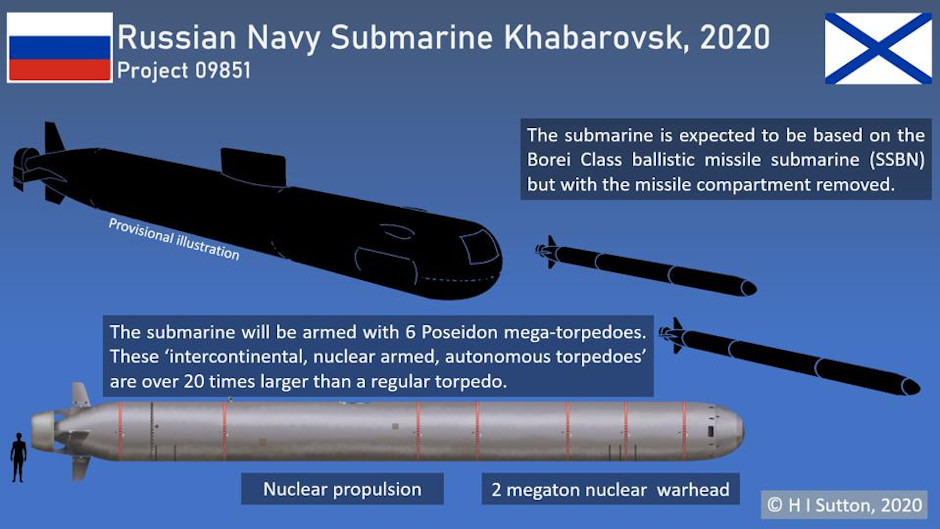 Building new weapons to intercept the Poseidon will take time. Its speed (Est. 70 knots) and depth (~1,000 meters / 3,000 feet) might make it virtually untouchable to the current generation of advanced torpedoes. Possibly the U.S. Navy's Mk.48 ADCAP (Advanced Capability) and the Royal Navy's Spearfish torpedoes could just reach it. But the angles and ranges involved seem to make it a limited proposition. So new faster, longer ranged and deeper diving torpedoes may be on the cards.

And possibly that is part of the rationale behind Poseidon. Countering it will cost the West vast amounts of money. And it will mean compromises along the way. Other priorities may be sidelined to make way for countering Poseidon, which could weaken capabilities elsewhere.

Today, hardly anyone in the West has even heard of this submarine. But it is the one to watch for.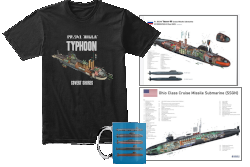 Covert Shores Posters, T-shirts, Mugs
and more featuring exclusive Covert Shores original artworks and design...Available on TeeSpring

This may help cover the overheads of the website

---
Related articles (Full index of popular Covert Shores articles)



Project 955A 'BOREI-A' Ballistic Missile Submarine. w/Cutaway



Russian Sarov experimental sub



Poseidon Intercontinental Nuclear-Powered Nuclear-Armed Autonomous Torpedo



USS Jimmy Carter (SSN-23) Special Mission submarine



HUSKY Class future attack submarine



BS-64 Podmoskovye Special Mission (spy) Host Submarine



Project 09852 Belgorod Special Mission submarine (spy sub)



Project 885 'YASEN' (Severodvinsk Class) SSGN. w/Cutaway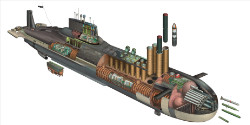 Russian Typhoon Class SSBN






+





Nuclear Missile submarines



North Korean Gorae Class SSB



P.09851 KHABAROVSK and KANYON (Status-6)



INS Arihant, Indian SSBN and .2



North Korean Modified-Romeo Class ballistic missile submarine