All information from public sources


USS Jimmy Carter - Semper Optima


Larger, faster, deeper diving, better armed and stealthier than previous generations of US Navy attack submarine, the Seawolf Class (SSN-21) were conceived towards the end of the Cold War as the ultimate underwater hunter-killers. The end of the Cold War and a shift towards littoral combat, combined with their incredible cost, resulting in only three Seawolf Class boats being constructed before production switched to the smaller and cheaper Virginia Class. The last Seawolf Class was however something quite special: the USS Jimmy Carter is the US Navy's premier 'special mission' submarine equipped for covert intelligence operations.

Original artwork. CLICK for high-resolution image.


The modification to allow Special Missions including inserting a 100ft (30m) Multi-Mission Platform into the hull which contains extra accommodation, working space and hangars ('aquariums') for Unmanned Underwater Vehicles (UUVs), Remotely Operated Vehicles (ROVs) and possibly manned submersibles. The roles of these vehicles is subject to speculation but almost certainly involves ISR (Intelligence Surveillance and Reconnaissance), and 'underwater engineering' to place, retrieve or manipulate objects on the sea floor. These objects could potentially include Submarine Communication Cables (SCCs) such as the fiber optic cables used for the internet.

The Multi-Mission Platform can also accommodate SEALs and other USSOCOM operators, which also implies that some SDVs (SEAL delivery Vehicles) can also be accommodated.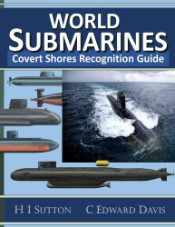 Get The essential guide to World Submarines
This Covert Shores Recognition Guide Covers over 80 classes of submarines including all types currently in service with World Navies.
Check it out on Amazon

The US Navy has operated six specifically modified 'Special Mission' submarines (read 'spy submarines') since the mid-1960s. Only two, the 'NR-1' midget submarine and the USS Jimmy Carter were intended for these missions from the start, the rest were modified during their service:

USS Richard B. Russell (SSN-687) - article pending

USS Jimmy Carter (SSN-23)

USS Jimmy Carter and the other two Seawolf Class boats (USS Seawolf SSN-21 and USS Connecticut SSN-22) are assigned to COMSUBDEVRON FIVE (Submarine Development Squadron 5) in the Pacific, which describes its mission as:

We are the operational command responsible for the maintenance and operation of assigned submarines, submersibles, and the Navy's Ocean Engineering systems. We also serve as the tactical development authority for SUVs, UUVs, Undersea Acoustic Arrays, and Arctic Warfare.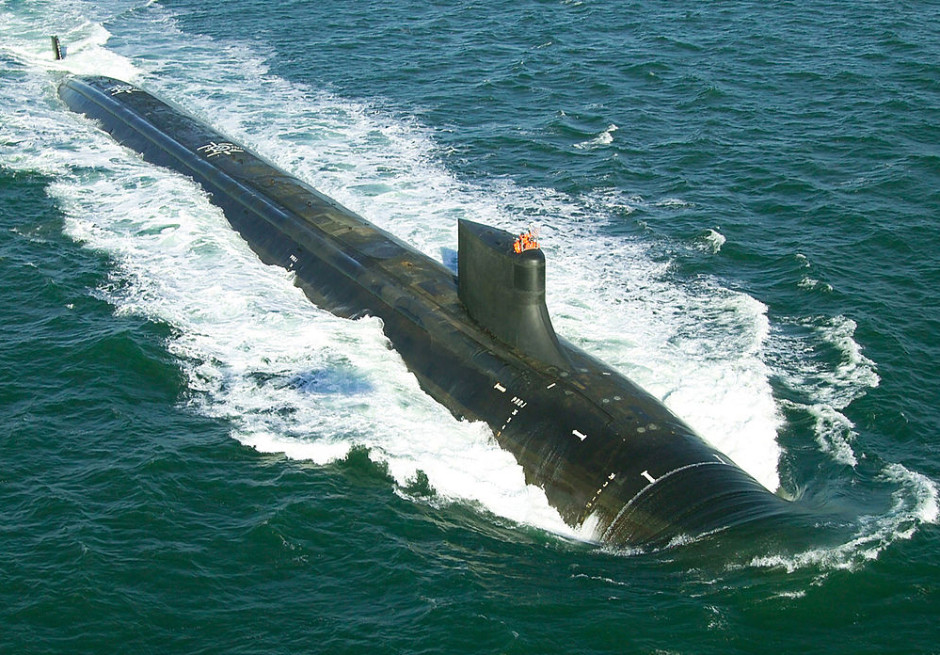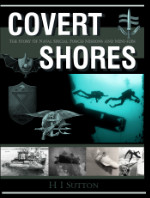 THE book on Special Forces subs Covert Shores 2nd Edition. A world history of naval Special Forces, their missions and their specialist vehicles. SEALs, SBS, COMSUBIN, Sh-13, Spetsnaz, Kampfschwimmers, Commando Hubert, 4RR and many more.
Check it out on Amazon



Stern view showing the large pump-jet

Multi-Mission Platform
The 30m (100ft) long hull insert containing most of the special mission equipment is widely reported to be a 'wasp waist' section, meaning that it tapers in from both ends with a narrow section in the middle. This makes space for UUVs, ROVs and submersibles to leave and return via hangar doors either side of the boat. Although there have been a few interesting artist impressions and illustrations in books and on the internet, very little is known for sure about the internal layout. However, the insert itself was photographed several times during construction which gives us several hints: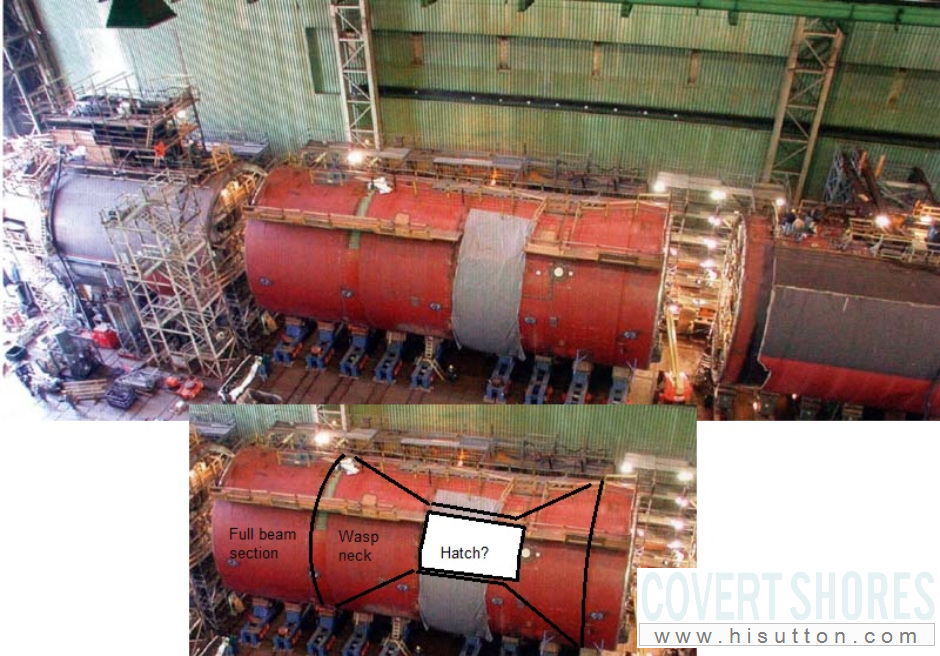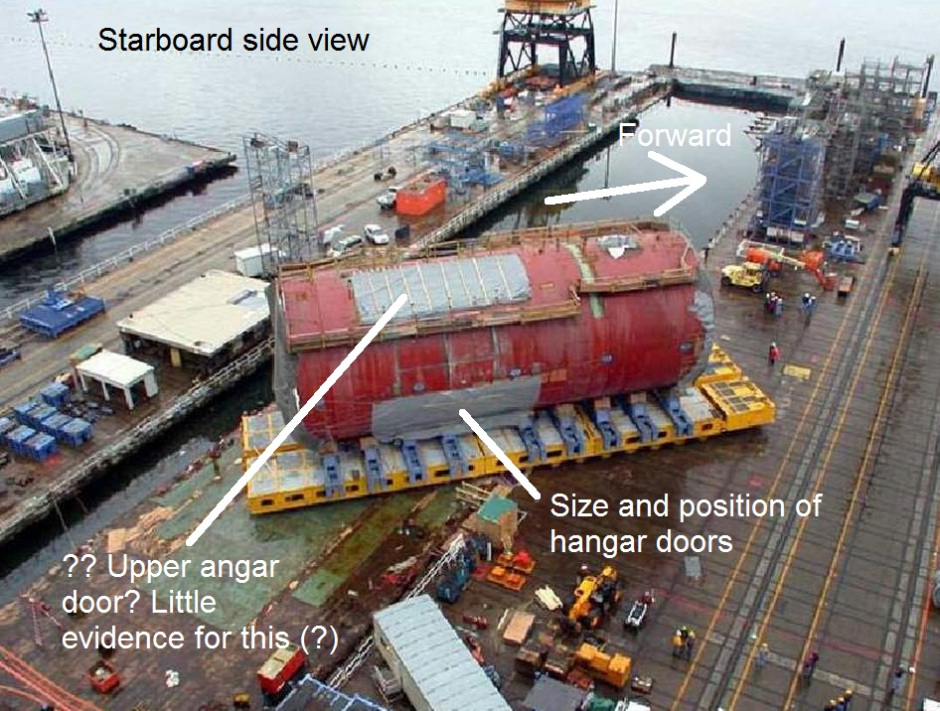 Together with other photos, this allows an approximate external layout to be sketched: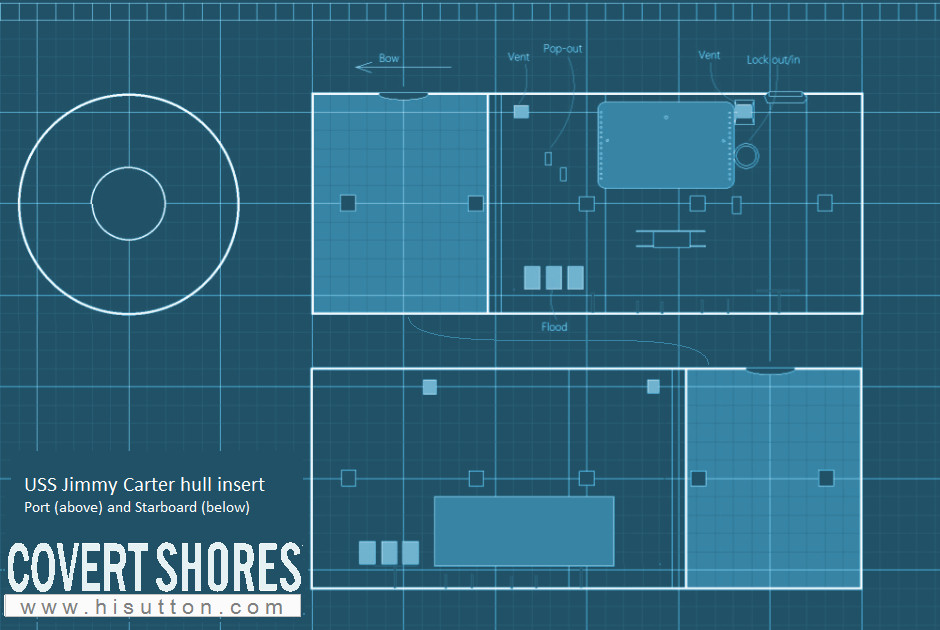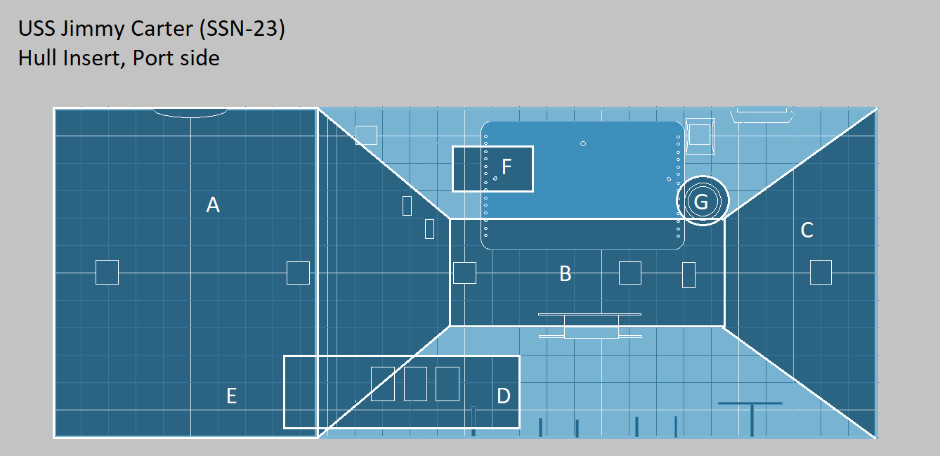 A. Forward full-width section. Approximately 10m (30ft) long.
B. Narrow 'wasp waist' section.
C. Aft connector section.
D. 'Aquarium' hangar for UUVs, ROVs and possible submersibles. Offset to starboard with hatch on starboard side. Possibly angled downward. Likely ~9m (27ft) long to allow...
E. Space forward of Aquarium to allow maintenance of UUVs, ROVs etc.
F. Cable reel(s) for ROVs etc.
G. Diver lock-out, port side.

---
Related articles (Full index of popular Covert Shores articles)



USS Parche spy sub par-excellence



USS Halibut



USS Seawolf (SSN-575)



NR-1



BS-64 Podmoskovye Special Mission (spy) Host Submarine



Project 09852 Belgorod Special Mission submarine (spy sub)



P.09851 KHABAROVSK and KANYON (Status-6)



Russian unbuilt spy submarine MPS



Russian Losharik spy sub



Project 1910 UNIFORM Class deep diving spy sub



Russian X-RAY Class spy sub