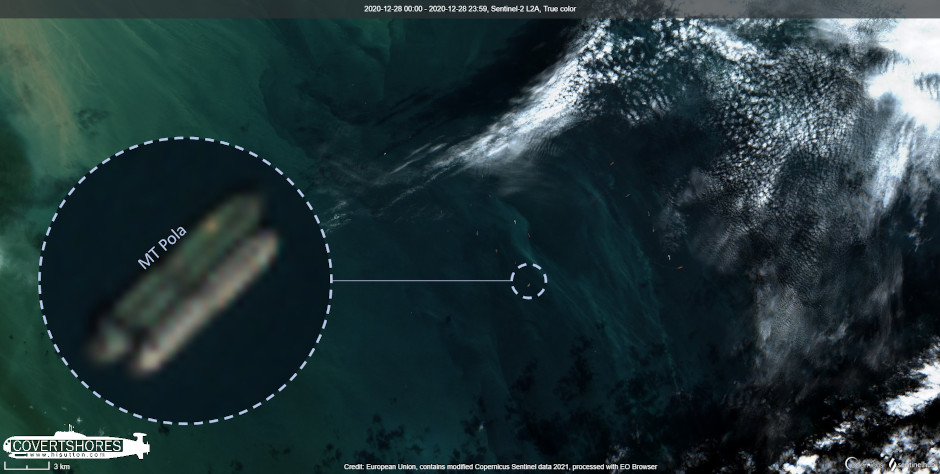 CLICK for HIGH-RESOLUTION image.

Limpet Mine Attack on Tanker, Pola, Dec 31, 2020

On December 31, 2020, a limpet mine was found on the Liberian flagged tanker MT Pola (IMO: 9493767). The ship was at anchor in Iraq and was transhipping oil to another tanker, MT Nordic Freedom.

Analysis of Sentinel-2 satellite imagery shows that Pola has been at anchor in the same area since November.

The mine closely matches Iranian types, although there are slight variations between observed examples. These mines have been used in other similar attacks in 2019 in the region.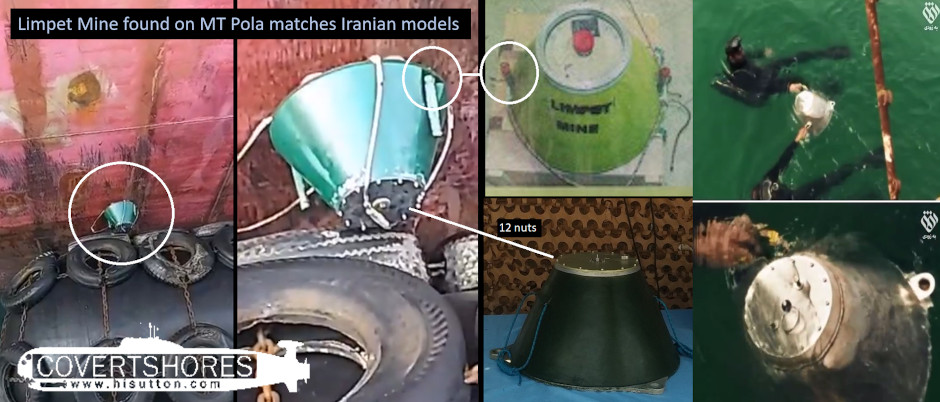 Pola left Ras Tanura, Saudi Arabia, on October 8 2020. She then sailed to Visakhapatnam, India, arriving on October 19. She departed on October 22, arriving in Al Fujayrah in UAE on November 2. Al Fujayrah is just outside the Straits of Hormuz. She left there on November 5, passing through the Straits and into the Persian Gulf. By the 13th she was in position near the Al Basrah anchorage, Iraq. She has remained there, drifting at anchor, since: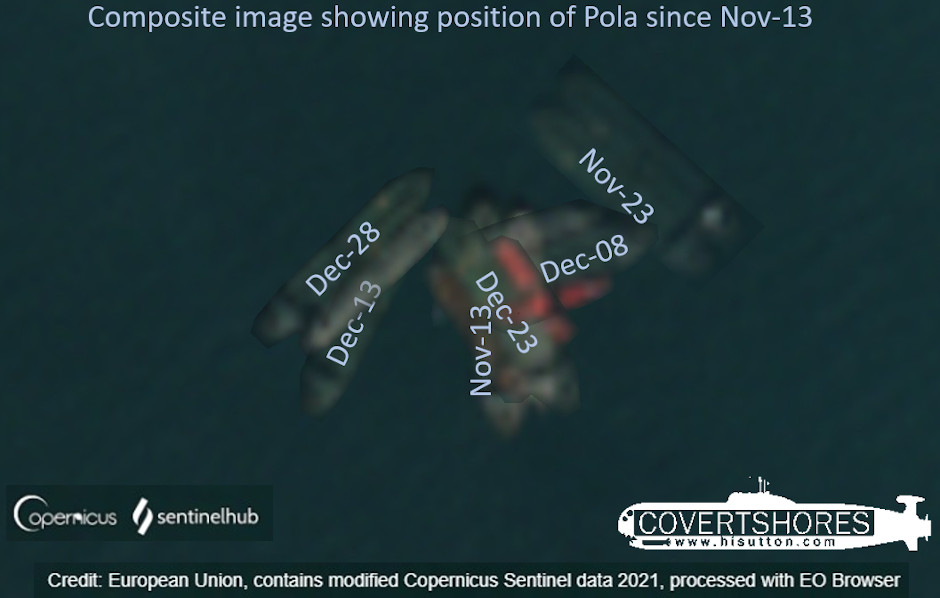 During this time a number of other ships were moored against her.

Conceivably, the limpet mine may have been attached at Al Fujayrah, which is where other tankers have been attacked in 2019. On 12 May 2019, four commercial ships were damaged off Fujairah.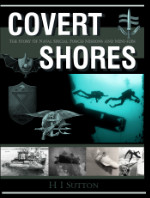 THE book on Special Forces subs Covert Shores 2nd Edition. A world history of naval Special Forces, their missions and their specialist vehicles. SEALs, SBS, COMSUBIN, Sh-13, Spetsnaz, Kampfschwimmers, Commando Hubert, 4RR and many more.
Check it out on Amazon

The UAE-led international investigation found that limpet mines had been placed by divers dropped off from fast boats. It concluded that a "state actor"(read: Iran) was the most likely culprit. But the cleanness of the mine on Pola suggests that it may have been placed much more recently, while she was in Iraq.

---
Related articles (Full index of popular Covert Shores articles)



Iranian Fateh Class submarine w/Cutaway



Al-Sabehat 15 Swimmer Delivery Vehicle and related development



Iranian XLUUV



Iranian Nahang Class midget sub


Explosive Boats world history


LTTE Sea Tigers' sneak craft and midget subs