It is a myth that North Korean naval vessels are by definition clones of older Russia or Chinese designs. In fact North Korean naval architects have produced a long string of original designs, often with novel features. They have Semi-Submersibles, catamarans, Surface Effect Ships (SES) and now they have Very Slender Vessels (VSVs). I have been tracking these developments since 2012 so this article is long overdue.



Video captures of Dear Leader giving guidence on VSVs, from bemil.chosun.com -very good source (in Korean)

The first North Korean VSV appeared in 2012 just outside the capitol Pyongyang, at a pier often used to showcase new naval vessels. The first craft was soon joined by another, and in 2013 a slightly larger one (29m vs 24m). And then by several much smaller (10m) examples.

The smaller ones have not been seen on Google Earth since 2013 (?) but the larger craft moved to Nampo where it is probably in limited operation. Much more recently a VSV has appeared at Wonsan on the East Coast.

To date, VSV types observed are:

24m VSV first observed in Pyongyang spring 2012
29m VSV first observed in Pyongyang fall 2013
10m VSV first observed in Pyongyang fall 2013
32m VSV first observed in Nampo start 2014
32m VSV first observed in Chonjin spring 2015
32m VSV first observed in Changion fall 2015
21m VSV first observed in Wonsan spring 2016

North Korean VSVs have a lot in common with other VSVs, but are in no way a clone of any known type. The most substantial difference is that they are constructed out of steel (analysis based on video footage of construction halls and photographs). Although the craft have signature reducing features, they are betrayed by the weapons systems and lattice mast high on the craft.

Despite so few images we can piece together the weapons fit for the largest VSV. It has three rocket launchers and two (or more) torpedo tubes in swing-out launchers either side of the bridge. It also has a twin-arm manually trained MANPAD station on the aft deck. It does not appear to have any cannons. It has been suggested that this type is intended for anti-submarine warfare although without a sonar it may be very limited. More likely (in my view) it is a fast patrol boat.

The smaller types are quite possibly Special Forces and/or swarm/nuisance attack types.

Specifications (Largest VSV)
Length: 32-34m
Beam: ~5m
Speed: 50kt (reported)
Armament: 2 x torpedo tubes, 3 x 24 MLRS, 1 x 2 MANPADS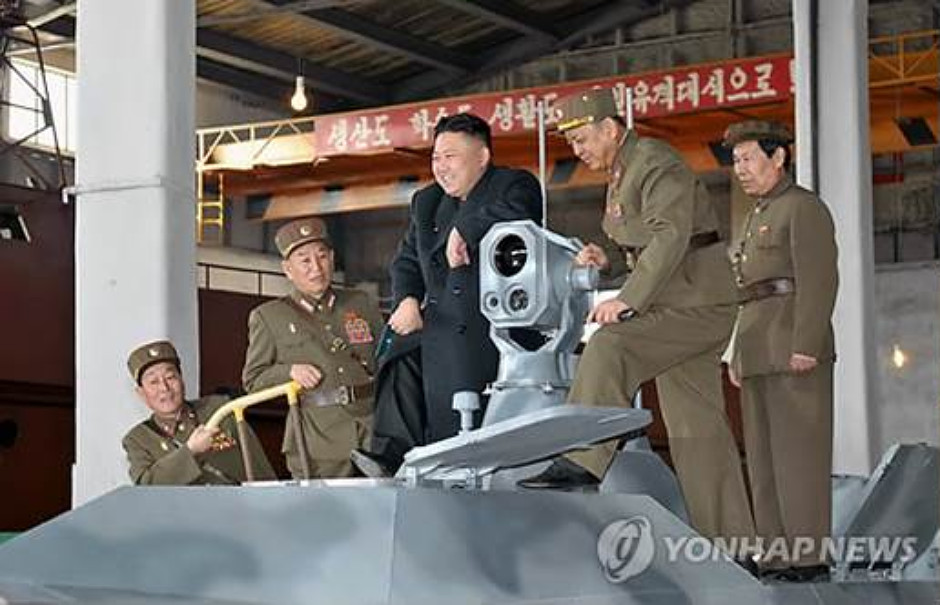 This smaller VSV is possible the 10m design. Note the larger VSV behind.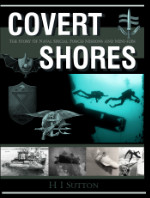 THE book on Special Forces subs Covert Shores 2nd Edition. A world history of naval Special Forces, their missions and their specialist vehicles. SEALs, SBS, COMSUBIN, Sh-13, Spetsnaz, Kampfschwimmers, Commando Hubert, 4RR and many more.
Check it out on Amazon

IMINT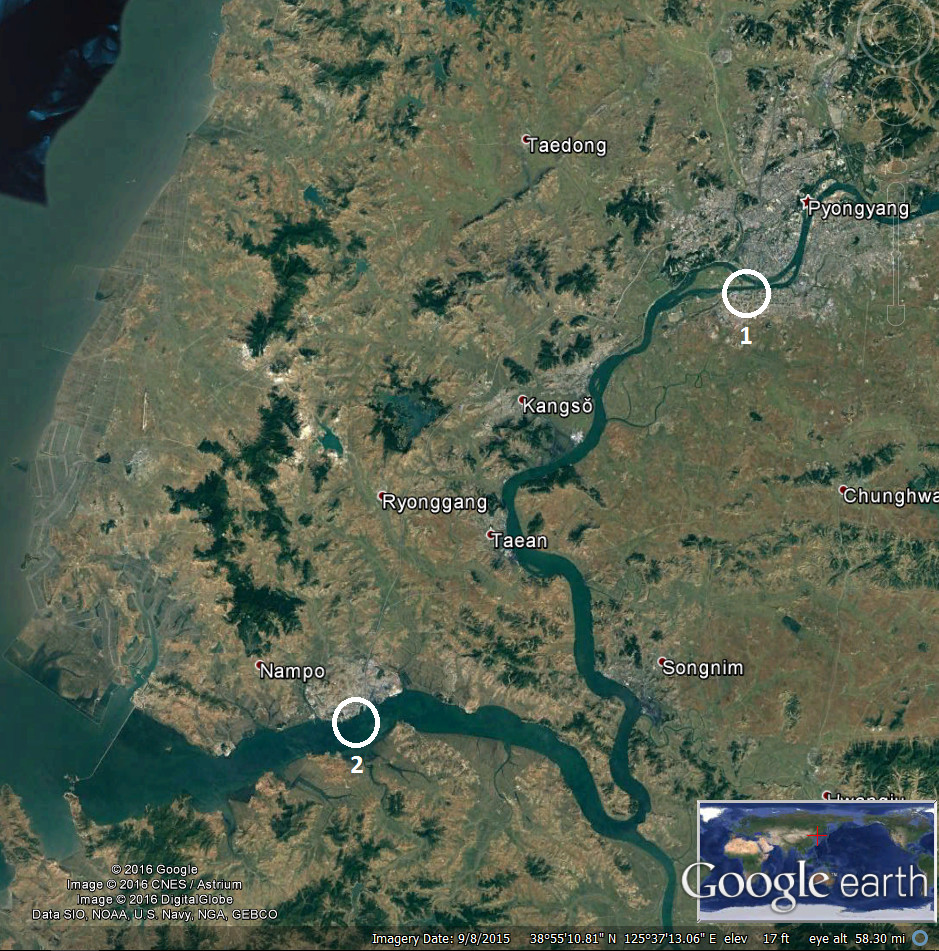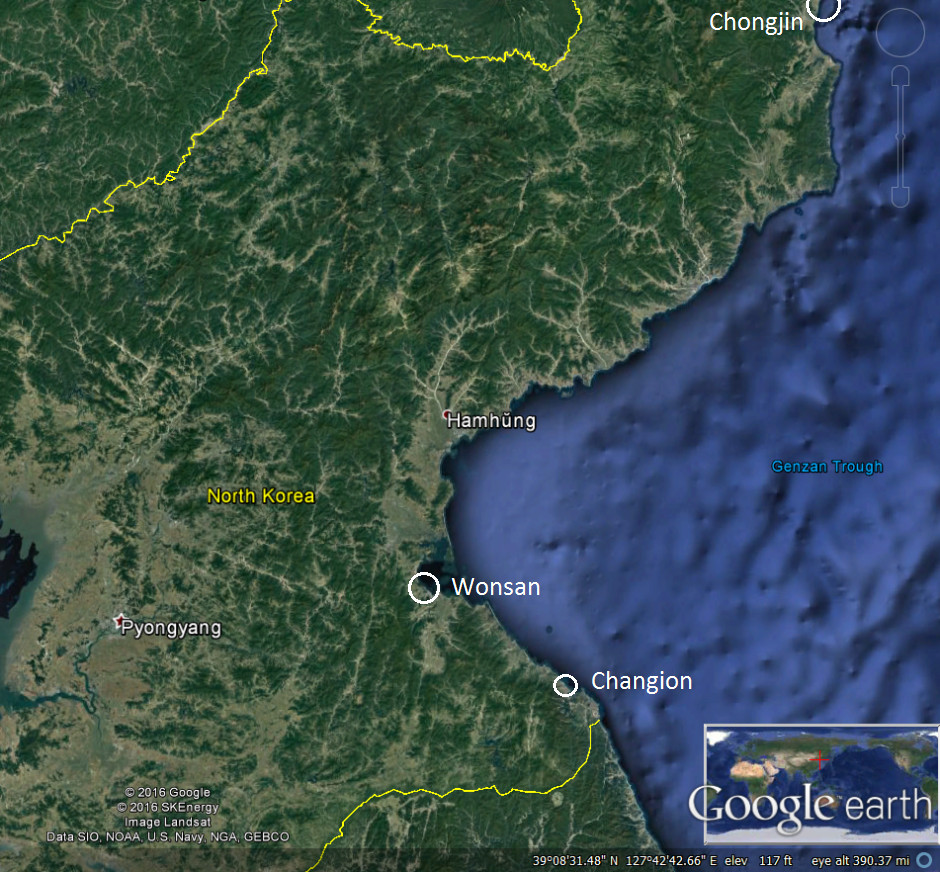 1. Pyongyang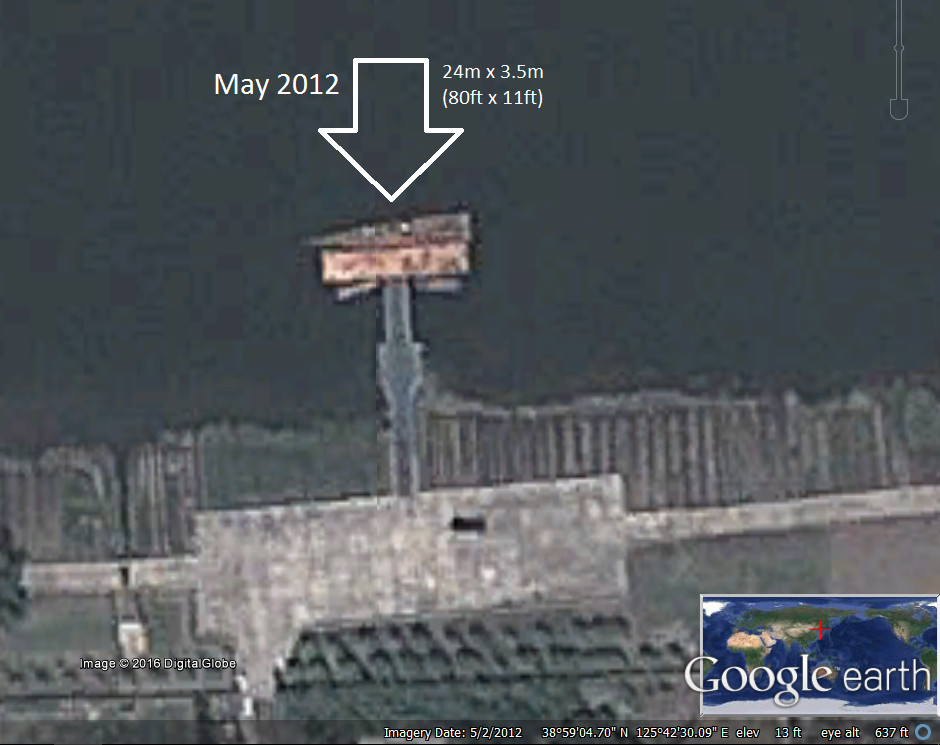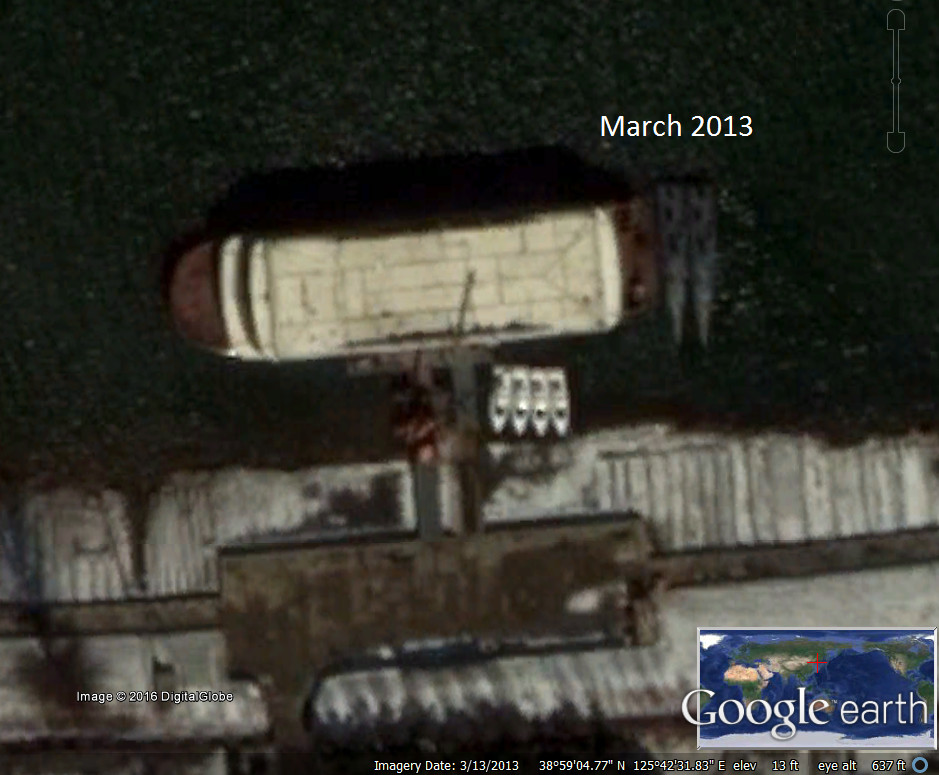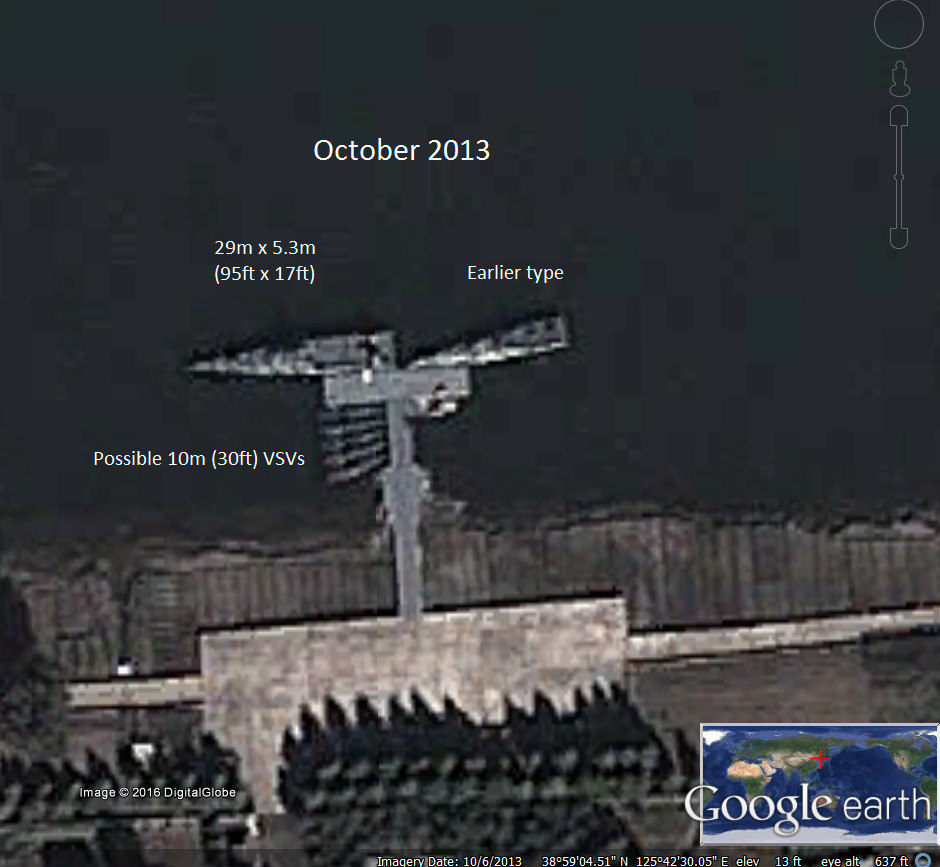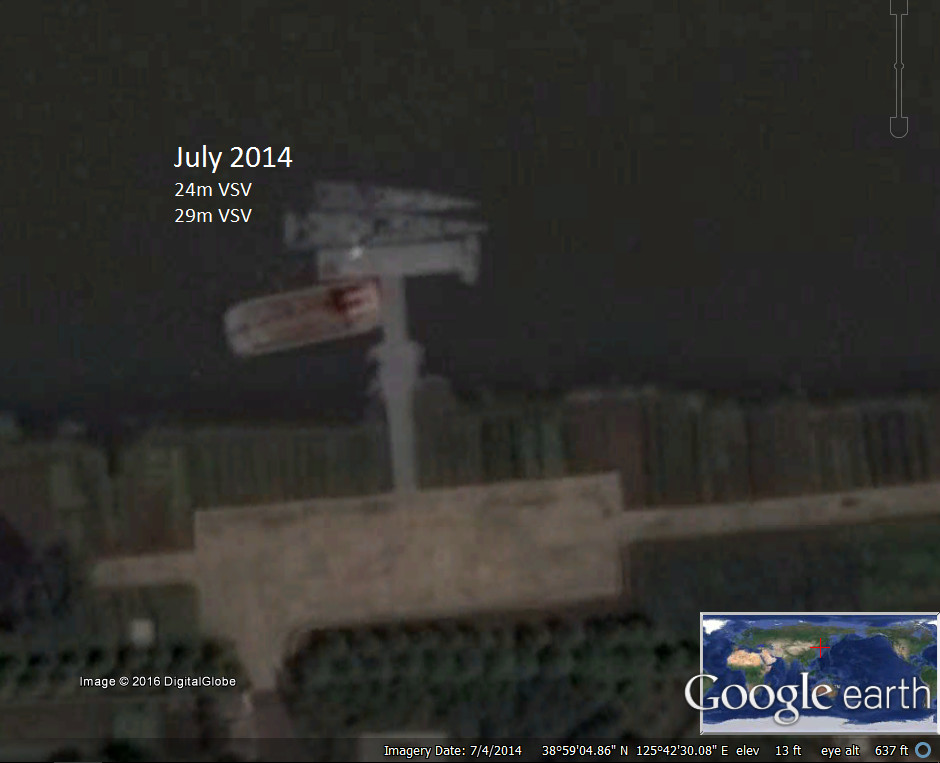 2. Nampo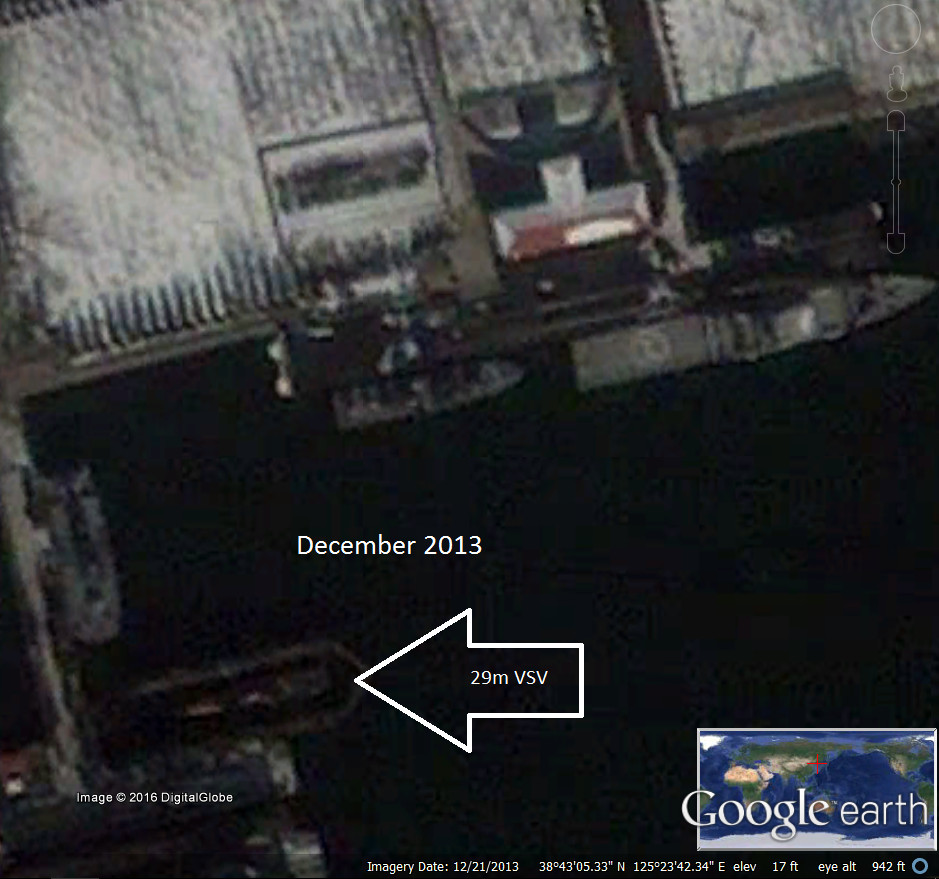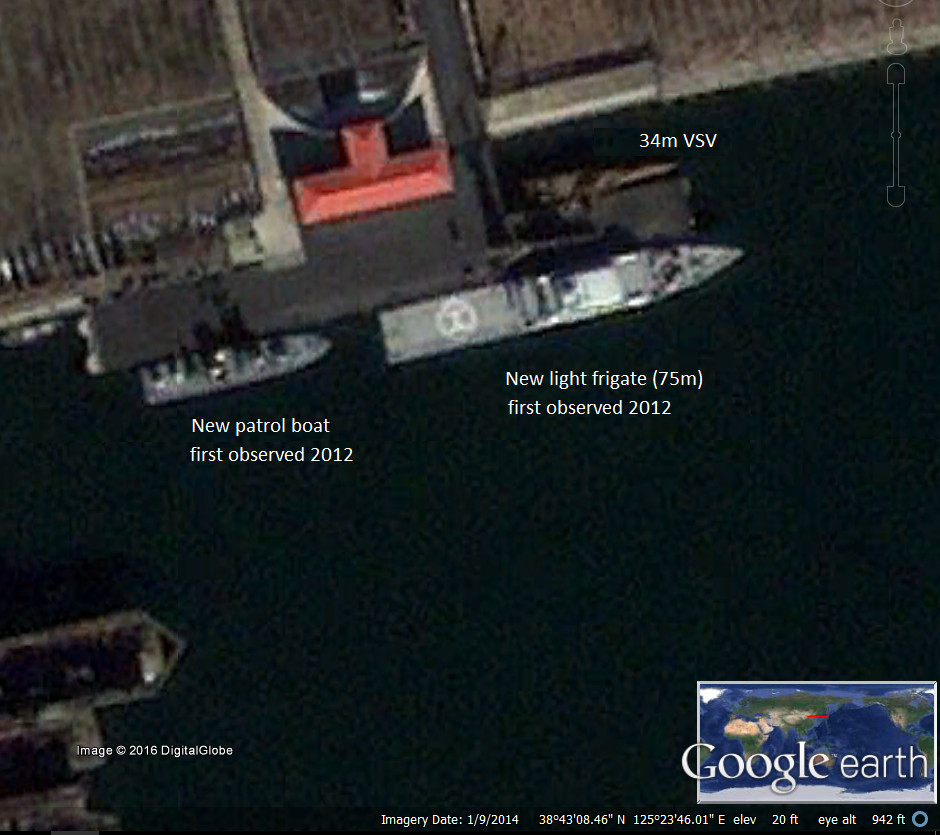 .....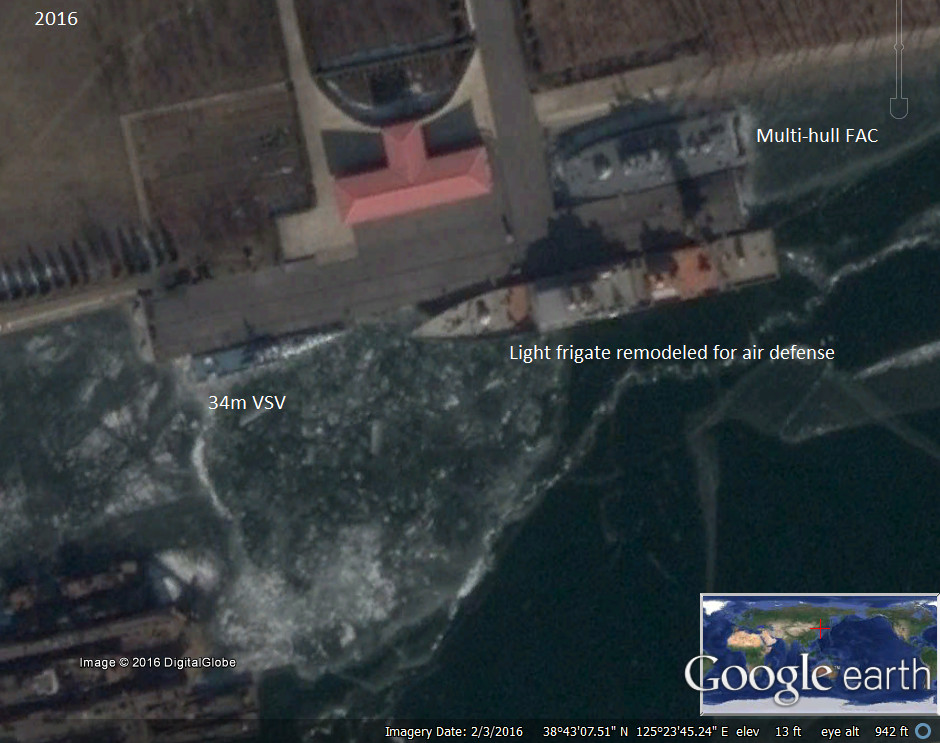 3. Chonjin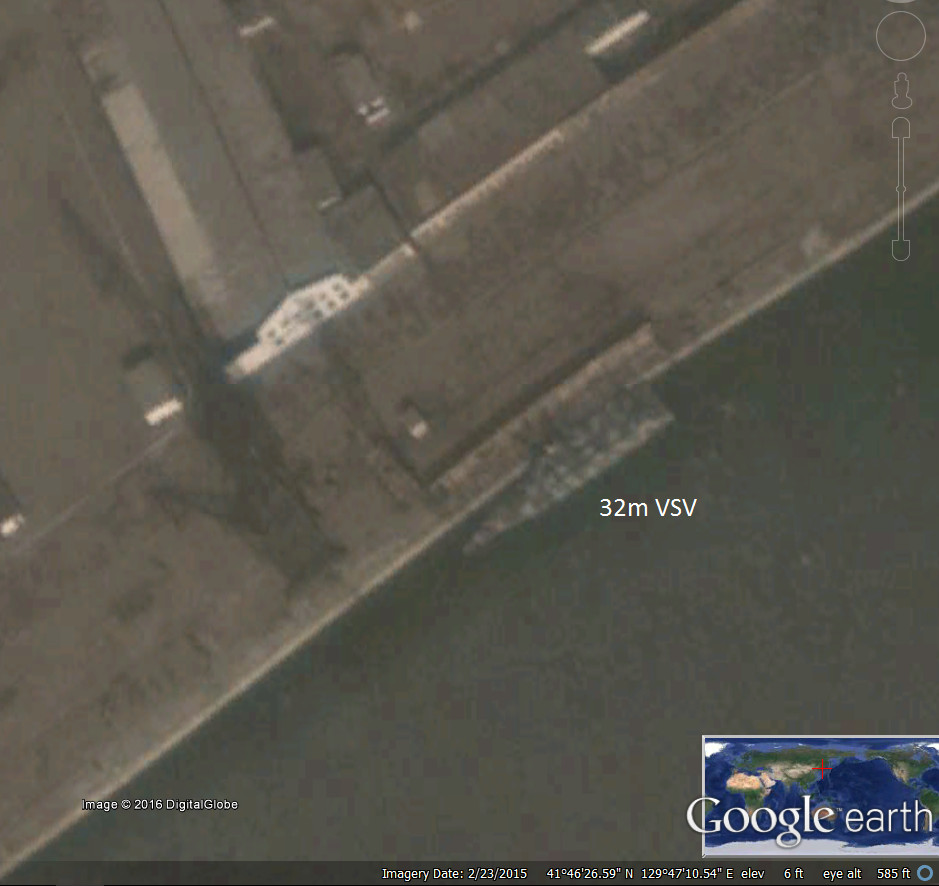 4. Changion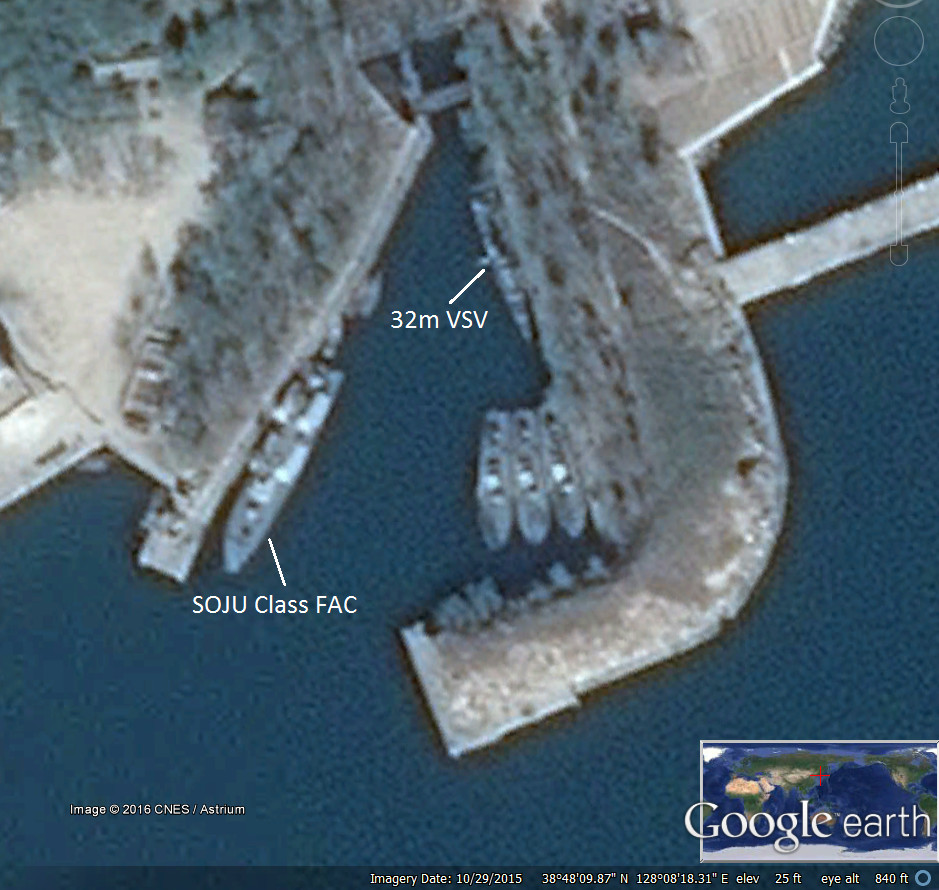 5. Wonsan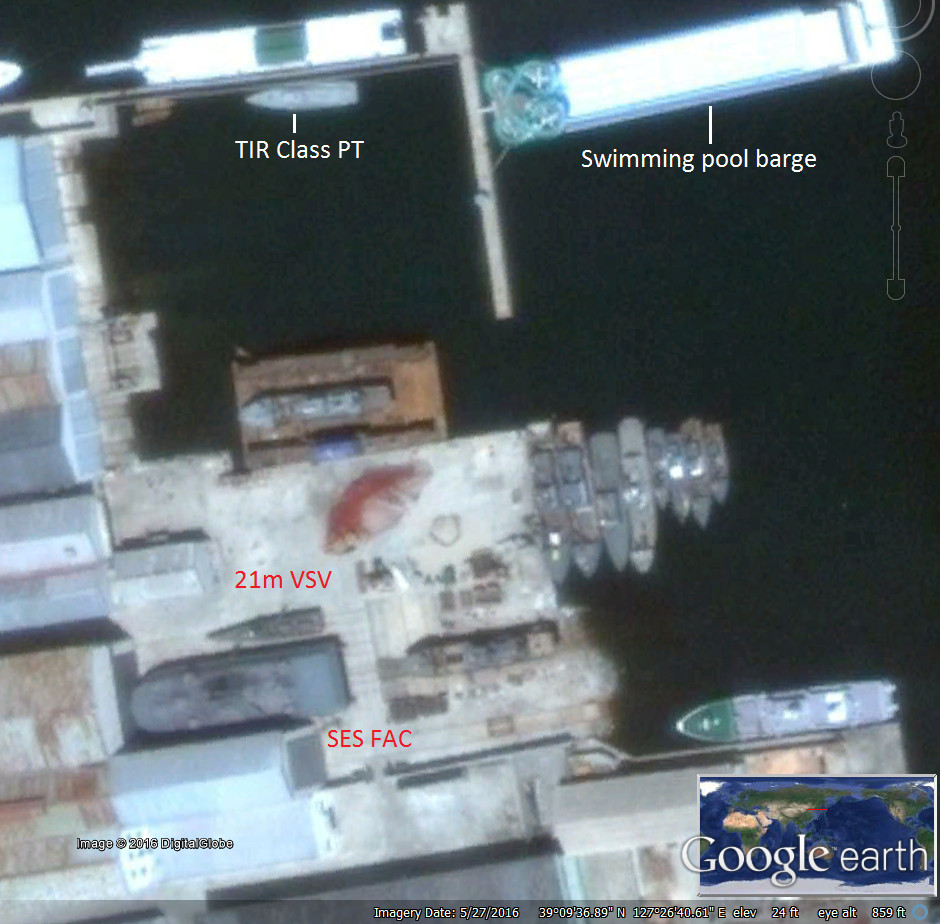 WARNING - not DPRK VSV
South Korean news agencies showed stock footage of the British MarySlim VSV from Multimarine during news segments on the North Korean craft. This is not a North Korean VSV.




---
Related Articles



Cos.Mo.S Nessie Fast SDV submersible boat




Vogo 'Chariot' SDVs (SDV-300, SDV-340...)





Taedong-B 'Kajami' ('Zulfikar') submersible boat





CCH (Combat Craft Heavy) SEALION and Alligator Semi-Submersible Boats




Specialized Marine Craft (MSC) Sepcial Forces intercptor







World survey of Special Operations Craft




WP-18 Tactical Strike Craft




North Korean SSBN program - Sinpo Class




infographic of North Korean MS-29 YONO Class midget sub




HDS-500 Midget Submarine