The p.865 'Piranha' midget submarine was a dedicated Spetsnaz special operations craft capable of delivering 6 frogmen to a target over 400 miles from its base.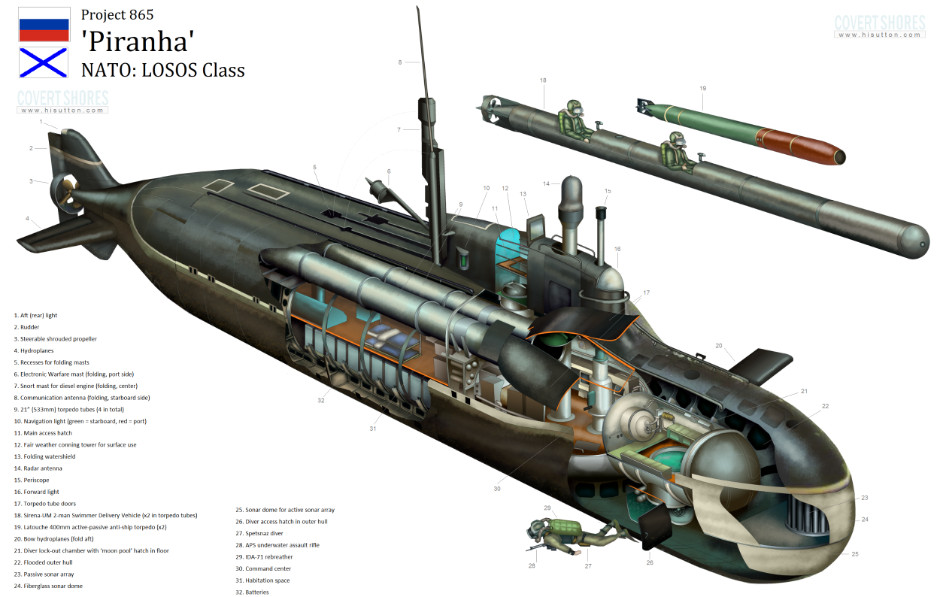 Original artwork - CLICK for HIGH-RESOLUTION (3500px) image.


KEY:
1. Aft (rear) light
2. Rudder
3. Steerable shrouded propeller
4. Hydroplanes
5. Recesses for folding masts
6. Electronic Warfare mast (folding, port side)
7. Snort mast for diesel engine (folding, center)
8. Communication antenna (folding, starboard side)
9. 21" (533mm) torpedo tubes (4 in total)
10. Navigation light (green = starboard, red = port)
11. Main access hatch
12. Fair weather conning tower for surface use
13. Folding watershield
14. Radar antenna
15. Periscope
16. Forward light
17. Torpedo tube doors
18. Sirena-UM 2-man Swimmer Delivery Vehicle (x2 in torpedo tubes)
19. Latouche 400mm active-passive anti-ship torpedo (x2)
20. Bow hydroplanes (fold aft)
21. Diver lock-out chamber with 'moon pool' hatch in floor
22. Flooded outer hull
23. Passive sonar array
24. Fiberglass sonar dome
25. Sonar dome for active sonar array
26. Diver access hatch in outer hull
27. Spetsnaz diver
28. APS underwater assault rifle
29. IDA-71 rebreather
30. Command center
31. Habitation space
32. Batteries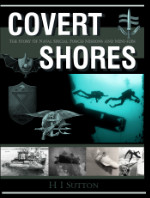 The ultimate book of Special Forces subs Covert Shores 2nd Edition is the ONLY world history of naval Special Forces, their missions and their specialist vehicles. SEALs, SBS, COMSUBIN, Sh-13, Spetsnaz, Kampfschwimmers, Commando Hubert, 4RR and many more.
Check it out on Amazon

The type was designed at the famous Malachite design bureau by Chief designer Chief Designer L.V.Chernopyatov in the 1970s and entered limited service in the late 1980s. Of classic Soviet double-hull construction, the inner hulls were built from Titanium. After protracted development the two units built were in and out of service during the 1990s. Victims of the defense cuts of the 1990s both hulls were decommissioned and scrapped.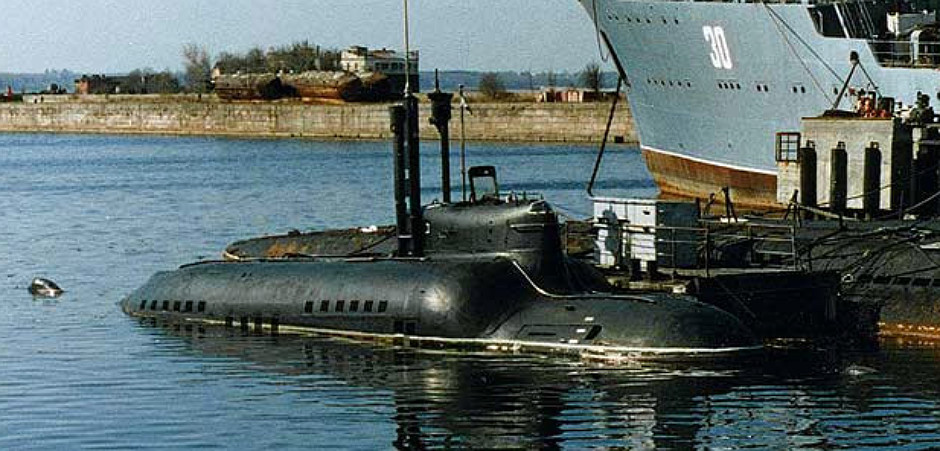 Specifications
Length: 28.2 meters
Beam: 4.74 meter
Displacement: 218 tons surfaced, 287tns submerged
Speed: Maximum 6.28 kts surfaced, 6.5kts submerged
Operating depth: 180m (200m max)
Endurance : 10 days, 603nm at cruising speed of 4kts surfaced, 260nm at 4kts submerged
Armament: (inner tubes) 2 x 533mm (21") torpedo tubes for sub-size 400mm Latouche anti-ship torpedoes which swim out.
SDVs: (outer tubes) 2 x Sirena-UM Swimmer Delivery Vehicles, or 6-8 'Proton' diver propulsion devices
Crew: 3
Special Forces: 6


Successor designs


Piranha-T - small attack submarine variant with mix of 533mm and 400mm torpedo tubes. Limited diver capability (possibly exit via torpedo tubes).



U-130 - smaller dual-role attack and special forces submarine. Retains diver lock-out chamber with moon pool



Piranha-2 - updated special forces submarine. Extended hull may allow AIP (air-independent propulsion). Appears to sacrifice 533mm torpedo tubes for 400mm which would preclude the Sirena-UME SDV and some DPVs




Piranha-M - very few details.