Indications of Imminent Poseidon Test Launch From Submarine Belgorod

Russia's largest submarine, Belgorod (K-329) has sailed from Severodvinsk in the Russian Arctic in the past few days. This is likely unrelated to the Wagner coup/rebellion but may be significant all the same.

Also sailing from Severodvinsk was the support ship Akademik Aleksandrov. This ship is associated with testing the 2м39 Poseidon Intercontinental Nuclear-Powered Nuclear-Armed Autonomous Torpedo. The sailing of the two together, plus other signs observed, may indicate that a Poseidon test launch is imminent.

I would say that a Poseidon launch from Belgorod, the first for this submarine, is at least likely.

Additionally, it is possible that it will involve 6 weapons, which is the submarine's full load.

Russian state media outlet TASS has recently reported that the first sea trials of Poseidon will take place this summer. TASS also reported on June 23 that "Russia will not notify US of Poseidon drone tests". Historically the tests of strategic weapons were declared ahead of time to prevent misinterpretation by the US (and vice-versa).

Belgorod
Belgorod is Russia's latest and largest 'special mission' submarine. It can carry 6 Poseidon weapons in the bow together with regular torpedoes. Uniquely it has a second mission related to Seabed warfare, carrying deep-diving nuclear-powered midget submarines. These could target undersea infrastructure such as sensor array, pipelines and internet cables. At the moment it appears that the Poseidon mission is taking precedence however.

Akademik Aleksandrov
Akademic Aleksandrov was reported that the "oceanographic research vessel" when completing sea trials. However evidence quickly surfaced showing that it was actually related to the testing of Poseidon. It appears likely that she superseded the Pr.20180 Class weapons ship Zvezdochka 600 which previously supported Poseidon testing with the specialist submarine B-90 Sarov. Possibly the cranes aboard Zvezdochka 600 do not have the capacity required for current or future iterations of Poseidon. In the trials Akademic Aleksandrov would be used to recover the Poseidon test rounds.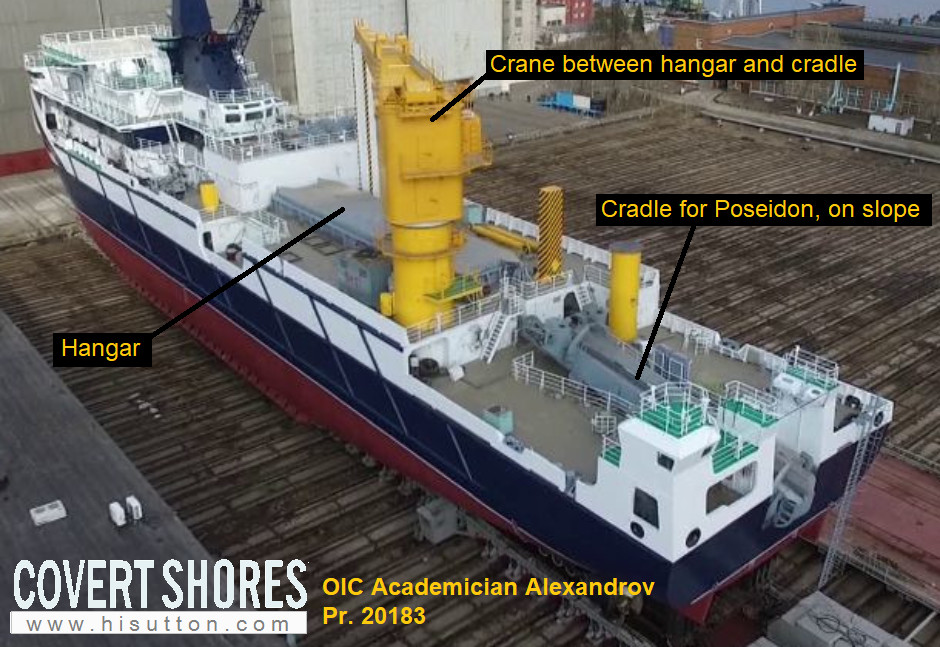 UPDATE
I previously reported that the tests may also be indicated by a NOTAM (navigation warning: Notice To Airmen). This had been set up for June 25-30 in the Barents Sea. It was noted that at this stage this association is purely circumstantial. However, further consideration suggests that this particular NOTAM is unlikely to be Poseidon related. Any Poseidon test may not be accompanyied by any NOTAM. This does not alter the other pattern of activity which points to test.

---
Related articles (Full index of popular Covert Shores articles)



Poseidon Intercontinental Nuclear-Powered Nuclear-Armed Autonomous Torpedo, and countering it



Project 09852 Belgorod Special Mission submarine (spy sub). w/Cutaway



North Korea's Haeil-2 nuclear armed UUV