updated with fresh intelligence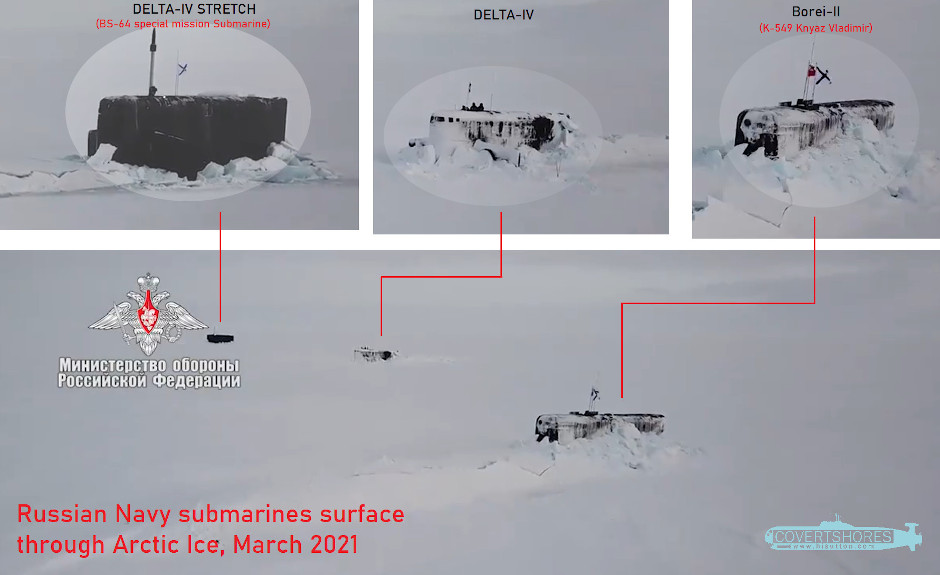 CLICK to enlarge.

Spy Sub Among Russian Navy Submarines Which Surfaced In Artic

The Russian Navy's ICEEX, ' Umka-21 ', is taking place in the Arctic. As part of the exercises, three nuclear submarines surfaced within 300m of each other. They surfaced in pre-marked locations. They were widely reported (including here!) as ballistic missile subs (SSBNs); the two DELTA-IVs and a single Borei-II (K-549 Knyaz Vladimir) were within 300m. Actually one of the DELTAs was BS-64 Podmoskovye (Подмосковье), a "special mission" submarine (read: spy sub).

All three boats have been provisionally identified as BS-64 Podmoskovye, either K-18 Karelia or K-407 Novomoskovsk, and K-549 Knyaz Vladimir.

According the the Russian MoD press reports a nuclear submarine used a torpedo to create a hole to surface through. It is unclear which boat, and it is unlikely to be any of the positions shown above. (marker sticks are visible in the video, before the submarine surfaces). The ice depth is around 1.5 meters.

The SSBN on the right of this satellite image may be the DELTA-IV involved in the exercise, having already returned to base.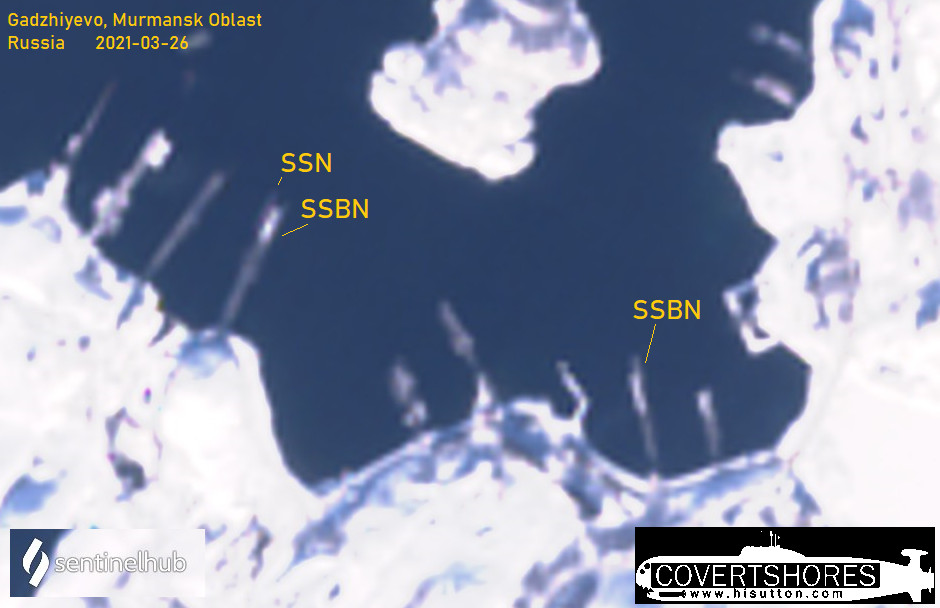 Meanwhile at Olenya Guba, one of the two DELTA-STRETCH special mission host submarines is not present. This ties with BS-64 above: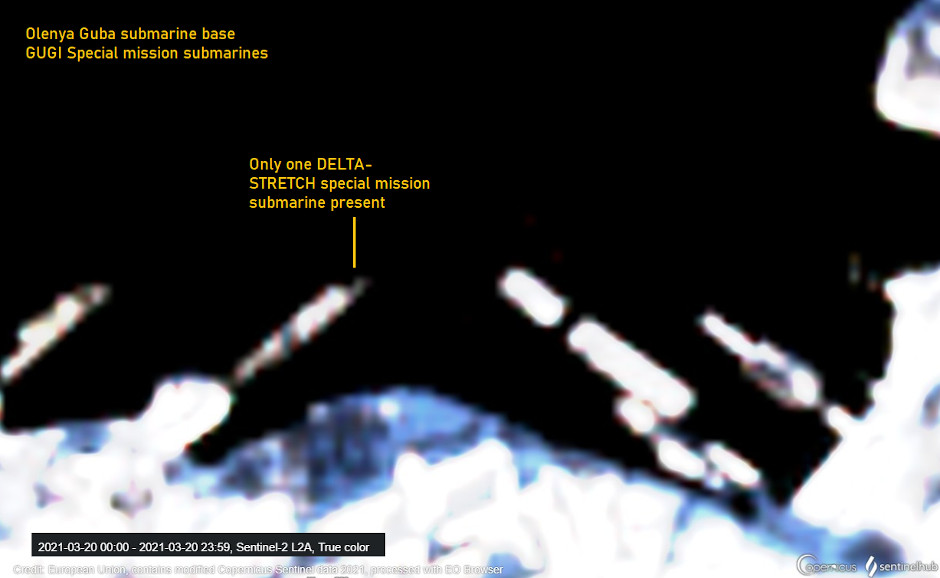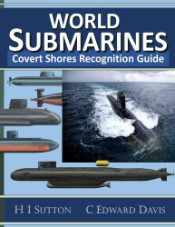 Get The essential guide to World Submarines
This Covert Shores Recognition Guide Covers over 80 classes of submarines including all types currently in service with World Navies.
Check it out on Amazon

Umka-21 is more than just submarine operations. Around 600 personnel are involved and some exercises support the Russian Geographical Society . Around 200 models of weapon and special equipment were involved, including MANPADS, snow mobiles and MiG-31 FOXHOUND fighters. The exercises are centered on Franz Josef Land, Alexandra Land island and adjacent waters.

The average temperature is minus 25-30 degrees Celsius (minus 13-22 degrees Fahrenheit). Wind gusts can reach 32 meters per second (72 mph).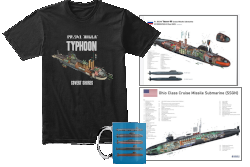 Covert Shores Posters, T-shirts, Mugs
and more featuring exclusive Covert Shores original artworks and design...Available on TeeSpring

This may help cover the overheads of the website

In some respects the event is not particularly special, more of a publicity opportunity. But it does underscore the fact that, after a period of decline and neglect (with some years without any deterrence patrols) the Russian navy strategic submarine force is back. And competently captained. The fact that this isn't actually that special is special in itself.

As someone pointed out on Twitter, the ice on the sail of the K-549 Knyaz Vladimir looks like a skull: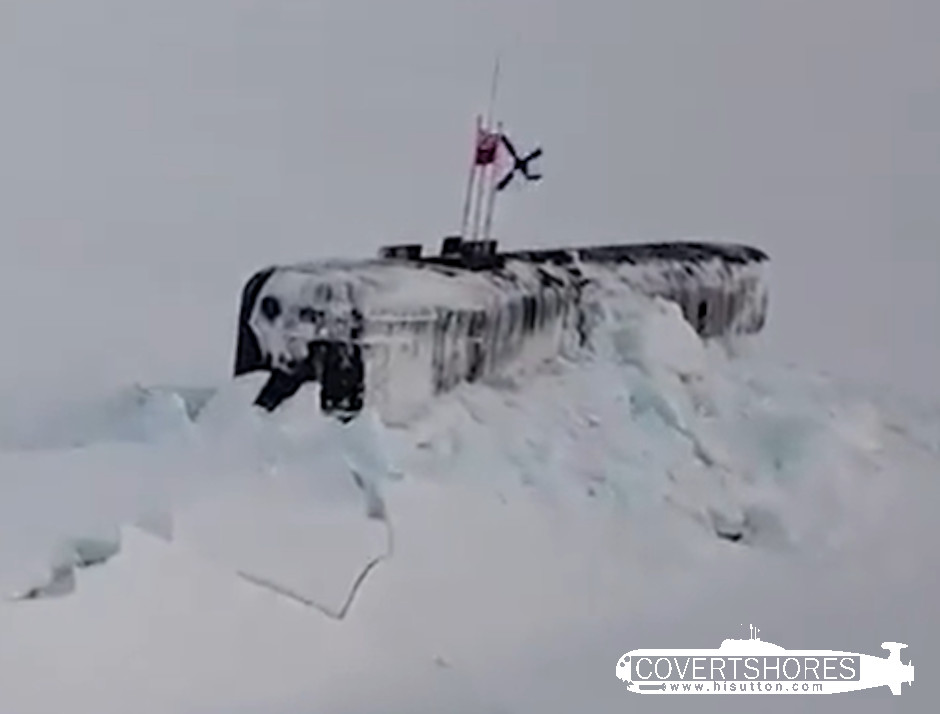 ---
Related articles (Full index of popular Covert Shores articles)



BS-64 Podmoskovye Special Mission (spy) Host Submarine



Project 955A 'BOREI-A' Ballistic Missile Submarine. w/Cutaway



Project 09852 Belgorod Special Mission submarine (spy sub). w/Cutaway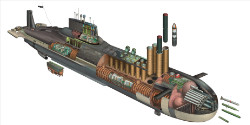 TYPHOON Class SSBN. w/Cutaway


Russia seeks submarine advantage in Arctic (HARMONY system, GUGI special mission subs)