Russian Navy Spy Submarine Belgorod: evolution of OSINT

OSINT (Open Source intelligence) is very limited about the Russian Navy's largest new submarine, the Project 09852 K-329 Belgorod ("Белгород"). Although analysts had been following her conversion to a special mission host submarine for GUGI (Russia's ambiguously named main directorate of undersea research) since around 2010, it only came to the fore in November 2019. This was when the 'Status-6' leak revealed her as a launch platform for the KANYON torpedo. This weapon, now known as the 2m39 Poseidon, is an intercontinental nuclear-powered nuclear-armed autonomous torpedo. Nothing like it is known to exist in the inventories of other countries. And it has shaped what we know about Belgorod.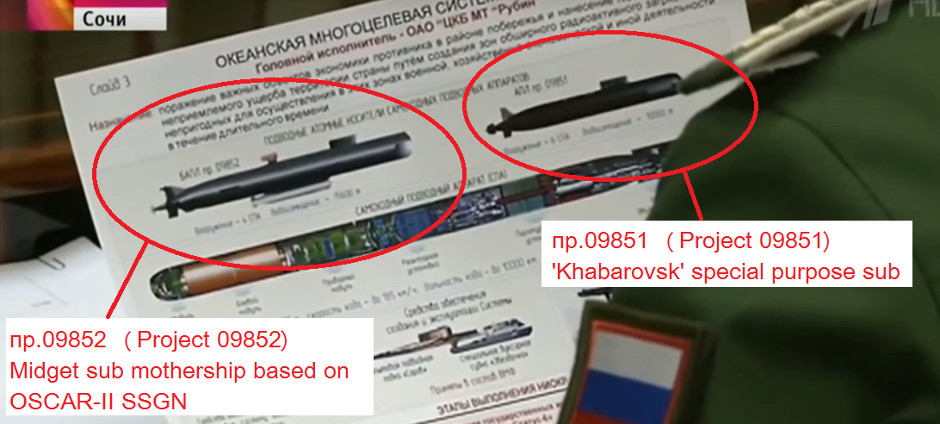 When I first illustrated Belgorod, in the wake of the Status-6 leak, I made it as conservative as possible. I showed an OSCAR-II base with minimal changes. This is because Belgorod was initially constructed as an OSCAR-II before production stopped. It then resumed in 2012 as a modified boat.

It showed the Status-6 (now Poseidon) weapons carried in place of the Granit missiles of the OSCAR-II. This meant either side of the sail. This seemed the least disruptive arrangement, although forward shooting was also considered. What wasn't known to me at the time was exactly how far along Belgorod had been when production ceased.

We also already knew about the payload on the back ('Shelf' reactor shown), Klavesin-2P-PM AUV (Autonomous underwater vehicle) and deep-diving midget submarine under the hull. The 55m long PALTUS design was shown as the hosted midget submarine because accommodating the 70m long Losharik would require a hull extension. This was unconfirmed at the time.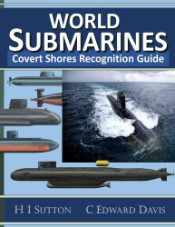 Get The essential guide to World Submarines
This Covert Shores Recognition Guide Covers over 80 classes of submarines including all types currently in service with World Navies.
Check it out on Amazon

When Belgorod was launched on April 23 2019 we got the first photographs. Together with other Open Sources we have slowly gotten a better appreciation of her configuration. The cutaway illustration of her has evolved to reflect this.

The latest intelligence was provided by a satellite overpass in Feburary: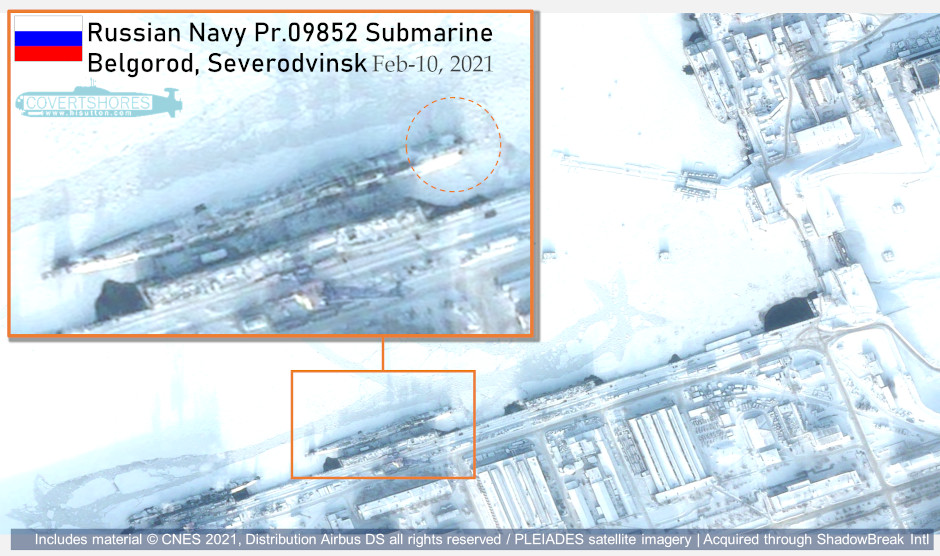 Airbus satelite image of Severodvinsk, Feb-10 2021. Includes material © CNES 2021, Distribution Airbus DS all rights reserved / PLEIADES satellite imagery | Acquired through ShadowBreak Intl. Click for high resolution.

---
Related articles (Full index of popular Covert Shores articles)



Project 09852 Belgorod Special Mission submarine (spy sub). w/Cutaway



Poseidon Intercontinental Nuclear-Powered Nuclear-Armed Autonomous Torpedo, and countering it



Russian Navy Beluga whale



Harpsichord (Klavesin) AUV



BS-64 Podmoskovye Special Mission (spy) Host Submarine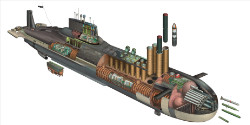 TYPHOON Class SSBN. w/Cutaway


Russia seeks submarine advantage in Arctic (HARMONY system, GUGI special mission subs)