Share:

SwarmDiver unmanned surface vessel


Massachusetts based robotics company Aqua Botix have unveiled a new military family of micro-Unmanned Surface Vessels (USV). The SwarmDiver family currently has three models for a range of harbor defense, special forces, ISR (Intelligence Surveillance and Reconnaissance) and amphibious warfare uses. Related products are also used in Mine Countermeasures (MCM).


The SwarmDiver family can be operated independently as single units, or as the na,e suggests, they can be swarmed to provide a formidable high-survivability asset which is difficult to counter. They can be programmed or commanded to swarm in multiple formations depending on the mission objectives and circumstances. As well as increasing survivability of individual units, the safety in numbers principle means that even if a large number of the units are destroyed by enemy fire, the formation will likely be able to transmit the necessary information before they are all destroyed. It collects and responds transmits of data by wireless communication, but can also work with cables.

Although characterized as an Unmanned Surface Vessel (USV), the SwarmDiver is capable of limited submerged operations, allowing it to be deployed from submarines, UUVs, SDVs or by divers, and to sink to the bottom to escape threats or lurk.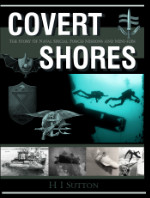 The ultimate book of Special Forces subs Covert Shores 2nd Edition is the ONLY world history of naval Special Forces, their missions and their specialist vehicles. SEALs, SBS, COMSUBIN, Sh-13, Spetsnaz, Kampfschwimmers, Commando Hubert, 4RR and many more.
Check it out on Amazon

The civilian model can already be used for Ocean Survey, Hydrographic Survey, 3D Synoptic data gathering, Plume tracking, and as an autonomous buoy marker. The military application SwarmDiver STEALTH drops the typical high-visibility yellow paint scheme for a robust digital camouflage to increase survivability. It has low-noise motors and can be used for ISR and for secure communication.



The SwarmDiver NIGHTLINE is optimized for Special Forces applications, particularly covert operations. Overall the design is similar to the STEALTH model, but with an ultraviolet reflective covering which is visible when illuminated with a UV light source at the correct frequency. This enables EW silent recovery during darkness.

The SwarmDiver EDGE is equipped with lights to act as a visual marker. This is intended to be used to mark a boundary in harbor defense and anti-piracy. It could also potentially be used to help target marking, mine corridor marking and beach / obstacle marking during amphibious operations.

Specifications
Length: 0.75 meters
Beam: 0.13 meters body, 0.57mm overall
Draft: 0.45 meters
Weight: 1.7 kg in air
Speed: 4.3 knots
Diving depth: 50 meters
Endurance: 2.5 hours / 3.8 nautical miles
Armament: none
Comms: Dual radio (900MHz / 2.4 GHz)
Sensors: 2 x 12C, 2 x SPI, 2 x UART, 1 x cable pass-through and other options.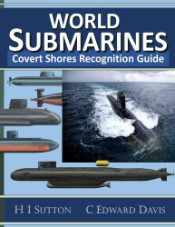 Get The essential guide to World Submarines
This Covert Shores Recognition Guide Covers over 80 classes of submarines including all types currently in service with World Navies.
Check it out on Amazon

Swarming demonstration:



---
Related articles (Full index of popular Covert Shores articles)



XLUUV armed extra-large UUV



Harpsichord AUV



Nerpa anti-diver UUV



Cephalopod armed extra-large UUV



Poseidon Intercontinental Nuclear-Powered Nuclear-Armed Autonomous Torpedo