UPDATED: First Posted Feb 22 2023

Timeline of 2022 Ukraine Invasion: War In The Black Sea


Reflecting on the first year of the war, I am putting together a timeline of the most relevant events in the Black Sea. This will not be exhaustive, but should provide a useful overview. Hopefully this will be of benefit to those interested in studying the war at a later date.

If I have missed anything significant please let me know. The usual caveats apply


Build -up phase
Jan-Feb 2022: Russia builds up a force in the Mediterranean. Under Russian doctrine this is to counter the NATO presence there and deter intervention.

Jan: Russia transports several Raptor assault boats from Baltic fleet to Black Sea via road. Candid video shared Jan 30.

Feb 8-9: Six Russian warships enter the Black Sea as part of build up, transiting the Bosporus. Mainly landing ships and an Improved KILO class submarine.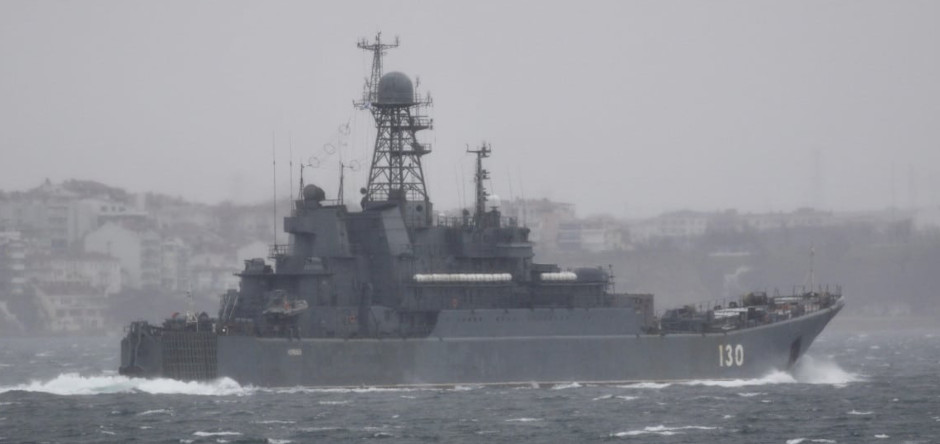 A Russian Navy landing ship RFS Kaliningrad (102) seen passing through the Dardanelles on February 8th. One of 6 vessels which transited to Black Sea. Photograph copyright Yörük Işık, via Naval News.

Feb 15: Russia deploys Tu-22M3 BACKFIRE-C bombers and MiG-31K FOXHOUND fighter jets to Khmeimim in Syria. These are to threaten NATO warships in the Mediterranean. Russia reports that the Kinzhal hypersonic missile carried by the Mig-31K can attack aircraft carriers. The Tu-22M3s are observed with legacy AS-4 KITCHEN missiles.

Early Invasion - The 3 Day War
Feb 24: Invasion begins.

Feb 24. Russian Navy captures strategic island of Snake Island. The SLAVA Class cruiser Moskva plays a prominent role. Reputedly, the Ukrainian garrison replies to suggestions to surrender with "Russian Warship, go ?!?% yourself".

Feb 24: Russia declares a prohibition on navigation in the North-Western part of the Black Sea. Defined area down to the parallel 45-21 N, and from 0400 hours on 24 February 2022. Several third-country merchant ships were subsequently attacked, attributed to Russia. This blockade is total.

Late Feb: Anti-invasion naval mines laid off northern Black Sea coast, likely by Ukraine. Possibly some by Russia.

Feb 28: Bosporus closed to naval traffic. This prevents Russia transferring any of the remaining warships in the Mediterranean to the Black Sea. Russia had plans to send one, possibly two, more SLAVA class cruisers to Black Sea.

Before March 3: Majority of Ukrainian Navy warships, captured, sunk or scuttled at onset of invasion. Notably, the scuttled vessels include the frigate Hetman Sahaidachny. Ukraine, whose fleet was massively out-gunned, is left with only a few smaller vessels.

Feb-Mar: Russian Navy warships bombard Ukrainian coastline off Odesa.

Feb-Mar: Russia performs multiple amphibious demonstrations where landing ships, supported by minesweepers and other warships, threaten amphibious landings near Odesa. The landings were considered a serious threat but ultimately never come.

Mar 7: Reports that Ukraine hit and sunk a Russian patrol ship, Vasily Bykov, with rocket fire off Odesa. These reports subsequently shown to be incorrect, the first of several 'wishful sinkings'.

Mid-Mar: Russia starts removing the hull numbers from its warships in the Black Sea to frustrate attempts to gather intelligence on movements. This can be viewed as a sensible precaution taken late.

Mar 22: Russian Raptor class assault boat hit by Ukrainian anti-tank missile near Mariupol.

Mar 24: Russian Navy Alligator class landing ship Saratov hit while unloading at Berdyansk on Sea of Azov. Possibly hit by a Ukrainian ballistic missile. The ship explodes, damaging two Ropucha class landing ships which manage to escape. The ship sinks at the quay. Russia stops using the port for reinforcements.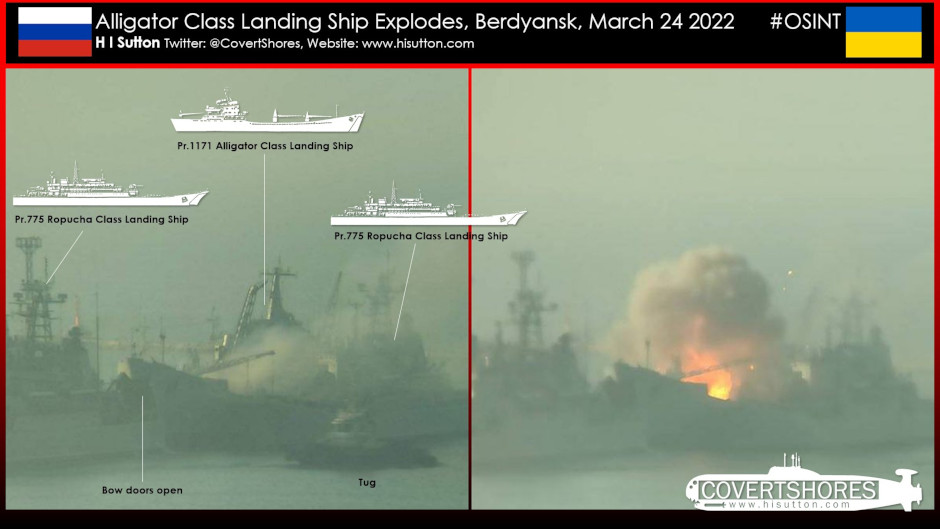 CLICK to Enlarge. Russian Navy Alligator class landing ship Saratov on fire at Berdyansk

Apr 7: Reported in Naval News that SLAVA class cruiser Moskva is operating predictably. Precursor of things to come.

April 13. The SLAVA class cruiser Moskva, the flagship of the Black Sea Fleet and most powerful warship in the area, is hit by two Ukrainian Neptune anti-ship missiles. It sinks the next day.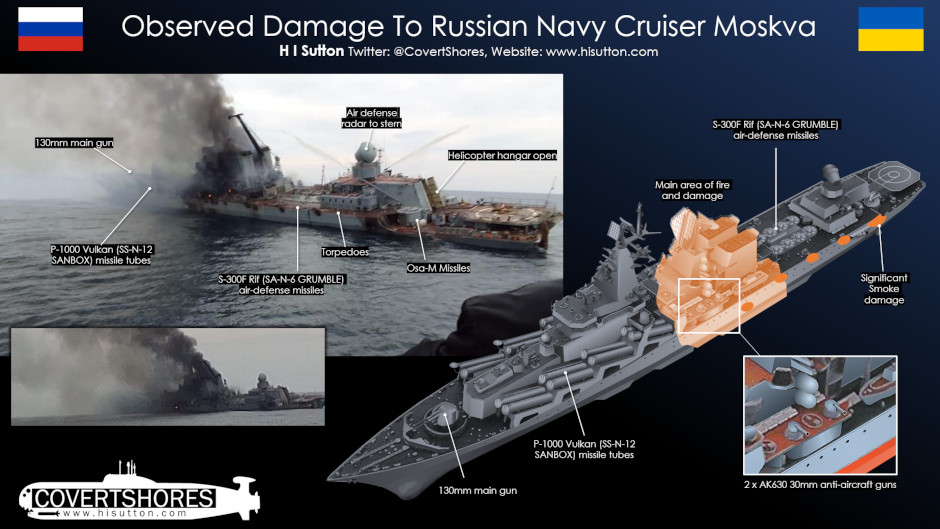 CLICK to Enlarge.

Post Moskva Sinking
May: Fighting intensifies around Snake Island. Ukrainian TB2 drones play a major role, hitting two Raptor assault boats and sinking a landing craft at the jetty. Russian attempts to reinforce and supply it begin to appear more precarious.

May 6: incorrect reports that Admiral Makarov was hit by missiles off Odesa. Subsequently not supported by evidence.

May: Russia takes at least one captured Ukrainian Navy Gyurza-M gunboat into operational service. It was one of several captured vessels transferred from Sea of Azov to Novorossiysk than month.

Late May: Harpoon and Brimstone missiles supplied to Ukraine. These threaten Russian Navy warships.

Late May: Smaller Russian warships, including gunboats, involved in capture of Mariupol.

Jun 10: Ukrainian Navy landing ship Yuri Olefirenko attacked by Russian rockets near Ochakiv. The ship, the largest remaining in the Ukrainian Navy, survives.

Jun 17: Russian ship Vasiliy Bekh, carrying a SA-15 GAUNTLET (Tor) air-defense missile system, is sunk by Harpoon or Neptune missiles.

Jun 20: Ukraine attacks Russian controlled gas platforms in mid-Black Sea with Harpoon or Neptune missiles. One platform still burning as-of Feb 2023.

Jun 29: Two target barges, normally resident in the Russian naval base at Novorossiysk, were towed to Kerch. They are positioned as decoys to protect the bridge from attack.

Jun 30: Russia abandons Snake Island.

Jul: Threatened by Harpoon and Neptune, Russian ships largely withdraw from western side of northern Black Sea. This is a significant change in the balance.

Jul 7: Ukrainian forces briefly land on Snake Island. Special Forces from 73rd Naval Special Purpose Center used underwater vehicles in this mission.

Jul 27: Black Sea Grain Initiative (BSGI) agreed, effectively breaking the blockage of Odesa.

Ukraine Takes The Fight To Crimea
Jul 31: Ukrainian uncrewed air vehicle (UAV) attacks Russian Navy headquarters in Sevastopol. Russia cancels planned Navy Day events in the port.

Aug 20: Follow-up Ukrainian uncrewed air vehicle (UAV) attack Russian Navy headquarters in Sevastopol.

Aug 24: SLAVA Class cruiser Marshall Ustinov leaves Mediterranean, to return to Northern Fleet home. This is leaves the Russian Navy weaker in the Mediterranean.

Early Sep: Russian nuclear powered submarine, likely Severodvinsk, reported in Mediterranean. Seen as part of the outer defense for the Black Sea operations.

Sep 8: Romanian Navy Musca-class minesweeper, Lieutenant Dimitrie Nicolescu (29), damaged by a floating mine off Romanian coast. Romanian forces have neutralized several floating mines believed to have broken free from their moorings further north. Attribution unclear.

Sep 21. Ukrainian explosive Uncrewed surface vessel (USV) washes up on beach outside Sevastopol. These are popularly called 'maritime drones'. Russian forces destroy it but otherwise do not appear to react to new threat.

Sep 26: Nord Stream 1 & 2 pipelines sabotaged in Baltic. Attribution subject to debate.

October 29. Major combined Ukrainian maritime drone (USV) and UAV attack on Sevastopol. Several USVs penetrate the harbour and two warships, the minesweeper Ivan Golubets and frigate Admiral Makarov, are hit. Neither ship is sunk. However Russia withdraws fleet into bases and starts initiating increased defenses.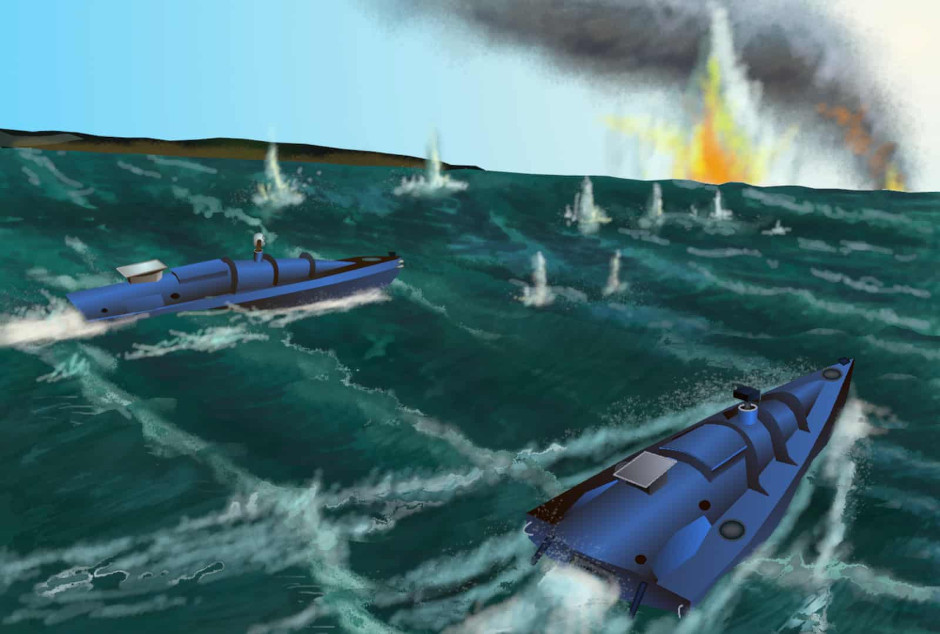 Artist's impression of maritime drones attacking Sevastopol. H I Sutton.

Oct 8: Ukraine attacks Kerch Bridge, likely with truck bomb. Both roadway and railway connections broken. Repairs take months and in meantime Russian Navy landing ships increasingly used as transports.

Oct: U.S. Supplied Combat Boats start to be delivered to Ukraine.

Oct: Last remaining SLAVA Class cruiser Varyag and escorts left the Mediterranean via the Suez Canal. The ships arrived in Vladivostok in November.
Oct 26: Reports that Russia is attempting to reactivate legacy naval base at Balaklava, south of Sevastopol.

Nov 18: Ukrainian USV attacks Novorossiysk. No significant damage but attack demonstrates range of vessels.

2023
Jan 2023: Small Russian naval base at Feodosiya becomes more important with Kalibr armed Buyan-M corvettes using it.

Jan 11: Russian warships and submarines based at Novorossiysk temporarily evacuated in face of perceived Ukrainian threat. Vessels return.

Jan: Russia sows naval mines in Dnieper River near Kherson, seemingly to defend against Ukrainian river crossings.

Early Feb: Space X, and its founder Elon Musk, say that they will stop Ukraine using their StarLink satellite communications system for long range drones. This may have prevented Ukraine using its explosive USVs near Crimea until an alternative can be found. Russian Navy increases activity of Crimea.

Feb 10: Russia deploys its own explosive USVs, with one targeting the bridge at Zatoka, south of Odesa.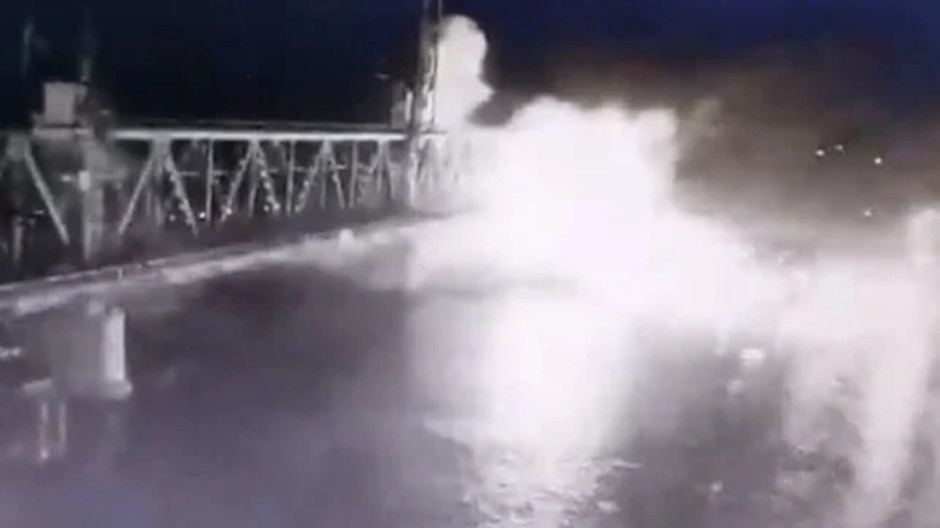 Feb 28: Ukrainian UAV attack on oil facilities at port of Tuapse, north of Sochi. This is notable for its distance from Ukrainian controlled territory and strategic relevance. Russia deploys air defenses there, observed Mar 6.

Mar 4: Russian war supplies continue to be shipped via Bosporus from Tartus to Novorossiysk. MV Sparta IV enters Black Sea.

Mar 22: Ukrainian maritime drones (USVs) and aerial drones (UAVs) attack Sevastopol. Local reports suggest 3 USVs were destroyed. Video evidence suggests that at least one penetrated deep inside the protected harbor.

Mar 22: Ukrainian forces reveal new model of maritime drone (USV)

Mid-April: Russian forces remove privately owned boats in the occupied town of Heniches'k, Kherson Oblast, on the Sea of Azov. Unclear why.

Apr 26: Ukraine reveals 'Toloka' family of uncrewed underwater vehicles. Production status unclear.

May 24: Russian intelligence ship Ivan Khurs attacked by three Ukrainian maritime drones, in vicinity 41.883333°, 30.603611°. One almost makes contact but attack unsuccessful. Ship returns to Sevastopol.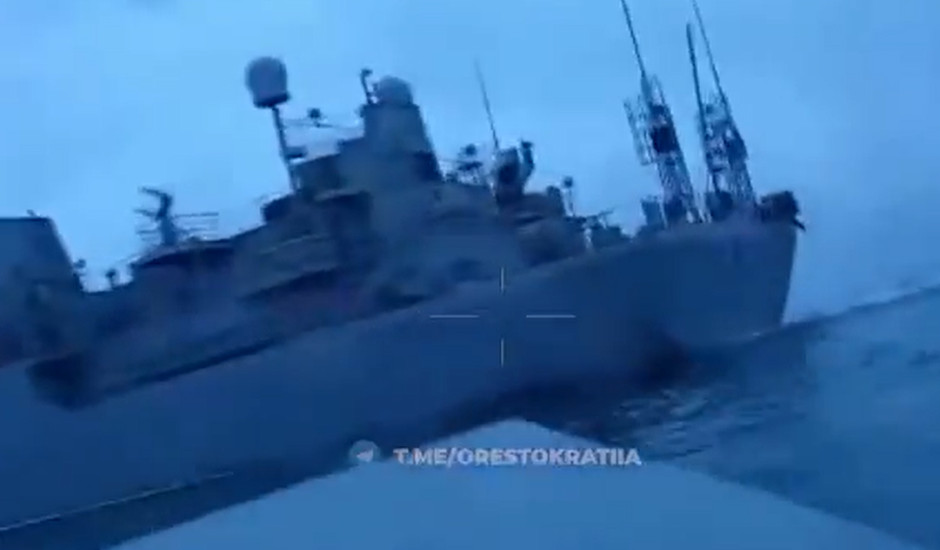 Jun 11: Reports from Russian sources claiming that the Black Sea Fleet Vishnya class Intelligence Ship Priazovye, was attacked by several (possibly 6) maritime drones (USVs) in Southeast Black Sea. Later located to vicinity 43.064437°, 36.813334°. All USVs reported destroyed. Interestingly, they report that she was on duty "defending of TurkStream gas pipeline" 300km south-east of Sevastopol. Her claimed reason for being there may be significant and should not be taken at face value.

Jun 18: Russian Sevastopol-designed 'Sargan' USV, which is similar to Ukraine's 'maritime drones', displayed at St. Petersburg International Economic Forum (SPIEF).

Summer 2023 Counter-Offensives
Mid-late June: Russian Navy applies deceptive camouflage to warships in Black Sea.

Jul 11: 2 Ropucha class landing ships used in a civilian role ferrying civilian traffic across the Kerch Strait. Continues after Kerch Bridge attack on July 17.

Jul 16: Ukrainian USVs attack Sevastopol. Reportedly none penetrated the harbour. Modified jet skis used. According to Mikhail Razvozhayev's Telegram channel, 2 were destroyed and another stopped by EW. 5 UAVs also employed. One Ukrainian USV known to have been in vicinity 43.060278°, 36.766944°.

Jul 17: Ukrainian USVs attack Kerch Bridge. Both spans of the road bridge seriously damaged.

Jul 18: Black Sea Grain Initiative (BSGI) expires without renewal when Russia withdraws. Was expected.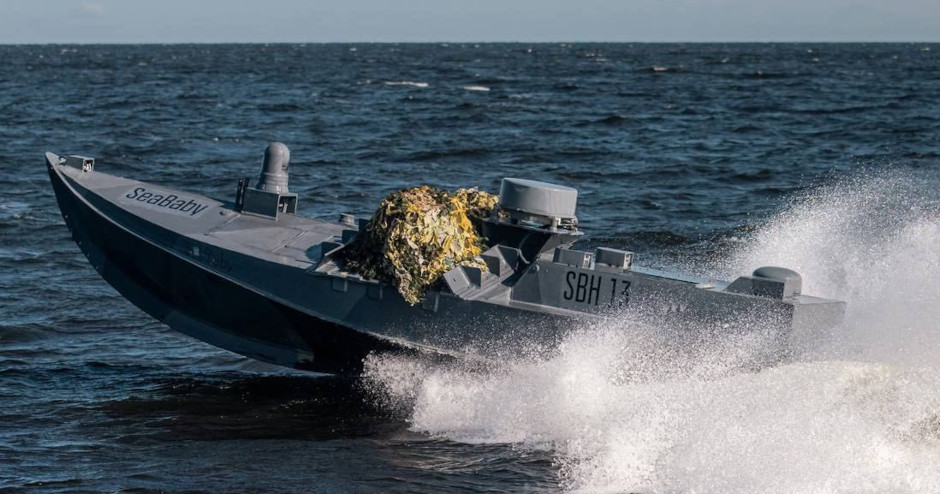 Ukrainian SBU Sea Baby USV of the type involved in the Kerch Bridge attack.

Post-Black Sea Grain Initiative
Late-July: Repeated Russian missile and OWA-UAV attacks on Odesa and other Ukrainian controlled ports. High number of KITCHEN and STOOGE missiles noteworthy. Russia also suspected of sowing sea mines near shipping lanes to/from Odesa.

Jul 25: Reportedly, Russian Navy Project 22160 patrol ship 'Sergey Kotov' is attacked by two Ukrainian USVs. Attack unsuccessful. Subsequently on July 26 the UK MoD update noted that the ship had been deployed to the southern Black Sea, patrolling the shipping lane between the Bosphorus and Odesa.

Jul 28: Russian MoD prohibits small boats (pleasure boats, sailboats, inflatable boats, jet skis, wind surfers etc) from transiting Kerch Strait.

Jul 31/Aug 1: Russian MoD reports two patrol ships, Sergey Kotov & Vasily Bykov, tasked with "controling navigation" 183 nm SW of Sevastopol, were attacked. Location later determined to be in the vicinity of 42.117219°, 31.229180°. 3 USVs used. Meanwhile grain ships sailing to Odesa without apparent interuption.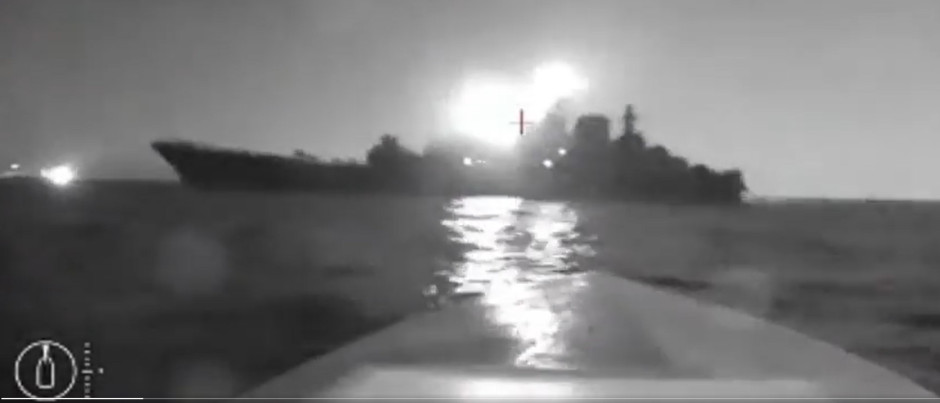 Ukrainian maritime drone (USV) lines up an attack on the Russian Navy Ropucha Class landing ship Olenegorsky Gornyak, night of August 3-4. The attack inflicted major damage.

Aug 3: Ukrainian USV destroyed by gunfire from Russian HIP helicopter, vicinity 43.060278°, 36.766944°. Possibly part of next day's attack on Novorossiysk.

Aug 3-4: Russian Navy Ropucha Class landing ship Olenegorsky Gornyak struck by Ukrainian maritime drone (USV) outside Novorossiysk. Significant damage. Towed to Novorossiysk.

Aug 5: Russian oil products tanker 'Sig' hit by Ukrainian maritime drone (USV) south of Kerch Bridge. Ship significantly damaged.

Aug 13: Russian Patrol Ship Vasily Bykov stopped and boarded the Palau flagged Sukru Okan General Cargo ship in Southern Black Sea as it sailed towards Ukraine. This is the first treported boarding following the termination of the Black Sea Grain Initiative (BSGI).

Aug 14: Floating sea mines wash up at Costinești, near Constanța in Romania. One explodes on pier. Possibly laid by Russia in July.

Aug 16 / 23: Videos of prototypes of AMMO Ukraine's 'Marichka' AUV revealed.

Aug 18: Ukrainian USV attack on Russian arms transport Sparta-IV, escorted by Navy Pr.1135M KRIVAK-II Class frigate Pytlivyy and Pr.22160 Bykov Class patrol ship Vasily Bykov in eastern Black sea. Sparta-IV was returning from a voyage to Tartus in Syria, likely carrying military equipment. Attack unsuccessful.

Aug 22: Engagements near Snake Island. Russian MoD publishes footage of a Ukrainian Willard Sea Force RHIB being attacked from an Su-30SM FLANKER-C.

Aug 24: Cross-beach commando raid by Ukrainian Special Forces on Cape Tarkhankut, western Crimea. The attack was preceded on Aug 23 by a strike on the S-400 air defense system there, reportedly including a Neptunre missile and elements launched from the sea.

Mid-late Aug: Russia begins placing barriers to protect the portion of the Kerch Bridge which was attacked on July 17. Barges sunk on western approach. Bridge repairs continue.

Aug 30: Russian Black Sea Fleet order roadstead at Balaklava closed to private boats until September 4.

Sep 1: Russian social media Reports that a Ukrainian USV (and possibly UAV) on Kerch Bridge was thwarted. The Pr.1135M KRIVAK-II Class frigate Pytlivyy may have been targeted, or otherwise involved. Unconfirmed.

Aug-Sep 2023: Ukraine lands on and reclaims 'Boyko Towers' gas rigs/platforms in Black Sea.

Sep 13: Ukrainian strike on Sevastopol, reportedly with Storm Shadow / SCALP-EG cruise missiles. Pr.775 Ropucha class landing ship Minsk and Pr.636.3 Improved KILO Class submarine Rostov-on-Don (B-237) seriously damaged in dry dock.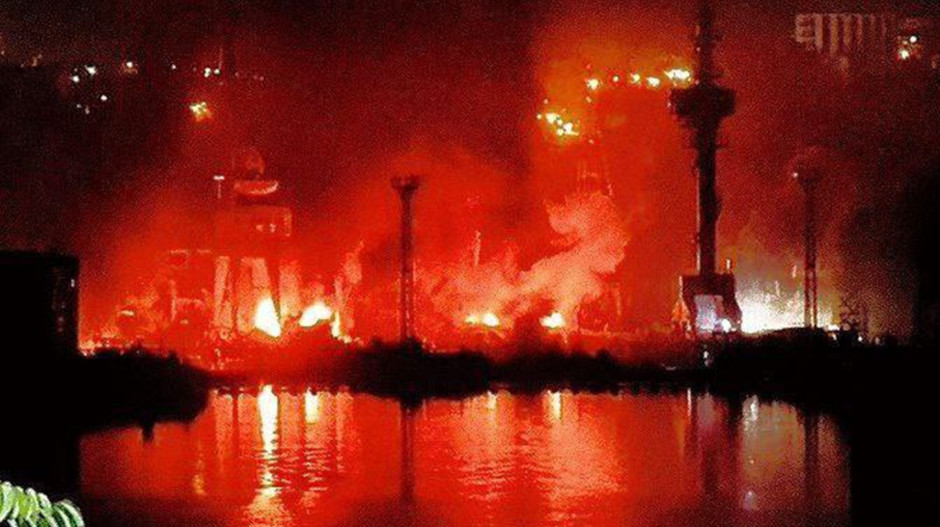 Vessels in the dry dock in Sevastopol burning, September 13 2023.



Damage to Improved-KILO Class submarine Rostov-on-Don.

Sep 13-14: Ukrainian USV attacks target Russian tanker Yaz and weapons transport Ursa Major in Black Sea. Russian MoD states that 11 USVs were destroyed, 3 by Pr.22160 Bykov Class patrol ship Vasily Bykov, 3 by naval aviation (likely helicopters) and 5 by Pr.22160 Bykov Class patrol ship Sergey Kotov.

Sep 14: USV attack on Pr.1239 Bora Class missile corvette Samum, reportedly with experimental 'semi-submersible' USVs (x2).

Mid-Late Sep: Increased Ukrainian missile and OWA-UAV (one way attack aerial drones) attacks on Black Sea Fleet targets, including major facilities in Sevastopol on Sep 20 and the main HQ building on Sep 22.

Sept 20: Ukrainian cruise missile strike on Black Sea Fleet installations near Sevastopol.

Sept 20: Togo-flagged merchant ship 'Seama' hit by floating mine in Danube anchorage, 12 miles offshore from Sulina area of Romania.

Sept 22: Ukrainian Storm Shadow missiles strike Russian Black Sea Fleet headquarters in Sevastopol.

Oct 5: LLyod's List reports that a general cargo ship is suspected of hitting a sea mine while waiting outside the entrance to the Sulina Canal, Romania.

Oct 8: Attack on Balticconnector gas pipeline and nearby submarine communication cable (SCC) in Gulf of Finland. Attribution to be confirmed.

Oct 11: Russian Navy Pr.22160 patrol ship 'Pavel Derzhavin' reportedly hit Russian mine outside Sevastopol harbour. Unconfirmed.

Oct 13: Ukrainian maritime drones, likely USVs, attack Russian warships outside Sevastopol. Buyan-M corvette reportedly damaged with sources on both sides but no cofficial confirmations.

Oct 24: Russian MoD reports that at about 4 o'clock Moscow time, in the northern part of the Black Sea, 3 unmanned boats of the Ukrainian Navy were detected. Russian forces responded, results unclear.

Oct 25: Ukraine reports that Russian naval aircraft laid 'explosive devices' in shipping lane to/from Odesa.

Nov 4: Russian Pr.22800 Karakurt class corvette struck by Ukrainian missiles at shipyard in Kerch.

Nov 10: Liberian flagged merchant ship KMAX Ruler hit by Russian anti-radiation missile in port of Odesa.

Nov 10: Ukrainian maritime drones (USVs) operated by GUR hit two Russian Navy landing craft in Chornomors'ke, northern Crimea. 1 x Pr.11770 Serna Class and 1 x Pr.1176 Ondatra Class.

Nov 16: Liberian flagged Merchant ship 'Georgia S' struck by floating mine in Northwestern Black Sea.

Nov 22: Ukrainian GUR Magura-5 USV washes up on a beach on the Western side of Crimea. On November 25 Russia relkeases video footage of Su-30SM FLANKER aircraft straffing a small boat or USV off Crimea.
...To be continued.

---
Related articles (Full index of popular Covert Shores articles)



Ukraine's Maritime Drones (USVs)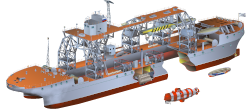 Russia's Unique 110-Year-Old Ship, Kommuna w/Cutaway



Project 09852 Belgorod Special Mission submarine (spy sub). w/Cutaway