The Submarine Which Came In From The Cold: Belgorod Under Cover

Russia's latest super-massive submarine, K-329 Belgorod, has been returned to the sheds. This answers a small Open Source Intelligence (OSINT) mystery. A floating dock used for moving submarines between certain construction halls and the river was observed at the entrance to the basin on October 21. We now know that it was collecting Belgorod.

The unique submarine, known as Project 09852, is the only submarine in the world to combine the mission of a spy submarine with nuclear deterrence. For the first mission it is equipped to host the Losharik deep-diving special mission submarine. This is carried in a recess under the keel. For the latter mission it carries 6 Poseidon mega-torpedoes.

At an estimated 178 meters she is believed to be the longest submarine on the world. And second only to the mighty TYPHOON class in terms of displacement. If she were any longer, the shipyard might have trouble moving her between the water and it's sheds. As it is she takes up almost all of the floating dock.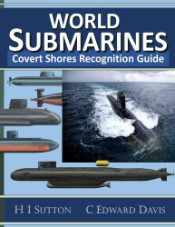 Get The essential guide to World Submarines
This Covert Shores Recognition Guide Covers over 80 classes of submarines including all types currently in service with World Navies.
Check it out on Amazon

Belgorod was launched on April 23 2019 and started sea trials on June 25 2021. Before starting the sea trials she was brought back into the sheds, just as she is now. While we should be careful with speculation, the latest return may indicate teething issues with various systems. Or unfinished work on her underside, possibly where she carries Losharik.



Belgorod starting sea trials, June 25 2021

There have been reports in the Russian media that Belgorod will be commissioned this year. Russia has been developing a new way of working which sees Navy crews trained on the submarine earlier in the process. This should reduce the time between fitting out and commissioning. However the fast pace of the sea trials, for such an unusual and complex submarine, smells of political expediency. So even if she is commissioned in the coming months, it is questionable when she will he truly operational. And the return to the sheds won't be increasing people's confidence.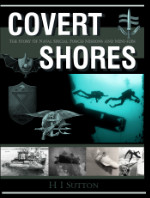 THE book on Special Forces subs Covert Shores 2nd Edition. A world history of naval Special Forces, their missions and their specialist vehicles. SEALs, SBS, COMSUBIN, Sh-13, Spetsnaz, Kampfschwimmers, Commando Hubert, 4RR and many more.
Check it out on Amazon

---
Related articles (Full index of popular Covert Shores articles)



Project 09852 Belgorod Special Mission submarine (spy sub). w/Cutaway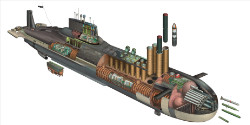 TYPHOON Class SSBN. w/Cutaway



Project 955A 'BOREI-A' Ballistic Missile Submarine. w/Cutaway



Project 885 'YASEN' (Severodvinsk Class) SSGN. w/Cutaway



Project 949A/AM OSCAR-II Class Cruise Missile Submarine. w/Cutaway