Naval Group Reveal XLUUV Demonstrator

Described as an 'Oceanic Underwater Drone Demonstrator', French defense giant Naval Group's entry into the XLUUV arena is impressive. The innovative design uses sleek whale-like lines, reminiscent of the SMX-31 concept.

According to an interview with Naval News, the vessel was designed 2016-2018 as a Naval Group initiative. Construction was from 2018, leading to sea trials in November 2020. This places it on a similar overall timeline to the Royal Navy's Manta program. The project is not currently backed by the French Navy (Marine Nationale) however.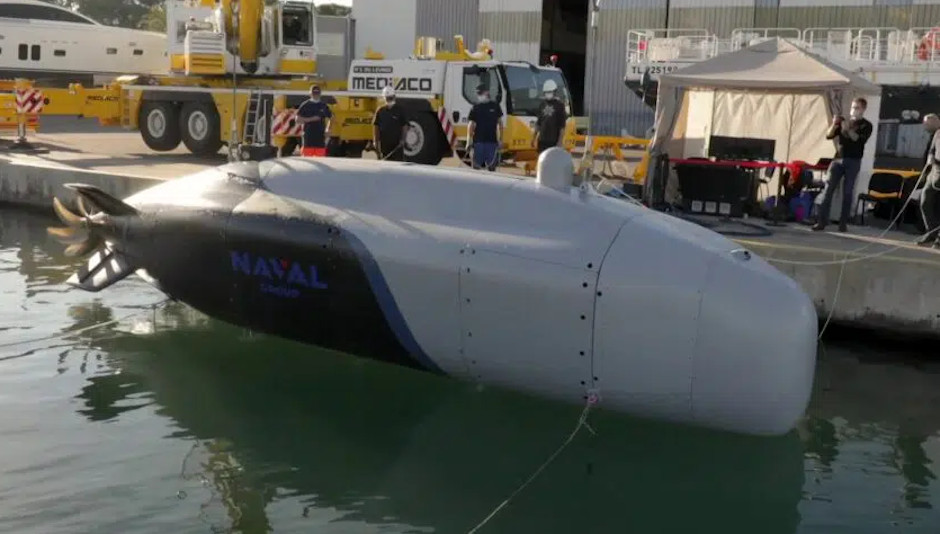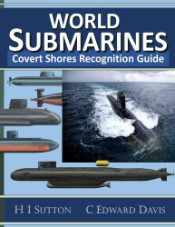 Get The essential guide to World Submarines
This Covert Shores Recognition Guide Covers over 80 classes of submarines including all types currently in service with World Navies.
Check it out on Amazon

The craft can undertake ISR (Intelligence, Surveillance and Reconnaissance) missions. For this it has a comparatively large sonar and a retractable telescopic optronic / radar mast. Missions could include close observation of a hostile coast to improve situational awareness of a mother ship.

In future the craft could be fitted with a payload, such as torpedoes or nines. It could also be doubled in length, from ~10m long to ~20m, to increase endurance. This could involve more batteries, or AIP (air independent power). Naval Group has fuel cell AIP technology which logically could be scaled down to the XLUUV size.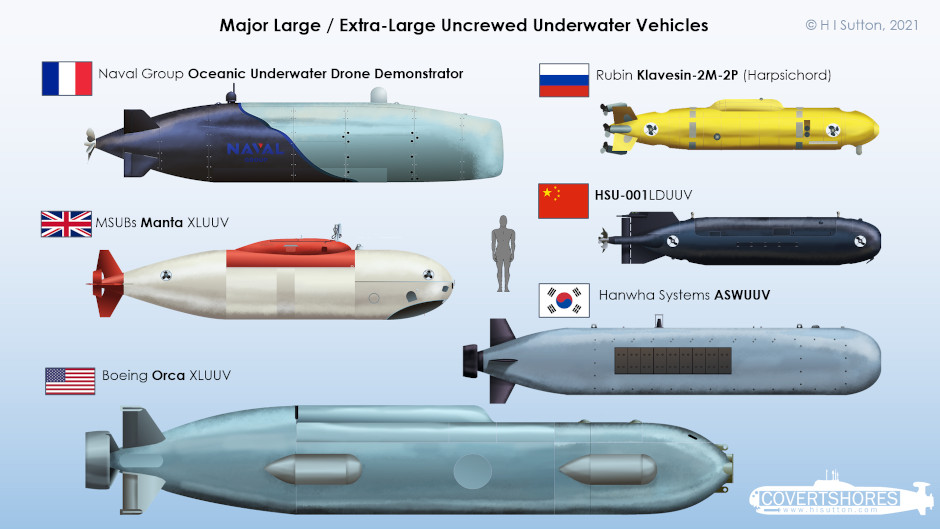 Original Artwork. CLICK to Enlarge

Specifications
Length: ~10 meters (33 ft), up to 20 meters (66 ft) with additional power options
Displacement: ~10 tons
Speed: 16 kt (max), 6 kt (cruise)
Armament: None. Possible future integration of torpedoes, mines...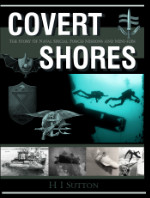 THE book on Special Forces subs Covert Shores 2nd Edition. A world history of naval Special Forces, their missions and their specialist vehicles. SEALs, SBS, COMSUBIN, Sh-13, Spetsnaz, Kampfschwimmers, Commando Hubert, 4RR and many more.
Check it out on Amazon

---
Related articles (Full index of popular Covert Shores articles)



SMX-31 future submarine concept ('The Electric') w/Cutaway



Suffren (Barracuda) Class Attack Submarine w/Cutaway



Royal Navy Manta XLUUV extra-large UUV



XLUUV armed extra-large UUV



SWUV (/ PSM3G) advanced SDV



DGSE's SDVs



SNLE-3G next-generation French SSBN