Share: _ _

First look at next generation French SSBN


France's Triomphant Class SSBNs are among the most modern submarines in NATO, but work is already underway on a replacement set to enter service around 2032. Defense news website Navy Recognition got an early look at the replacement design from Naval Group.

The third generation of French SSBN (after the Redoutable Class and Triomphant Class), the program is currently known as SNLE-3G (Sous-Marin Nucléaire Lanceur d'Engins de 3rd Génération). Work on the project bagan in 2012 and full-scale development is expected in 2019. Four boats are planned and the 2017 budget allocation was 117,733,692 Euros.



The SNLE-3G will be larger than the current Triomphant Class SSBN, by about 6-10 meters in length and about 2,000 tons in displacement (14,500 tons surfaced versus 12,640 tons). This is similar to a trend in other western SSBN projects such as the US Navy's Colombia Class and Royal Navy Dreadnought Class. The increase is likely driven by the reactor and machinery space which will be significantly quieter than the current generation. It will not translate into more missile tubes however: according to previous information, SNLE-3G will carry 16 ballistic missiles. The general trend in Western designs is toward fewer missiles.

SNLE-3G Specifications
Displacement: 14,500 tons surfaced
Length: 148 meters (est)
Beam: ?
Draft: ?
Crew: ?
Speed: ?
Range: Unlimited
Armament: 16 x SLBMs (M-51 or replacement), torpedo tubes for F21 533mm (21") heavyweight torpedoes

1. 2. 3.
Redoubtabe Class (SNLE-1G), 2. Triomphant Class (SNLE-2G), 3. DCNS (now Naval Group) timeline including projected SNLE-3G entry into service.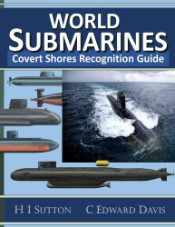 Get The essential guide to World Submarines
This Covert Shores Recognition Guide Covers over 80 classes of submarines including all types currently in service with World Navies.
Check it out on Amazon

The combination of sail mounted forward hydroplanes and x-form stern control surfaces is similar to the Colombia Class. The long rider surfaces are distinctive however. Overall the design appears advanced and in keeping with the pace of submarine development, but still relatively conventional. It is not a radical departure from current boats in terms of overall form. Internally however key systems such as propulsion and sonar may be significantly evolved.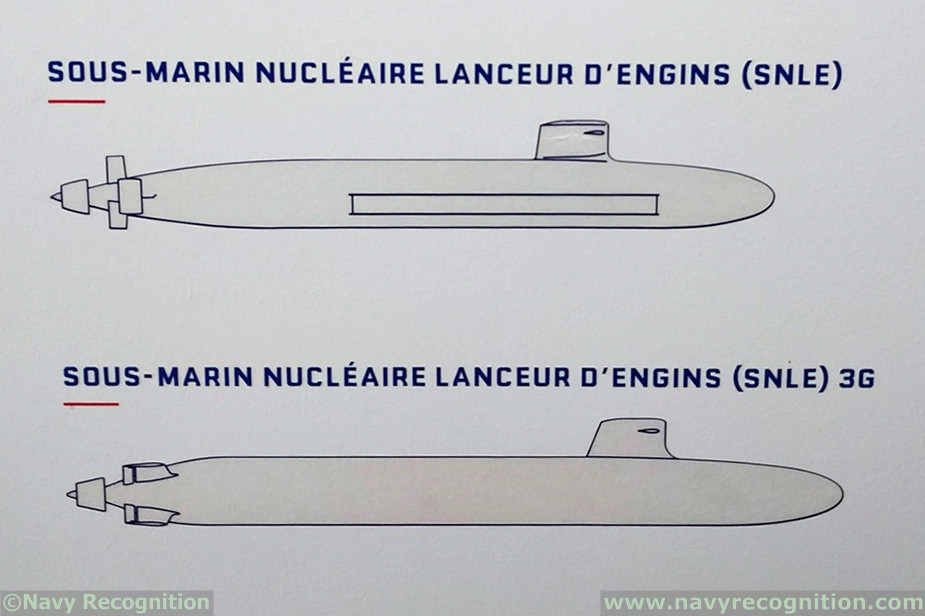 Image from Navy Recognition

The latest representation is broadly consistent with earlier graphics from 2017. Note that the X-rudders are smaller and the addition of a towed array tube on the center line: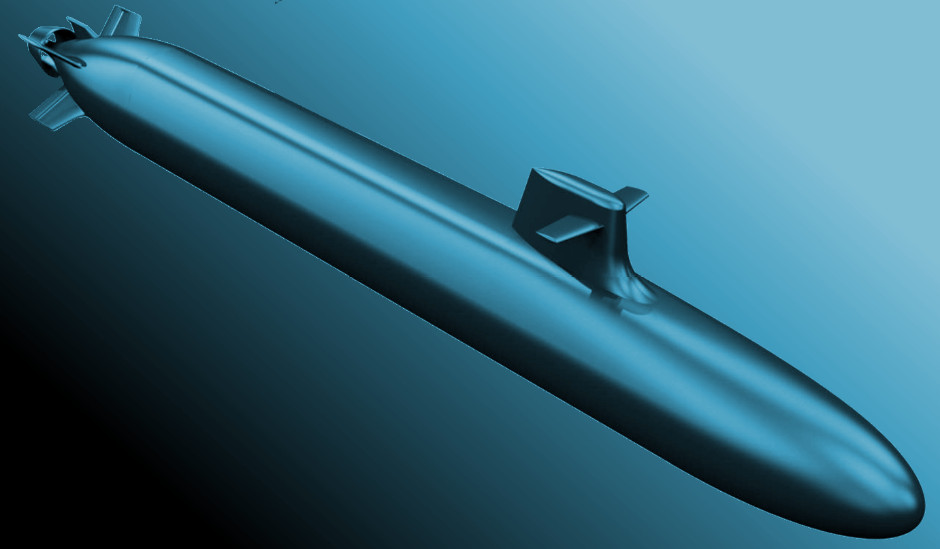 Naval Group (/DCNS), 2017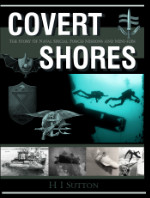 Learn EVERYTHING about Special Forces subs Covert Shores 2nd Edition. A world history of naval Special Forces, their missions and their specialist vehicles. SEALs, SBS, COMSUBIN, Sh-13, Spetsnaz, Kampfschwimmers, Commando Hubert, 4RR and many more.
Check it out on Amazon

---
Related articles (Full index of popular Covert Shores articles)






+





Nuclear Missile submarines



Project 885 'YASEN' (Severodvinsk Class) SSGN. w/Cutaway



Poseidon Intercontinental Nuclear-Powered Nuclear-Armed Autonomous Torpedo



Project 955A 'BOREI-A' Ballistic Missile Submarine. w/Cutaway



Unbuilt US Navy spy submarine



USS Jimmy Carter (SSN-23) Special Mission submarine



Sweden's nuclear powered submarine project (A-11A)



HUSKY Class future attack submarine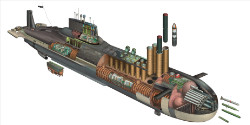 TYPHOON Class SSBN. w/Cutaway



North Korean Gorae Class SSB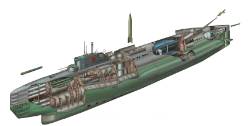 Stalin's Super Sub, Project P-2. w/Cutaway



Russian Seismic Survey sub



Alseamar MURENE SLV



DGSE's SDVs



Sphyrene and Coryphene SDVs



SWUV (/ PSM3G) advanced SDV