3 Chinese Navy Ships of Interest in Sanya (Not The Carrier)

There is a tendency to focus on aircraft carriers and other major warships. Looking beyond them, there are sometimes some very interesting ships nearby. In close concert with China's second aircraft carrier, CV-17 Shandong, at Sanya in the South China Sea on September 29, are three of these. A massive space tracking ship, a spy ship and a unique type of support ship only used by the Chinese Navy (PLAN).

Tracking Ship
The tracking ship is Yuan-Wang-6 (IMO: 9439527), which can keep tabs on satellite or missile launches. It has four huge steerable dishes running along its back and several other radomes.


Spy Ship
The suspected spy ship, more properly called an Electronic Reconnaissance Ship (AGI), has not been identified. The Type-815 Dongdiao Class is a major AGI for the PLAN. This example, 855, may be operating in the South China Sea: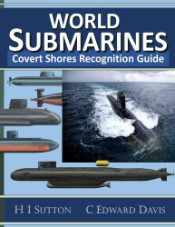 Get The essential guide to World Submarines
This Covert Shores Recognition Guide Covers over 80 classes of submarines including all types currently in service with World Navies.
Check it out on Amazon

Navy Cruise(Line)r
The support vessel is actually something like a navy-operated cruise ship. It is used to accommodate elements of the aircrew and support personnel of the while the carrier is undertaking flight tests and trials. China currently has two of these, numbered 88 and 89, basically one for each of the in-service carriers. There is a running track and basketball court visible from above.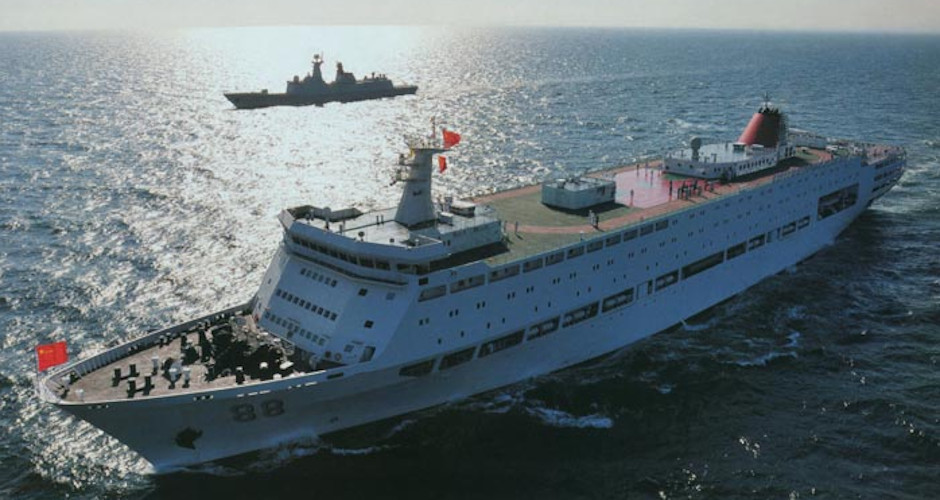 Chinese Navy integrated support vessel, aka barracks ship. This photo is 88 Xu-Xiake. The one in the satellite image is believed to be the sister ship '89' (name unknown).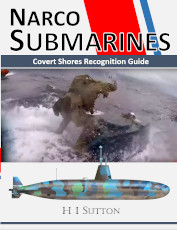 The World's ONLY Guide to
Narco Submarines
10 years of research, analyzing over 160 incidents, condensed into a handy guide. This unique book systematically breaks down the types and families. With detailed taxonomy, recognition 3-views, profiles and photos. Available on Amazon



Both the Yuan-Wang-6 and the Type-815 AGI (if that is what it is) can be used to monitor space launches. Their presence in Sanya could possible relate to the recent launch of two Chinese rockets on September 27. A Kuaizhou-1A solid -fuel rocket was used to carry the Jilin-1 Gaofen 02D Earth observation satellite into space. Two hours later, a Long March 3B rocket was launched from Xichang Satellite Launch Center carrying a classified satellite. The latter may have been lost.

---
Related articles (Full index of popular Covert Shores articles)



F-117 of the Seas: Lockheed's Stealth Submarine design



Chinese Navy's Advanced Submarine Type-039C Yuan Class. w/Cutaway



Chinese Sailless Submarine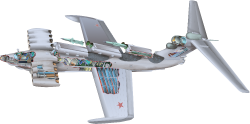 Lun Class Ekranoplan (Wings in Ground Effect) w/Cutaway