Updated. Originally posted March 29 2019
Share:



New Satellite images of Chinese Sailless submarine


Google Earth imagery recently uploaded, taken on September 18 2019, provides the first measurements for the Chinese Sailless submarine. The boat is present in the basin at JN shipyard ( 31°20'47.29"N, 121°44'34.24"E).


This allows an updated size estimate: 45 meters (150 ft) long and 4-4.5 meters (15 ft) hull diameter.


In March 2019 a video capture posted on Chinese social media on 29th March 2019 appears to show an unknown Chinese submarine design first reported in October 2018.

The most distinctive feature is the extremely small sail. The new video shows crewmen on the casing, challenging earlier speculation that it could be a prototype very large unmanned underwater vehicle (UUV). The single-hull construction and sheer size also point to a crewed submarine.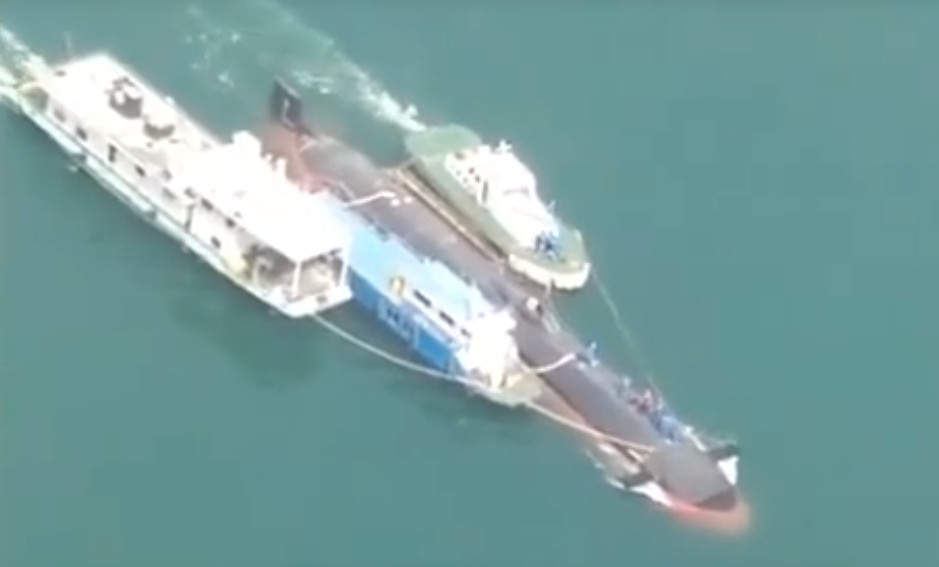 The role of the new submarine is unconfirmed. There are no clear indications of either torpedo tubes or a sonar dome in the relatively high-quality photographs released in October 2018 show the frontal aspect. These features are not always discernable in launch photos so it is not conclusive, but their apparent absence would point to a purely experimental role for the submarine.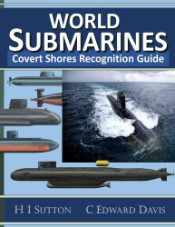 Get The essential guide to World Submarines
This Covert Shores Recognition Guide Covers over 80 classes of submarines including all types currently in service with World Navies.
Check it out on Amazon

Another possibility is that the lack of a sail combined with short overall length points to a novel propulsion arrangement. The yard where the boat is believed to have been built, JN shipyard (31°21'0.12"N, 121°44'41.74"E) is not associated with nuclear submarine construction.

CLICK for HIGH-RESOLUTION image: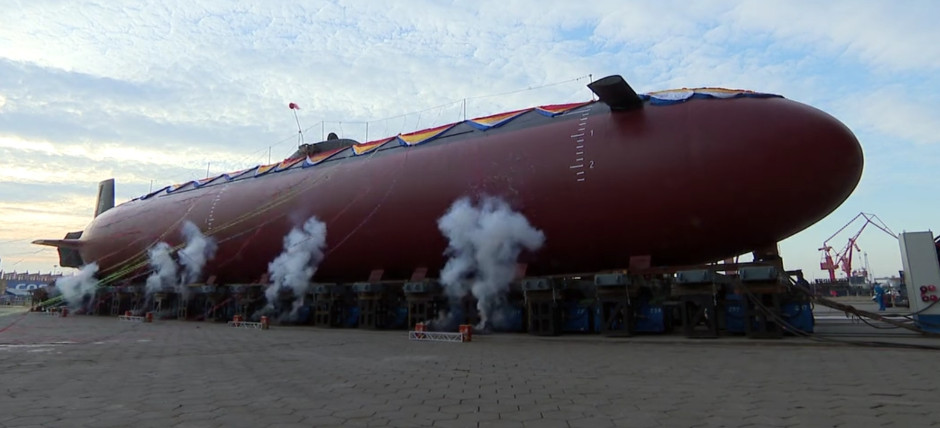 The JN shipyard launched the submarine in mid-October 2018. Although high quality images were shared online, very few details were available.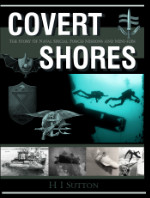 The ultimate book of Special Forces subs Covert Shores 2nd Edition is the ONLY world history of naval Special Forces, their missions and their specialist vehicles. SEALs, SBS, COMSUBIN, Sh-13, Spetsnaz, Kampfschwimmers, Commando Hubert, 4RR and many more.
Check it out on Amazon

Potentially this represents a prototype or first-in-class of an all-electric submarine which relies on Lithium-ion batteries, eliminating the diesel generator, thus removing the need for a full snorkel system (an air-inlet snorkel would still be desirable for the crew) and reducing much of the machinery space. Alternatively it could be a pure AIP (Air Independent Power) submarine.

---
Related articles (Full index of popular Covert Shores articles)



Chinese HSU-001 LDUUV



Project 673 Advanced Submarine design. w/Cutaway



Chinese MS200 midget submarine



Swedish A21 Flundran AIP attack submarine



British SSN(R) next generation Royal Navy SSN



Attack Class



A-26 Blekinge Class attack submarine. w/Cutaway



Project 705 'ALFA' class attack submarine. w/Cutaway



Sweden's nuclear powered submarine project (A-11A)



HUSKY Class future attack submarine



Japanese Ko-Hyoteki midget submarine of WW2 - Pearl Harbor attack






+





Nuclear Missile submarines



Japanese Ha201 Sen-Taka-Sho fast attack submarine of WW2



Iranian Fateh Class SSK



HDS-500 Midget Submarine