New Photo Of Shahid Soleimani Class Catamaran

Imagery is slowly emerging confirming the construction of new missile corvettes for Iran's IRGC (Islamic Revolutionary Guard Corps). A candid photograph has been shared on Telegram of one being fitted out at Qeshm Island. It is the same one observed at the Madkandaloo Shipbuilding Cooperative Co yard. The site is one of three where the new craft are being built.

The image confirms that the main armament will consist of four C-802 Noor family anti-ship missiles. These are housed in regular box launchers which are now visible just behind the bridge, firing forwards and outwards.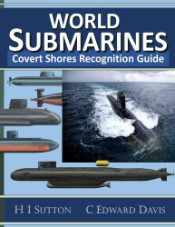 Get The essential guide to World Submarines
This Covert Shores Recognition Guide Covers over 80 classes of submarines including all types currently in service with World Navies.
Check it out on Amazon

Shahid Soleimani class Specifications: Displacement: Tbc
Length: 65 meters (est)
Beam: 19 meters (est)
Speed: Tbc
Armament: 4 x C-802 / Noor / Qader anti-ship missiles. Likely small autocannon, machine guns and possibly air-defense missiles.


---
Related articles (Full index of popular Covert Shores articles)



Iranian Fateh Class submarine w/Cutaway



Iranian Nahang Class midget sub



Iranian XLUUV



North Korean Modified-Romeo Class ballistic missile submarine



Chinese Sailless Submarine



History of Israeli subs



North Korean SSBN program - Sinpo Class





Taedong-B 'Kajami' ('Zulfikar') submersible boat




Al-Sabehat 15 Swimmer Delivery Vehicle and related development