UPDATED. Originally posted May 8th 2023





New IRGC Uncrewed Underwater Vehicle: Nazir-5

An image of an IRGC (Islamic Revolutionary Guard Corps) naval vessels in Bandar Abbas in May 2023 revealed a new weapon. The uncrewed underwater vehicle (UUV) is displayed beside other known types. The presence of the missile armed fast boat behind it confirmed that it was recent. The vehicle has since been associated with the Iranian name 'Nazir-5'.

UPDATED IMAGE



CLICK to Enlarge.


The vehicle is, overall, nondescript. However there are hints in its form that it is an uncrewed system. There are no windows or access hatches for crew, as you might expect with a wet sub. And there is an ADV (Swimmer delivery vehicle) beside it. Instead the new vessel is a large tube with control surfaces and propulsor at the stern.

The vessel displayed has an upper rudder but no lower rudder is visible. This may hint at a torpedo being carried along the belly. A similar configuration was used by the e-Ghavasi 'human torpedo' design. However, new higher-resolution images no not support this theory as the lower hull appears bland, without adaptations for carrying an external payload.

The metal hull is made up of at least four watertight compartments with bolted bulkheads at each end. There is an external fairing along the upper hull containing the mast raising mechanism. This likely also acts as a cable and/or pipe run.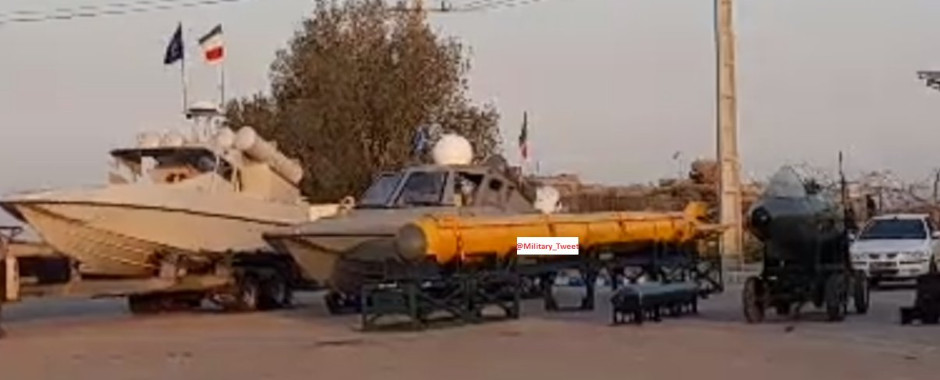 Image from https://twitter.com/Military_Tweet/status/1654802826885824512

It is painted in high visibility paint, likely to help recover it if it is drifting or sinks. This is typical of uncrewed systems during peacetime. Again, another indicator.

In UUV terms this would count as a large-displacement one (LDUUV), although it is longer than most.

Iran has previously revealed a novel drone-torpedo type weapon. This appears larger, but may be a similar concept. Or it might be intended to lay mines or gather intelligence.

Iran, especially the IRGC, has a fanboy of displaying prototypes and one-off experimental types. So don't hold your breath on this one being an operational capability. But it remains relevant and with the direction naval technology is going, cannot be ignored.

UPDATED IMAGE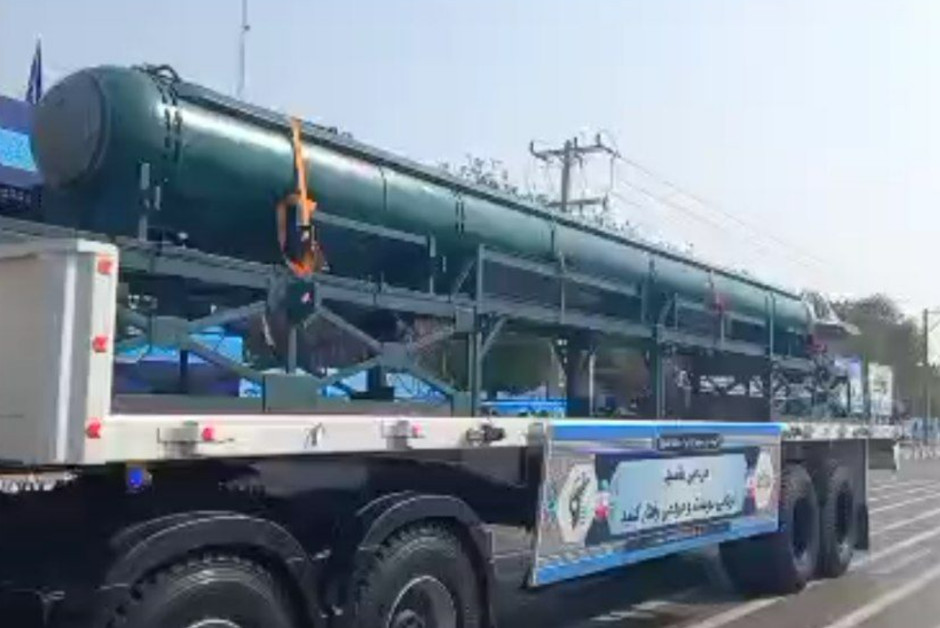 ---
Related articles (Full index of popular Covert Shores articles)



Iranian Fateh Class submarine w/Cutaway



Iranian Nahang Class midget sub



Iranian XLUUV