CLICK to enlarge. Original artwork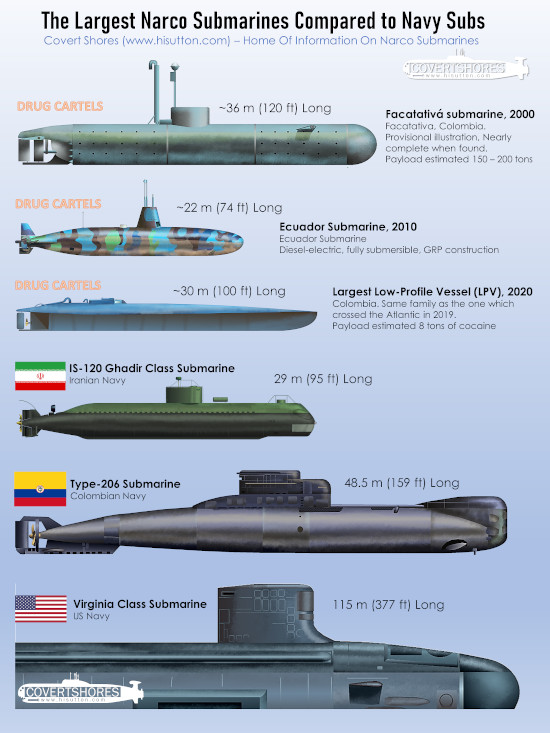 Largest Narco Submarines Compared To Navy Subs
Far more 'submarines' have been built over the last 15 years to smuggle drugs than for navies. Typically these so-called "narco submarines" are quite small, about 13-20 meters (42 - 65 feet) long. This is enough to carry 1.5-3 tons of cocaine. But occasionally much larger narco subs have been found. How do they compare to the submarines in service with navies around the world?

By far the largest, and most sophisticated, narco-sub ever found was discovered in a workshop in central Colombia in 2000. The ' Facatativá ' submarine was approximately 120 feet (36 meters) long. It had a payload of between 150 and 200 tons; an order of magnitude more than other known narco-sub.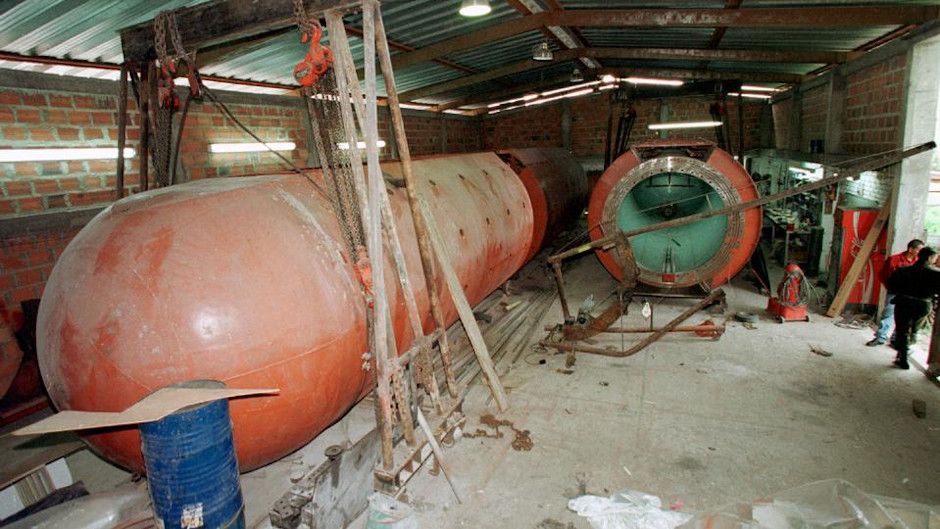 Colombian Navy

The discovery was made in workshops in Facatativá on September 7 2000. Reportedly authorities suspected an illegal gas clinger operation but found an illegal submarine. At the time the total construction cost was estimated to be $10 million.

It was so large that it was designed to be broken into three or more sections for transport using bolted bulkheads. It is unclear how the DTO intended to transport it to the coast. There are no train lines in Colombia so the journey of over 200 miles to the nearest coast would be by road.

There is clear evidence of Russian design expertise, including documents in Russian. At the time, the Russian submarine building industry was at a low point following the collapse of the Soviet Union eight years earlier. The boat was constructed out of steel with, like typical Russian submarines, a double hull with ballast tanks between the inner occupied hull and the streamlined outer casing. This would have permitted an operating depth of up to 30 meters.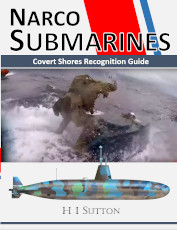 The World's ONLY Guide to
Narco Submarines
10 years of research, analyzing over 160 incidents, condensed into a handy guide. This unique book systematically breaks down the types and families. With detailed taxonomy, recognition 3-views, profiles and photos. Available on Amazon



Although not comparable to nuclear submarinesa (SSN), the Facatativá submarine was somewhat larger than many small submarines in service with world Navies. Although full specifications are not available in the public domain, it is likely that per the US Navy vessel classicization it would be too large to be considered a midget submarine (SSM). Instead it would be a coastal submarine (SSC).

For many years the Colombian Navy's only submarines were two Italian designed Cos.Mo.S SX-506s. These midget submarines were only 23 meters (75 ft) long and displaced 90 tons. As such they were significantly smaller than the Facatativá narco submarine. More recently the Colombian Navy has replaced the SX-506s with German built Type-206s. These subs are larger, but still within sight of the largest narco submarines.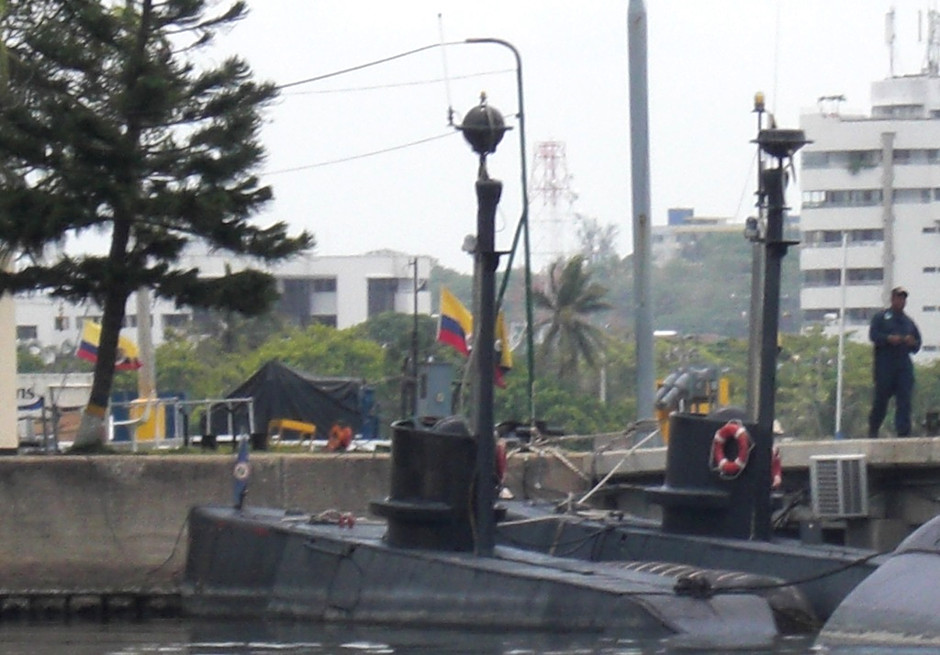 Rare photo of both Colombian Navy SX-506s.

A better direct parallel for the Facatativá submarine are small transport subs of World War Two. During the war the Japanese Army built the Type-3, Maru Yu (マルゆ). Only about 5 meters longer than the Facatativá boat, it was in many respects simpler than other submarines of the time. It had no internal bulkheads to create separate watertight compartments in the event of an emergency. The cargo holds could be loaded and unloaded by hatches on the deck. Small cranes were provided. If narcos are looking for inspiration,...


Another impressive narco submarine was discovered in the El Viento area of Esmeraldas, Ecuador, on June 30, 2010. It measured 74ft (22 meters) by and 9 ft (2.7 meters) across. It is noticeable for its clean, almost stereotypical, modern submarine form. Unlike most narco subs this would be optimized for submerged running.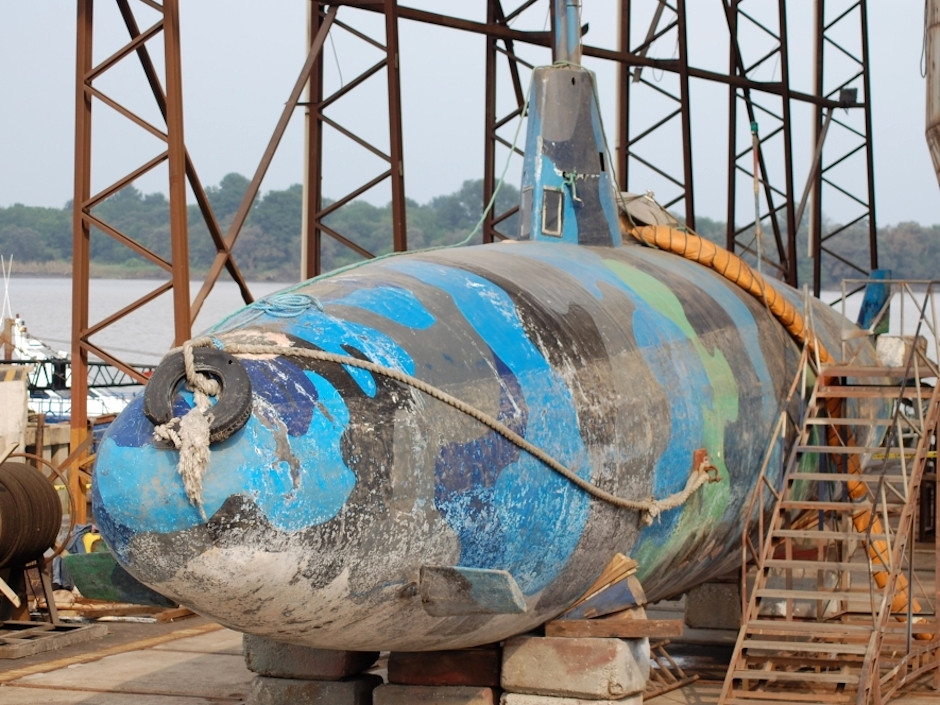 Despite being a fully submersible it was constructed mostly out of Kevlar reinforced fiberglass. And it had a typical low-profile-vessel (LPV) cockpit built into the base of the 'sail'. Therefore diving depth could only have been relatively shallow.

It was fitted with both diesel engines (with snorkel) and batteries. The twin diesels allowed a maximum speed of about 8.5 knots. Propulsion was twin screws mounted either side of submarine-like '+' form control surfaces. It would be operated by a crew of between 4 and 6. Endurance was about 10 days without refueling. Total range was quoted as 6,800 nautical miles on the main diesel engine (snorkeling or surfaced). 249 lead-acid batteries allowed submerged endurance of up to 18 hours at a time.

Both those submarines were fully submersible. But most "narco subs" are actually just low-profile vessels (LPVs). These do not fully submerge but are so low in the water that they are very hard to see. However some of these are also very large.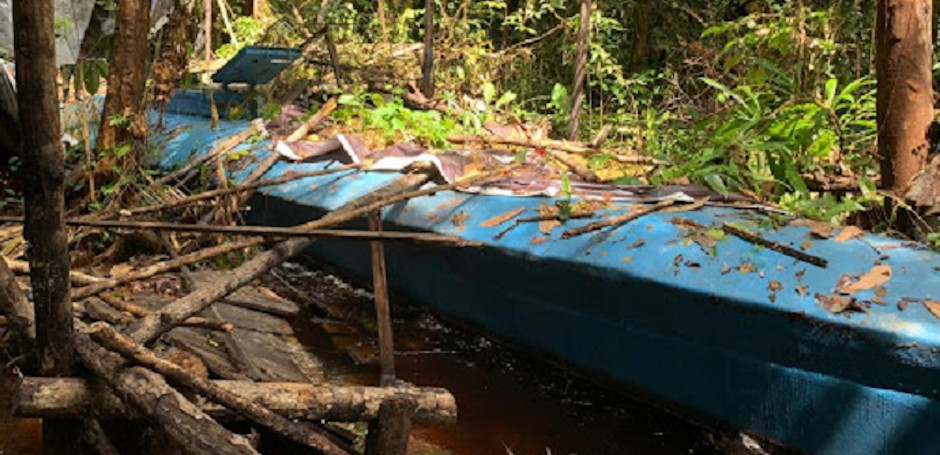 The LPV was hidden in the jungle. Details are limited because the vessel was destroyed at the scene. Colombian Navy photo.

On August 6 2020 the Colombian Navy located and destroyed an artisan shipyard on a tributary of the Naya River Puerto Merizalde. An LPV discovered was 30 meters long by 3 meters wide was found, with the capacity to store up to 8 tons of cocaine hydrochloride. Based on signature details it was designed by the same master boat builder as the 'Transatlantic' narco sub. That had been found in Galicia Spain in November 2019. That too was large, but not as massive as this one.

---
Related articles (Full index of popular Covert Shores articles)


Narco Subs 101. w/Cutaway



The unique Pedal-powered smuggling submarine and other Swiss smuggling subs



Japanese Maru Yu special transport submarine of WW2 w/Cutaway



Prohibition era Moonshine smuggler's sub. w/Cutaway


The Escape of Bernd Boettger from East Germany