Narco Planes 101
Unlike Narco Submarines, which are custom-built vehicles, it appears that narco planes are without exception commercially available types. This makes sense since the viability of jungle-built aircraft would be questionable at best. This means that narco planes are less exotic to the eyes, and there is less to write about in design terms than Narco Submarines. But their employment is dangerous, dramatic and in other respects similar to the boats.

The DTOs (Drug Trafficking Organizations) favor second hand commercial aircraft. Light single-engine aircraft, typified by the Cessna Centurion, are used on shorter trips. Twin prop and business jets are used on longer routes, such as from South America to Belize, Guatemala or Mexico. In general these are commonly available types which are now around 30-40 years old.

The main route appears to be from western Venezuela up over the Caribbean to Central America. Venezuelan government involvement is a hot topic with SOUTHCOM believing that corruption plays a major part. Venezuelan forces do frequently destroy (on the ground or even in the air) narco planes but these are believed to be those which have not paid the 'tax'.

On July 2, law enforcement officials found a Gulfstream II business jet abandoned on a clandestine runway in Southern Mexico. Then on July 5 a BAe-125-700A business jet landed on a highway in Southern Mexico, and was set on fire. Its occupants, and the drugs it was carrying, were gone.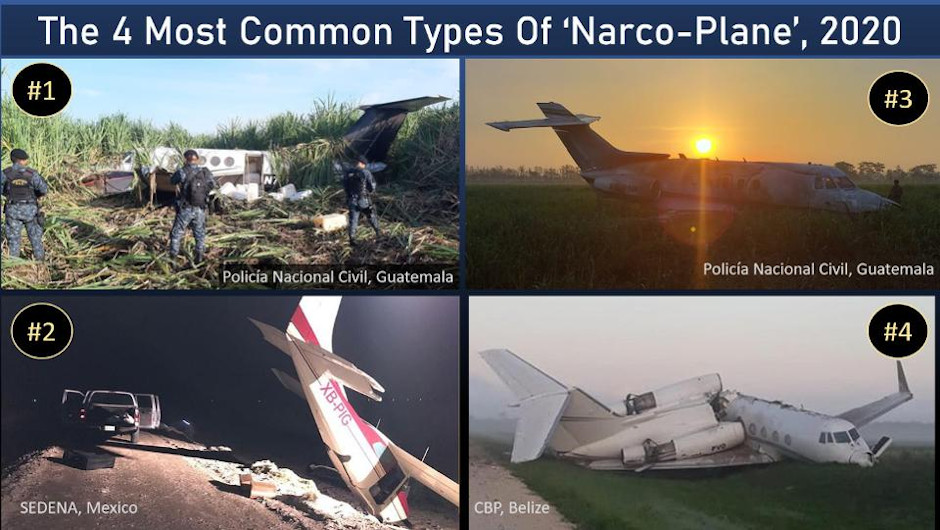 Gulfstream business jets
Mostly the older Gulfstream II type. In the 1960s these were the first large, long-range business jets on the market. They can carry 14 or more passengers for around 4,000 miles, making them ideal smuggling aircraft. The narcos have proven that they can be flown from relatively austere, clandestine airstrips.



This Gulfstream II was intercepted over the sea and forced to land in Mexico on Jan 29 2020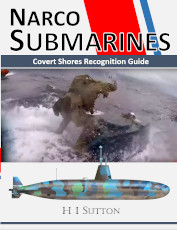 The World's ONLY Guide to
Narco Submarines
10 years of research, analyzing over 160 incidents, condensed into a handy guide. This unique book systematically breaks down the types and families. With detailed taxonomy, recognition 3-views, profiles and photos. Available on Amazon



Hawker HS-125, and later BAe-125
This family of corporate jets, originally flown as the Hawker Siddeley HS-125, has been around since the early '60s. It was in production for 50 years, during which time it its name changed to the BAe-125. Many of the 1,700+ built were sold in the Americas, where is is still a decent second-hand market for them. Overall they are just a bit more common than the Gulfstream, making them the most popular 'narco jet.' Many are flown from Venezuela or Colombia, north to Belize, Guatemala or Southern Mexico.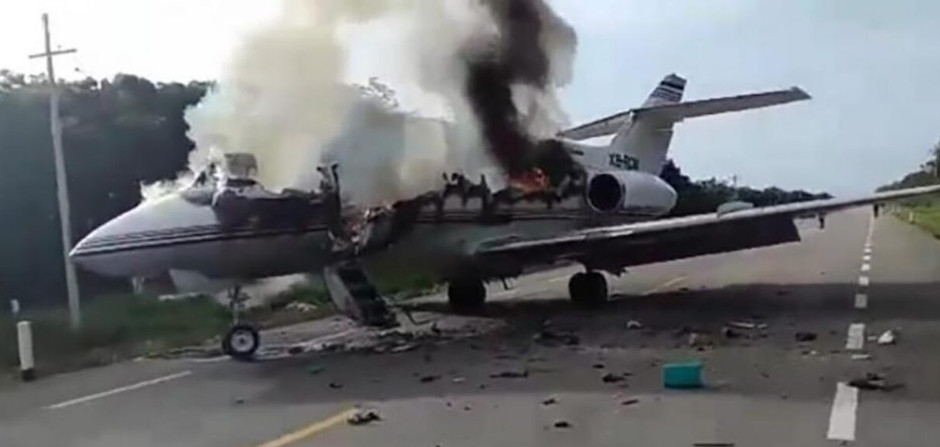 This BAe-125 landed about 10 km (6.3 miles) from José Maria Morelos, Quintana Roo in Mexico on July 5 2020.

Cessna single-propeller light aircraft
These are most likely the aircraft we picture when we think of illegal drugs flights. And they are quite common, but mostly for shorter trips. The aircraft flying up from South America to Central America are more often the larger twin engine types.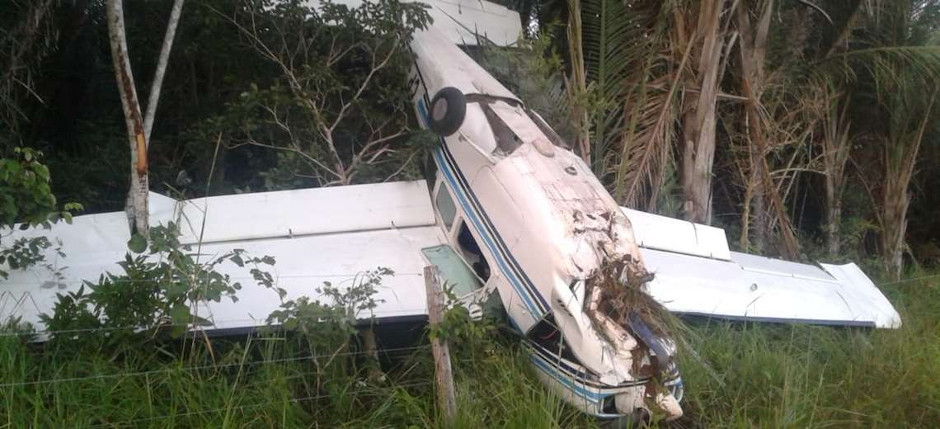 Cessna 210H Centurion crashed in Guarayos, Santa Cruz, Bolivia. Feb 17 2020

Today the Cessna 210 Centurion model seems predominant. Although it hasn't been produced since 1986, 9,240 were built, so there is a ready supply on the second hand aircraft market.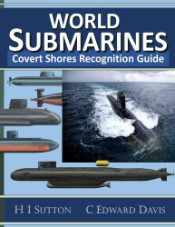 Get The essential guide to World Submarines
This Covert Shores Recognition Guide Covers over 80 classes of submarines including all types currently in service with World Navies.
Check it out on Amazon

Beechcraft King Air and Super King Air
the No. 1 slot in terms of numbers goes to the reliable Beechcraft Super King Air, and occasionally its little brother the King Air. These don't have the speed of the business jets but their decent range and capacity makes them ideal for drug traffickers. What is more, over 6,000 have been built of the two models, making them relatively common on the second hand market.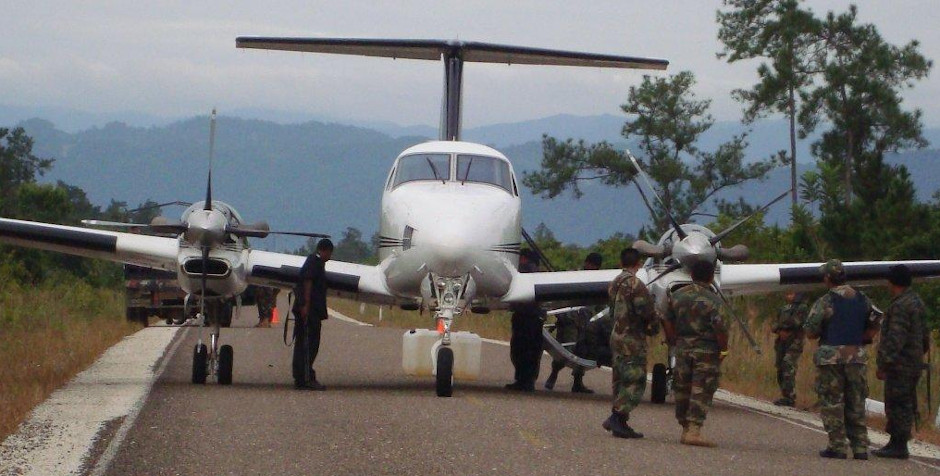 There are other types used also in much smaller numbers. Drug smugglers, it seems, will use whichever model they can get their hands on. These include the occasional vintage Rockwell Sabreliner and Piper Aztec. Some of the aircraft involved, particularly those which crash in the dense jungles of Central America, cannot be identified from open sources. And of course, we don't know about the ones which don't get caught. But the above list rings true.

---
Related articles (Full index of popular Covert Shores articles)


Narco Subs 101. w/Cutaway


LTTE Sea Tigers' sneak craft and midget subs



Prohibition era Moonshine smuggler's sub


The Escape of Bernd Boettger from East Germany


Nautilus 2020 Luxury Private Submarine. w/Cutaway


Cutaway of Jules Verne's Nautilus. w/Cutaway


Turbinia, the first steam turbine boat (1894)


Armored Stealth Boat used for car smuggling by Chinese organized crime. w/Cutaway