Thank you to the person who alerted me to this vintage news story. Not an April fools'


1978 plan to steal USS Trepang (Sturgeon Class SSN)


In a plot straight out of a straight-to-video movie, two ambitious would-be super-villains planned to steal a Sturgeon Class nuclear powered attack submarine, sail it into the North Atlantic and then sell it to the Mafia for $300 million.

This mean feat was to be achieved by pulling together a 12-man crew who would first blow up a maintenance vessel alongside their target, the USS Trepang (SSN-674). In the ensuing confusion they'd board the tied-up submarine, kill the crew of around 100 men, and then sail away.

The super-thieves were Edward J. Mendenhall,24, of Spanish Lake, Mo., and James W. Cosgrove, 26, of Geneva, N.Y.



USS Trepang, under original management

In an even crazier angle, it was alleged that they planned to launch a nuclear missile at Connecticut to cause further distraction and thus ensure their getaway. The Sturgeon Class boat may have had SUBROC missiles and torpedoes aboard.


Sturgeon Class SSN article + cutaway

Although no one appears to have believed that the crooks would have been able to pull off such a stunt, they were initially charged with conspiracy. This was later adjusted to the lesser charge of wire fraud because evidence came to light supporting the defense that they pair never intended to carry out the outlandish heist, and instead intended only to defraud the Mafia by collecting a down payment and splitting.

The pair were caught by the FBI when a prospective customer alerted them and they arranged a sting.

There is no difference in the penalties for the charges. The conspiracy charge and and wire fraud each call for maximum penalties of five years in prison and a $1,000 fine.

Apparently this is all true. Sources New York Times, Washington Post and New London Patch among others.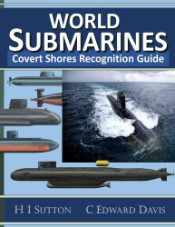 Get The essential guide to World Submarines
This Covert Shores Recognition Guide Covers over 80 classes of submarines including all types currently in service with World Navies.
Check it out on Amazon