Cold War Sturgeon Class Nuclear-Powered Attack Submarine (SSN)


The main US Navy attack submarine of the Cold War, 39 Sturgeon Class SSNs were built in the late 1960s and 1970s. Their primary purpose was anti-submarine warfare against all types of seagoing Soviet submarines including ballistic missile submarines (SSBNs), cruise missile submarines (SSGN) and attack submarines (SS / SSN).

Original Artwork, CLICK for HIGH RESOLUTION: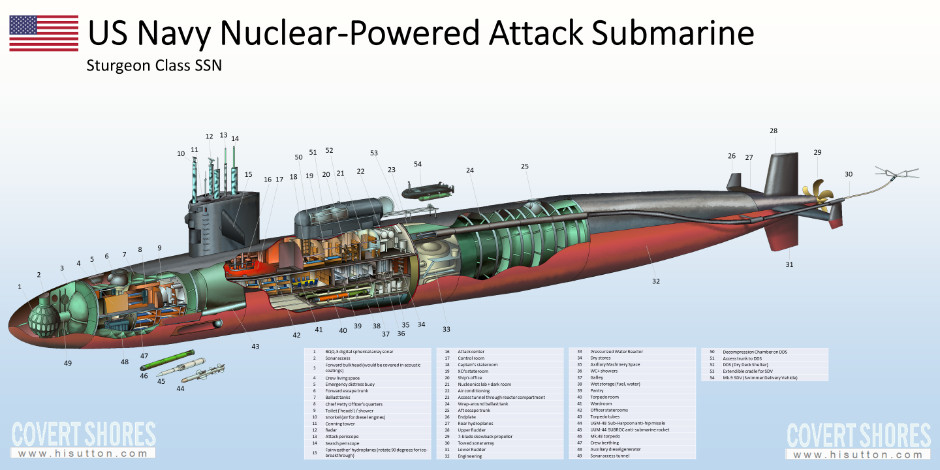 The design was larger and quieter than the preceding SSN-585 Skipjack and SSN-594 Permit classes, but because it used the same powerplant it did sacrifice some speed.

Because Intelligence Surveillance and Reconnaissance (ISR) was becoming critically important during the 1960s the Sturgeon Class were designed to have a larger sail than the Permit Class in order to carry intelligence gathering masts. The crew were often supplemented with civilian 'technicians' on missions near Soviet waters.


In the 1980s six Sturgeon Class boats were modified to carry a single Dry Deck Shelter (DDS) to support SEAL Operations including the launch and recovery of Swimmer Delivery Vehicles (SDVs). A single Mk.8 (transport) or Mk.9 (attack) SDV could be carried. In the front of the DDS a separate hyperbaric chamber allowed divers to decompress within the safety of the submarine.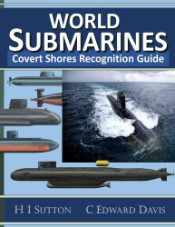 Get The essential guide to World Submarines
This Covert Shores Recognition Guide Covers over 80 classes of submarines including all types currently in service with World Navies.
Check it out on Amazon

The final Sturgeon Class boat, USS Parche, was extensively modified during her life to perform covert special missions.


Original artwork - CLICK for HIGH-RESOLUTION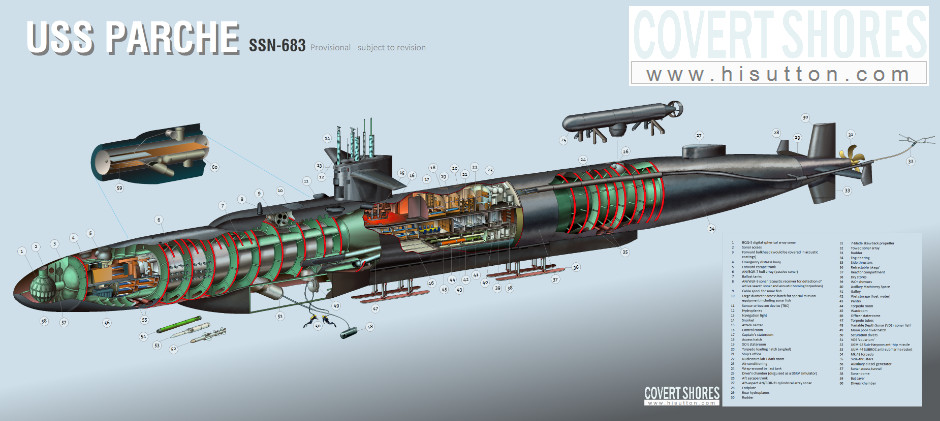 Main article:

USS Parche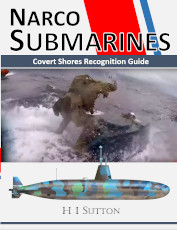 The World's ONLY Guide to
Narco Submarines
10 years of research, analyzing over 160 incidents, condensed into a handy guide. This unique book systematically breaks down the types and families. With detailed taxonomy, recognition 3-views, profiles and photos. Available on Amazon



---
Related articles (Full index of popular Covert Shores articles)



USS Jimmy Carter (SSN-23) Special Mission submarine



Sweden's nuclear powered submarine project (A-11A)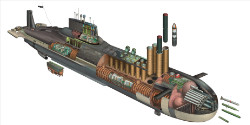 TYPHOON Class SSBN



Barbel Class - the last front-line diesel boats int the US Navy



SIERRA-I Class SSN



SIERRA-II Class SSN



USS Halibut



USS Seawolf (SSN-575)



First DDS - Type-IIIA U-Boat



SDV Mk.9 SEAL Delivery Vehicle







Nordenfelt steam powered submarines of the 1880s. w/Cutaway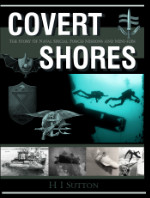 The ultimate book of Special Forces subs Covert Shores 2nd Edition is the ONLY world history of naval Special Forces, their missions and their specialist vehicles. SEALs, SBS, COMSUBIN, Sh-13, Spetsnaz, Kampfschwimmers, Commando Hubert, 4RR and many more.
Check it out on Amazon