Originally posted 12th Feb 2018.


Russian 'Poseidon' Intercontinental, nuclear armed, undersea autonomous torpedo demystified
'Poseidon' (Посейдон)
'Status-6' (Статус-6)
'Skif' (Скиф) seabed launched varient
KANYON (-NATO Codename, tbc)



Since the US DoD released a Nuclear Posture review citing the 'Status-6 AUV' as having been tested, commentators are forced to accept that the Status-6 (NATO: KANYON) intercontinental, nuclear-armed, nuclear-powered, undersea autonomous torpedo is a military fact. Some observers had been watching the developments for some time however. This brief analysis details a selection of my original research into the subject. Some of it well known, some less so. Comments and corrections welcome.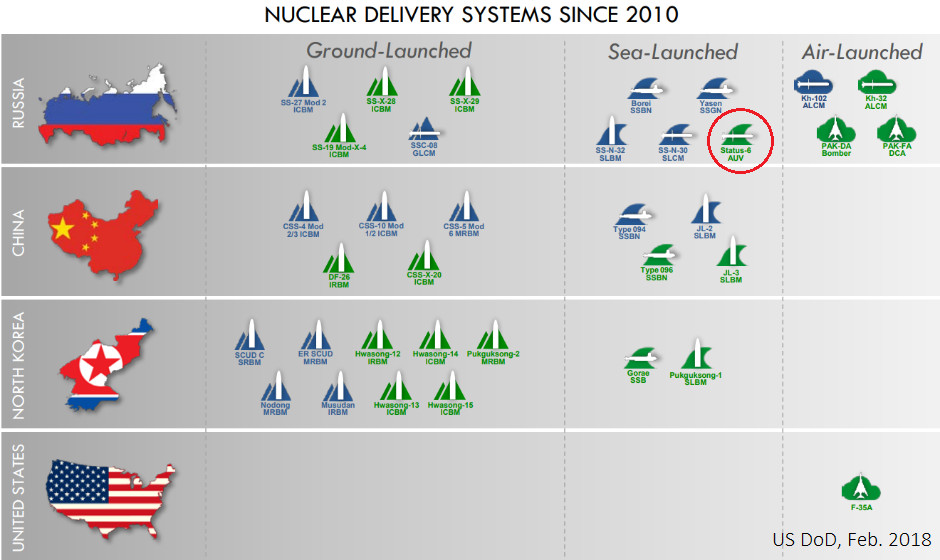 Original artwork - CLICK IMAGE FOR HIGH-RESOLUTION.

Open Source Analysis
A. The OSINT trail starts with the special test submarine B-90 Sarov. Originally laid as an improved KILO Class submarine, she was heavily modified over a protracted construction cycle to serve as a special test submarine. She was commissioned in 2008. A key feature is a very large hangar-like weapons bay in the bow which is much larger than would be needed if she was only intended to test regular sized torpedoes. In the past the Russians had grafted additional test torpedo tubes onto the bows of old diesel-electric submarines – Sarov is a completely different beast and only makes sense in the context of KANYON.


B. Initially B-90 Sarov was involved in testing regular torpedoes. The below photo, from 17th Oct. 2009 shows her being loaded with test torpedo in external tube, presumably in the hangar. The weapon appears to be 533mm or 650mm. Geolocated to 64°34'41.69"N, 64°34'41.69"N in Severodvinsk on the White Sea where Sarov is based.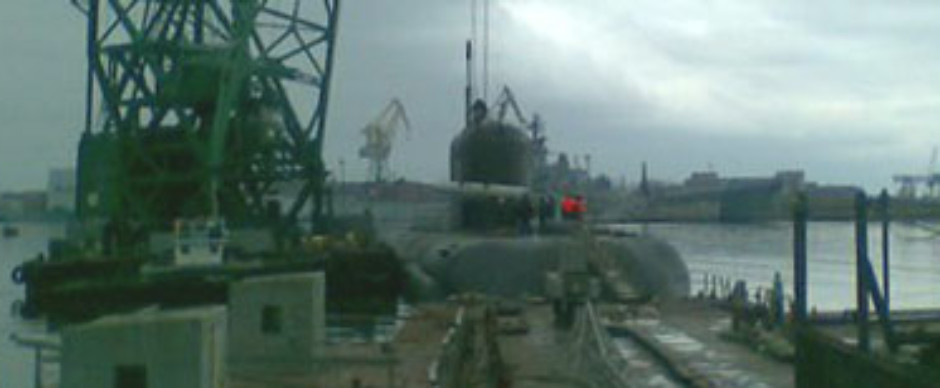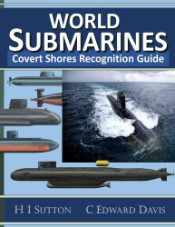 Get The essential guide to World Submarines
This Covert Shores Recognition Guide Covers over 80 classes of submarines including all types currently in service with World Navies.
Check it out on Amazon

C. In 2009 she was modified with a longer bow with new hangar doors. This suggests that the size of KANYON had increased during development: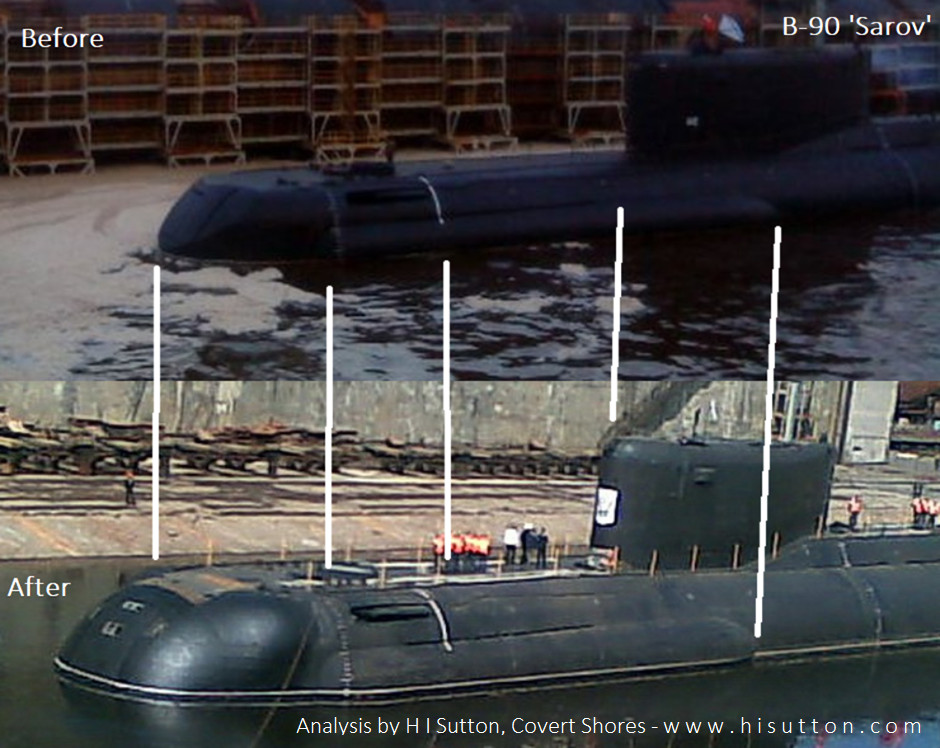 Original artwork of Sarov with KANYON torpedo - CLICK IMAGE FOR HIGH-RESOLUTION.

D. In 2010 a KANYON test round (likely size and displacement only) and related lifting/loading frame began to be visible in commercial satellite imagery of Severodvinsk. This is the earliest example: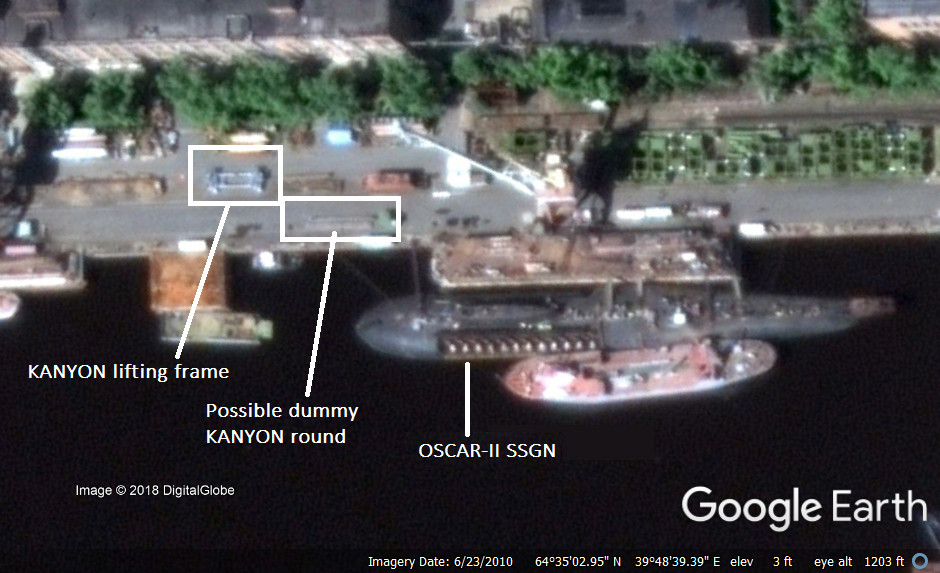 E. Since then the test KANYON round and related equipment has appeared in numerous satellite images and some photos (two better known examples posted here, cross-referenced with early satellite images). The test KANYON round is only 18-19 meters long, compared to the stated length of 24 meters revealed by Russian media in 2015.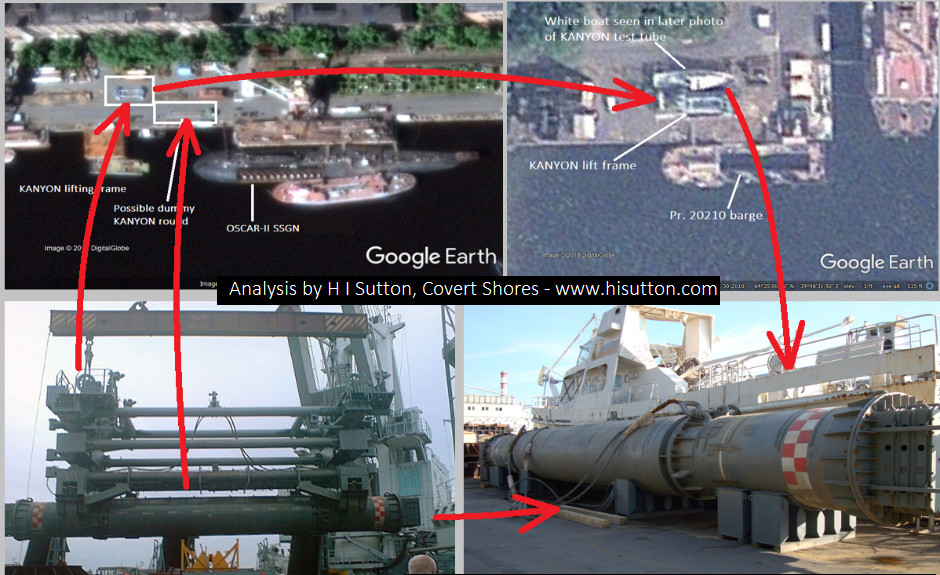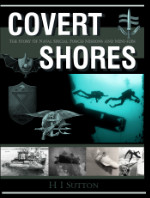 The ultimate book of Special Forces subs Covert Shores 2nd Edition is the ONLY world history of naval Special Forces, their missions and their specialist vehicles. SEALs, SBS, COMSUBIN, Sh-13, Spetsnaz, Kampfschwimmers, Commando Hubert, 4RR and many more.
Check it out on Amazon

F. On 20th Dec 2012 the OSCAR-II submarine K-139 'Belgorod' is re-designated as the Pr.09852 in laying down ceremony at Sevmash (here).

F. In 2013 Russian media reported on a new system under development called Skif (Скиф). The name caused some confusion because KANYON was virtually unknown in the public sphere and it sounded similar to the "SKIFF" missile (SS-N-23) carried by Russian Navy DELTA-IV class ballistic missile submarines.

G. On 27th June 2014 the Pr.09851 Khabarovsk submarine laid down at Sevmash shipyard in Severodvinsk (TASS). This we now know is designed to carry 6 KANYON rounds.


H. On 26th Dec 2014 Russian media article stating that B-90 Sarov is helping to test a new generation of "robotic means for submarines" (http://tass.ru/armiya-i-opk/1673882)

I. 9th Nov 2015, the now infamous leaking of the Status-6 strategic nuclear torpedo on Russian TV station (YouTube). And the rest, as they say, is history...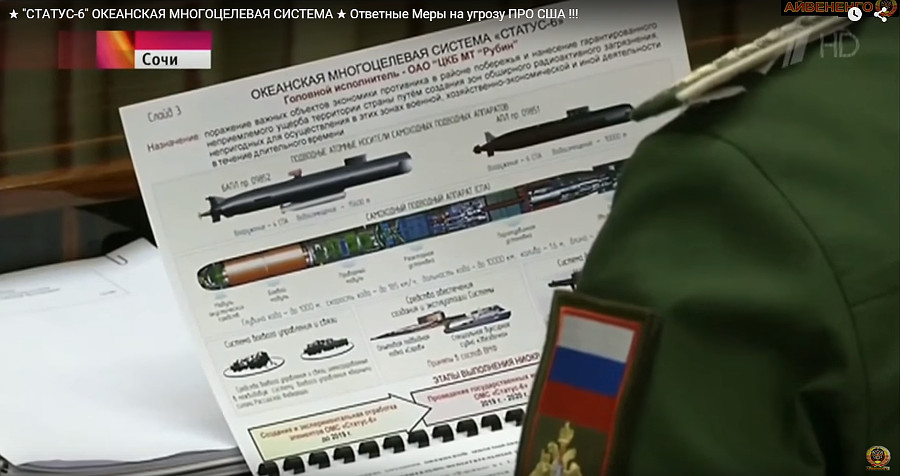 The Status-6 was met with some incredulity in Western media, possibly because it was hard to imagine the concept of operations. The weapon does make some sense when viewed as a second-strike weapon, intended to literally go under missile defenses.

J. 12th May 2017. Image of KANYON test round being loaded or unloaded aboard ZVEZDOCHKA 600 (Pr. 20180) posted on Russian internet forum. Believed to be an older photo. The vessel is normally moored next to B-90 Sarov in Severodvinsk and is known to be involved in supporting KANYON testing.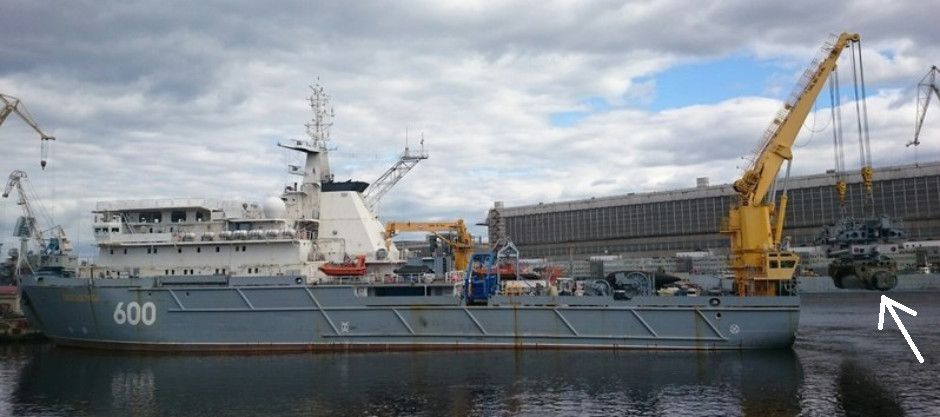 K. Clearer images of test round, dating from c2010 timeframe. Image appeared on Russian social media years later.


L. Computer generated images of KANYON featured in Russian MoD video showing new Russian strategic weapons (http://vote.mil.ru/vote/oms.htm):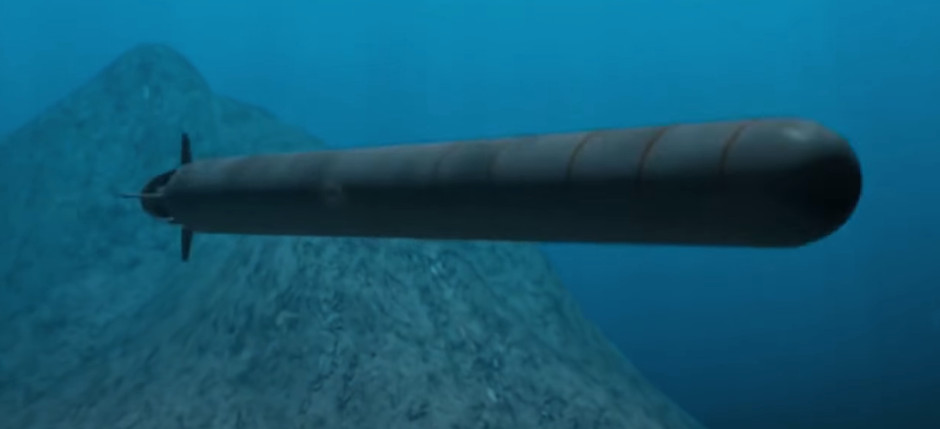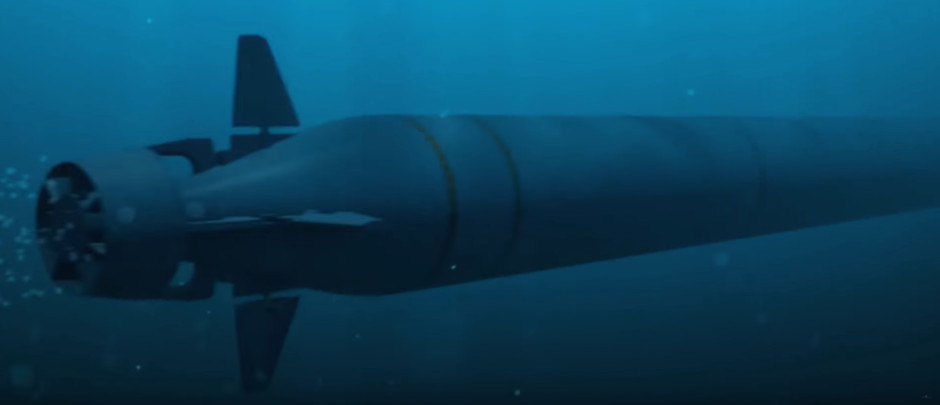 The video showed KANYON being launched against an aircraft carrier (Note: debatable merit) and against a coastal port.

M. March 2018. System named 'Posiedon' (Посейдон), apparently after Russian citizens vote on new name.

---
Related articles (Full index of popular Covert Shores articles)



Project 09852 Belgorod Special Mission submarine (spy sub)



P.09851 KHABAROVSK and KANYON (Status-6)



Russian Losharik spy sub



Russian Sarov experimental sub


Russia seeks submarine advantage in Arctic (HARMONY system, GUGI special mission subs)



Nerpa anti-diver UUV