Upated






Covert Shores Guide to
Nordenfelt steam submarines (1880s)






The Nordenfelt submarines of the 1880s are an underappreciated part of submarine history. They were midway between the human powered submarines of the American Civil War and the gasoline and diesel boats of the 1900s. So much of their technology was ground (sea) breaking. Yet they are generally not seen as a service-ready proposition (this could be challenged). So maybe they were too bold, too soon. But while it is true that the technology of the day limited their service, they are an important part of the submarine timeline.

Original Artwork, CLICK for HIGH RESOLUTION: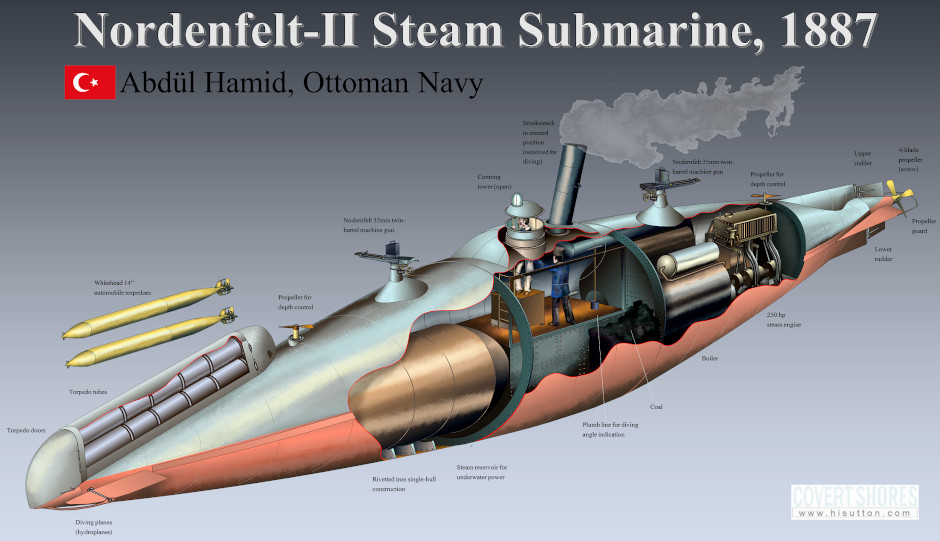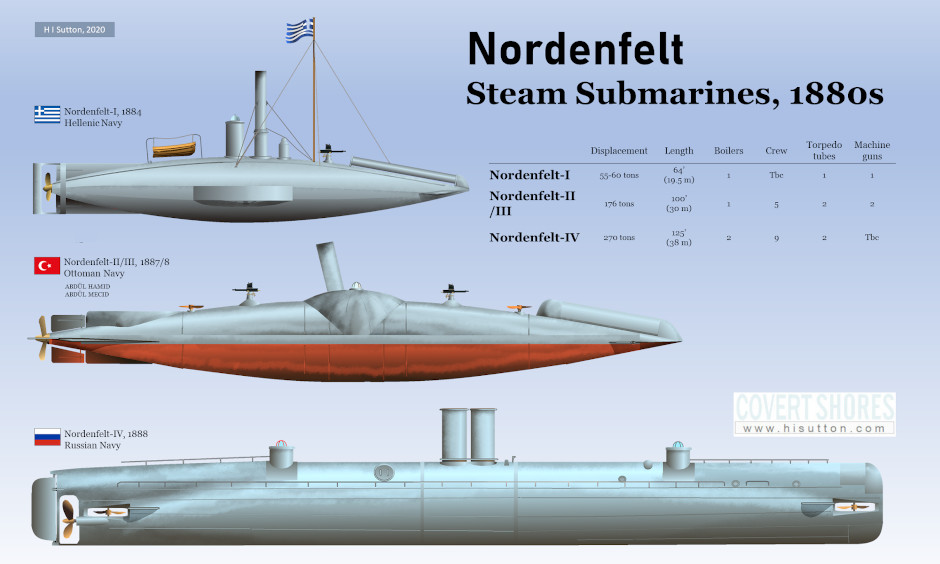 The submarines were designed by British inventor Reverend George Garrett. He had already built a steam powered submarine, the Resurgam, in 1879. Key to the underwater propulsion was that steam from the normal surface running was stored in large tanks. This was then released slowly to power the steam engine after the boat submerged. In theory it was an impressively simple concept and used technology available at the time. In practice the interior of the extremely small submarine was almost intolerable. Unfortunately the submarine sunk under tow before it could be tested by the Royal Navy.

Garrett's designs for steam powered submarines survived. Swedish industrialist, Thorsten Nordenfelt, funded the development of subsequent boats and put his name on them. He even put the patent for them in his own name. Nordenfelt is known for his impressive machine gun designs.


Through modern eyes there is a lot about them which seems impractical about these steam powered craft. But remember that steam was normal in the 1880s. The gasoline (petrol) engine had only been invented 10 years earlier and was still being developed. And the safer diesel engine, which most submarines still have, was only invented in the 1890s.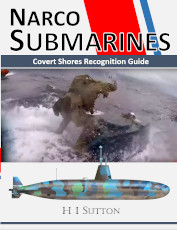 The World's ONLY Guide to
Narco Submarines
10 years of research, analyzing over 160 incidents, condensed into a handy guide. This unique book systematically breaks down the types and families. With detailed taxonomy, recognition 3-views, profiles and photos. Available on Amazon



And they had novel vertical screws to control submersion instead of variable ballast. This appears to have been moderately effective, although clearly inferior to ballast. Interestingly they were built to be positively buoyant. This meant that they'd float to the surface when the vertical propellers keeping them down stopped. This acted as a good fail-safe mechanism.

1. 2. 3.

Resurgam plans, 2. Resurgam, 3. The 1882 Nordenfelt patent

The submarines were positively buoyant, but could be pushed below the water by means of vertically mounted propellers. This gave a fail-safe mechanism by which they'd rise if they lost power.

Nordenfelt-I, 1884


The first submarine, known as the Nordenfelt (retrospectively Nordenfelt-I) was built in Ekensberg, Sweden, in 1884–1885. The design was very close to Nordenfelt's 1882 patent with a streamlined form with pointed bow and stern. The unusual flank-mounted 'descending propellers' for depth control were present. It was demonstrated to various naval attaches in the hope of finding a customer.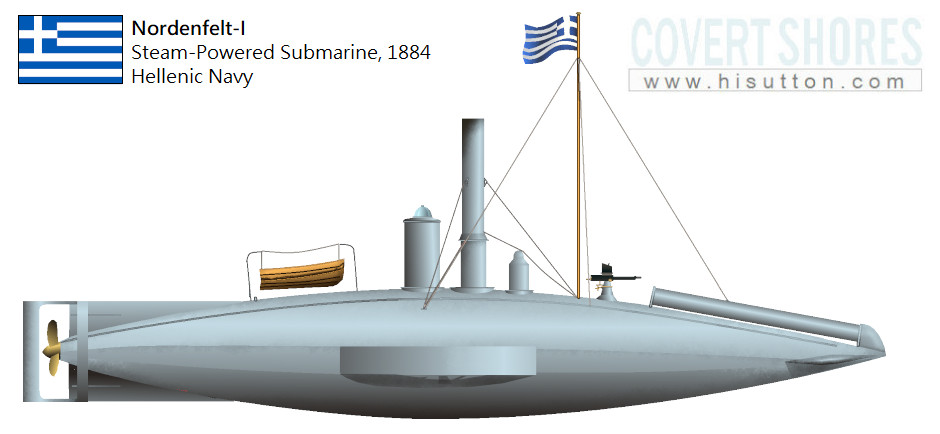 There was a glass dome built in to the top of the conning tower, just large enough for the captain to put his head in and look out. Possibly it was informed by Garrett's work with diving apparatus (he'd invented a set in 1877). This was years before the first periscopes appeared on submarines and seems quite innovative for the time. It probably worked adequately while the boat was running semi-submerged.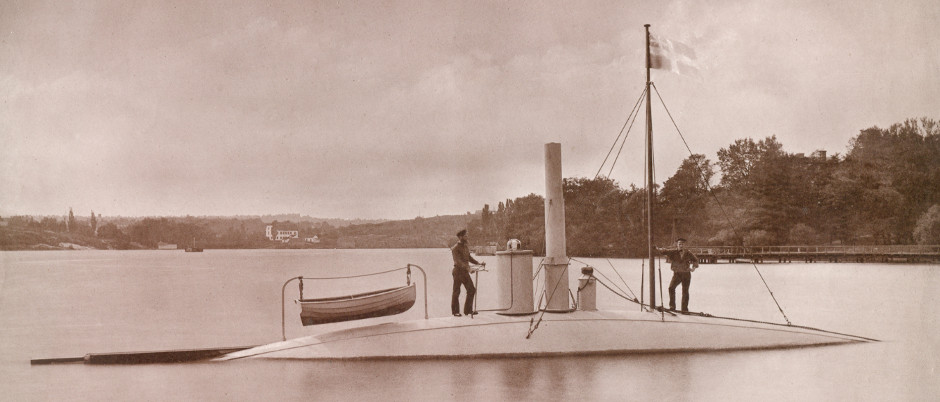 Photos from Tekniska museet.

In 1885 the Greek government brought the boat and had it shipped to Piraeus, arriving on January 13 1886. It was fitted with a single 14" torpedo tube for a Whitehead automobile torpedo, and also a single Nordenfelt machine gun. Trials took place in the bay.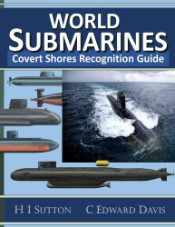 Get The essential guide to World Submarines
This Covert Shores Recognition Guide Covers over 80 classes of submarines including all types currently in service with World Navies.
Check it out on Amazon

The boat could dive and surface, matching the greatest challenge of early submarines, but otherwise was found to be unsatisfactory. The boiler took at least 12 hours (if not 3 days) to get to enough pressure for a voyage. This may have been due to the exterior of the boat acting as a heat sink. Once ready, the submarine was incredibly hot and unpleasant inside. and there was a threat of carbon monoxide.

Nordenfelt-I Specifications
Displacement: 55-60 tonnes
Length: 19.5 m (64 ft)
Beam: 2.75m (9 ft)
Operating depth: 15 m (49 ft)
Speed: 9 kt semi-submerged, 3 kt submerged (on steam reserves)
Propulsion: 100 hp steam engine
Armament: 1 x 14" (355mm) Whitehead torpedoes firing forward, 1 x 35mm Nordenfelt twin-barrel machine guns
Crew: Tbc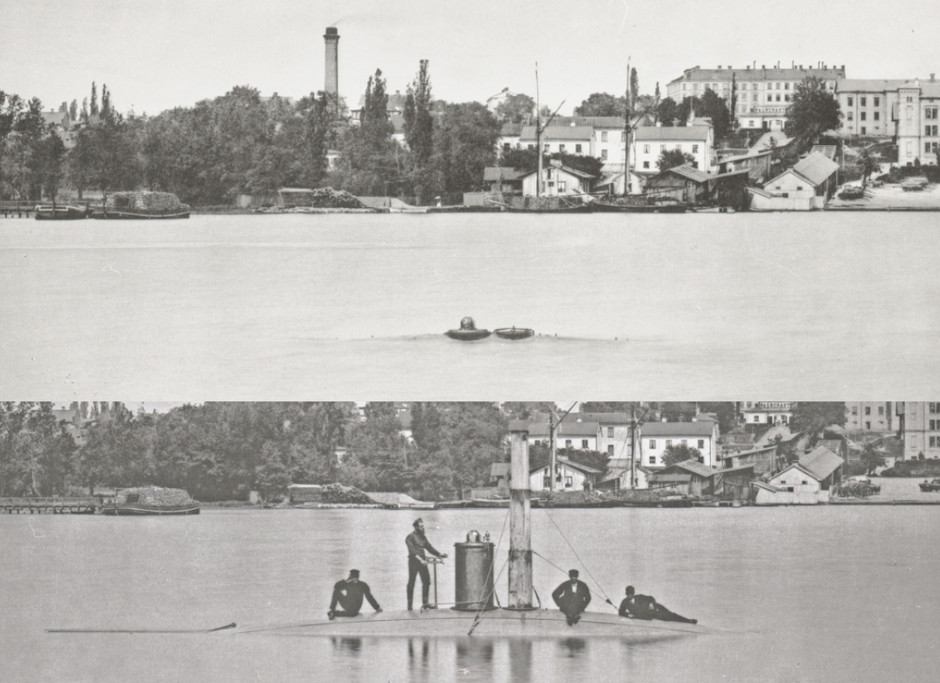 Photos from Sjöhistoriska museet.
It never entered service with the Hellenic Navy, remaining in Faliro Bay until inactivated until 1901. It was scrapped and very little information is available online about this interesting boat.

Nordenfelt-II / -III,1887/8


Perhaps unaware that the Greek boat would not see service, their rivals the Ottoman Empire felt the need to compete. They promptly ordered two Nordenfelt submarines of their own. These were to be larger and carry twice as many torpedoes and machine guns.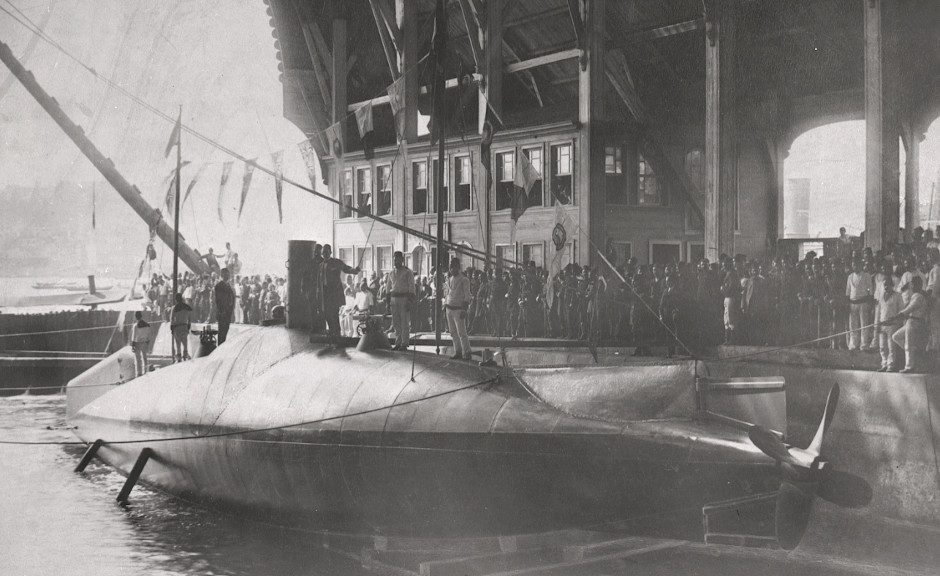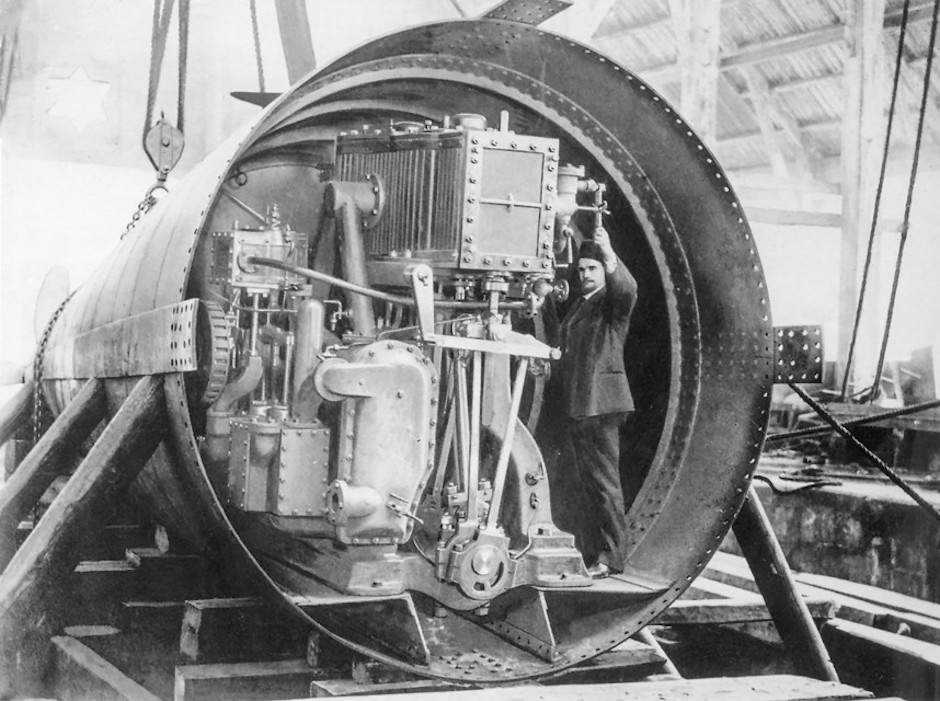 They were built at two different yards in Britain. Nordenfelt-II was built in the world famouds Vickers yard at Barrow. Nordenfelt-III was built at Des Vignes, a Steam Launch Builder in Chertsey. George Des Vignes was known for building fast steam boats and torpedo boats. But a few years earlier the only Torpedo boat that they'd built for the Royal Navy, TB-21, had not been accepted. Customers for Des Vignes torpedo boats did include the Ottoman Navy however. Three Des Vignes torpedo boats Timsah, Mahabbet and Statvet, were in service with the Ottomans at the time.

The two boats were laid down in 1886 and launched in 1887. They were then shipped in pieces to Constantinople (Istanbul) and assembled at the Taşkızak Naval Shipyard. In Ottoman service Nordenfelt-II became ABDÜL HAMID and Nordengfelt-III became ABDÜL MECID.

http://militaryhonors.sid-hill.us/history/gwmjh_archive/Competition/Nordenfelt_II.html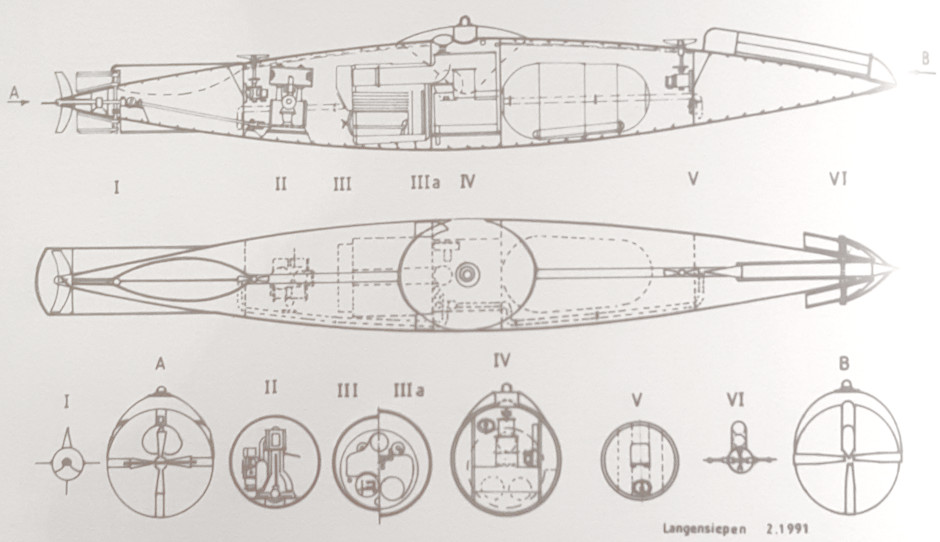 The Whitehead torpedo was 11 feet, seven inches (3.5 m) long and 14 inches (355 mm) in diameter. It weighed 346 pounds (157 kg) and carried a 40-pound (18 kg) warhead. It could run at about 10 knots.

Nordenfelt-II/III Specifications
Displacement: 160 tonnes
Length: 30 m (100 ft)
Beam: tbc
Operating depth: Tbc (test depth 49m (160 ft))
Speed: 6 kt semi-submerged, 4 kt submerged
Propulsion: 250 hp Lamm steam engine with coal boiler. Steam reserve tankn (150 lb pressure) for submerged running.
Armament: 2 x 14" (355mm) Whitehead torpedoes firing forward, 2 x 35mm Nordenfelt twin-barrel machine guns
Crew: 5

ABDÜL HAMID was put to the test in 1887 in front of the Sultan in Constantinople (Istanbul). In doing so she became the first submarine in the world to shoot a torpedo underwater, sinking the target vessel. Like the Greeks however the Turks could not make their new-fangled submarines an operational reality. They were too difficult to maintain and they could not find the crew. The boats never entered service.

Nordenfelt-IV, 1888



Built in Barrow (UK) for the Russian Navy, she was much larger again than the previous models. The hull form lost the pointed ends, instead having knife bow and stern. She had twin vertical torpedo tubes built into the bow. The vertical 'descending' screwswere still present but mounted further fore and aft, and below the waterline. She had two conning towers which, because this was before regular periscopes, had to be above the water during the attack run. They were armored against machine gun fire.


Nordenfelt-IV Specifications
Displacement: 245 tonnes
Length: 38 m (125 ft)
Beam: 3.6 m (12 ft)
Operating depth: Tbc
Speed: 15 kts (semi-submerged) - seems high
Armament: 2 x Whitehead torpedoes firing forward.
Crew: 9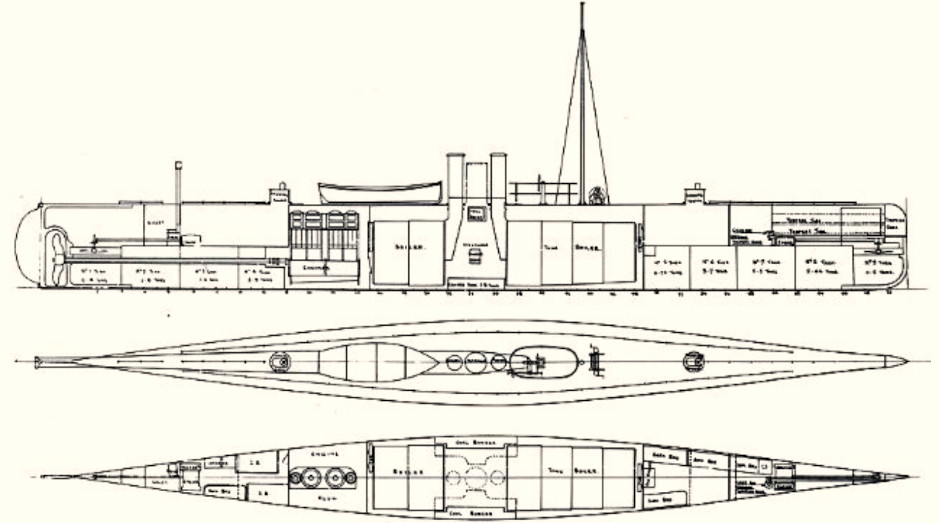 She sank on her way to join the Russian fleet, floundering off Jutland, Denmark, September 18, 1888.

---
Related articles (Full index of popular Covert Shores articles)



World war One Type UC-1 U-boat



Swedish A21 Flundran AIP attack submarine






+





Nuclear Missile submarines



Type-XXIXH stealth U-Boat. w/Cutaway



A-26 Blekinge Class attack submarine. w/Cutaway

















World survey of AIP submarines






World survey of Special Operations Craft


Explosive Boats world history


Narco Subs 101. w/Cutaway


LTTE Sea Tigers' sneak craft and midget subs