In addition to submarines and Swimmer Delivery Vehicles (SDVs), naval orientated Special Forces are increasingly employing purpose-built high speed surface craft for insertion, extraction and mission support. These high-powered surface planing boats are generically termed Special Operations Craft (SOC). The prototypical SOC is the US Navy's Mk.V which is operated by the Special Boat Units (SBU) in support of SEAL operations.

This article does not cover RIBs, VSVs or other exotic hull types.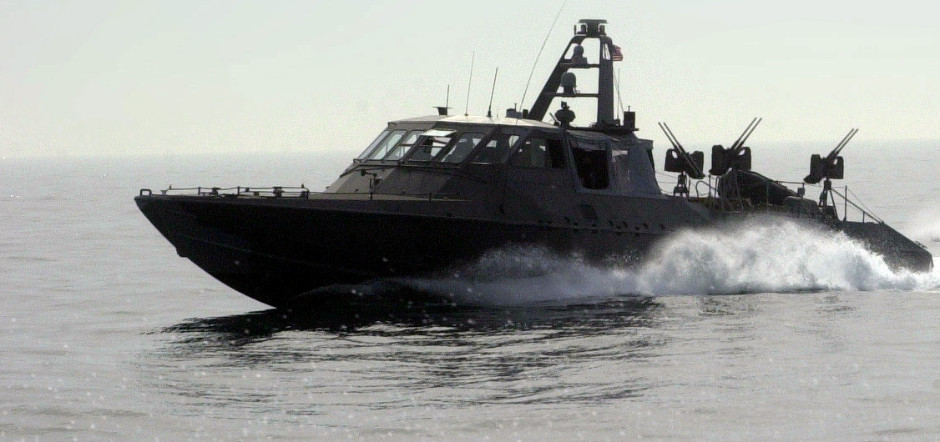 These boats combine speed with utility, versatility and a modest amount of sneak. Although they are less stealthy than submarines or Swimmer Delivery Vehicles, they are growing in popularity. Part of the reason is that they provide organic shore-shore capability without having to depend on the Navy to loan their valuable submarines. And with Submarine forces stretched ever further, this trend is likely to continue.

SOCs are large power boats 45-80ft (14-25m) boats capable of offshore operations. The current generation provide a covered cockpit, basic berthing and amenities (galley, toilet) and a large working deck with stern access for inflatable boats.

Although earlier generations of SOC have been all about speed, the general trend is towards improved seaworthiness and the resulting crew comfort (read 'readiness'), reliability (e.g. inboard motors) and signature reduction. These are still powered high-speed boats capable of breathtaking speeds but the latest crop is not out to race with earlier open-toped generations.

The types of mission SOCs are intended to conduct include:

a) Insertion of Special Forces for cross-beach missions in medium threat environments

b) Extraction of cross-beach teams

c) Hot extraction, providing limited fire support

d) Inshore mobile command during Special Forces missions

e) Counter-terrorism

f) Narcotics/smuggling search and seizure

G) Counter-piracy

And naturally their inherent versatility results in many more mission profiles being assigned.



Rare shot of a Mk.V carrying an SDV (SEAL Delivery Vehicle) Mk.VIII Mod1.
Historic types


The Mk V SOC was preceded by the Fountain HSB (High Speed Boat), a highly modified open-top racing boat. Significant numbers were purchased for Operation DESERT STORM and used for fleet defense.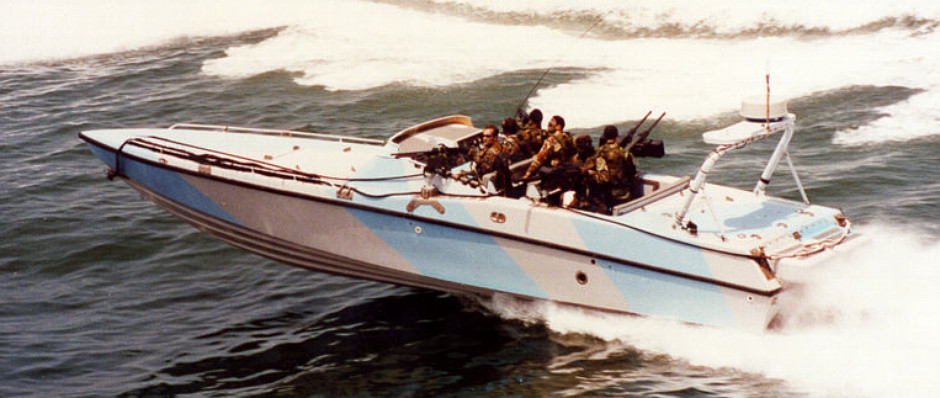 Before the HSB, the US Navy's Special Boat Units (SBU) had operated a range of small patrol boats, riverine craft and specialist SEAL craft since the Vietnam War. Perhaps the closest to a modern Special Operations Craft was the purpose designed SeaFox which was used in the 1970s-80s. Although capable of decent performance in ideal conditions, it was generally too small, underpowered and unseaworthy for the types of operations thrown at it.




From the early 1970s the Israeli naval Special Forces unit, Shayetet-13, adopted high speed surface craft for insertion and mission support. The US made Snunit (swallow) has been developed through multiple iterations and remains in service alongside more capable and stealthy types. As well as the core Special Forces mission profiles listed above, under the pressures of war the Snunit has been used for direct attack, successfully taking out enemy missile boats in their home bases.


The Snunit was followed by the larger Zaharon (Lionfish) class: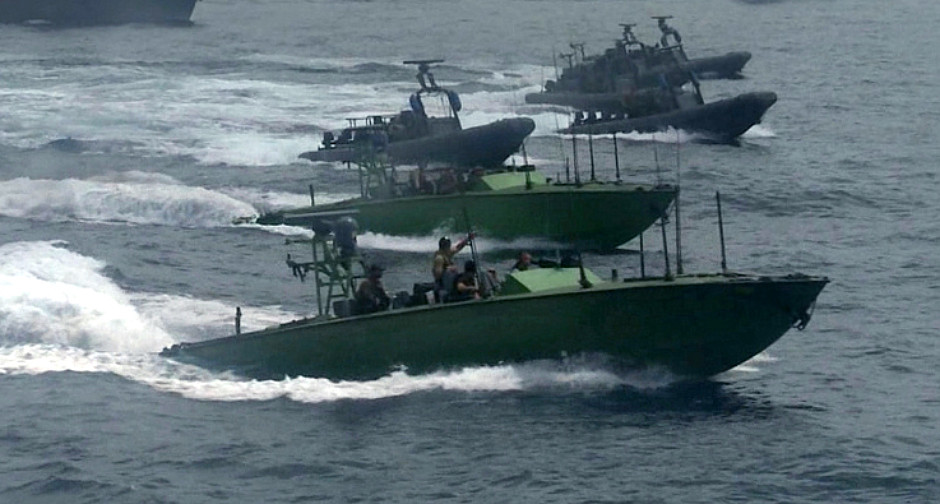 British built, Italian designed, Halmatic FIC-145 (Fast Interceptor Craft) (aka Fabio Buzzi FB Mil-50P) was capable of an astonishing 74kt powered by three 720hp SeaTek diesels. Capacity was 15 persons and range in excess of 300nm @ 33kt.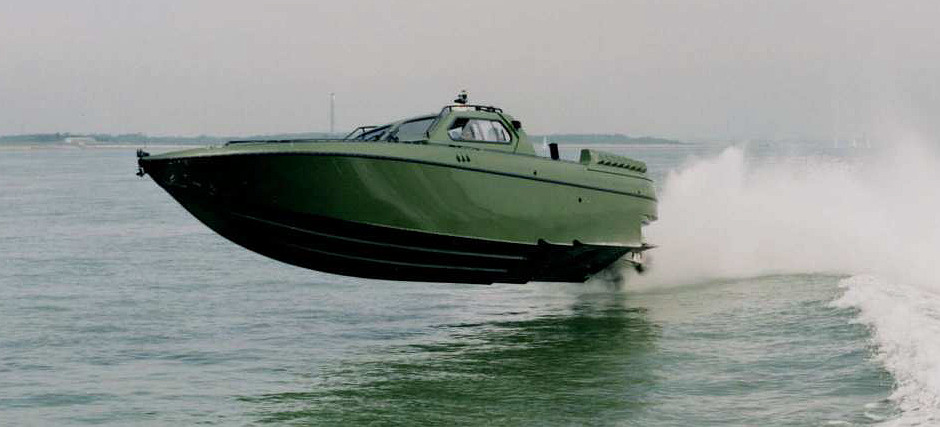 VT Halmatic also built the Enforce-46 'Long Range Insertion Craft' (LRIC). Note that the outboard motors visible at the stern are for the inflatable boats which are packed at the forward end of the working deck.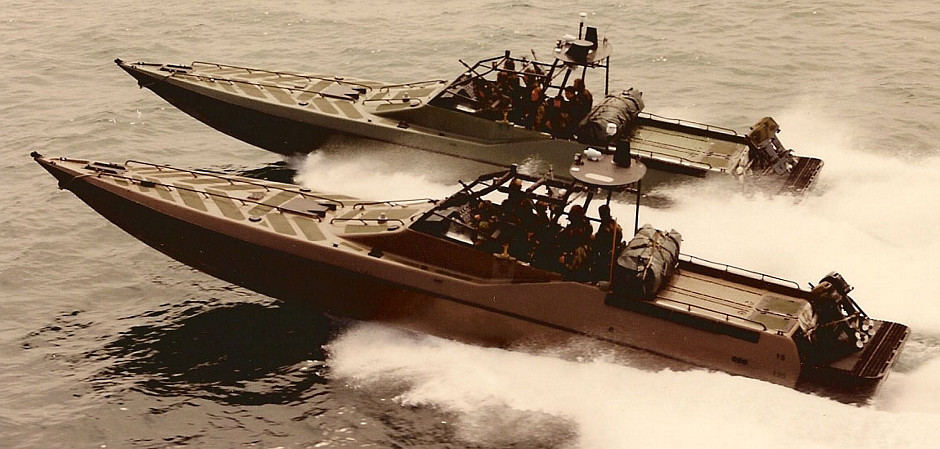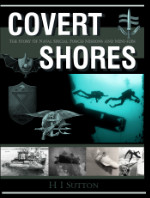 The ultimate book of Special Forces subs Covert Shores 2nd Edition is the ONLY world history of naval Special Forces, their missions and their specialist vehicles. SEALs, SBS, COMSUBIN, Sh-13, Spetsnaz, Kampfschwimmers, Commando Hubert, 4RR and many more.
Check it out on Amazon

Current types


Combatant Craft Medium Mk.1 (CCM)



A partial replacement of the SOC Mk.V and also the Naval Special Warfare Rigid Inflatable Boat (NSW-RIB), the CCM Mk.1 is a newer and stealthier boat but maintains the overall arrangement and many of the features of its predecessor. It is however slightly smaller than the Mk.V allowing it to be transported by a C-17 Globemaster-III aircraft while the Mk.V required a C-5 Galaxy. It also features a double aluminum hull rated against small-arms.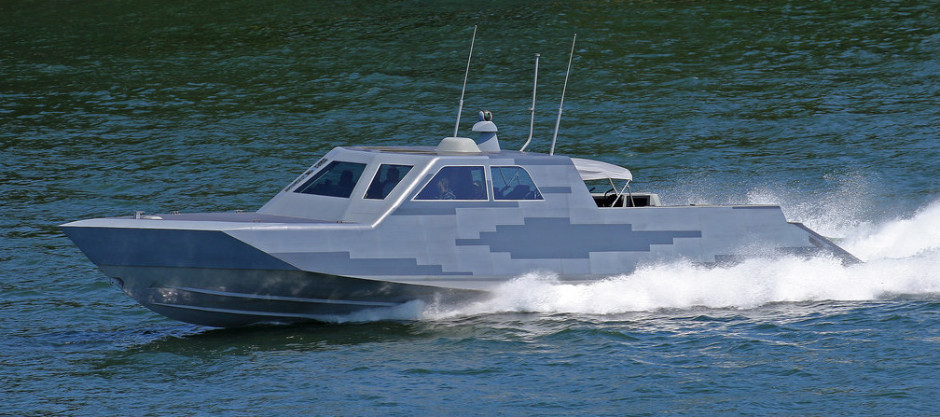 Specification
Length: ~18m (60ft)
Beam: TBC
Draft: TBC
Speed: 50kt+ (likely much higher)
Range: ~400nm
Crew: 4 + 19 passengers
Propulsion: 2 x diesels driving propellers
Armament: 1 x 12.7mm (.50cal) Machine Gun in remote turret.



USMI CCM



USMI, who built the Mk.V SOC, also built a prototype/demonstrator for the CCM requirement. They lost out to Oregon Iron Works (now Vigor, see above) but the craft is highly capable.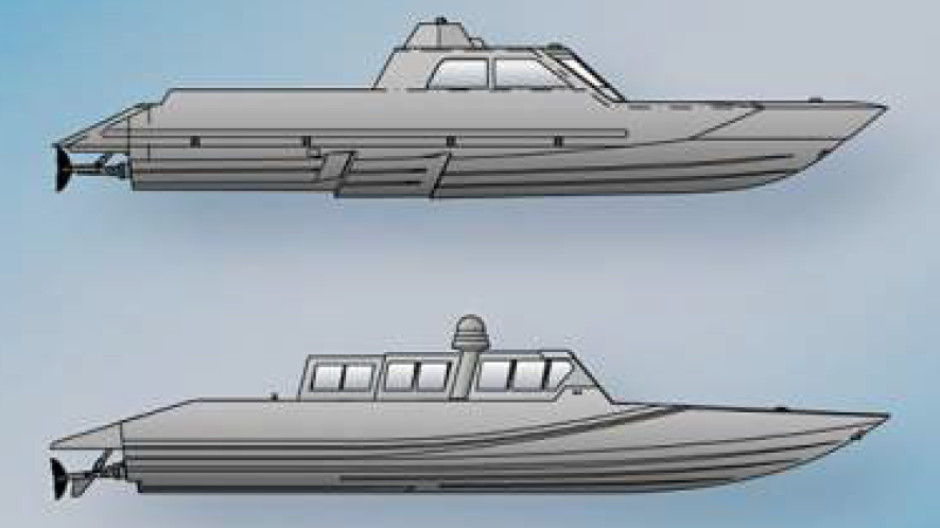 An early pre-construction illustration with the CCM designed by Oregon Iron Works top and USMI below.


Halmatic Fast Interceptor Craft
VT Halmatic, now part of BAE Systems, have a reputation for building high speed craft for some of the World's premier Special Forces.



Shortly before being incorporated into BAE Systems in 2008, VT Halmatic produced a small quantity of an advanced high-speed insertion craft which is now marketed by BAE Systems as the interceptor. The type has distinctive clean lines which suggest low-observable features, and a coverable working deck with stern ramp, a notable improvement on earlier types.



Specification
For commercial craft - Interceptor 180
Length: 18.1m
Beam: 3.8m
Draft: 0.9m
Speed: TBC
Range: TBC
Crew: TBC
Propulsion: TBC
Armament: None as standard but compatibility with 12.7mm (.50cal) stabilized gun mounts.


MRTP-22U




Above images from Alper Boler on Twitter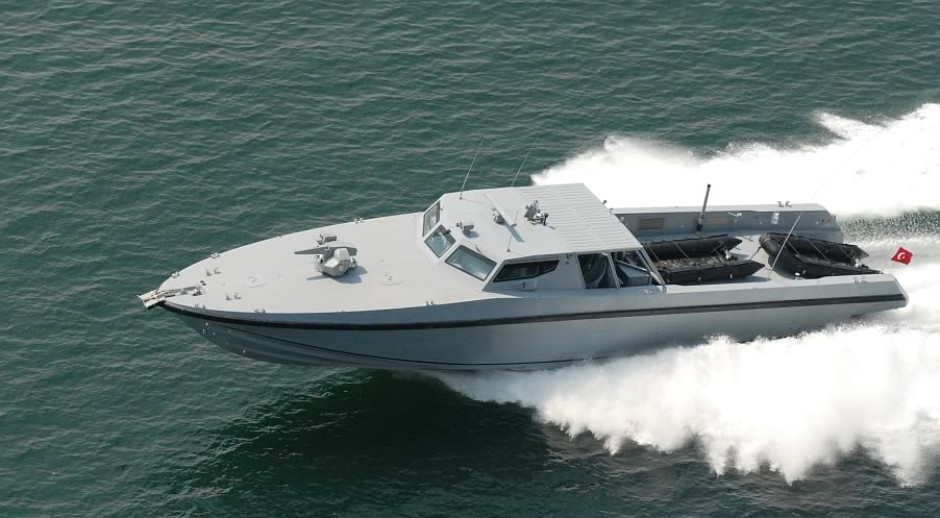 The Turkish Navy's MRTP-22U Special Forces craft are broadly equivalent of the US Navy's CCM. Two were ordered in 2008 to and are operated in support of SAT (Sualtı Taarruz Komutanlığı), and there is an open requirement for two more (or of an equivalent type). The craft features a very large working deck with open transom and ramp, allowing two eight-man powered inflatables to be operated simultaneously. When onboard the sixteen commandos are provided with shock-absorbent seats.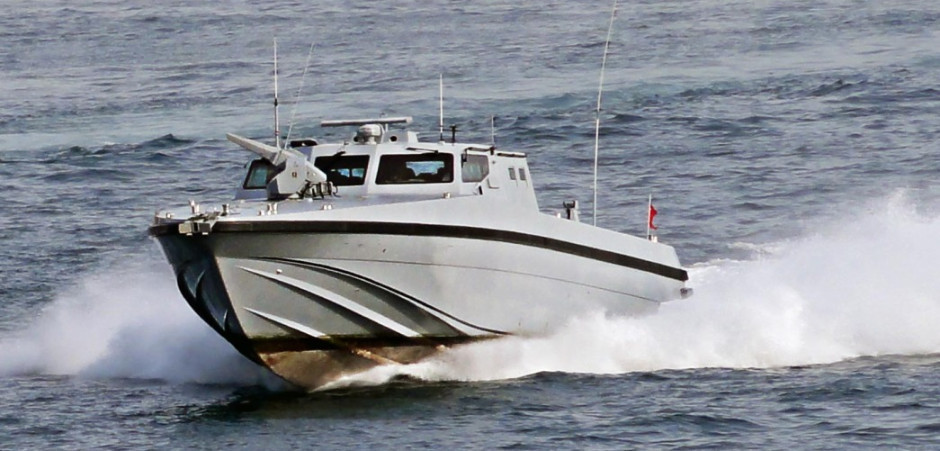 YONCA-ONUK website (limited info on SF product)

Specification
Length: 24.1m
Beam: 5.53m
Draft: 1.3m
Speed: 65kt+, 55-60kt in Sea State 3
Range: 350nm @ 32 knots
Crew: 5 + 16 passengers
Propulsion: 2 x 1300 kW or 2000 kW diesels driving Twin Disc ASD15 Arneson Surface Drives + Rolla propellers
Armament: 1 x 12.7mm (.50cal) Machine Gun in STAMP remote turret.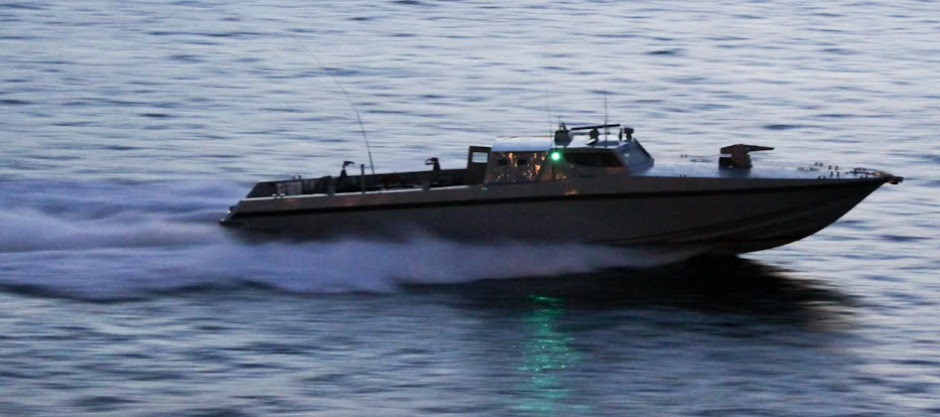 The MRTP-22U is complemented by the smaller MRTP-15 design.



Combatant Craft Assalt (CCA)
The CCM Mk.1 is complemented by the smaller open-toped CCA. As well as being a cheaper little brother type, the CCA has the significant advantage of being air-droppable from C-17 aircraft.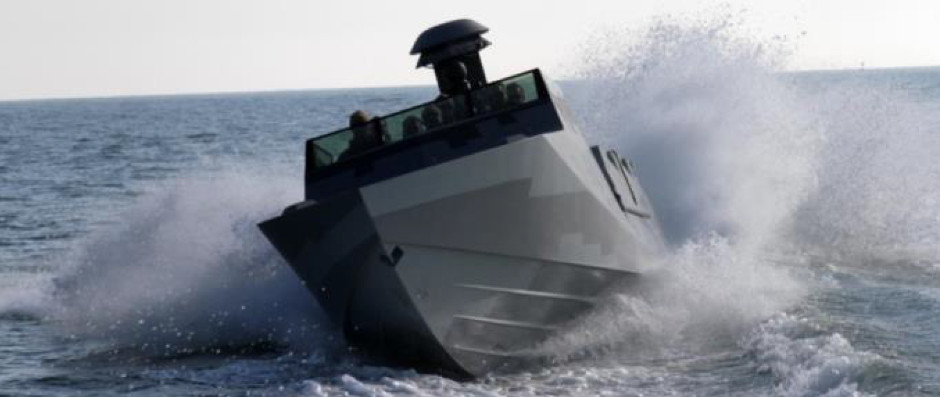 MAKO and High Speed Coastal Patrol Boat



One of the relative shortcomings of the Mk.V SOC, found out only through extensive use, was the pervasiveness of shock related injuries among the crew. This was due to buffets during high-speed planning. At 35kt+ the crew and passengers were subjected to one or two -4 / -5g vertical accelerations every minute, plus they were sustaining all sorts of injuries being thrown around inside the hull. In laymen's terms they were getting the crap beaten out of them. The US Navy commissioned Hodgdon Defense Composites to build a compsite-hulled version (instead of the original aluminum) with various shock mitigation techniques. The MAKO was delivered in 2008 and was successfully demonstrated. It features a double-chine hull (vs single cine on the Mk.V) which significantly reduces shock impacts. However, a repeat of the Mk.V was not on the cards for the replacement program (see CCM above). So Hodgdon moved to develop an improved version aimed at the domestic inshore patrol market. The main difference for the High Speed Coastal Patrol Boat and the Mk.V / MAKO is that the deck is raised 0.6m (2ft) which increases the headroom below decks. This allows for better designed and more extensive accommodation and minimizes impact injuries due to high speed buffeting.



Specification (High Speed Coastal Patrol Boat)
Length: 25.3m
Beam: 5.3m
Speed: 50kt+
Range: 500nm
Crew: 5 + 16 passengers
Propulsion: 2 x MTU 2400 HP diesels driving Twin Rolls Royce Kamewa Waterjets
Armament: 1 x 27mm cannon (optional weapons mount), 2 x 12.7mm (.50cal) Machine Guns.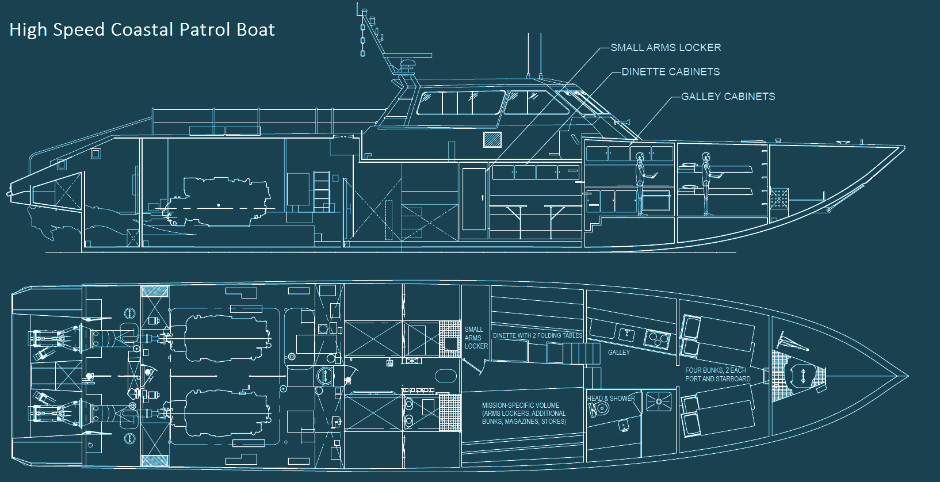 Hodgdon Defense Composites website.

Honory mentions


Fountain Boats, who built the HSB for the US Navy, are still in the game with a 42ft Interceptor capable of carrying 2 Zodiac powered inflatables. It has a crew of three and carries 12 passengers.

North Sea Boats offer a 14 man 65kt interceptor and Special Forces design called the X-19. It differs from the above designs by incorporating passenger seating in the forward section with a bow exit, similar to the Swedish CB90.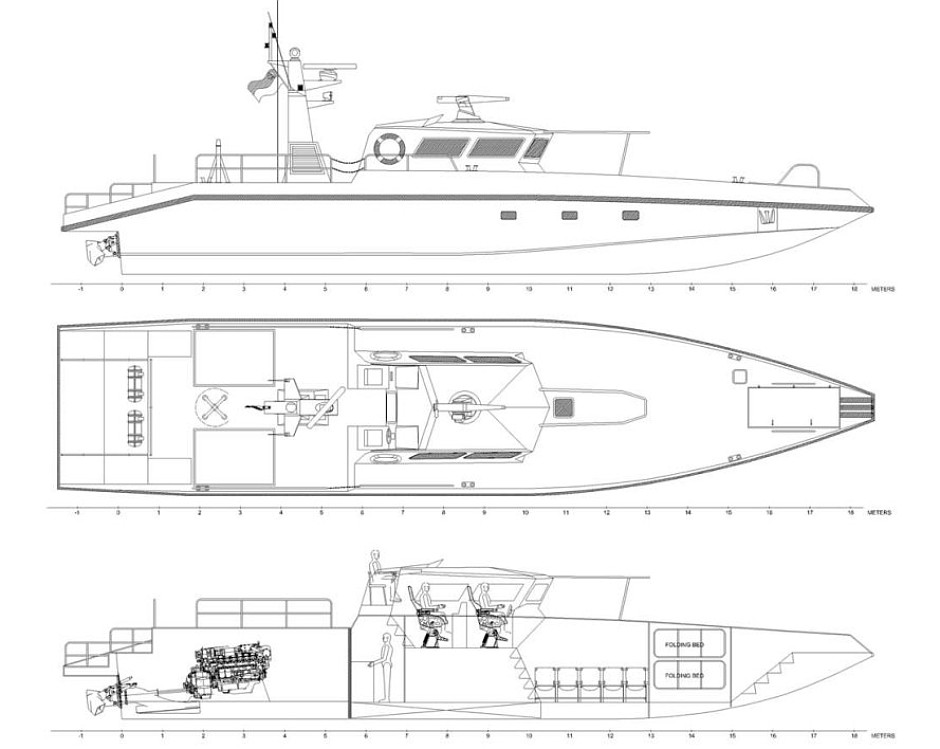 ---
Reated Articles




CCH (Combat Craft Heavy) SEALION and Alligator Semi-Submersible Boats




Specialized Marine Craft (MSC) Sepcial Forces intercptor




WP-18 Tactical Strike Craft




Styx riverine Special Forces craft




Barracuda Special Forces interceptors




Cos.Mo.S Nessie Fast SDV submersible boat