OSINT: Indications That Russian Navy Has Shifted Focus In Black Sea

Open Source Intelligence (OSINT) increasingly suggests that key elements of the Russian Navy have changed their patrol areas. Remaining warships, notably the Project 11356R Admiral Grigorovich-class frigates, are patrolling off the southern tip of Crimea.

One theory is that this is to protect the Kerch Bridge.

In the early part of the Ukraine invasion these ships frequently operated off the Ukrainian coast, within sight of Odesa. As the threat to Russian warships became clearer, mainly with the sinking of Moskva on April 13-14, they shifted further out. Then their main patrol area was off the west coast of Crimea, between Odesa and Sevastopol. They were frequently noted on Sentinel satellite imagery and other open sources.

Now, they are frequently observed within sight of the southern coast. Social Media Intelligence (SMI) via Twitter user @Cyx reinforces this observation.

Initially this appeared to be training related. It is not unusual to see the frigates exercising in this general area. However the longer it goes on, without reports of weapons testing, the less it looks like training. And these warships are less frequently observed West of Sevastopol where they used to patrol.

The implication is that we are seeing a change in the operating patterns. My main theory is that this reflects a new focus on protecting the Kerch Bridge. Various defenses have been observed there in recent weeks, including radar barges and smoke generators.

Possibly the Russian's suspect that Ukrainian Navy or aviation assets will attempt to approach the strategic bridge from that angle. The frigates extend the coverage over that area.

Russia grain ships are also passing that way, with their controversial cargoes, and the patrolling may be in part to protect them. But from what?

The change also keeps the ships at sea, where they are less of a sitting duck than in Sevastopol. And maybe also the element of looking busy to higher-ups without having to go near Harpoons.

---
Related articles (Full index of popular Covert Shores articles)



Project 09852 Belgorod Special Mission submarine (spy sub). w/Cutaway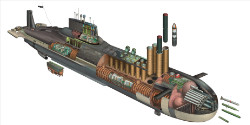 TYPHOON Class SSBN. w/Cutaway



Project 949A/AM OSCAR-II Class Cruise Missile Submarine. w/Cutaway