Russian Navy Also Deployed Trained Dolphins To Novorossiysk In Black Sea

The revelation, based on analysis of open sources, that the Russia has deployed dolphins to guard Sevastopol, brought marine mammal programs into focus. As part of the research into this I also discovered that the dolphins have previously been deployed to Novorossiysk.

The likely training deployment can now be looked at as part of wider preparations for the invasion of Ukraine. I do not believe that this has previously been reported.

The pens and support infrastructure is visible in Google Earth imagery of the naval base. The pens appear there in images from August and September 2021. Using Sentinel 2 low-resolution imagery, it appears that they were there into October. But there is less confidence in this due to the challenge of spotting them in low-resolution imagery.

This time period coincides with a major Russian Navy exercise out of Novorossiysk. At the time, Kyiv Post reported that the exercises included "a special exercise to protect facilities of the naval economic activity of the Russian Federation in the Black Sea". The dolphin deployment may relate to this.

Background
During the Cold War the Soviet navy established a marine mammal base at Kazachya Bukhta near Sevastopol in 1973. The program was centered on dolphins although other marine mammals were reported. After the breakup of the Soviet Union the base passed into Ukrainian hands, until it was taken by Russia when it annexed Crimea in 2014.

Since the annexation the program has been increased. Although there were reports that the dolphins died after the Russians took over, it is clear that there has been an extensive program there since.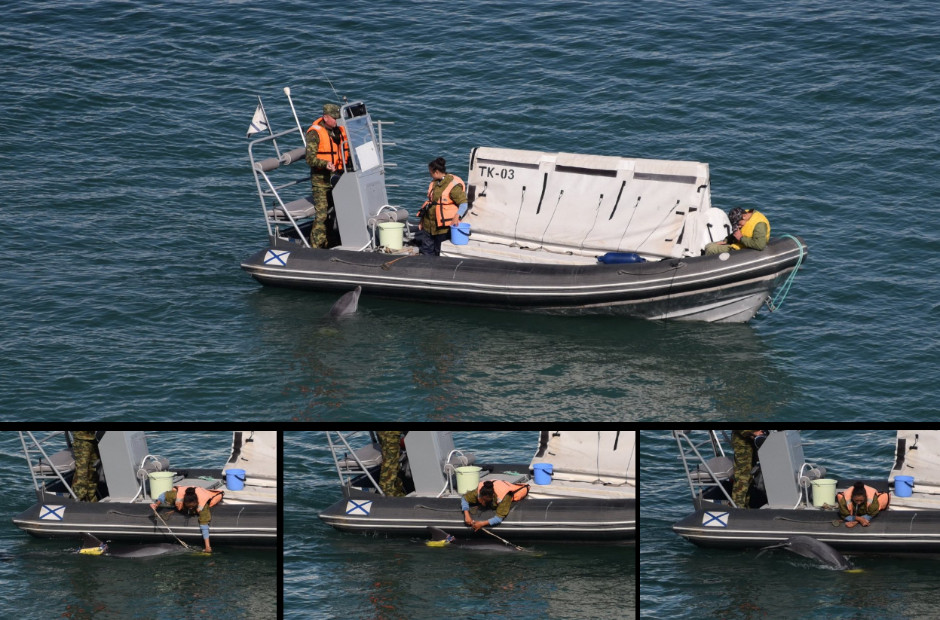 File photo of Russian Navy dolphins training in Sevastopol. Note the tent-like carry sling is the same as is visible in the satellite image above, labeled 'dolphin transport'.

Initially dolphins and, later it appears, beluga whales are trained. A beluga whale pen was observed there from summer 2016, and was even deployed to the harbor entrance at Sevastopol. Their arrival coincides with a time when Russia marine mammal program in the article was taking increasing its belugas. It is possible that the belugas in the Black Sea were from the same source.

The focus of the Black Sea program remains dolphins however. And a pen has been deployed from the base to guard harbors. In late 2018 it was deployed to Tartus in Syria, where the Russian Navy has a base. This same pen appeared in Novorossiysk in 2021, in the initial stages of the build-up to invade Ukraine.

---
Related articles (Full index of popular Covert Shores articles)






World survey of Navy Marine Mammal Prorams



Russian Navy Beluga whale



Harpsichord (Klavesin) AUV



Nerpa anti-diver UUV