Russian Navy Spy Ship Near UK Carrier Strike Group

The arrival of the UK-led Carrier Strike Group (CSG), centered on HMS Queen Elizabeth, in the Middle East has presented many opportunities. Exercises with the Omani Navy and other allies, pass-exercises and photo opportunities. But for certain camera shy ships, there are clearly other opportunities.

In addition to the British, Dutch and friendly ships escorting the aircraft carrier, there appears to be a Russian Navy ship tagging along. This is not surprising perhaps. But unusually, evidence has surfaced on Social Media.

The Royal Netherlands Navy (RNLN) warship HNLMS Evertsen (F805), part of the CSG, arrived in Muscat on November 1. Images of the Dutch warship's arrival appeared on social media. Seen in at least one image posted online, tied up just ahead of her, is a Russian intelligence ship (AGI). Based on Sentinel-2 low-resolution satellite imagery the AGI appears to have left by 06:52:51 UTC (1052 local time) the same day.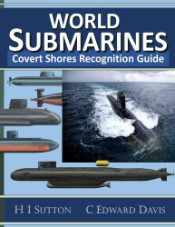 Get The essential guide to World Submarines
This Covert Shores Recognition Guide Covers over 80 classes of submarines including all types currently in service with World Navies.
Check it out on Amazon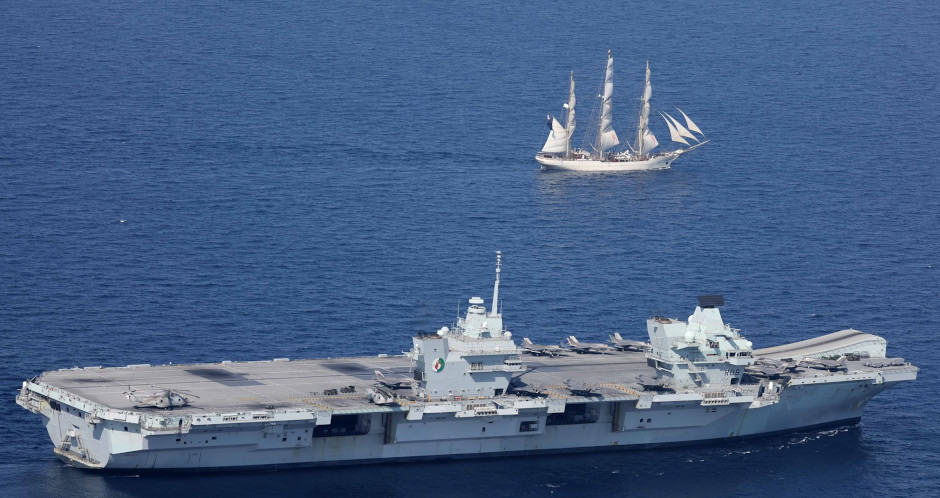 The Carrier Strike Group's visit to the area has led to many photo opportunities. The carrier, HMS Queen Elizabeth, is seen here with Oman's Flag Ship Shabab Oman II. Photo Commander UK Carrier Strike Group (Twitter).

The AGI (read "Spy Ship") appears to be a Pr. 861M Moma Class vessel. A likely candidate is Kildin, a Moma class ship which is based in the Black Sea Fleet. It passed south through the Bosporus, into the Mediterranean, on October 8 (video on Youtube). From there it would have transited the Suez canal to now be in the Persian Gulf region.

These small ships, only 73 meters long and 1,550 tons, pack a powerful intelligence-gathering punch. Originally built as a survey ship over 50 years ago, Kildin is now used to Electronic Intelligence (ELINT). It has a number of radomes and aerials.

---
Related articles (Full index of popular Covert Shores articles)



Yantar spy ship loitering over undersea cables


Russia seeks submarine advantage in Arctic (HARMONY system, GUGI special mission subs)



BS-64 Podmoskovye Special Mission (spy) Host Submarine



Russian Navy Beluga whale



Project 09852 Belgorod Special Mission submarine (spy sub). w/Cutaway