Controversial Russian Spy Ship Yantar Leaves Base

Open Source Intelligence. Yantar, the special mission ship reputed to be involved in spying on undersea internet cables, has left her base. The controversial ship has departed Olenya Guba near the Kola Peninsular in Russia's arctic north.

Analysis of Sentinel-2 satellite imagery from today shows her usual pier empty. A ship matching her is also seen in the imagery out at sea.

In Russian sources Yantar is described as a 'Special Purpose Ship' or 'Oceanographic vessel'. In the West however she is regarded as a spy ship. Her forte is surveying undersea cables and possibly tapping, delousing or sabotaging them.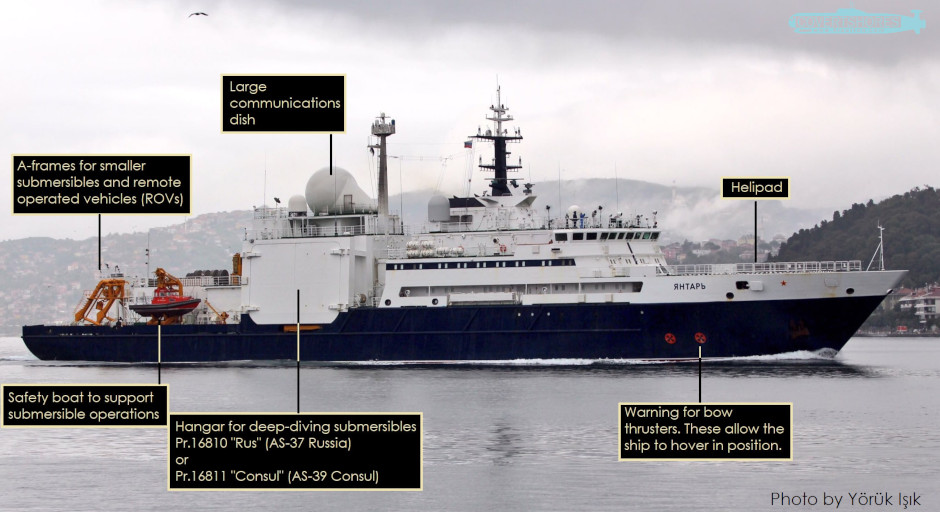 CLICK to enlarge. Photo by Yörük Işık

Olenya Guba is home to much of the fleet of Russia's secretive GUGI (Main Directorate of Underwater Research). 'Research' is a euphemism for spying in this context. Other vessels based there include the famous spy submarine Losharik, which suffered a fatal fire on July 1, 2019. Losharik and other deep-diving midget submarines like her are carried to their targets by giant host submarines. These are converted DELTA-III / IV ballistic missile submarines. There is also pen for trained Beluga Whales. This was possibly related to the whale which turned up off the Norwegian coast in April 2019.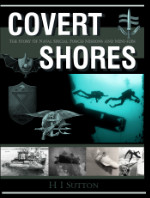 THE book on Special Forces subs Covert Shores 2nd Edition. A world history of naval Special Forces, their missions and their specialist vehicles. SEALs, SBS, COMSUBIN, Sh-13, Spetsnaz, Kampfschwimmers, Commando Hubert, 4RR and many more.
Check it out on Amazon

Yantar is equipped with the pr.16810 "Rus" (AS-37 Russia) crewed submersible which can dive to over 6,000 meters (20,000 feet). This is much deeper than the 100 meter (300 foot) deep waters where she is currently hovering. The submersible is carried in a large hangar and is launched over the starboard (righthand) side.

At her stern there are two a-frames for launching smaller submersibles and remote operated vehicles (ROVs). Crewed systems may include the ARS-600 which is the Russian version of the Canadian designed Deep Worker submersible.

The submersibles and ROVs can be used for operating on seabed infrastructure such as internet cables. Additionally Yantar can use her shipboard and towed sonar systems to map the sea floor.

---
Related articles (Full index of popular Covert Shores articles)



Yantar spy ship loitering over undersea cables



Project 09852 Belgorod Special Mission submarine (spy sub). w/Cutaway



BS-64 Podmoskovye Special Mission (spy) Host Submarine



Russian Navy Beluga whale



Russian Losharik spy sub