Comments and corrections welcome.

Dangers of poor warship recognition skills




Tactical blunders caused by misidentification can take on strategic proportions, especially in times of heightened tension and limited war. Therefore warship visual recognition, even in the digital age of multi-sensor warfare, remains relevant.

A video recently surfaced on social media showing at least three Iranian Revolutionary Guard Corps Navy (IRGC-N) speed boats pursuing a warship. The commentator is triumphant that the British [sic] warship is fleeing. The warship in question is not British, it is a Baynunah Class corvette of the UAE Navy: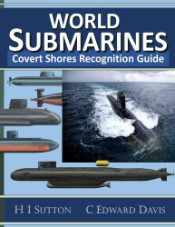 Get The essential guide to World Submarines
This Covert Shores Recognition Guide Covers over 80 classes of submarines including all types currently in service with World Navies.
Check it out on Amazon

The camera is on a Boston Whaler type open boat popular with the IRCG. A DShK heavy machine gun is visible on the forward deck. Not visible is the cockpit area which often mounts a 12-barrel 107mm Multiple Launch Rocket System (MLRS). These weapons are viable for harassing merchant ships by firing into the superstructure but are sorely under-equipped to go up against a modern warship.

Knowledge of the adversary is a fundamental of warfare, and not knowing so sets you at a clear disadvantage. Few would argue that ignorance is bliss when running down a foreign warship while sending antagonistic signals. Misidentifying the warship in front of you implies that you do not comprehend the tactical picture and cannot have an understanding of the weapon systems arrayed against you.

1. 2. 3.
1. Royal Navy Type-45 destroyer. 2. UAE Navy Baynunah Class corvette. 3. IRCG-N Boston Whalers.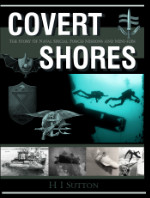 The ultimate book of Special Forces subs Covert Shores 2nd Edition is the ONLY world history of naval Special Forces, their missions and their specialist vehicles. SEALs, SBS, COMSUBIN, Sh-13, Spetsnaz, Kampfschwimmers, Commando Hubert, 4RR and many more.
Check it out on Amazon

Recognition charts are becoming less common but used to be standard fit inside submarines and warships. Cold War vintage charts aboard the museum submarine HMS Alliance, Gosport UK. And a more recent one of Iranian naval vessels:


---
Related articles (Full index of popular Covert Shores articles)



Iranian Fateh Class SSK



WP-18 Tactical Strike Craft




EMT FWS-1 to -5 Barracuda SDVs



North Korean Modified-Romeo Class ballistic missile submarine



North Korean Very Slender Vessels (VSVs)



Soviet Project 1015 'SPLC' Special Purpose midget submarine



infographic of North Korean MS-29 YONO Class midget sub



INS Arihant, Indian SSBN and .2