originally posted July 16th 2019


Correction: BOREI-II class SSBN in Sonar tests


Information surfaced on the Russian internet which confirms that the lead BOREI-II Class ballistic missile submarine, K-549 Knyaz Vladimir, is readying for sonar tests. The frame seen was previously misidentified as a telemetery mast for missile test launches but in fact relates to testing and calibrate the digitally formed passive sonar beams.


The crane-like structure swings out over the bow sonar dome, and is the same device as used on the BOREI-I and some other submarines: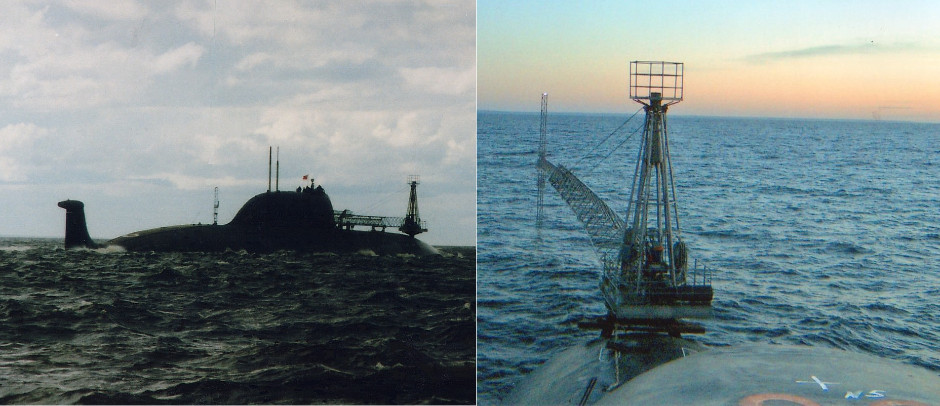 There is also a smaller mast mid-way along the missile deck.

Original artwork - CLICK for HIGH-RESOLUTION image.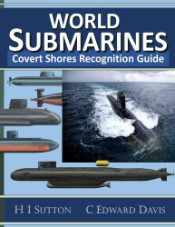 Get The essential guide to World Submarines
This Covert Shores Recognition Guide Covers over 80 classes of submarines including all types currently in service with World Navies.
Check it out on Amazon

The image can be geolocated to Severodvinsk where K-549 Knyaz Vladimir is undergoing sea trials. The masts in the background mark the weapons loading pier at 64°34'7.92"N, 39°46'9.30"E. These are on the south side of the harbor so the submarine was outbound when the photograph was taken, in the vicinity of 64°34'34.28"N, 39°46'42.72"E. The date of the photo cannot be ascertained from the metadata but is likely to be very recent.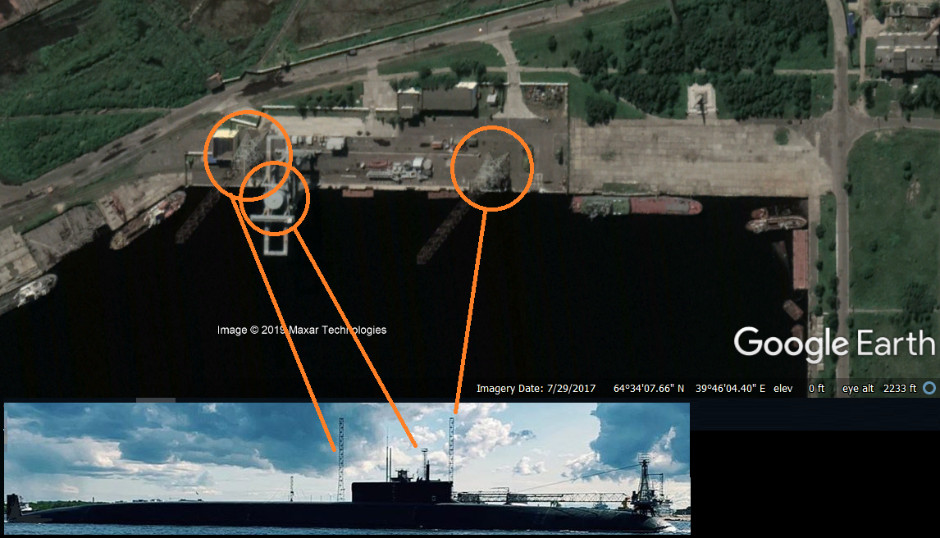 The submarine will carry the RSM-56 Bulava (3M30 Булава, NATO: SS-N-32) missile which has a range of 5,800 miles (5,040 nm) and can carry 6 x 150 kt MIRVs (Multiple Independent Reentry Vehicles) plus up to 40 decoys.

---
Related articles (Full index of popular Covert Shores articles)



Project 955A 'BOREI-A' Ballistic Missile Submarine. w/Cutaway



SNLE-3G next-generation French SSBN



USS Jimmy Carter (SSN-23) Special Mission submarine



HUSKY Class future attack submarine



BS-64 Podmoskovye Special Mission (spy) Host Submarine



Project 09852 Belgorod Special Mission submarine (spy sub)



Project 885 'YASEN' (Severodvinsk Class) SSGN. w/Cutaway



Poseidon Intercontinental Nuclear-Powered Nuclear-Armed Autonomous Torpedo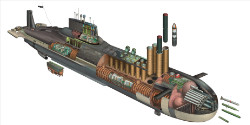 Russian Typhoon Class SSBN



North Korean Gorae Class SSB



P.09851 KHABAROVSK and KANYON (Status-6)



INS Arihant, Indian SSBN and .2