UPDATED: Chinese Navy Type-094 Jin SSBN in Taiwan Strait

A Chinese Navy submarine, provisionally identified as a Type-094 Jin Class SSBN, is transiting the Taiwan Strait. The submarine is transiting north from the submarine base at Yulin in the South China Sea. It is surfaced and escorted by another vessel.

The Sentinel 2 satellite image was taken at 02:51 UTC (10:21 local time) on November 29, 2021. Although Sentinel 2 is low resolution, the wake patterns are characteristic of a submarine with typical rounded bow. The length best fits the Type-094 and the context aligns.

Chinese nuclear powered submarines do return to the Bohai sea for repairs and overhaul. So the transit is likely routine.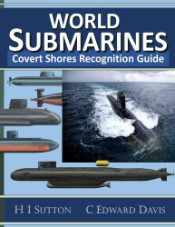 Get The essential guide to World Submarines
This Covert Shores Recognition Guide Covers over 80 classes of submarines including all types currently in service with World Navies.
Check it out on Amazon

UPDATE
A submarine, likely the same one, is now in Huludao in Northern China. This is the shipyard were the submarine was built and is the only one in China associated with nuclear powered submarines. It was recently expanded (massively) and can accommodate several SSBNs at once. A drydock leading to the new section of the yard has also been flooded while one associated with the original part has not. This may suggest that the submarine will be taken into the new sheds for whatever work is required. If so, this could be the first time that they will be used for these activities.

---
Related articles (Full index of popular Covert Shores articles)



Chinese Navy's Advanced Submarine Type-039C Yuan Class. w/Cutaway



Chinese Sailless Submarine



Chinese Navy's First Cruise Missile Submarine, Type-033G Wuhan Class. w/Cutaway



Chinese Type-093 Shang Class Submarine w/Cutaway