New Rare Image of Israel's 'Caesaron' Large Underwater Drone

It is not surprising that the Israeli Navy has been an early adopter of large uncrewed underwater vehicles (UUVs). Yet it does not advertise its systems in this space. The existence of the Caesaron autonomous underwater vehicle (AUV) and its capabilities, in broad terms, are known. But the vehicle is very camera shy. A photo has now emerged showing it being transported.

The Caesaron was devolved in 2014 (or earlier) and briefly unveiled by the Israeli Defense Ministry in 2017. It has fallen off the radar since then with very little information available in the public sphere.

Outwardly, the Caesaron resembles the Canadian ISE Explorer family of UUVs. It has a long cylindrical hull with simple two-blade screw on the end of a long conical tail. The three main control surfaces are mounted relatively far forward. The upper rudder also doubles as an aerial fixture and can accommodate a range of sensors and communications devices. The forward hydroplanes have large end-plates.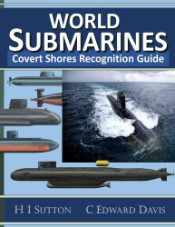 Get The essential guide to World Submarines
This Covert Shores Recognition Guide Covers over 80 classes of submarines including all types currently in service with World Navies.
Check it out on Amazon

However its payload is more unusual. A comparatively large telescopic optronic mast folds down into the hull. When swung upwards and extended it can provide high-quality persistent ISR (Intelligence Surveillance & Reconnaissance). The mast head has multiple sensors and can provide communications intelligence (COMINT) and electronic warfare (EW) monitoring. As well as cameras it has an LPI radar (Low-probability-of-intercept) and AIS receiver.

There are also side-scan sonar in sponsions either side of the mast assembly section. These can be used for bottom mapping and mine warfare. In the Mine Disposal role it can carry four smaller kill-UUVs, such as the SeaFox. These are expendable mine disposal vehicles (EMDV) developed by Atlas Elektronik which detonate the mine.

---
Related articles (Full index of popular Covert Shores articles)



History of Israeli subs






World survey of Special Operations Craft


Explosive Boats world history



Low Visibility Craft Semi-Submersible dolphin delivery vehicle.




CCH (Combat Craft Heavy) SEALION and Alligator Semi-Submersible Boats. w/Cutaway



Theseaus AUV



XLUUV armed extra-large UUV