New OSINT: Mystery Submarine In Service With Pakistan's Navy SEALs



An official video (on Twitter) of the Passing Out Parade of the latest Pakistan Navy SEAL Course provides fresh OSINT (Open Source intelligence) on Pakistan's unreported midget submarine. The parade was held at PNS Iqbal in Karachi, which is home of the Pakistan Navy's Special Service Group (SSG (N)). The parade comprised of officers & sailors, who completed rigorous training in line with the elite unit's high standards. The Chief Guest, COMCOAST, Vice Admiral Fasial Rasul Lodhi congratulated the Navy SEALs awarded the prizes. In the background was a rare, possibly unique, glimpse at the mystery midget submarine.


The submarine is a small special forces type, measuring around 55 feet long by 7 to 8 feet across. It appears to have single-hull construction with a raised casing, at least along the forward section. The sail is very small, and possibly mounted further after than normal. Possibly this allows torpedo tubes to be carried under the forward casing.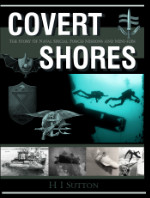 The ultimate book of Special Forces subs Covert Shores 2nd Edition is the ONLY world history of naval Special Forces, their missions and their specialist vehicles. SEALs, SBS, COMSUBIN, Sh-13, Spetsnaz, Kampfschwimmers, Commando Hubert, 4RR and many more.
Check it out on Amazon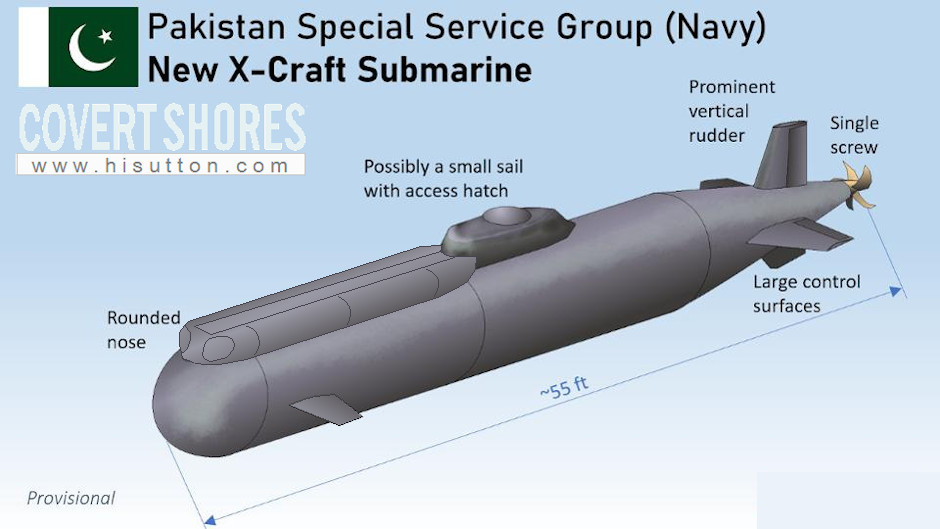 The boat first appeared in 2016. This may tie to a statement in the Pakistan Defence Production Division (MoDP) 2015-16 yearbook. It listed the "Indigenous design and construction of 01 Midget Submarine" as a target for 2016-2017.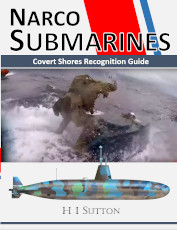 The World's ONLY Guide to
Narco Submarines
10 years of research, analyzing over 160 incidents, condensed into a handy guide. This unique book systematically breaks down the types and families. With detailed taxonomy, recognition 3-views, profiles and photos. Available on Amazon



Other Pakistan Navy Special Service Group (SSG (N)) submarines in the video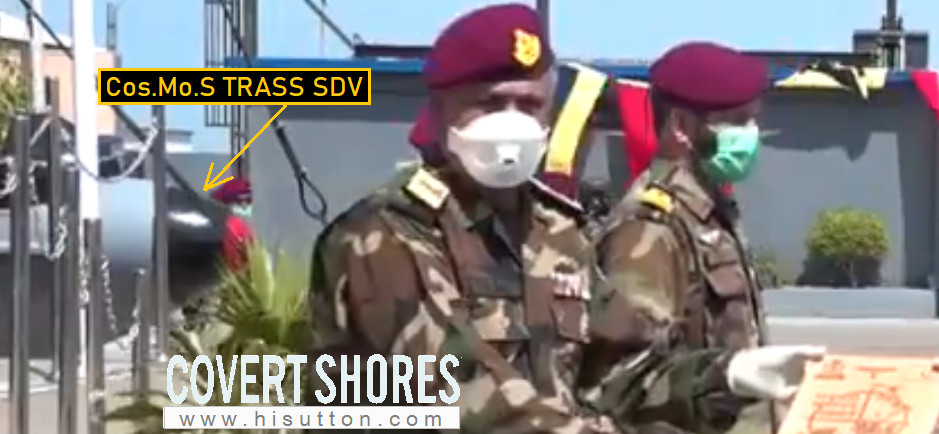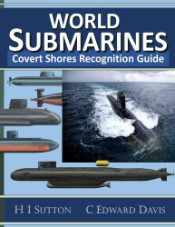 Get The essential guide to World Submarines
This Covert Shores Recognition Guide Covers over 80 classes of submarines including all types currently in service with World Navies.
Check it out on Amazon

---
Related articles (Full index of popular Covert Shores articles)



Stidd Diver Propulsion Device (DPD)



Deep Shadow SDV



SDV Mk.9 SEAL Delivery Vehicle. w/Cutaway



Cos.Mo.S CE4F 4-man SDV



Cos.Mo.S CE2F chariot



Naval Spetsnaz in Hybrid Warfare (Russian SDVs and DPVs)



Vogo 'Chariot' SDVs (SDV-300, SDV-340...)
Flag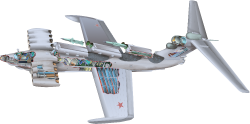 Lun Class Ekranoplan (Wings in Ground Effect) w/Cutaway