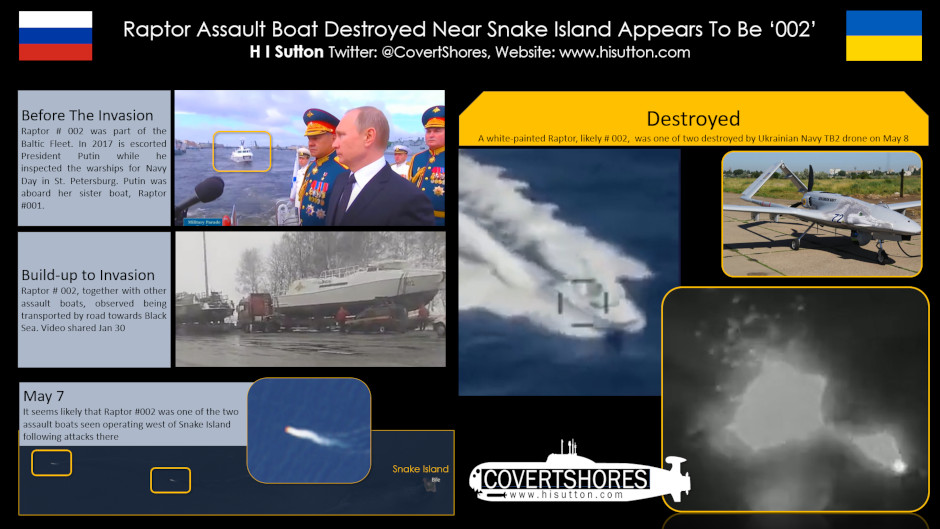 CLICK to Enlarge. Original analysis.

The Raptor's Tale: Latest Russian Assault Boat Destroyed May Be '002'

A video released by the Ukrainian armed forces shows that Russia has lost another two assault boats. These two, apparently hit on May-7/8, bring the total to 5. Most or all are Project 03160 Raptors. Possibly some are the very similar BK-16/18 assault boats. But the last two were definitely Raptors.

One of the two appears to be painted white. This matches a specific Raptor which was seen heading towards the Black Sea prior to the war. Hull number 002 is a significant vessel, having been assigned VIP duties in the Baltic Fleet.



The Raptor is inspired by the famous Swedish CB-90 assault boat. It is similar in size, form and capability. This makes it ideal for special forces and light infantry uses such as insertion and extraction. But operated without air cover it has proven vulnerable to the Ukrainian Navy's TB2 drones.

The Baltic Fleet had 3 white-painted Raptors, numbered 001, 002 and 003. The main VIP boat is 001 which has a large radome added. Only one, 002, has been noted in the conflict area.



Reference image of '002' during better days.

In 2017 it escorted another Raptor, 001, which was carrying President Putin while he inspected ships for Navy Day. This duty explains the white paint and special crest on the rear quarters. The hull numbers '001', '002' and '003' are special assignments which is applied to a vessel when in command / VIP role. A good analogy would be 'Air Force one' aircraft in the U.S. There can be more than one Raptor with these numbers at any one point in time, as seen here. However, it does not appear to be something which is assigned frequently. So this hull likely is the '002' from the 2017 parade.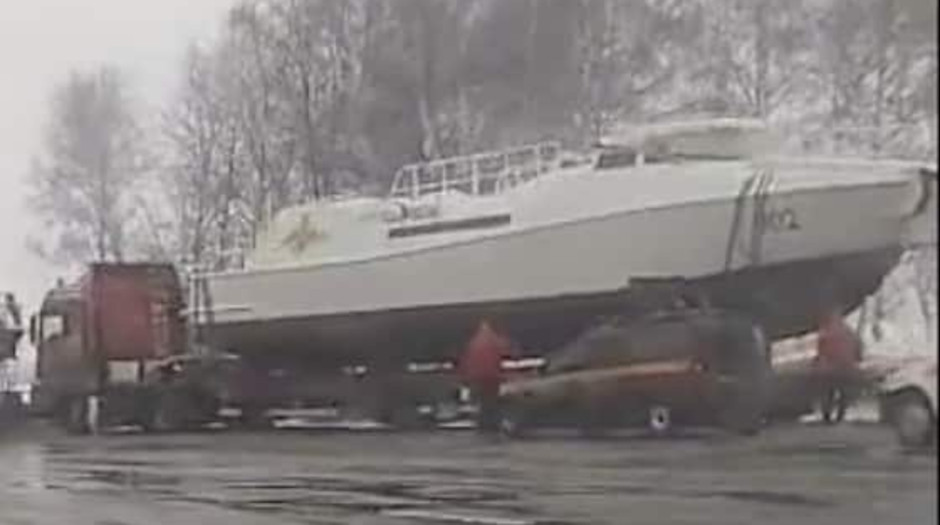 OSINT: candid video still of Raptor 002 while being transported towards the black Sea prior to the invasion of Ukraine.

Although the video is washed out and both Raptors appear light coloured, the other Raptor hit was camouflaged.

---
Related articles (Full index of popular Covert Shores articles)



Yantar spy ship loitering over undersea cables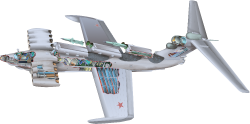 Lun Class Ekranoplan (Wings in Ground Effect) w/Cutaway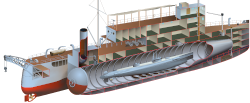 Ceara; Brazil's unique Submarine Transport Ship With Hidden Hangar, 1915 w/Cutaway






World survey of Navy Marine Mammal Prorams