Russia's answer to the U.S. Navy's Orca XLUUV: Sarma-D

The Sarma-D is Russia's answer to the U.S. Navy's Orca XLUUV (extra-large uncrewed underwater vehicle). This massive robot submarine promises an incredible 8-10,000 km range, and many of the trappings of full-size submarines, including a large sonar.

Typically, it has been promoted for civilian tasks. These include repairing undersea cables, prospecting work for oil/gas, tracking oil leaks in underwater pipelines, transporting cargo, survey and operating undersea equipment. Its naval potential is clear however.

As the name suggests, the design, from the Lazurit Central Design Bureau, is an evolution of its Sarma family. The latest designs were shown at the INNOPROM The International Industrial Trade Fair in Yekaterinburg in 2021. During the Cold War Lazurit were one of the three big submarine design Bureaus together with Rubin and Malachite. After the Cold War Lazurit stepped away from submarines. But they are back in force now with AUVs (autonomous underwater vehicles).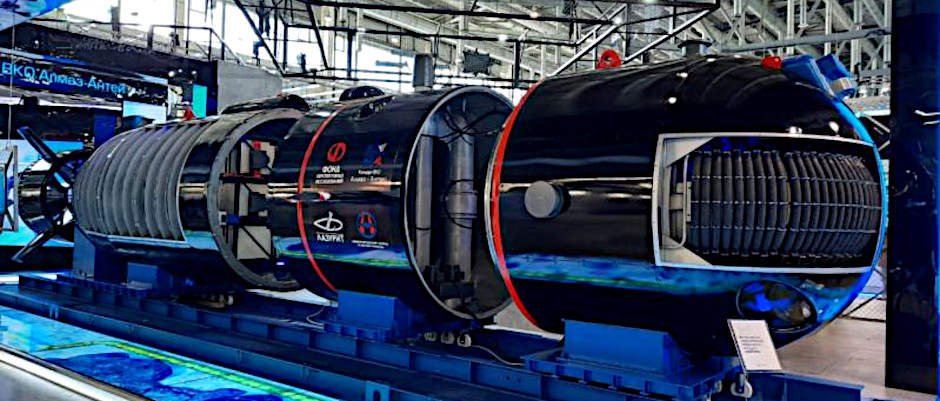 The design is modular. It is designed around a cylindrical hull approximately 2 meters in diameter (extremely large for an AUV). Each section is added end-to-end. This has meant that the exact details of the design change every time it is presented, with different options being proposed.

A common theme is the large liquid oxygen (LOX) and hydrogen tanks for its AIP (air independent power). The exact form of AIP is unclear but earlier reports suggest fuel cells with a cryogenic system. Lithium-based batteries are also specified.

Other modules include control, communications and a large mission-specific section. This latter part has been shown with different fits including a large cable reel, possibly for a towed sonar array.


Interestingly the bow consistently features a large sonar array, like on a regular submarine. This points to its naval applications, possibly including anti-submarine warfare. However it has not been shown armed.

The propulsion solution would be groundbreaking for Russian underwater systems. Russia has so far failed to develop a modern AIP system, so it adds considerable development risk into the design.

Despite this Russian sources have variously claimed that a vehicle demonstrator was planned to be built in 2022-2023. And entering series production in 2024. With the current/anticipated funding challenges, the whole project appears wildly optimistic.

But it is undoubtedly a project to keep an eye on.

---
Related articles (Full index of popular Covert Shores articles)



XLUUV armed extra-large UUV



Snakeead large-displacement UUV



Harpsichord (Klavesin) AUV



Cephalopod armed extra-large UUV