Possible New Information On Russia's Mysterious 'Cephalopod' Armed AUV

There have been reports that Russian submarine design bureau Rubin has been targeted by suspected Chinese state hackers. The alleged attack was made via a malware loaded Word document, which was emailed to Rubin's Director General, Igor V. Vilnit. The story is interesting, but the image used in the attack is particularly interesting. It appears to show the little-known armed AUV 'Cephalopod'.

I previously wrote about Cephalopod here. It is an armed AUV (autonomous underwater vehicle) with comparatively large sonar dome at the front. Together with a single screw at the rear this suggests an anti-submarine or ant-surface role. It is shown armed with two torpedoes.

Caution is needed when interpreting this new information. The illustration looks convincing to me, it was likely obtained by the hackers from somewhere. As far as I can find, this illustration has not been seen in public before. The materials were possibly the fruit of a previous attack, obtained prior to this one. The slide is headed with the RTC logo (Russian robotics R&D institution).

So I do not think that they created the graphics specifically for this purpose. Whoever drew it knew a lot about AUVs and Rubin designs. So the image itself appears legit. But context is everything, and there is nothing here to suggest the status of the project. We should not rush to conclusions either way.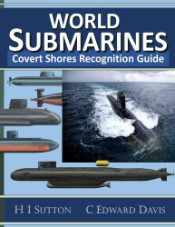 Get The essential guide to World Submarines
This Covert Shores Recognition Guide Covers over 80 classes of submarines including all types currently in service with World Navies.
Check it out on Amazon

The previous images, from Russian sources, appear generally consistent. Yet there are some differences. The placement of the horizontal and vertical thrusters for example is not identical: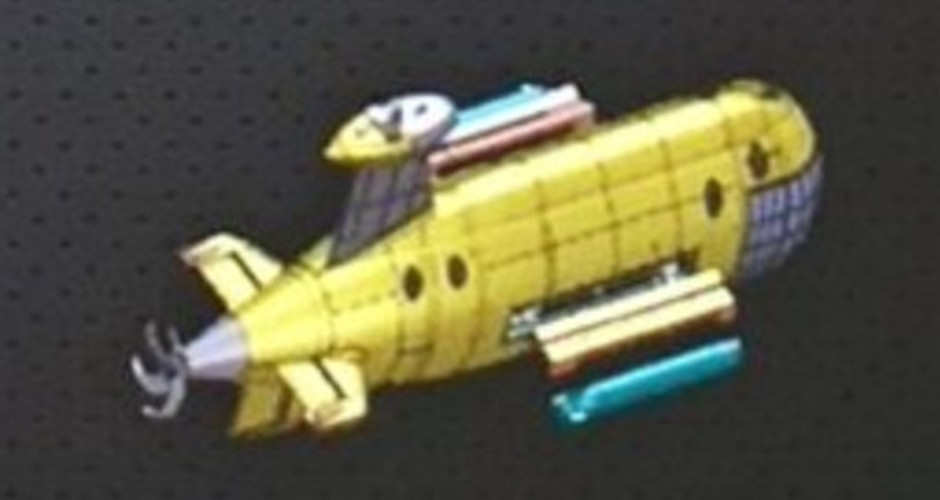 The measurements appear to be in millimeters.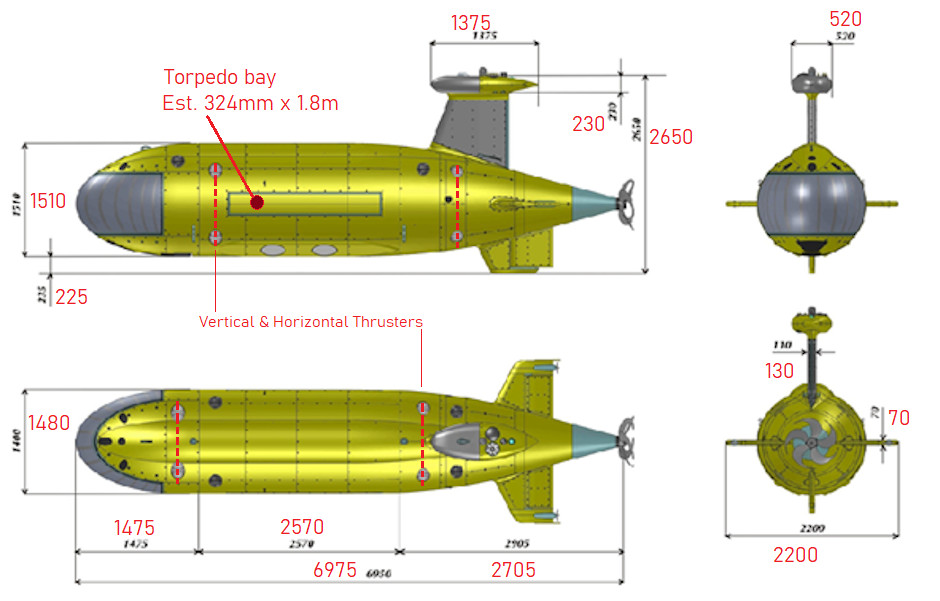 As expected for Cephalopod there appear to be two weapons bays, one either side of the fuselage. The torpedo bay is the right height for a 334mm diameter torpedo, although a very tight fit. But at around 1.8 meters long it is too short for known types.

I previously used the MTT torpedo to extrapolate the size of the vehicle. So because the torpedo shown cannot be the MTT (it's too long), I had over-estimated the scale. I estimated an overall length of about 10 meters, not 6.975m.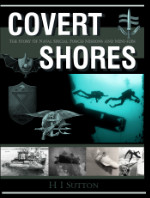 Learn EVERYTHING about Special Forces subs Covert Shores 2nd Edition. A world history of naval Special Forces, their missions and their specialist vehicles. SEALs, SBS, COMSUBIN, Sh-13, Spetsnaz, Kampfschwimmers, Commando Hubert, 4RR and many more.
Check it out on Amazon

Wrap up
This means that Cephalopod is significantly smaller than previously suggested. It will have to be armed with new, smaller, weapons,. And its sonar is slightly smaller than expected. Taken together, it is more of a large-displacement vehicle (LDUUV) in the same size category as the Klavesin (Harpsichord).

China and Russia are supposed to be collaborating on a next generation conventionally powered submarine. Attacks like this, if they are believed to come from China, may undermine this relationship. The prospect of a joint submarine project going the full term was questionable already (how many do?), but it seems even harder to imagine now.
---
Related articles (Full index of popular Covert Shores articles)



Cephalopod armed extra-large UUV



Nerpa anti-diver UUV



Chinese Sea Wing UUV (Glider)



Iranian XLUUV



XLUUV armed extra-large UUV



Chinese HSU-001 LDUUV



Garmoniya-GUIDE AUV



Poseidon Intercontinental Nuclear-Powered Nuclear-Armed Autonomous Torpedo, and countering it



Russian Navy Beluga whale



Harpsichord (Klavesin) AUV



Nerpa anti-diver UUV