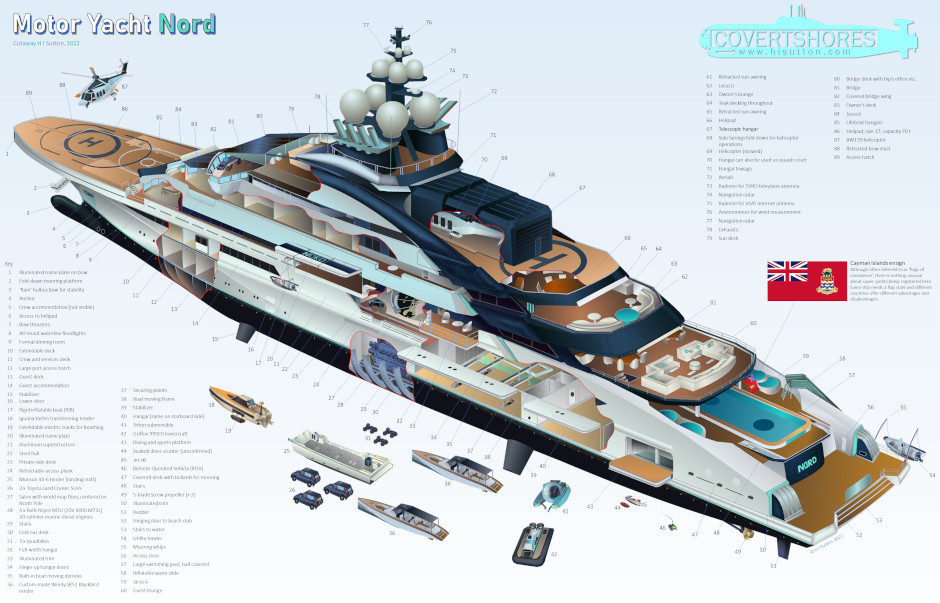 CLICK to Enlarge. Original artwork.

Oligarch's Luxury Mega-Yacht Nord, Cutaway

The luxurious world of super yachts is incredibly secretive. Especially those owned by Russian Oligarchs. Part of an elite among elites, this top-tier have features worthy of a Bond villain. Mini-submarines, amphibious vessels, helicopters and remote vehicles.

Motor Yacht Nord, described by others as a warship in a tuxedo, is one of the most impressive. And it has an air of Soviet cruiser chic about it.



MY Nord, then as Opus, (left, Lürssen image) and Soviet Navy KIEV Class carrier Novorossiysk

Running from the international sanctions handed out after the invasion of Ukraine, Nord recently docked in Vladivostok. A city in Russia's Far East, it is seen as poor and polluted. It is an unlikely place for a super yacht. Local law enforcement inspected the boat on arrival and some photos have emerged. They give a rare glimpse inside the ship. It's enough to start to deduce the internal layout, which was previously not available.



There are very few images of the accommodation and entertainment decks. The interior is clearly palatial however. Note that the world map floor is centered on the North Pole.

Design Overview of MY Nord
The mega-yachts of the mega-wealthy have always been inherently interesting. They may not be naval vessels, but they are at least tangentially relevant to a defense website. Their features show what is possible, if you are rich enough. Each design has its unique features, exquisite details and exotic toys. Nord is particularly noteworthy for the 'toys' in its spacious below-deck hangars.

Originally developed under the Project name Redwood, it was named Opus before later becoming MY Nord (MY = motor yacht). There are the same number of letters in the last two names, which might have helped with the large illuminated name plates on all four faces of the boar.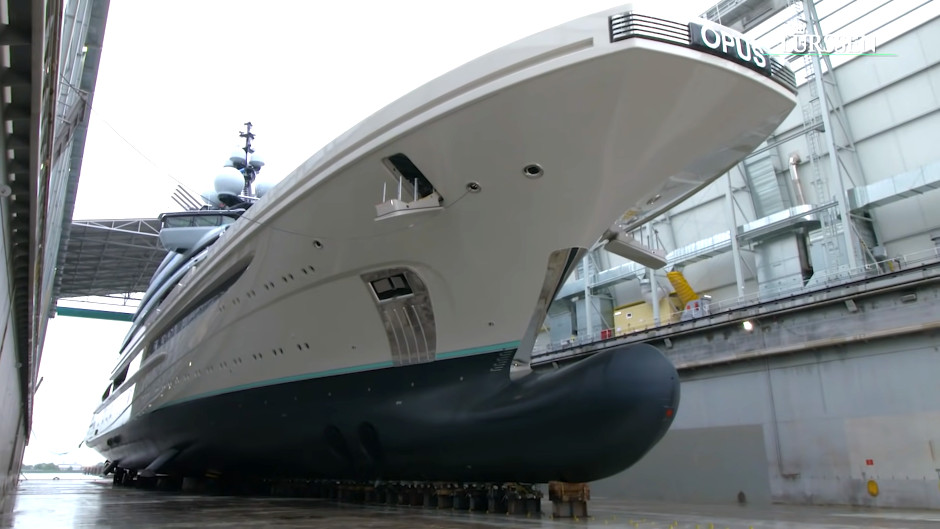 MY Opus, now renamed Nord. Image Lürssen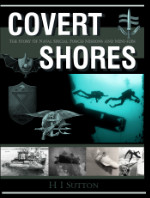 THE book on Special Forces subs Covert Shores 2nd Edition. A world history of naval Special Forces, their missions and their specialist vehicles. SEALs, SBS, COMSUBIN, Sh-13, Spetsnaz, Kampfschwimmers, Commando Hubert, 4RR and many more.
Check it out on Amazon

The 142m ship was built by Lürssen of Bremen, Germany, and delivered in 2021. The exterior and interior design by highly regarded Italian duo Nuvolari Lenard. These designers are responsible for a whole host of outstanding designs, including mega-sailing yacht Black Pearl.

The spacious below-deck hangars are a differentiator. There are two sets of them, so are probably larger than on other comparable designs. The forward one is longer and stretches across the full width of the ship, about 19.5m (64 feet). It comfortably accommodates four tenders. The aft set are a pair of, one each side of the vessel. These are still very large, with the port-side (left) one carry a hovercraft and a minisub. The basic plan based on analysis of leaked photographs: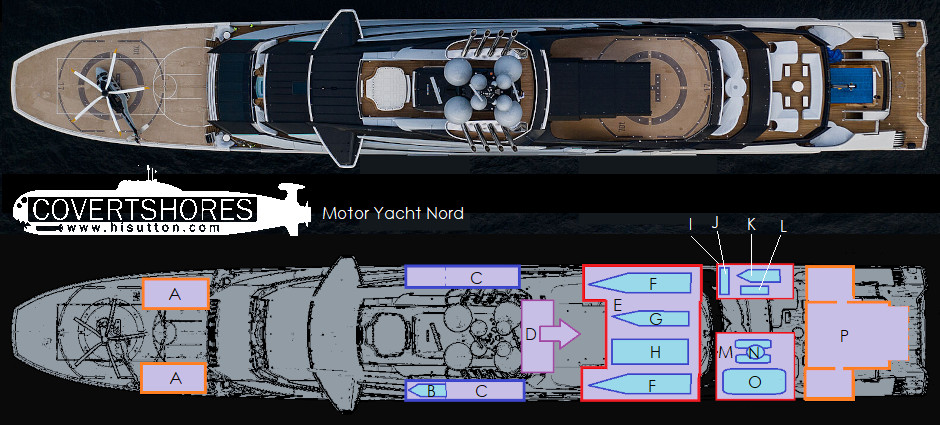 Key: A) Lifeboat Hangars. B) Small rigid inflatable boat (RIB) in upper port-side hangar. C) Upper side hangars. D) Telescopic helicopter hangar. E) Main 'toys' hangar. F) Guest tender. G) Amphibious tender. H) Landing craft tender. I) Aft starboard side hangar. J) Storage for quad bikes. K) Utility RIB tender. L) Sports utility vehicle (SUV). M) Aft port side hangar. N) Submersible. O) Hovercraft. P) Beach club with side decks and aft opening.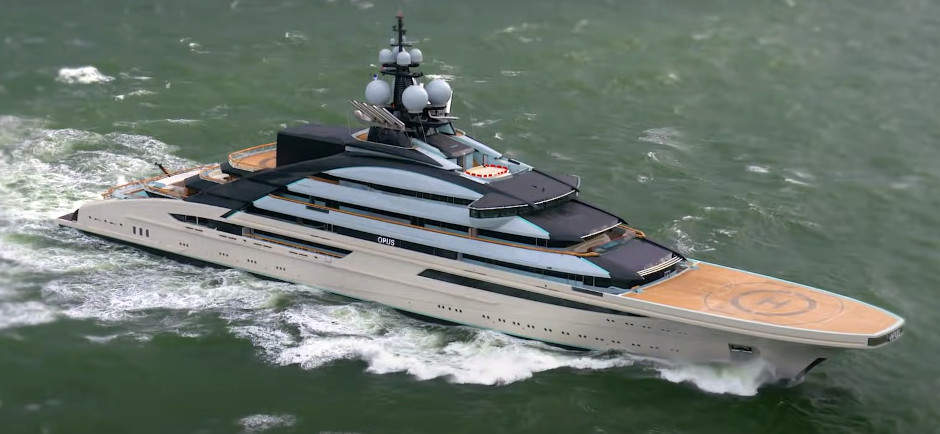 MY Nord. Image Lürssen

Specifications
Gross tonnage: 10,154
Net tonnage: 3,047
Length: 141.63 m (464'8")
Beam: 19.5 m (63'12"), Extreme: 22.5 m
Draught: 5.15 m (16'11")
Speed: 18 knots
Propulsion. 4 x Rolls Royce MTU 20V 4000 M93L Diesels (4,359KW, 5,846hp)
Guests: 36 in 20 cabins
Crew: 40 +
Tenders: 6+, hovercraft, submarine
Helicopters: 2 x pads with securing spots. 1 x hangar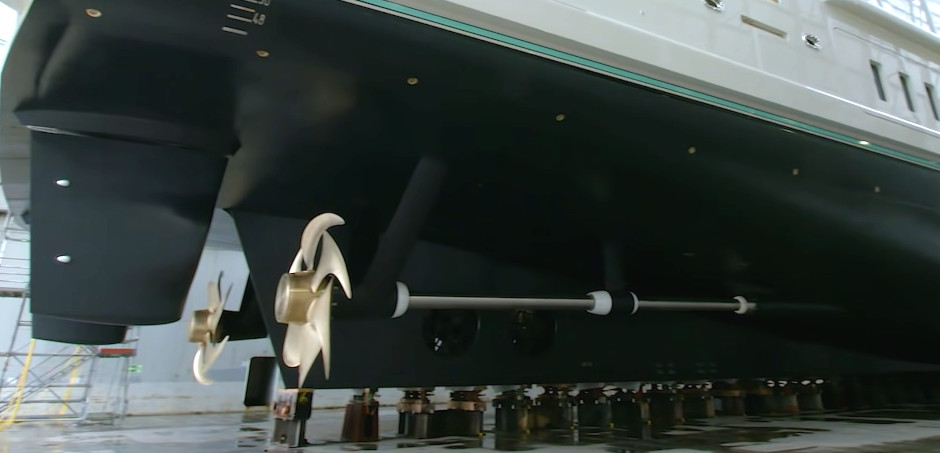 The four MTU diesels drive two impressive screws. This is a more conventional layout than on some yachts, but has a definite engineering beauty.

Superyacht... Super Toys
The main two guest tenders are quite large, and are customized Windy SR52 Blackbirds. Another tender appears to be a cross-beach amphibious vessel from Iguana Yachts. These are complemented by at least two smaller utility RIBs (rigid inflatable boats).

Nord also carries at least 3 Toyota Landcruiser SUVs and 4 quad bikes. To get these vehicles from the yacht to the land, there is a landing craft. This has been identified as a custom build from Munson, the 44-6. It can carry two SUVs at a time and is also suitable as a dive boat or even parasailing.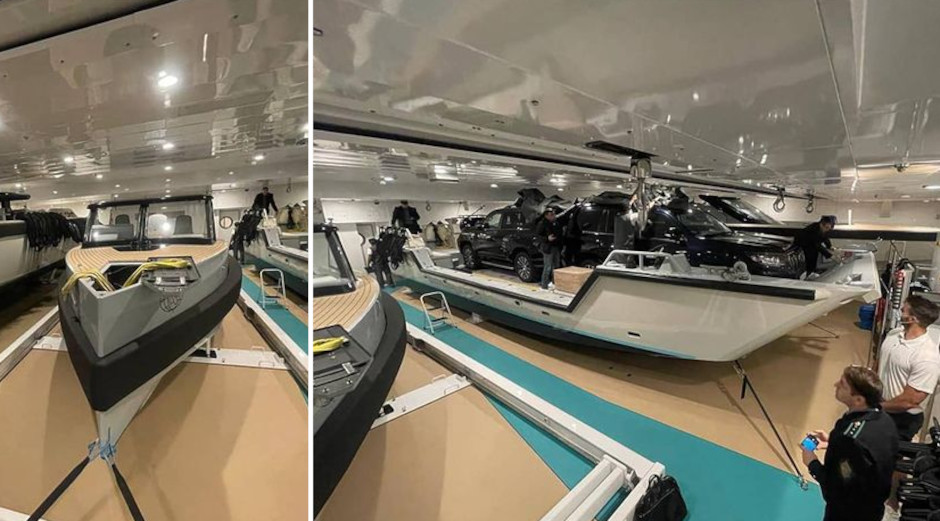 Leaked images of main hangar

In the aft hangars there are more exotic toys. A submersible, identified as being from Triton, allows guests to explore the deep. A small hovercraft, a Griffon 995ED which is more usually associated with law enforcement, is carried.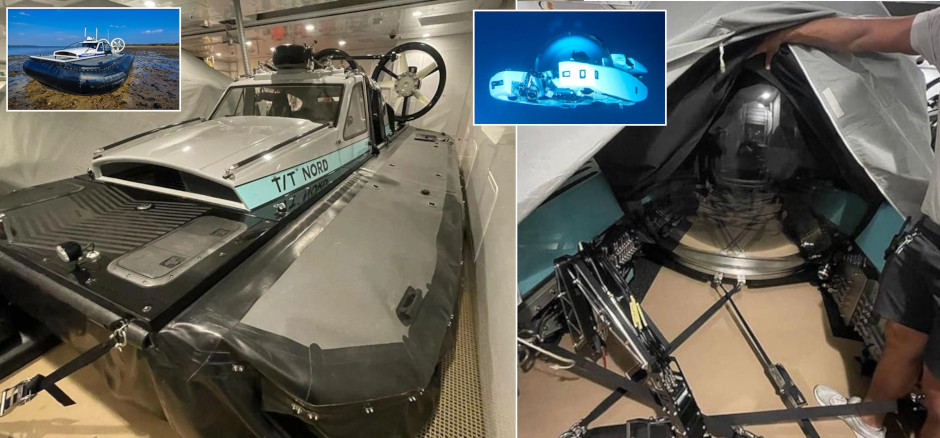 Leaked images of Griffon hovercraft and Triton submarine

The usual yacht toys Jet skis and, I suspect, Seabob diver scooters are carried. There are some rumors that it has an ROV (remote operated vehicle) aboard for the guests to view the underwater world without getting wet.

Like an increasing number of mega yachts there are two helicopter landing decks. One is on the forward deck, and a second is in a more conventional location above and behind the bridge. Both allow helicopters with rotor diameters up to 17 meters (55ft) and 70 tonnes. This is very large and easily accommodates the owner's personal AW129 helicopter.

Both helipads allow the helicopter to be tied down and carried there, i.e. not just touch-and-go like on some yachts. The aft helideck also has a telescopic hangar for the private helicopter. Having two increases flexibility, allowing guests to join using their own or chartered helicopters even while the ships own helicopter is aboard.

The helicopters can be used for transport, as well as for sports like helicopter water skiing. Having a helicopter aboard also allows for the evacuation of sick or injured people if necessary.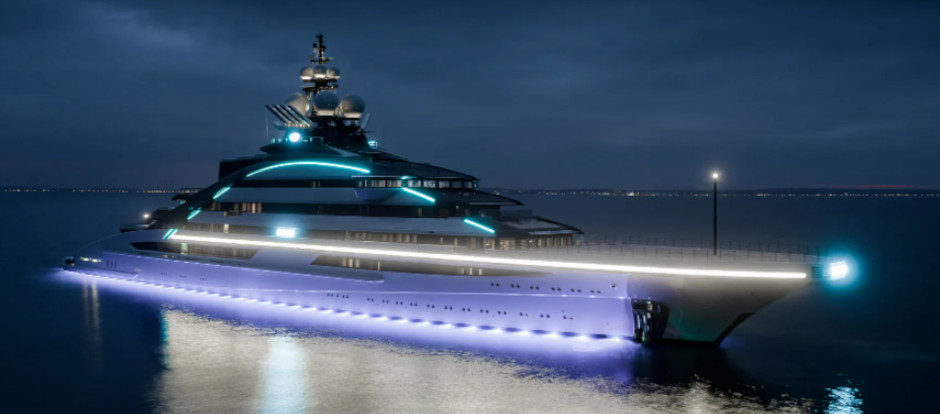 MY Nord. Image Lürssen

---
Related articles (Full index of popular Covert Shores articles)



Yantar spy ship loitering over undersea cables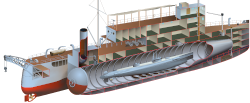 Ceara; Brazil's unique Submarine Transport Ship With Hidden Hangar, 1915 w/Cutaway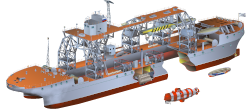 Russia's Unique 110-Year-Old Ship, Kommuna w/Cutaway


Nautilus 2020 Luxury Private Submarine. w/Cutaway


Cutaway of Jules Verne's Nautilus. w/Cutaway