In 2016 NAVSOC (Navy Special Operations Command, part of USSOCOM) released a public requirement for an additional batch of four Yamaha 2016 FX Cruiser SHO jet skis. Special Forces use of Jet Skis has slowly become common knowledge.

Original Artwork: CLICK for HIGH RESOLUTION: (Updated 22nd Jan 2018)


The main advantage of jet skis is that they are very fast and agile, and can operate in extremely shallow water. Special Forces modifications make them more versatile, more robust and slightly more discrete Naturally jet skis come with a list of disadvantages (noise, low payload, do not compact very much for carriage, not very suitable for submerged carriage on a submarine, use gasoline (petrol) not diesel, exposed riding position…) but their strengths in certain circumstances are enough to win through, and they are increasingly part of the standard line up of many Special Forces involved in inshore and riverine operations.

Yamaha 2016 FX Cruiser SHO specifications
Engine: 1800 cc Supercharged and intercooled, four stroke gasoline (petrol), DOHC, four valves per cylinder, inline four-cylinder. Driving 160mm jet pump (axial flow, single stage) with Thrust-1890 lbs.
Thrust-1890 lbs
Load capacity- 490 lbs
Fuel capacity- 18 gallons Premium Unleaded
Seating Capacity- Three-person

A single jet ski can be carried in the hangar of the SEALION CCH (Combatant Craft Heavy) semi-submersible: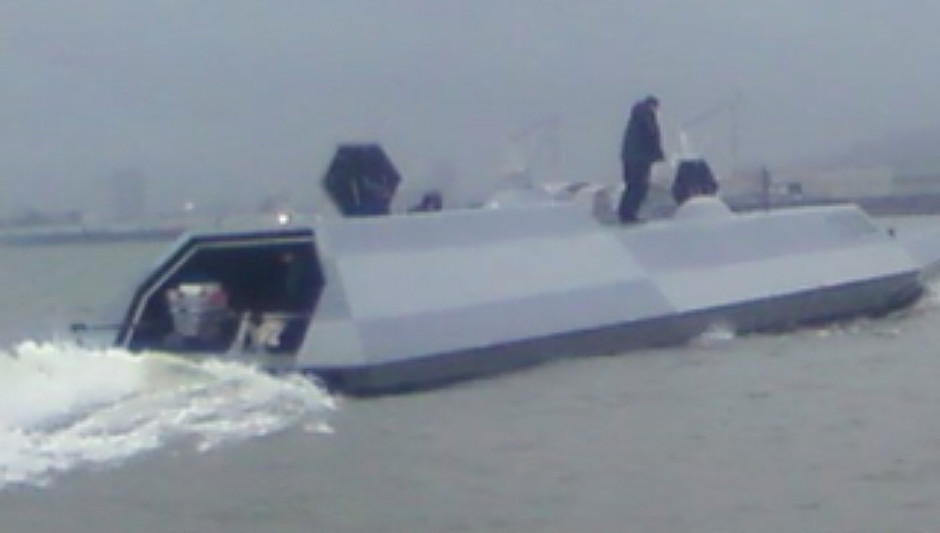 Barracuda 140-TDi
German manufacturer ATG Kriminaltechnik GmbH is offering their diesel powered Barracuda 140-TDi for military use. Unlike most modern jet skis which are equipped with four-stroke gasoline engines, the Barracuda is powered by a 140-horsepower turbocharged direct-injection diesel engine.



Sea Doo RXT 215
The Canadian Sea-Doo RXT 215 jet ski produced by Bombardier Recreational Products (BRP) is used by some Special Forces units including 12 operated by the Greek Army SOF.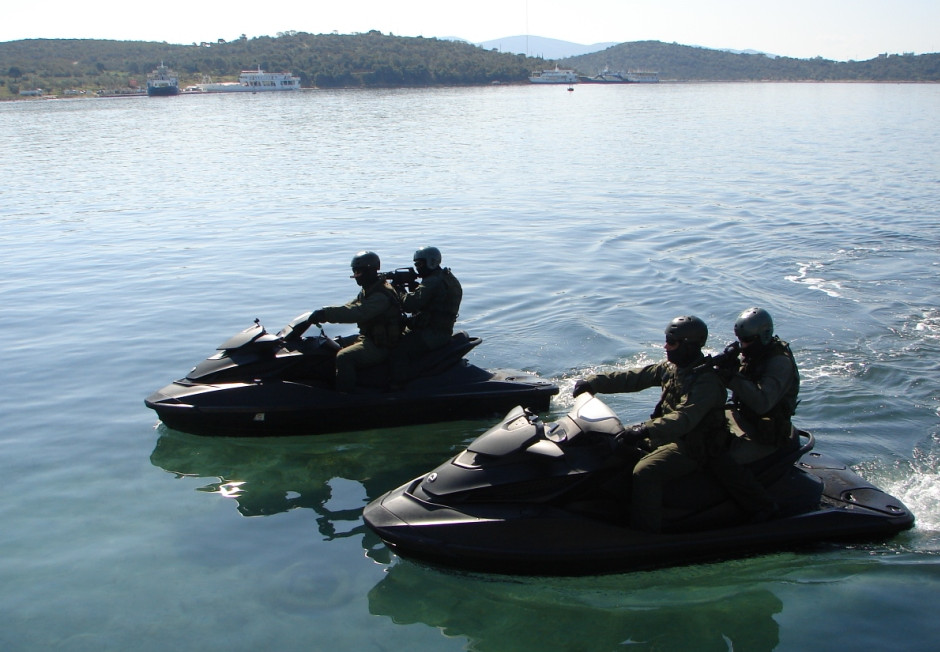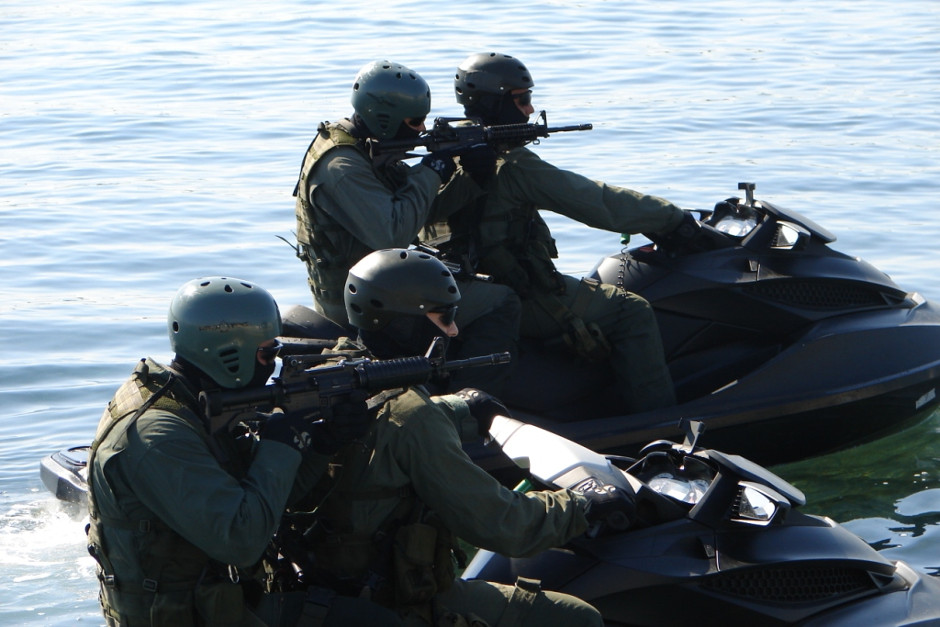 Sea Doo RXT 215 specifications:
Length: 3.53m
Weight (unloaded): 383kg
Capacity: 3 persons
Speed: 60 kt
Propulsion: 1494cc Rotax 4 –TEC gasoline (petrol) engine developing 215 hp
Fuel: 60lt fuel tank plus 52lt storage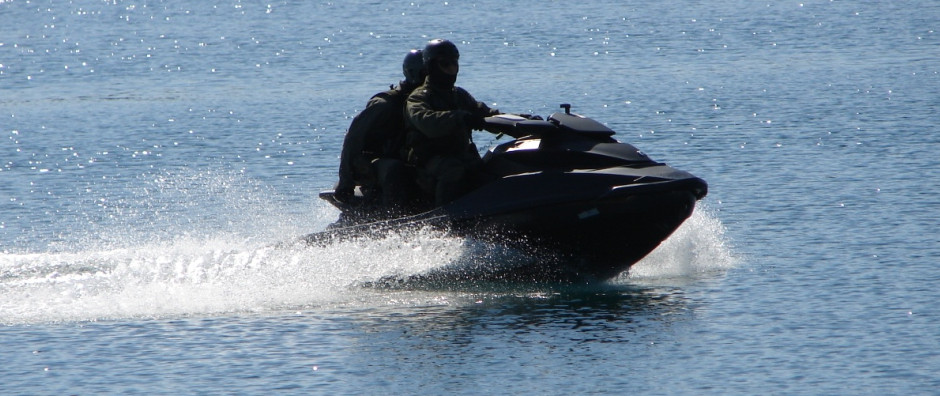 Greek Army Special Forces demonstrating a Jetski. Source www.army.gr


GuardRunner
The GuardRunner (name to be confirmed) is the Special Forces version of the Swedish RescueRunner rescue craft. It is a highly reinforced jet ski with passenger capabilities. It can be used for hot extraction, medivac, reconnaissance and fire support. It is reportedly operated by the Swedish Särskilda Operationsgruppen (Special Operations Group) and Norwegian Marinejegerkommandoen (Marine Commandos).



The successful Rescue Runner has been tested in extreme conditions, operating among rocks and in shallow water where most traditional craft could not venture.

GuardRunner specifications:
Length: 3.6m (11.8ft)
Weight (unloaded): 350kg (770lb)
Payload: 400kg (880lb).
Speed: 40 kt
Range: 70 nm

Main source Armada International


Greenough Advanced Rescue Craft (GARC)
As the name implies, the GARC has been designed as an insure rescue craft. Its load capacity, utilitarian design, sea keeping, useful performance and rugged construction does make it inherently suited to Special Forces use however so it deserves a place in this article.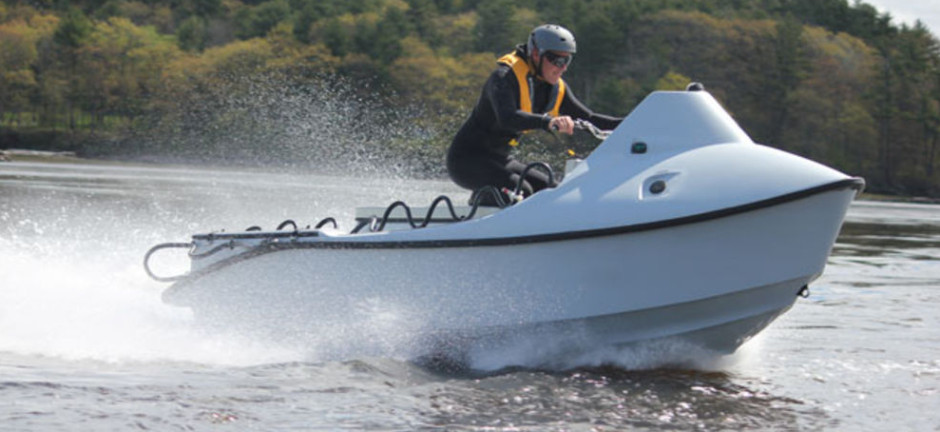 The GARC is also offered as an optionally unmanned platform(!).

GARC Specifications:
Length: 3.6 meters (11'10")
Beam: 1.7 meters (5'7")
Draft: 25.4 centimeters – 30.5 centimeters (0-12")
Displacement: 950 lbs.
Transom Deadrise: 18 degrees
Power plant: 143 hp Weber Engine drving a sigle water jet with thrust reverser.
Fuel Capacity: 30 gallons
Crew: 1
Payload: 3 hard points built flush into the stem deck

History
The current interest in jet ski capabilities among Special Forces goes back about 10 years, with numerous types being evaluated and used. But the history goes back much further. Even before Kawasaki popularized these motorbike-like personal watercraft in the early 1970s, the military had looked at several similar concepts.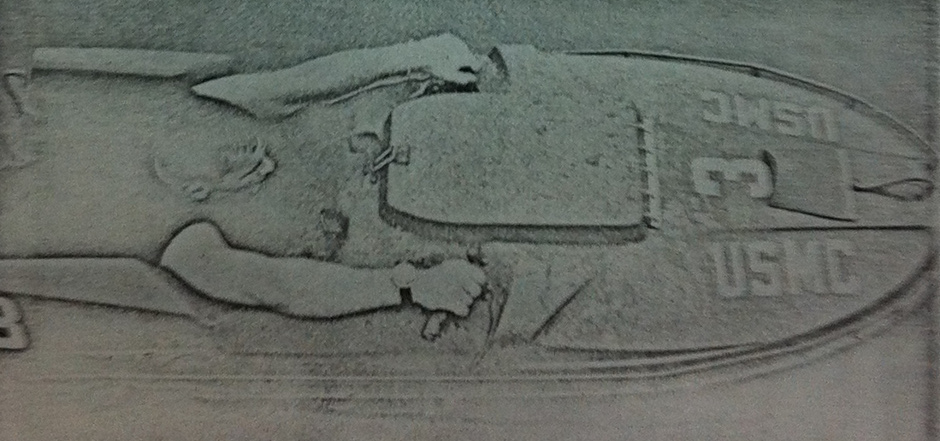 The Aqua Dart, known as the Swimmer Assist Vehicle , was developed for the USMC Ground Reconnaissance teams (e.g. Force Recon) in the late 1960s. The fiberglass craft was 94 inches long, weighed 200lb and had a top speed of 25knots. The swimmer lay prone behind the craft to present the minimum profile. Conceptually a single Aqua Dart carrying a four man patrol (one driving, three towed) could be dropped 50 miles from the destination. Although four craft were used in testing, the Marines instead went the route of a Swimmer Delivery Vehicle (SDV) capability.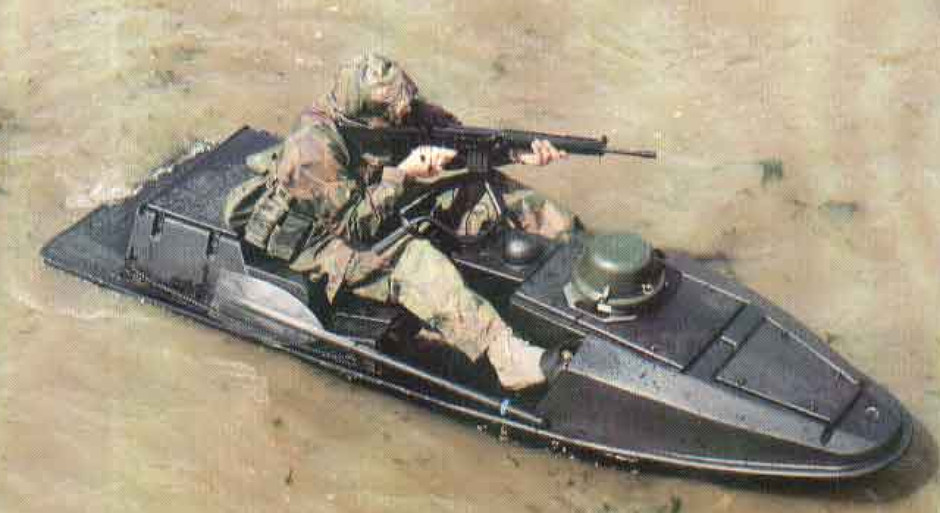 The RTK Marine 'JetRaider' was a 1980s concept for a purely military jet ski. The seating position was slightly different from typical jet skis giving a lower profile. It featured military navigation and canoe paddles for silent approach and also as a back-up to the inboard petrol engine. It was intended for inshore and riverine use by marines and Special Forces. Contrary to some captions on the internet, this craft was not adopted by the SBS.



Much more recently, the French Noguier leLoco Magnum was an attempt at scaling up a jet ski to approximately the size of a medium RIB. The design 8.3m long and 2.3m wide, and could carry 9 men. A working deck at the stern was large enough for a regular sized jet ski to be launched over the transom. The engine was under the seats like on a regular jet ski, but the single water jet was fitted with a thrust reverser like on a large RIB. Top speed was a decent 37kt. The type doesnot appear to have entered service.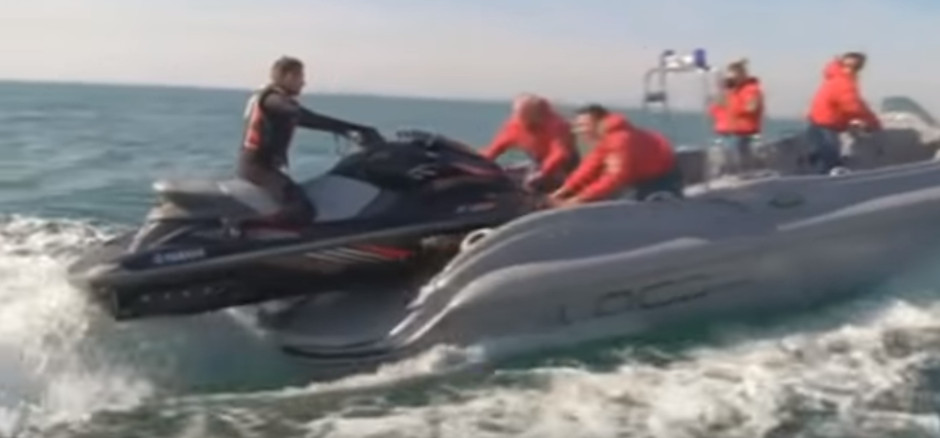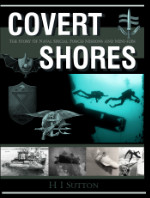 Learn EVERYTHING about Special Forces subs Covert Shores 2nd Edition. A world history of naval Special Forces, their missions and their specialist vehicles. SEALs, SBS, COMSUBIN, Sh-13, Spetsnaz, Kampfschwimmers, Commando Hubert, 4RR and many more.
Check it out on Amazon

Other example SF Operators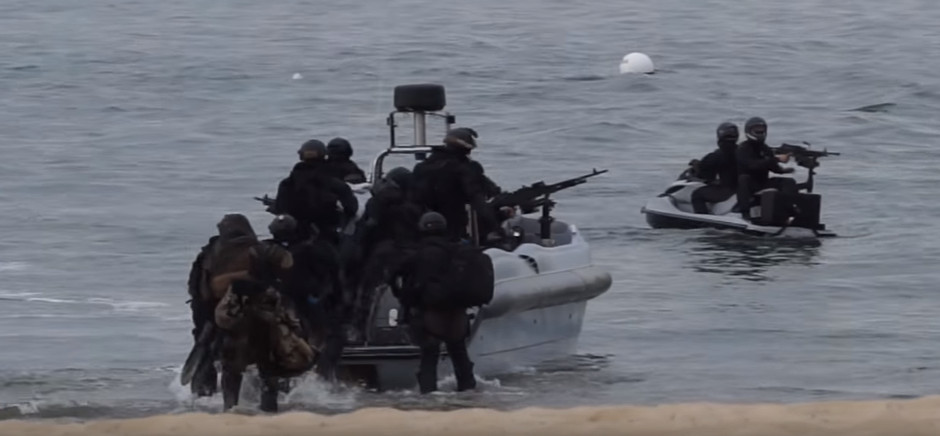 Special Forces units within the French Commando Marine are heavy users of jet skis. Here, one is employed to cover a retreat from a beach. Note the pintle mounted FN Minimi machine gun.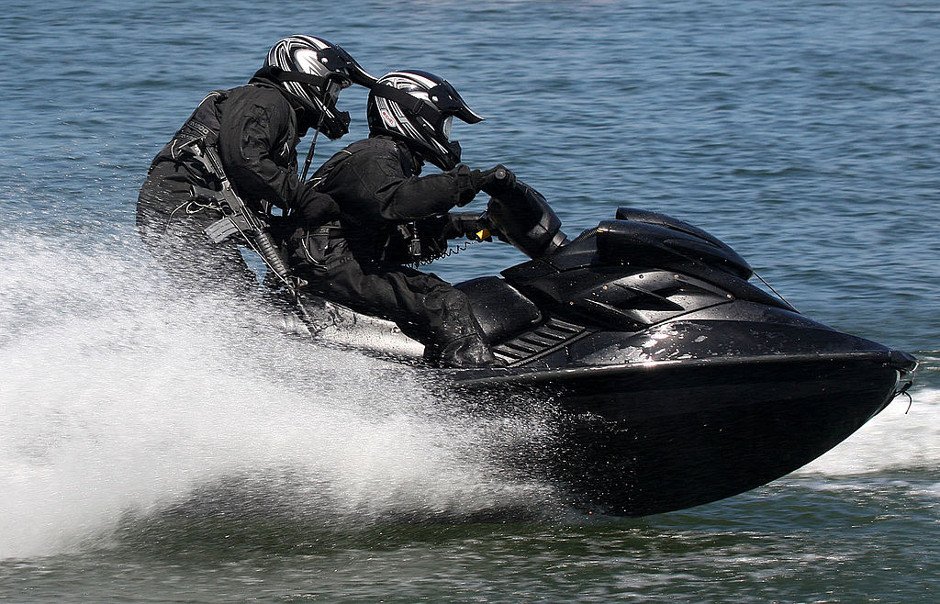 Two commando soldiers from Unit Lawan Keganasan (Anti Terror) 11 Rejimen Gerak Khas of Malaysian Army using jet ski during a demonstration at the Tasik Banding, Perak Darul Ridzuan, Malaysia. One of them carrying the Colt M4A1 Carbine. 12th Dec 2009, Photographer Azrizainul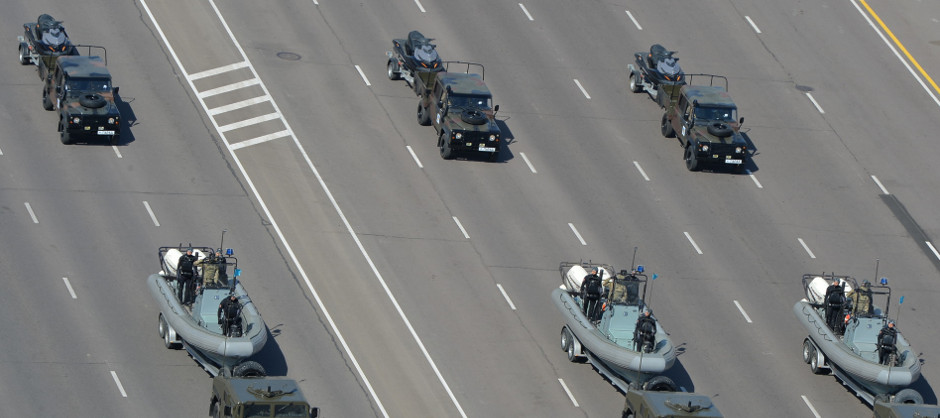 Jet skis in service with Kazakstan.


Iran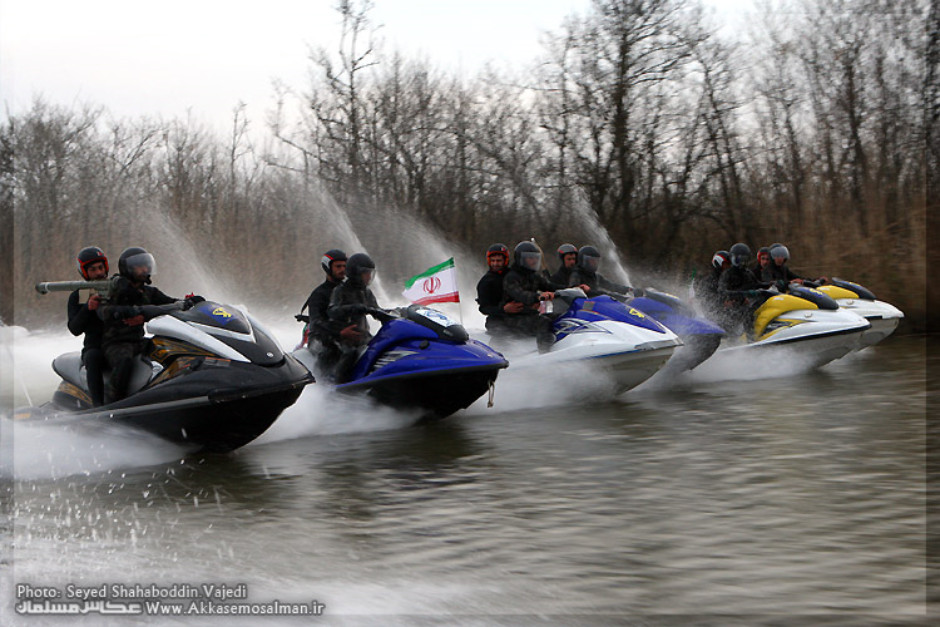 Both the IRGC and the Marine Commandos use jet skis as fast reconnaissance and nuisance craft. However, one of the most inventive uses of jet skis also comes out of Iran. Some explosive boats, which are small speed boats which ram their targets to deliver a large warhead, use a jet ski to allow the pilot to escape. The pilot is sitting on the jet ski at the stern of the explosive boat. Once he has aimed the explosive boat at the target, he locks the steering and pulls a lever to jettison himself off the back of the boat on the jet ski, thus making his escape.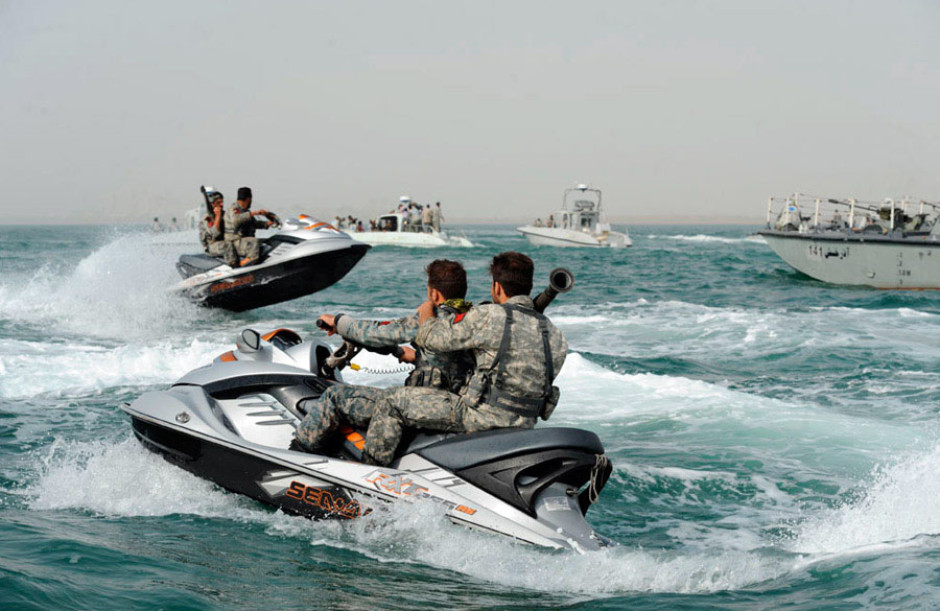 Iranian Marine Commandoes demonstate Jet Skis in Velayat-90 Naval Exercise, 2012. Photo Mohammad Sadegh Heydari.


---
Related articles (Full index of popular Covert Shores articles)




CCH (Combat Craft Heavy) SEALION and Alligator Semi-Submersible Boats







World survey of Special Operations Craft




WP-18 Tactical Strike Craft




Styx riverine Special Forces craft




Barracuda Special Forces interceptors