Upgraded OSCAR-II Submarines May Not Have Latest Missiles


The Russian Navy's upgraded Pr.949AM OSCAR-II Class submarine Orel test fired a cruise missile in the Barents Sea today. Significantly, it was a P-700 Granit (SS-N-19 SHIPWRECK) missile. 24 of these massive supersonic missiles constituted the original primary weapon fit of the class. This suggests that despite being upgraded to 'AM' standard, Orel has not had the new cruise missile armament fitted.



Previously the Pr.949AM class has been reported to be equipped with P-800 Onix (SS-N-26 STROBILE) and 3M-54 Kalibr (SS-N-SIZZLER) missiles. The new missile fit, with three launch tubes replacing each of the 24 SHIPWRECK tubes, would also allow the new 3M22 Zircon hypersonic anti-ship missile.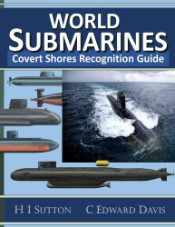 Get The essential guide to World Submarines
This Covert Shores Recognition Guide Covers over 80 classes of submarines including all types currently in service with World Navies.
Check it out on Amazon

Russia's Northern Fleet announced that Orel had successfully launched a SHIPWRECK anti-ship missile in the Barents Sea on Tuesday 13th October 2020. The target was over 65 nm (120km / 75 miles) away. Post-impact assessment was carried out by an Ilyushin Il-38 MAY maritime patrol aircraft.

Original artwork - CLICK for HIGH-RESOLUTION image.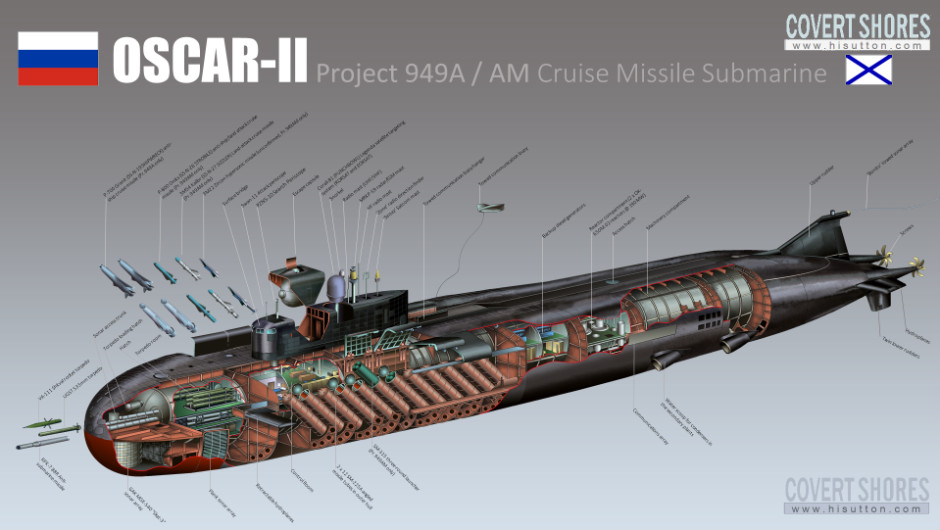 Orel firing a SHIPWRECK does not rule out the possibility that other Pr.949AMs, ones modernized after Orel, will get the new missiles. And Orel may be fitted for them in due course.

---
Related articles (Full index of popular Covert Shores articles)



Project 955A 'BOREI-A' Ballistic Missile Submarine. w/Cutaway



SNLE-3G next-generation French SSBN



USS Jimmy Carter (SSN-23) Special Mission submarine



HUSKY Class future attack submarine



BS-64 Podmoskovye Special Mission (spy) Host Submarine



Project 09852 Belgorod Special Mission submarine (spy sub)



Project 885 'YASEN' (Severodvinsk Class) SSGN. w/Cutaway



Poseidon Intercontinental Nuclear-Powered Nuclear-Armed Autonomous Torpedo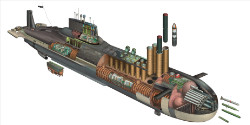 Russian Typhoon Class SSBN



North Korean Gorae Class SSB



P.09851 KHABAROVSK and KANYON (Status-6)



INS Arihant, Indian SSBN and .2



North Korean Modified-Romeo Class ballistic missile submarine